Krinello's Paradise, Moni Pytharia and Methymnaos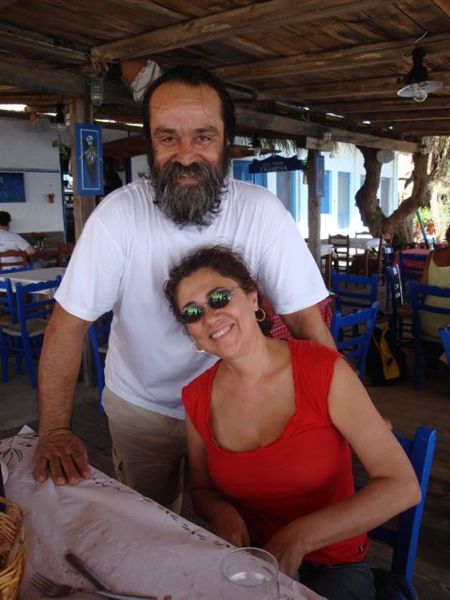 I spent the last couple nights in Skala Eressos, courtesy of my friends Joanna and Wendy at Sappho Travel. We left Vatousa and stopped to pick up Andrea's cousin Delfine who is working on restoring the frescoes at Moni Perivoli. Lately we have been eating at the Blue Sardine, the last fish taverna on the sea. It is owned by Kosta who is actually not from Lesvos. He comes from a small village in Macedonia, the same village that Alexis Zorba, the hero of Zorba the Greek, was from. There are certainly similarities in two men. For those who have not read the book, and if you read any book about Greece then this is the one you should, Alexis Zorba was a larger than life person, a superman who lived life to the fullest, and could do anything because he had tried and failed and succeeded at so many things. The book, which was written by Nikos Kazantzakis, is based on a real person. It covers all the bases of living a real life and most people are familiar with the movie starring Anthony Quinn. Interestingly, Bagwhan Shree Rajneesh, the Indian Guru Philosopher spoke about Zorba as well, as an example of the true man who embraces life and makes the most of it. He actually said something very funny to his followers which I will try to paraphrase: You think you would like a friend like Zorba but I tell you that if you met him you would not like him. He would sleep with your girlfriend and make you feel so insecure about who you are that you would wish he would just go away. The Rajneesh disciples opened an unsuccessful chain of vegetarian Restaurants called Zorba the Buddha of which there are only one or two in the world left, including the one on the opposite end of the beach from the Blue Sardine, run by followers of Osho, which is the name of Rajneesh, who died at least ten years ago, on the next level of existence, or maybe it is the name he always had. There is an Osho center in Skala Eressos where they do the daily mediations, like the Kundalini and the Dynamic, which were based on the dance meditations of George Gurdjieff, another Greek Guru and contemporary of Alexis Zorba though it is doubtful they ever met.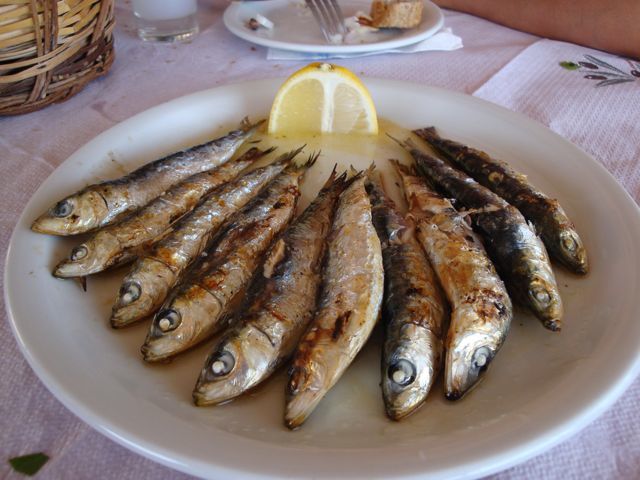 So in a way you have a choice between Zorba the Buddha and a very Zorba like character in the form of Kosta who waits on every table with wit and humor and never seems to run out of energy. He makes his own sardeles pastes(raw salted sardines), gavros marinatos(marinated anchovies), lakerda pastes(raw marinated tuna-like sushi), smoked skoumbri(mackeral), his own olives from his own trees, kritharakia, which is a wild green that grows on the beach, and his X-rated tsipuro that he distills at his home in the mountains of Macedonia and brings to Lesvos every summer, and will knock your socks off. He is a good teacher in the art and benefits of heating and drinking good food and wine, including ouzo of which he has more varieties than any of the other restaurants, even some I have never seen. The presentation of the food is done in a way that chefs in fancy neo-Greek restaurants could learn from, artistic without being pretentious. We had our nice family lunch here complete with the tension and pointless arguments that go with these meals, and that evening Andrea and I returned secretly for the tsipuro and a meze before going to dinner with Joanna and Wendy at Karavogiannos, yet another great taverna in Skala Eressos.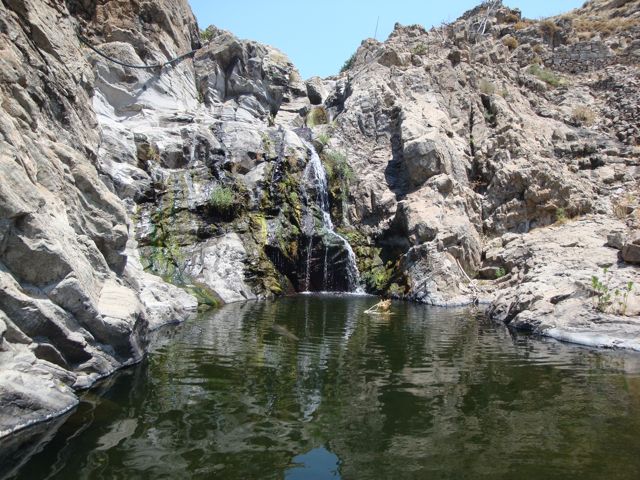 During dinner Wendy asked me if I had ever seen the waterfalls. I was surprised to hear that there were waterfalls. The valley is green and rich so there must be water but I assumed it was all underground at least in the summer months when there is no rainfall. The next day Sappho Travel arranged to have the owner of the property, a wild mountain man named Panayotis Krinellos, meet me at the office and take me to the waterfalls which are called katarachtes in Greek. Krinellos rode his dirt bike and I followed in the Suzuki down a dirt road that was probably too steep and rough for a rental car, and into a narrow valley, a riverbed really, between two mountains where we dismounted and went the rest of the way on foot and found ourselves in this wooded area where a steady stream had filled a series of lakes in the rocks. Krinellos' grandfather had a mill for grinding flower here, run by the water from the stream turning a giant circular stone that ground it. Krinellos was still harvesting the wheat and grinding the flower which he was selling to a couple of the restaurants for making dark whole wheat bread like the kind we had at Karavogiannos, (which had actually reminded Wendy to tell me about the waterfalls). He led us to the top of his property and sue enough there was a waterfall dropping around thirty feet or so into a clear pool of water. He then turned around without a word he left as if to say "Here is it. Take off your clothes and swim. See you later".
The first thing we saw was a snake. A small watersnake that I knew was harmless but I also knew would mean that I was going to be the only one going swimming. There were lots of frogs hopping around, a big water turtle that came to the surface to look at us, and these large fresh water crabs, about half the size of my hand that Krinellos later told me could be eaten. I was determined to go in and took off my clothes right away, fearing that to now swim would be a sort of insult. Andrea just sort of waded and looked at the different creatures. The rocks were smooth and slippery and getting in and out with dignity was difficult, but I managed to paddle around a bit, though a little wary about disturbing any creatures that might be lurking in the depths, being totally unfamiliar with swimming in anything but the sea and the occasional swimming pool in Greece. There was a nice breeze blowing through the chasm and I was dry within about 2 minutes of getting out of the water. We went back to the mill house where Krinillos has a little cafe for his guests (and customers) and comfortable chairs he has carved from wood around a giant table that is a large flat stone. All around us were platforms and patios he had built overlooking the stream and the other pools below, sort of like Swiss Family Robinson. He even had a treehouse that he stayed in sometimes. He explained that he wants to use the property as a business, by invitation only, where groups, couple and individuals can come and use it. There was a large barbecue and some swings and other things of interest for children and I could envision using the place for picnics or even a wedding. But he also wants to sell it. It is the classic dilemma when you have something of value that needs development. Do you throw something together on your own or sell out to someone who has the money and the vision to do it right? In the meantime he does want people to come but you have to make arrangements through Sappho Travel.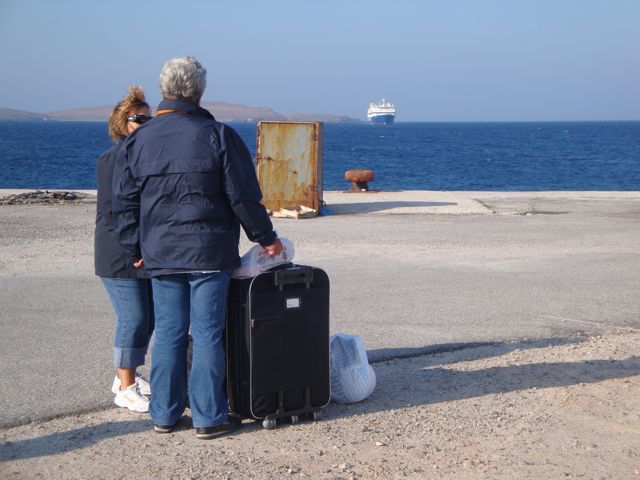 That night at dinner with Wendy and Joanna they asked me if I wanted to see the Blue Star Diagoras ferry arrive at Sigri the next morning at 8am. It comes from Rhodes and stops in Sigri on the way to and from Thessaloniki. It is a really big deal because Blue Star is the best, most organized ferry company, with the nicest long distance boats and the fact that they have taken an interest in Sigri is a good thing. There have been other ferry companies that have stopped here, usually old rusty boats coming from Lavrion or Volos at odd hours of the night, but the routes were dropped or the companies went out of business. Wendy believes that if Blue Star sees that Sigri is a successful destination on a Thessaloniki-Rhodes route, they may be willing to take a chance on a Lavrion-Sigri route a couple times a week which would be great for me since I live in Kea and Lavrion is our port of departure. It would also mean a 6 hour trip on a new comfortable ferry instead of twelve on an old refurbished ferry from Pireaus to Mytilini. It is really the first step in seeing Western Lesvos as a different island from the rest, with their own ferry service from the mainland and other islands. So I said maybe I would come, not really planning on it since it was about 1am and we were still eating and drinking wine and the idea that I would wake up at 7am was to frightening to think about.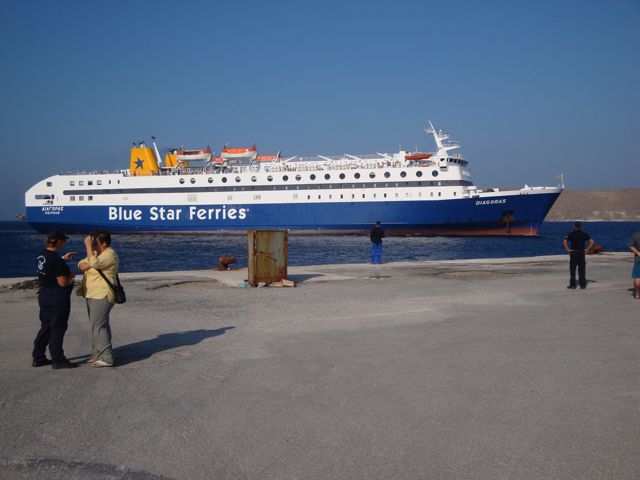 But sure enough I woke up at 7am to a humid morning with clouds rolling across the valley from the north and thought to myself "Why not?" I packed my bags in about 40 seconds (I have been wearing the same shorts and 2 T-shirts since I got to the island) and got in my car and drove to Sigri. Half way there the clouds were thick and the higher elevations I was actually passing through them with visibility about a hundred feet. When I got to Sigri it was blowing like a storm and the people waiting for the boat at the end of the long dock were wearing winter coats. I stopped in to say hi to Wendy at the ticket office and she took me next door to the Sunset Cafe, an eclectic little cafeneon with hundreds of teas and herbs stacked on the bar and an assortment of board games, books and magazines piled on tables and flat surfaces, which gave the very comfortable feeling of being in someone's den. The owner is Andonis Xiotis who is the one-man public relations committee for the village of Sigri and publishes several magazines and pamphlets that sing the praises of the village as well as a website at www.sigrion.blogspot.com
The ferry came in about 8am, appearing between the southern point and the Nisiopi island, getting larger and larger until it filled the frame of my camera. It was pretty impressive seeing such a big, modern ship docking in the most remote port on the island if not in the Aegean. There was a line of about thirty cars and the crowd watched the ship in a quiet awe, like the scene in Fellini's movie "I Remember" when the whole village rows out to sea to witness the passing of the new modern ocean liner all lit up at night.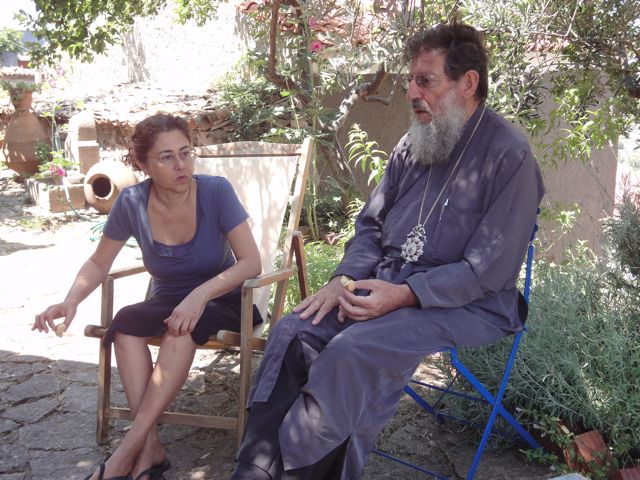 A few days ago Andrea's cousin came to the village. It always creates a stir when he comes and the villagers look up in surprise when he passes the cafeneon on the way up the hill to Pam's house. You see, their cousin is Iakovos, the Bishop of Mytilini and it must really make people wonder when they see him go to the house of the crazy Americans. It just so happened that Pam had some carpenters working on the house and when they saw him they nearly dropped their tools and came over to kiss his ring and receive his blessing. Since none of us is particularly religious we just kiss on the cheeks like you do any close friend or relative. He had come with a couple other cousins from Australia and cousin Yannis from Agiassos and we sat around the courtyard telling stories. Andrea told him the entire rabbit story and when she finished and it was clear that she had spent about a thousand euros on this rabbit, Iakovos told us about a trip he had taken to Cameroon where there was a group of black Orthodox Christians, so poor that the children could only go to school if they had the 2 euros a year for pencils and paper, and most of them did not have the money. I was thinking of all the money wasted on a rabbit that could have sent five hundred children to school. I suppose that was the reason he told the story. He also talked about the money they had spent on the Agios Pitharios Monastery near Eressos and I asked him if he would like tourists to go to the monastery. "Why not?" he answered with a smile. So after I watched the ferry sail out of Sigri bound for Thessaloniki, I drove back to Eressos and follow the dirt road to the Monastery.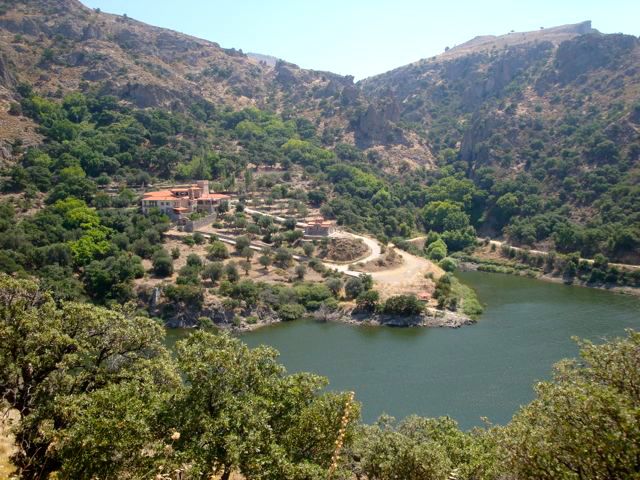 I was not really prepared for what I saw. The Bishop had said they had done some renovations or some work but I did not know the degree of them. They had created a huge lake perhaps 2 miles long and a half mile wide and at one end was the monastery, looking like a Swiss chalet or a castle in a fairytale. It took about twenty minutes of going back and forth up and down the mountains before I got to the level of the lake and the huge earthen dam they had built across the valley. I took a couple dozen photos from different areas and eventually made my way to the monastery, I didn't go in. Supposedly there is just one monk there and as hospitable as he may be I was not in the mood for looking at ancient relics and icons which is somewhat obligatory when you visit these places. I followed the dry riverbed back to Skala Eressos where I had a swim, lunch and answered all my e-mail before driving back to Vatousa to show Andrea the photos of the Monastery. Before I left I stopped to see Joanna at her real estate office. "Find me a house in Eressos or Sigri." I told her. Andrea and Pam of houses in Vatousa, and Xidera and an apartment in Mytilini. I want my house to be here.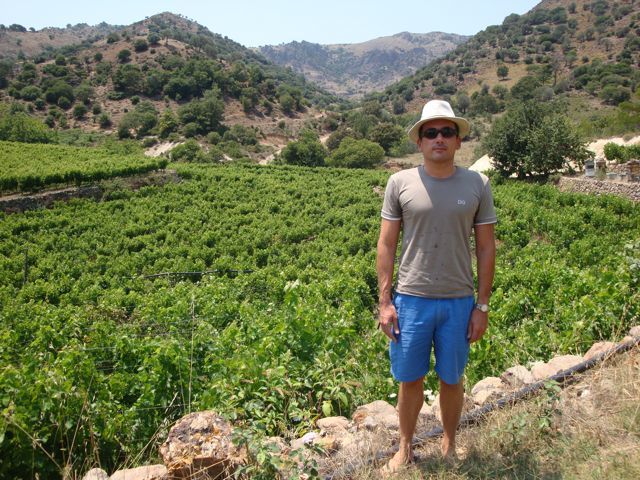 The next day was probably the climax of the whole trip. We did not really have a plan. We just knew that we needed to go to Xidera to put a hose on the washing machine. We stopped to visit Yannis at Methymnaos Winery where they were doing some kind of tank exchange which he explained to us. He then took us on a tour of the vines which are scattered around the village of Xidera in the caldera of the ancient volcano. Andrea has 15 strema that she wants to cultivate grapes maybe starting next year. Yannis explained that the soil here is so rich with minerals that they can get 1500 kilos of grapes per strema. Santorini, for example, can only get around 300 which makes you wonder how there can be so many bottles of wine coming from such a small growing area. We drove around the dirt roads outside the village and then stopped at the winery where Yannis picked up two bottles of his white and went to Panayiotis cafe in the square of Xidera where we sat in the shade of the big platanos tree, eating eggplant stew, fresh paidakia, and the best fried potatoes I have ever eaten in my life. Yes I know I have said this before but these really were, grown locally in the mineral rich fields on the north side of the village. After we finished the wine Yannis ordered a carafe of his xima, the lower quality wine that he sells in boxes to the local restaurants which by then tasted almost as good as his bottled wine. Finally we went back to our house in Xidera and took a nap.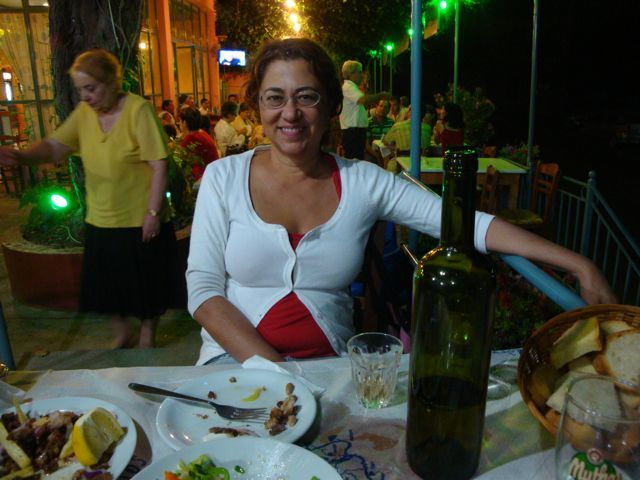 We left the house at 8pm to meet Yannis for coffee at the Cafeneon of his cousin Vangelis where we talked to his ninety year old aunt and his nephew who had just arrived from Mytilini and took great pleasure in practicing his English with us. We planned to go to Antissa, to the taverna To Kati Allo, which is owned by Pablo the former taxi driver of Eressos and is one of the best restaurants on the island. But we found out there was a restaurant in the square so we drove to Tryfon's restaurant in Vatousa for a quiet dinner instead. On the way Yannis filled up three bottles of his latest wine from one of the enormous tanks since it has yet to be bottled and we drank those with dinner, trying to compare the taste with last year's wine which we drank at lunch. By 11:30 Andrea and I were in bed, having drunk more wine in one day than we ever had in our lives. She said I just lay down and in one second started snoring. I don't remember being that drunk, just feeling good. I had to drive through the narrow streets of the village to park and I did not hit anything or anybody and I remember it very clearly. Even the huge white barn owl we saw in the platanos tree in the square that screeched at us and then flew away. The miracle is that today I woke up at 7am feeling fine. No hangover. No horrible dry taste in my mouth, even after eating two orders of Tryfon's kontosouvli. I said it on my Lesvos website that Methymnaos is my favorite wine in the world. That's why. Plus it tastes great and is totally organic. (He needs importers and distributors. See www.lesvos.com/wine)
It rained this morning. Really rained. From out of the blue, literally, these storm clouds came from the southwest and it poured in the village. This was after Yannis had said the night before that when you see flying ants it will rain. He was right. I watched the whole thing develop like a slow motion Andy Warhol film. Now it is hazy and a little humid and we are trying to decide whether to stay in Western Lesvos another night, or go to Vatera and possibly leave the island on Monday to give us more time in Kea before the August crowds arrive this weekend.