With Rick Steves in Athens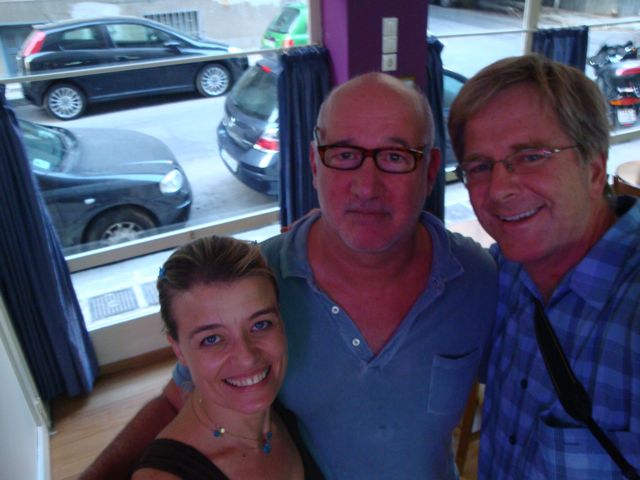 The other day I was at the apartment in Kypseli answerng e-mail when the phone rang. It was Kostas from the front desk at the Hotel Attalos.
"Hello Matt. There is someone from your site staying at the hotel who asked me for your phone number" he said.
"Did you give it to him?"
"No because I did not know if you want people to have your number or you like to keep it private", he replied.
"You did the right thing" I told him. "If someone wants to contact me or asks for my number just send them to the computer room and they can e-mail me and I will reply and if it is someone who really needs to talk to me by phone then I will send them my number."
"Yes. This is what I told him and he went upstairs to the computer room".
"Thank you Kosta. You did good. If everyone who wanted to talk to me had my number I would not get anything done and mostly the people who want to call me just want to thank me and ask me out for a drink or a coffee, or some ask me questions that they could easily find on the site if they just read it. What was the name of the person who wanted my number?" I asked.
"Rick Steves." He replied.
"Kosta. Give him my number".
Rick called twenty minutes from the office of Athens Walking Tours where Despina did not have a problem with giving up my number, probably because she knew who Rick Steves was. Rick and I have met a couple times and spoken on the phone many times. He had asked me twice to write his Greece guide with him and twice his publisher torpedoed the idea, preferring to keep it in house. He asked if I wanted to meet for coffee. I didn't. It was too hot and I did not feel like walking around looking for a cafe with decent shade or air-conditioning. I had a better idea. It was August and Athens was empty of traffic. I would pick him up at the hotel and we would drive around and see some parts of the city he didn't know. He said that sounded great. An hour later I was parked at the Attalos, explaining who Rick Steves was to Kostas, when Rick came down the stairs.
"Your people are very protective of you." he said, smiling at Kostas.
"I am sorry Mr Steves. I did not know who you were or if this was OK" said Kostas looking kind of embarrassed.
"No don't apologize. It is good that you protect Matt's privacy." Rick answered.
We greeted each other and got in the car. "Matt, have we met in person before?"
"Yeah. We met in Chapel Hill when you did the donation drive for UNC public television and again at the NY Times Travel show." He seemed to remember. He could not believe how hot Athens was. It was impossible for him to walk around and visit everything he wanted to see. I explained that this kind of scorching heat was rare in August when we usually have the Meltemi winds from the north that cool everything down. Last August they never stopped. This August they never came and it was the hottest in memory. Whether this was global warming or not I did not know. I assumed it was and that it was something we were going to have to get used to.