The Continuing Story of the Rabbit, Leaving Kea & the Wall Street Journal Interview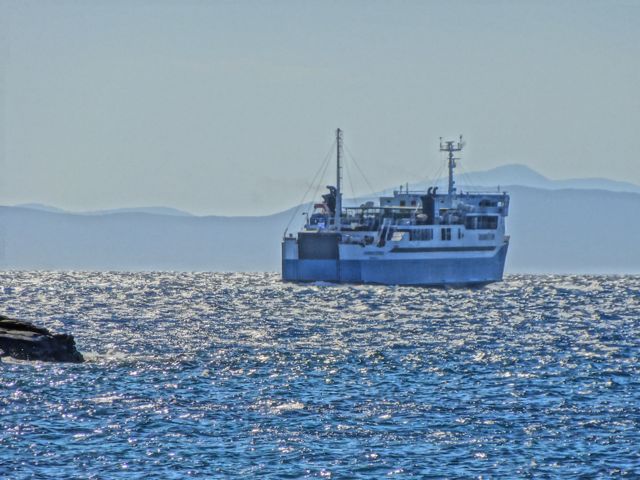 I am on a ferry boat. Seems thatís the only time I really get an opportunity to write. But I have been on several ferry boats since I last wrote anything so even when I have had the opportunity to write I have not always taken advantage of it. I am leaving Kea today. Going to Athens for a night and then to Sifnos. Athens is hot they tell me. Hotter than ever and humid. So I have appealed to my friend George at Fantasy Travel to book me a room in a nice hotel with lots of air-conditioned open space. He has me in the Royal Olympic which is the name of the cruise ship company that went out of business a few years ago. Funny that this hotel is the last remnant unless you consider Louis Cruises as the same company. They have been through several name changes since Royal Olympic and may go through several more. I was supposed to leave at noon but I got down to the port and they told me the boat never left Syros. Leaving was such an ordeal with packing and saying goodbye, and I did not want to repeat it so I called my friend Mitch who came to visit from Morocco and is staying on the island a few more days, and gave him and Andrea a tour of the island to kill the 4 hours I had before the ferry left.
I am going to Sifnos, again. I am meeting some friends from high school. Donít ask me why they booked Sifnos in August. If they had asked me they wouldnít have. It is the worst time to go there because to the Athenians Sifnos is the undiscovered Mykonos and from the first of the month until after the 15th which is the name day of the Panagia (Virgin Mary) and the peak of the summer, the island is packed. But we booked our rooms well in advance and have enough friends with restaurants that we are assured of a table somewhere on any given night. But I would rather go to Finland or anywhere with snow and reindeer at this point.
I was supposed to have the rabbit with me. He was going to move to Sifnos and live with Sarah and Stavros who own the Hotel Stavros but they have nowhere to keep him when they go to London in the winter, so the rabbit stayed behind in Kea. We had to rescue him from his duty as a stud rabbit when his mate suddenly died. He was living in a cage next to a dog that barked the whole time we were there talking to the farmer. He was pretty anti-social after that, probably he was depressed. It is tough to lose a mate and a job at the same time. Andrea tried to be friends with him but he kept his distance and spent more time under the couch than out in the open where we could see him and talk to him. We really thought he was ruined and that maybe the stifado pot was the best place for him after all. But then Amarandi came back from her job in Sifnos and was happy to give the rabbit another chance as her roommate and little by little the rabbit began to open up again. When I saw them last night at 3am Amarandi was laying in bed doing Facebook and the rabbit was happily sitting at her feet.
I donít have much to report. Nothing really happens when you wake up at 8am every morning, drink coffee, answer e-mail, listen to music, read, nap and donít even leave the house until 9pm to have dinner at Rolandoís. It is my new philosophy of instead of going out and seeing the world, I stay in one place and let the world come to me. Rolandoís is a good spot for that. There is usually some well known person at the restaurant, even if he is not well known to me. Rolandoís son Andonis is a filmmaker and he points out the people and tells me who they are. Sometimes I am the famous person and people come to my table and tell me they used my website for all their information about Kea. My mother-in-law has become an expert at meeting tourists and ascertaining whether or not they know me and used my site and then bringing them over to meet me. I donít know if she is charging for it. I hope not. Last night Brady Keiseling came in. He is the guy from the US State Department who resigned over the war in Iraq. It was a big deal at the time and he was in the news and on talk shows and something of a national hero to those who thought this was a stupid, illegal war which at the time was a lot of people, almost as many as now. He wrote a book called Lessons for an Unloved Superpower which never became a best seller but was worth reading if you wanted to know all the things the USA was doing wrong with its foreign policy and what they should do to make it right. I am not sure if anyone in this administration read the book. I assumed that when Obama got elected he would make Brady ambassador or make him under secretary of state for being the only guy in the state department with the courage to resign over a war that so many people knew was wrong, including the current president. But I think for Brady to get an ambassadorship we will have to wait for a Kucinich administration. But for those who are interested in US foreign policy you should read his book. He is working on a new book about the November 17th terror organization. Probably with these new copy-cat revolutionary groups popping up and self-destructing every week or so he is having a hard time finishing it. Modern history would be a lot easier to write if it just stopped, but it just keeps going and you find something new that changes everything you thought you knew. Also at Rolandoís last night was Barnaby Phillips, the corespondent for Aljazeera International. I told him that if he wanted to get more Americans watching his station they needed to put more focus on baseball. I would stay up til 2am if I knew there was a half hour baseball round-up coming on.
There were a couple notable strikes that the papers and some tourists freaked out about. The strike by truck drivers terrified a lot of people and caused some cancellations because they were afraid there would be no gas in the gas stations. They were right. There was no gas in the gas stations but that was because as soon as people heard there was going to be a strike they all ran out and got gas and some of the stations ran out. But the government got the army to deliver gas while they negotiated and in the end the strike ended and as usual it was more news than newsworthy. I was interviewed by the Wall Street Journal and they kept asking me about the strikes being dangerous, confusing the word strikes with the word demonstrations.
This is the interview of which they used about 2 sentences:
How long are you in Greece for? How long have you been here? Where have you been traveling? Where are you now?
I will be here another couple weeks unless I decide to stay longer. I got here the end of May. I have been in Athens for a couple weeks, the island of Kea, the island of Sifnos, the island of Lesvos. I am on the island of Kea for another day or so.
How often do you travel there?
I come here every year, usually for the summer and then in the course of the year I usually visit once or twice, maybe for Christmas, Easter , or Carnival season.
It seems like in your blog you play down the fact that there are strikes. How has it been for you and others you know?
None of the strikes have affected me. If you know there is going to be a strike next Thursday that may affect the ferries and you planned to go to an island Thursday, then you go a day early or a day later. A travel agent knows when there are going to be strikes so they change itineraries around. The handful of people who blocked the ferries a couple times this summer were affecting the handful of people who thought they were saving a few euros bypassing the travel agent and booking ferries and hotels on automated sites. In most cases they did not even know there was a strike. They just went to the port and found they could not get on their ferry. They waited until midnight and the strikers went home and the boats left for the islands. The travelers who knew there was a strike got an extra day in Athens or on an island.
Where are these strikes happening? Where should travelers not be going?
Strikes happen everywhere. If the union of Dermatologists decide to go on strike is there a place you should avoid? No. You just don't go to the Dermatologist office because you will be wasting your time. Not because you need to avoid it. A strike means you don't go to your job. A striker can stay home and watch TV or go to the beach with his family. If you are talking about demonstrations they can be avoided. When you see there is a demonstration in Syntagma Square or a march from the Polytechnic University to Parliament then don't go to those places for the 2 or 3 hours they are having their demonstration if you are fearful of demonstrations. But these are people who are protesting because they believe they are being treated unfairly and want their government and their fellow citizens to know. Not herds of stampeding buffalo trampling everything in site including unwary travelers.
Is it true that tours/hotels/flights are much cheaper now due to the strikes? Where and how can people find deals?
Most intelligent people in the travel business had an idea that this was not going to be an ordinary year and already had inexpensive programs in place, myself included.
http://www.greecetravel.com/budget-travel/mykonos-santorini.htm
http://www.greecetravel.com/budget-travel/mainland.htm
http://www.greecetravel.com/budget-travel/paros-naxos.htm
http://www.fantasytravelofgreece.com/4daycruise.htm
http://www.fantasytravelofgreece.com/3daycruise.htm
The people slashing prices are those who thought that this would be like any other year and raised their prices like they always do and suddenly discovered their hotels were a quarter full or that their agency had no cash flow. The people who booked early went for the better deals, not just because of strikes and demonstrations but because they have to economize. Most Europeans realize that what they see on CNN is a very small piece of the reality of Greece and they don't freak out and cancel their holiday because the ferries went on strike for one day or there are protesters in Syntagma Square. If people want bargains in flights book a flight after the 22nd of August. For hotels go to a Greek travel agency. Most hotels on the islands are full through the first half of August but after the 15th, which is the celebration day of the Virgin Mary, the Athenians will start going back to Athens and the islands will start to get quieter and there will be hotels that will offer reduced rates on their websites or to the agencies that represent them. I would say to resist the impulse to book directly with the hotel and go with the agent for the reason stated above. If you save 20 euros on a hotel but then have to shell out an extra hundred for another hotel because you did not know there was a ferry strike on the day you planned to leave, then you have not saved anything. But if your agency is rearranging your itinerary to fit the ferry schedules then what difference does it make if you have an extra day on one of the islands and a day less on another? Wherever you are is going to be a whole lot nicer than being at work or sitting at home watching TV.
They used my name but they neglected to give the url of my website. Thatís OK I guess but these things should be reciprocal donít you think? I help someone write a story and they say thanks by mentioning I have the worldís most amazing travel website. Then again one could interpret my answers as using the strikes and demonstrations in order to drive business to the travel agencies which of course I am doing. But that is my job. To make sure people have a good time in Greece no matter what is happening here. So far I have been pretty successful. This summer could have been a total bust and it wasnít. The people who braved the reports of strikes and demonstrations came and had a good time. The few people who canceled their summer trips because they saw a demonstration on TV and stayed home and watched CNN waiting to see the news report that would justify their decision, ended up rebooking for September after strikes and demonstrations turned out to be less than advertised. They were rewarded with low rates on flights which is not really fair to those of us who paid big bucks to be here in the summer. But thatís OK.
Arriving in Lavrion. One hour drive to Kypseli, less now because all of Athens is on the islands. Athens is great in August, when it is not so hot. But some people donít seem to mind. I am not one of them but I employ my summer in North Carolina strategy going from air-conditioned house to air-conditioned car to air-conditioned shops, restaurants, cafes and back. Even if Athens gets as hot and humid as Atlanta you can always go to the beach or the islands.