The Rain Came Down on Everything:
Evia and Purse-Snatched in Kypseli
It has been raining in Athens since yesterday afternoon. In what has become a blueprint for my life and one of the reasons I am such a slack travel writer I woke up on Saturday and announced to myself that Andrea and I were going to take a trip for the last few days of our visit to Greece. I had several ideas: a journey up through Ipiros to see the Zagori villages and the river gorge was one. Going to Volos to drink tsipuro and eat mezedes and visit the Pelion villages again was another. Zakynthos was an option as was Crete. I was feeling proud of myself that through sheer willpower I would lead us out of every day life in troubled Athens to an adventure in one of the beautiful areas of Greece that seemed far on the map but were only a couple hours drive or an overnight ferry ride away. Then I looked at the weather in all these places so I could make my decision. Rain. Rain. Rain. Rain. How could there be so much rain in so much of Greece and how could it have snuck up on me so quickly when I look at the weather forcast every day? Why does it happen that whenever I decide to get off my ass and be a real travel writer that my plans are shattered by heatwaves in the summer and rain in the fall?
Really, to be honest with myself, I see rain as an excuse to not do something I would rather not do anyway. Yes I know I seem adventurous to people who are stuck with 9-5 jobs and 2 weeks holiday, just because I go to Greece several times a year. But I am just as happy hanging out in our apartment and wandering around Kypseli and going to Fokionos Negri for my ouzo and meze and dinner because really after the first drink it does not matter where I am. It is all entertainment and it is all Greece so who cares if I am watching fishing boats bobbing on the sea or humans bopping down the tree shaded pedestrian avenue of Fokionos? That is until I actually leave Kypseli and go somewhere nice on the sea and ask myself whether I am some kind of idiot to even think that being in a shitty apartment in Athens most conjested neighborhood can compare at all to being by the sea.
So with a one day window of opportunity before the rains began we jumped in the car and drove out of Athens to Oropos and took the fifteen minute ferry trip to Eretria, Evia. I have to say that just the act of being in the car and driving on the National Road north is an emancipating feeling and once on the road I feel like I could drive all the way to Thessaloniki or Bulgaria. But Evia is a large island, the second largest after Crete, and though it is close to Athens there is much about it that makes it seem further away.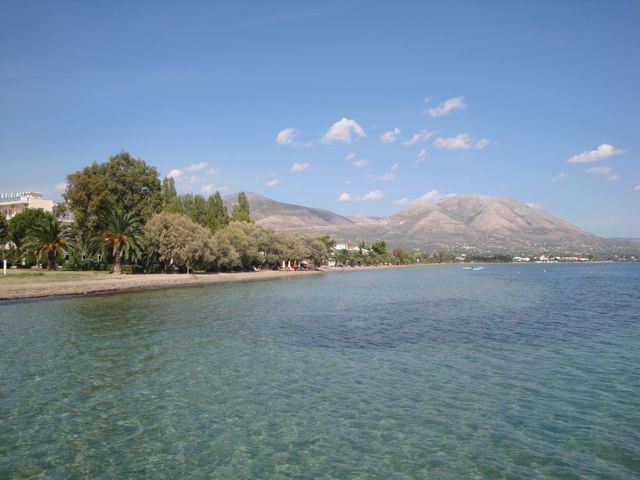 Our first stop was Eretria where the big, new modern ferry opened its doors to let us out before taking in the next group of cars and trucks headed for the mainland. Eretria is practically a suburb. My friend Katya has been living there for years, driving to and from Athens every weekday so her daughter can attend the American Community School there. It is not a bad town and there are hotels and beaches and lots of fish tavernas right on the sea where you can watch the ferries go back and forth. We met Katya at a bookstore-internet-cafe called Moments, a large place and a great concept that it is surprising more cafes on other islands have not adopted if only to sell the daily newspapers. While Andrea and Katya exchanged horror stories of how the new laws will affect their property taxes and ability to exist, I wandered around the town taking photos that will cast Eretria in the most favorable light while avoiding shots (like the giant derelict graffiti-covered hotel in the middle of town) that make it look like Fallujah after the marines have left. Eretria was an important place in ancient times and there are lots of ruins scattered around not to mention the ancient city which has been a project of the Swiss School of Archaeology, on the north side of town. We had planned to drive to Karystos, a city on the most southern part of Evia and then take the one hour ferry from Marmaris to Rafina but because it looked like a really long trip and we were not sure of the ferry schedules, and we could see the clouds that would bring the next three days of rain gathering, we decided to go to the town of Kimi, which is the ferry port for people going to the island of Skyros.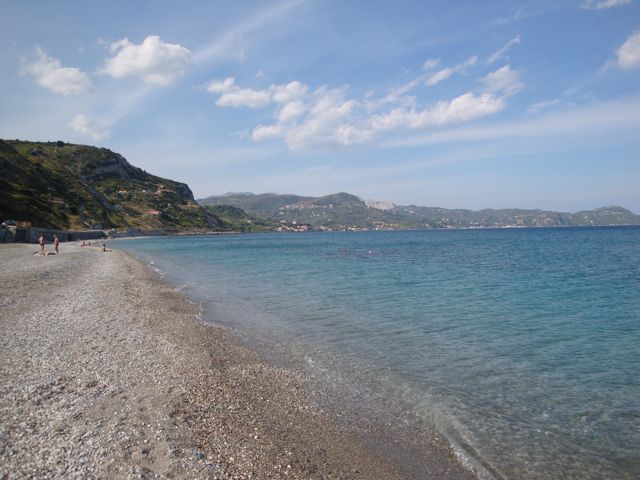 Like many islands, even the big ones, kilometers go by much faster than miles and within an hour we were on a long beautiful beach called Paralia which simply means beach. There was a river that stopped just a few meters from the sea, a home for wildlife, like those you see in Lesvos, and one of the hotels had paddle-boats and a small dock for their guests to explore it. The sea itself was beautiful, clear, clean and unlike Eretria which faces the mainland where you swim in the Evian Gulf, this is the Aegean. The real thing. With the rains approaching I knew this would probably be my last swim in Greece of the year and I made the most of it, staying in the sea for an hour and delaying lunch so long that it put dinner in jeapordy. There is a moment when you take your first dive and you are underwater in an entirely new environment, of complete awareness, where you think "Ah yes... here I am again" before coming to the surface and adjusting to the new situation with the flood of thoughts, most meaningless, as words once again take over from feeling. In A Course in Miracles they call this a Holy Instant, a moment of complete awareness and it is this feeling, which is really only a moment, that drives me to get on a 10 hour flight and bear the traffic of Athens just to dive into the Aegean sea. It's all an illusion of course, just a product of desire and attaching spiritual significance to it is really just a justification for doing something that feels good to the body (surrounding it with seawater). But just thinking about it makes me smile so it must be good.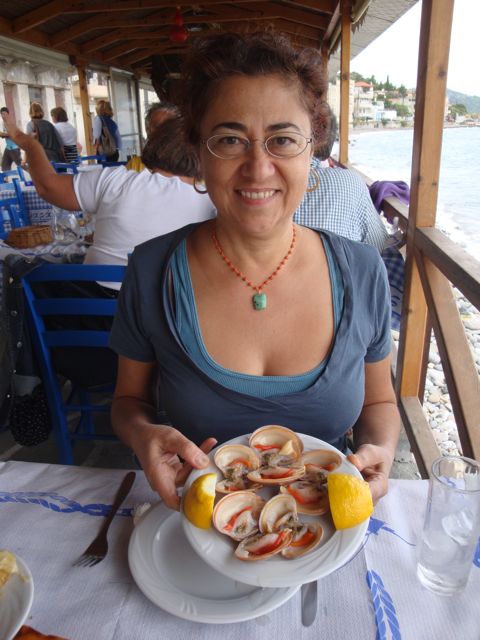 The town of Kimi is on the side of a mountain, away from the watchful eyes of passing pirates, while the port, which is called Paralia Kimi, is on a narrow sliver of land between the sea and the mountain in such a precarious spot that some of the road has been washed away by the sea and other parts covered by landslides. There is one spot that the road goes to one lane and if you don't notice the red stop light on the side of the road you will come face to face with a line of cars coming in the opposite direction and you will have to back up all the way with the sea on your right and the collapsing mountainside on your left, not a pleasant situation to be in, but I did it and lived to write about it. Paralia Kimi has a number of psistarias, cafes and fish tavernas on the waterfront but while passing through the village of Platania, Andrea's intuition told her that the Psaras Fish Taverna-Tsipuradiko was the kind of place that people drove all the way from Athens to eat at, while those in Kimi were just for those people waiting for the ferry. She seems to have been correct. While the clouds filled the sky and the sea became darker and angrier with waves breaking along the coast and sending plumes of spray into the air, we dined on clams so fresh they went into convulsions when we squeezed lemon on them, roast potato covered in cheese, a long flat cheese pie, a half kilo of barbounia and a tiny bottle of tsipuro, just enough to add flavor to the meal but not enough to impair my driving.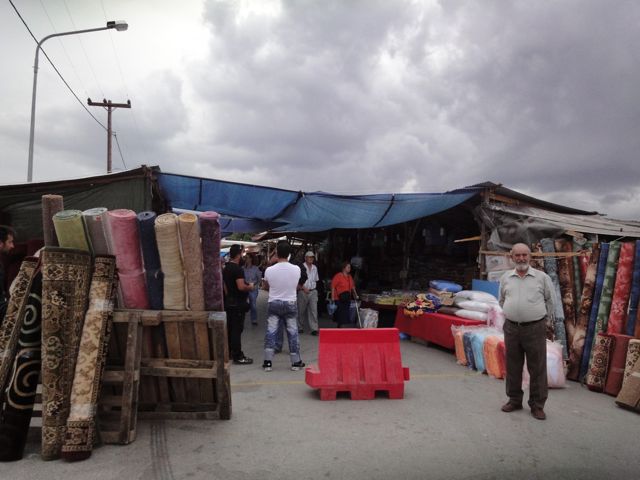 The return trip brought us through the village of Avlonari, famous for its annual street Bazaar which celebrates the end of the grape harvest and runs for eight days from the 6th of October. It was slow going through the crowds who had come from all over the island and had we not wanted to get back to Athens before the rain we would have wandered through the many booths which were selling everything from farm impliments to chestnuts, walnuts and live rabbits and chickens. But really after just coming back from Istanbul and experiencing the Grand Bazaar I don't think we would have been that impressed. We arrived at the ferry just as it left, being waved past the ticket booth so we could get right on the boat and buy the tickets on board. The wind was picking up and there were huge storm clouds ahead and we even had a few drops of rain before we finally made it back to our garage in Kypseli.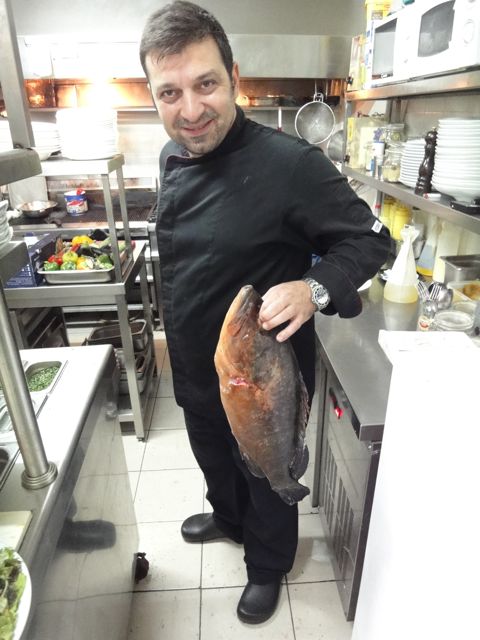 Since then we have had rain mixed with sun and have done little but walk around Fokionos Negri when the weather is dry and hang out in the apartment when it rains. Our nights have been spent discussing where we should go for dinner and inevitably deciding on Bakalogatos because we have not yet tried everything on the menu and everything we have eaten has been fantastic. Yesterday while walking around the neighborhood we ran into Giorgos, the owner-chef, who was running to see a big rofos(grouper) that someone had just caught with a spear-gun, that he was going to make into fishsoup and grilled steaks and fillets. After having lunch at our friend Rena's cafeneion we walked to the restaurant to take a photo of the fish and then back to the apartment to listen to the rain. When it was time to go out to dinner we decided once again to go to Bakalogatos and found that Giorgos was expecting us, placing two big bowls of fish soup in front of us as well as a delicious grilled fish-steak. When our pal Michalis joined us I ordered the moschari pastitsada (beef in redsauce with pasta) and he had this pork loin in the most amazing vinegar-lemon sauce with a huge serving of mashed potatoes. I could not eat all of my dish and it is sitting in the fridge waiting for me to heat it up for breakfast.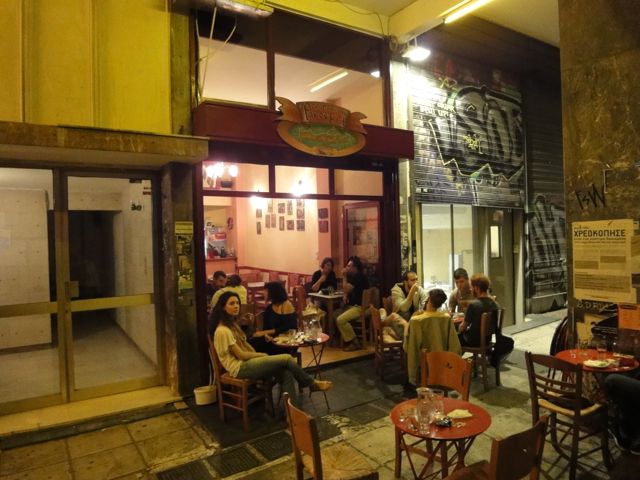 Friday night we had a very interesting dining experience, sort of two meals in one night. We left the apartment at around 6 to walk to Exarchia so I could find a nice little ouzeri where we could people watch and then see what other friends were doing about dinner later. We discovered a nice little Cretan place on Em Benaki Street called Rakoumel, named for the drink rakomelo that combines warm raki and honey, a cure for any illness, or at least a fun way to mask the symptoms. We had a nice green salad and some cretan sausages and cheese and were joined by our friend Elizabeth who lives in Exarchia who showed us a couple of her favorite tavernas. I had made up my mind to go to this hole-in-the-wall taverna called Doraios Ippos that I had discovered last week on the way to Ouzeri Lesvos, but I wanted to give Andrea the right of first refusal and told her to go in and check it out. She said it seemed like a dive which is pretty much what I prefer, but there was no body in the restaurant except an old junkie couple. It was early yet, only 8 and Greeks don't eat until ten but who wants to sit in a depressing taverna and what would we do until it was time for true Greeks to have dinner. By this time I was sick of all the graffiti in Exarchia. I mean it is one thing to be creative but this was shit. Millions of tags, one on top of the other and in many cases covering up real artwork as well as destroying the facade of beautiful restored neo-classical buildings. I understand that it is a cry in the dark by people who want to be somehow significant. But if all you can do is sign your name then the sad truth is that you are insignificant. If you are a disaffected Greek youth and you want to make a statement then learn to be an artist, writer or a musician and do something positive. If you are too slack for that then get a tattoo. But don't destroy something beautiful and believe you are creating a new type of art or that anyone cares what you think.
So we left the 'counter-cultural' neighborhood of Exarchia and headed for Kolonaki, home of the faded aristocracy and the ever diminishing neo-rich, right next door where the only walls seperating the two areas are armed riot police who hang out on every corner, talking and smoking cigarrettes, in an effort to keep large groups of Exarchians from invading other areas of the city. We planned to have a drink at Cafe Boheme but it was a hot night and when we got there we were dripping with sweat and the temperature at the bar was set for people who had just gone home from the office, had a refreshing shower, and come to the bar on the back of a motorcycle, their body temperatures several degrees lower than ours. There was one table outside that was free but it had a reserved sign on it and since we did not see either of our friends Cassy or Mimi, who own the place inside, we stood on the sidewalk and got mad at each other for not having a back-up plan or a desire to do anything but go back to our own neighborhood. It was at that moment we were rescued. It was a text message from our friends Yannis and Eli Yanarakis. "Where are you? We are coming to get you." We were being rescued.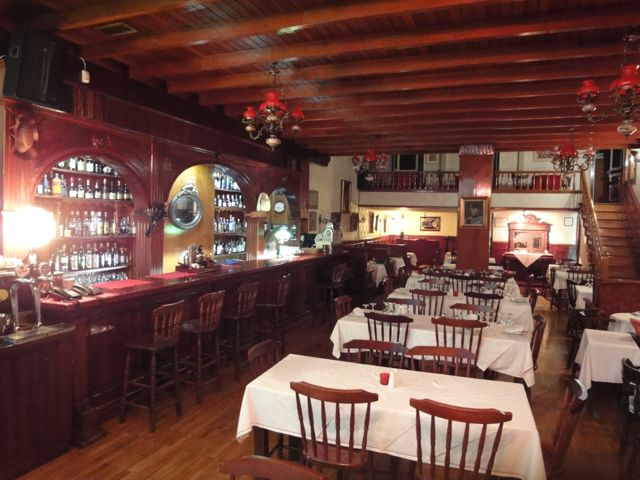 All we wanted was a nice place to sit and eat and have something to drink and not be hot. They took us to something better. It was a restaurant called Saloon, a couple blocks behind the Golden Age Hotel, on the edge of Illisia Park where we sat under the trees and ate the best steaks I ever had in my life. I went for the Hatzidakis, named for the composer who used to eat here regularly, tender and medium rare and covered in rich mushroom sauce that did much to explain his physique in his later years and will probably not help mine either, but boy was it good, as was Andrea's Chateaubriand and the fried mushrooms with bleu-cheese dip and the two bottles of excellent wine from Nemea. Yiannis is a tech guy and a great source of inside information for me on what the government is doing wrong (or right) as well as applications that I can put on Andrea's ipad that I would never have found myself. Eli works for a pharmaceutical company and we discussed what happens when the Greek government doesn't pay its bills and the foreign drug companies refuse to sell them medicine. Imagine a land full of diabetics being unable to get insulin? No Prosac? No drugs for anxiety? No lithium? I suddenly got the picture that a Greek default could be a pretty scary scenario. But the steak was delicious. Live for today for tomorrow we may not die but things may get really fucked up.
So now it is 1pm and it is raining and Andrea is out doing banking stuff for her father like she does every day except weekends and I am hungry and want to go to Maries for lunch now because if I wait too long it will interfere with dinner and Lula, the wife of George the Famous Taxi Driver, has invited us for dinner and always makes a feast. Should I just starve myself? I could go downstairs and get a spanakopita but I have done that every day for a week and I now am fairly certain that the best are from the bakery right downstairs from me, owned by Albanians, who are not stingy with the feta or the spinach. So many decisions and so often about food. But that is what Greece is all about isn't it? Food, wine and conversation. OK there are ruins and museums and history but that is almost like going to a job. You do that stuff in the day so you can get through it and burn up enough calories so you don't have to worry about what you eat at night or having a beer or two. Yes there is the sea and the beautiful scenery but those seem like momentary pleasures to me. The "Oh Wow" moment I refereed to at the beginning of this article when the feel of the water or the beauty of the mountains suddenly hits you. But that is just a profound moment and in Greece, whether it is a beautiful sunny day or a miserable rainy night a good meal can go on forever.
Where is Andrea?!!!!
---
The short answer to the above question is that she was being mugged. Well that is being over dramatic. She had her purse snatched and did not let go.
I went to Marie's for lunch and was wondering what was taking Andrea so long when I saw her walking across the square next to the church of Ag Georgios crying. My first thought was that her father had just died or something. She told me she had just been mugged by two Africans who grabbed her purse, but since it has her father's Greek ID card, bankbook and 3000 euros which she had just gotten out of the bank for him, she was reluctant to give it to them. They pulled at it until the strap ripped away from the rest of the bag and they ran away leaving her the keys to her apartment and the remains of the bag once they had liberated the manila envelope with the money and papers and her cell phone. We went back to where it happened and she saw an African that looked like one of the guys but what can you do but ask, "Did you rob my girlfriend? Keep the money if you did. I just need the taftotita (ID) and the bankbook which are useless to you anyway." I actually did this and explained that he looked like the guy and maybe he was but probably he wasn't. They should be easy to identify. Two very happy Africans.
I know that they will be interested only in the money and the phone and will probably dump the other stuff in one of the garbage cans and dumpsters on the street since there is no way two young Africans can make themselves look like a little old Greek man to withdraw money. But with the garbage strike half the block is covered in garbage so it is like looking for a needle in a haystack and a lot more smelly. But my next reaction was "How can I promote a country where law and order has completely broken down and you can be robbed on the street in broad daylight?" Granted, it was pouring rain, it was an empty street and Andrea had cut through an even smaller street, an alley between Tinou Street and Agios Giorgios church which made her an easy target. But the time for making excuses for Athens is over. If the Greek government, and the mayor of Athens, can't keep the city safe for its citizens then they should not be surprised when tourists don't want to come anymore. I won't go as far as to say that people should not come to Greece but when people ask me if Athens is safe, then I have to tell them that my girlfriend was mugged in broad daylight by two Africans, and they can decide for themselves.
In the meantime if you must carry a purse don't think you are being clever by having one with steel-enforced straps because if someone wants your purse badly enough they won't care if they get an arm with it. The smart thing is to not carry anything you don't mind losing and keep any money in some kind of wallet that fits under your clothes. Carry photo copies of your passport, leave credit cards, wallets etc locked in your hotel safe. Replacing the tafotita or a passport will be the biggest hassle. The phone we were able to get her same number back and even the monades (units) she still had left. Money is money. It is replaceable.
The police station was unbelievable. The cops were all kids. I did not see anyone over 25 and most looked much younger. The child-policeman listened to Andrea and gave her a paper she needed to fill out to replace the taftotita. "What time do you close?" she asked innocently.
"We never close" he answered and me and the other guy in the waiting room smiled at each other because it was a simple profound statement.
These kids are fighting a war on so many fronts and they are just raw recruits. Where are the experienced cops? Most likely protecting members of the Greek government from the wrath of its citizens.
So until the Greeks get their shit together stay away from Kypseli and other areas where immigrants are forced to behave like animals because they have no other choice. And yes it is the Government's fault. Everything is. They destroyed Greece. And if they can't fix it they should get the hell out of here and let someone who can take over. At this point I don't think the people care who it is or what they have to do, as long as they get the job done.
When it rains it pours in Athens. Two more nights to go. I will be OK as long as the alcohol lasts. Then London, pubs, yards of ale, Camden Market and on Saturday a short flight to Raleigh-Durham. I am sooooooooooooooo ready to go.
And Andrea is fine. She is tough and she has a bruise on her arm but it could have been a lot worse. She could be dead. And if not her then someone else. But I can't tell you anymore that Athens is safe. Because I know now from personal experience that it is not. (Though to put it in perspective probably in the USA if she had fought that hard to keep her bag the guy would have simply shot her.)
But even with the rise of crime in Athens there is no reason for you to be a victim so be sure to read Defeating the Pickpockets
(By the way you can click on the above photos to see them full size. If she lets me maybe I will post one of the bruise on Andrea's arm.)