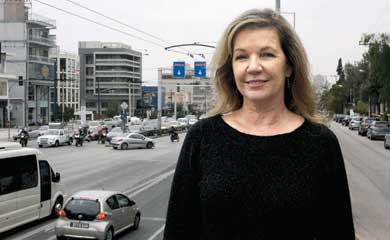 I met Corinne Chandler one beautiful, wintry Sunday morning. As we walked along a forgotten pebbly Faliron Bay beach strewn with thousands of plastic bottles and scraps of rubbish, I wasn't sure how to feel in the company of this woman, camera in hand. Should I feel ashamed of being Greek in the presence of this foreigner who was a witness to this mess? Or should I be proud of the fact that together we observed the efforts of some 300 volunteers to clean this forlorn paradise with such enthusiasm?
I was meeting with Chandler for the first time that Sunday and I did not know two very important things about her before I made up my mind. Yes, Chandler is British, but there is nothing "foreign" about her. She's lived in Greece ever since she was a child, when her mother, enchanted by the island of Skiathos one summer in the 1960s, decided on an August day that they would not be returning to England. The family stayed in Greece and within one winter, young Corinne became an Athenian.
The second thing I did not know about her was how much she loves and how well she knows the Greek capital. A product of this "love affair" with the city was her idea to start an English-language website dedicated to it called Athens Living (www.athensliving.net), featuring videos she shoots herself, of people, neighborhoods, monuments and events. Athens Living is also a good guide to the city, contains news and has an introduction to Greek cuisine, providing first-time visitors with a wealth of useful information on how to discover the capital.
"My first big love was the ballet," said Chandler. When I stopped dancing I ended up, almost by a stroke of luck, writing and presenting the English-language news bulletin for Antenna Television, to which I owe a debt of gratitude. That experience opened my eyes and made me realize how much fun it is to work with video. Unfortunately, the station stopped its satellite program and our news bulletin was no longer being broadcast."
Chandler, who had studied art history, went on to take a job at a gallery in the central neighborhood of Kolonaki. Her penchant for making videos, however, never really left her. "When I saw that there was little hope for an English-language bulletin at any station, I thought, 'Why not try doing it alone?' From that moment on it became something I really yearned to do," she explained of the origins of Athens Living.
Looking back to the days when Chandler was first discovering the city, she remembers her first impressions. "I had this idea of a safe, friendly place that was more light-hearted, let's say, than the English city where I was born." Of course, Athens has changed dramatically over the years, for the better -- "It has become more multicultural and more sophisticated," said Chandler -- and for the worse. One of her biggest bugbears is the graffiti on old buildings, though she still thinks it is a safe city, her city. "People keep asking me where I get so many new ideas, but, believe me, there are so many interesting subjects to cover that it's not a problem," she said.
One thing Chandler is certain about when it comes to her website is that she wants to cast Athens in a positive light. "Athenians are very hard on their city and they often see only the bad in it -- like traffic, smog and strikes -- while forgetting to enjoy the vast variety of wonderful and unique things it has to offer," she argued.
"I hope that the videos I shoot showcase some of the unique aspects of Athens and help generate interest. I choose subjects that I'm personally interested in. On a practical level this means I make lots of videos on artists, exhibitions and cultural events, but at the same time I enjoy shooting videos of some of my favorite corners of Athens," she explained, outlining the content of the site. "For example -- and this may sound a bit eccentric -- I love the First Cemetery, because I find it so beautiful and peaceful."
To see Corinne's videos go to www.athensliving.net