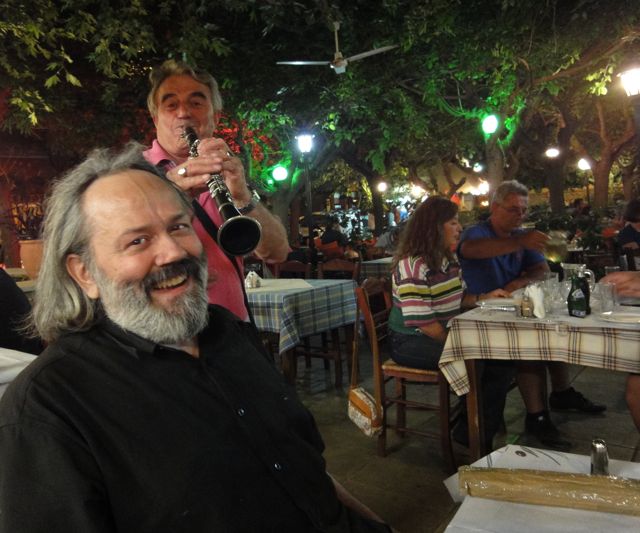 The discussion took many twists and turns as they often do on these kinds of nights but there was one subject that might interest anyone reading this blog. It was about the rise of crime in Athens and the question was whether crime was really so bad in Athens or was it relative to the fact that until a few years ago there was practically no crime, or at least very little crime where the perpetrator and the victim did not know each other. Yes there are now areas of Athens that you don't want to walk through late at night, where before you could go anywhere and feel safe. Yes there are pickpockets and purse-snatchers who do target tourists as well as Greeks, in areas that they would have been afraid to operate in years before. But even so if you compare it to areas of San Francisco, or New York, or Chicago or other European cities Athens is still safer because these cities have areas that you can't even visit in the daytime. And the truth is that unless someone sold you a package or you booked the cheapest hotel you could find without knowing anything about the city, there is no reason for you to be in a so-called bad area. Anyway here we were in Kypseli, which many Athenians would consider as one of these bad areas, and we were eating and drinking and laughing and we were surrounded by other people doing the same and when we all finished we would walk back to our apartments and most likely nothing bad would happen to us, even if we did this every night for the rest of our lives.
But something did happen on the way home. Something kind of profound. We had said goodbye to our friends and were walking home and just as we crossed Fokionos Negri we saw a large group of young people with chaperones, all wearing the same color shirts and shorts. I asked one of the adults who they were because you don't usually see school field trips marching through Kypseli at two in the morning. "We are the Italian team for the Special Olympics" he told me. For some reason it made me really happy to see them and we walked with them awhile until we turned off to our street and they continued on to the Hotel Diva where they were all staying. Tonight 7500 Athletes from 185 countries that will march into the packed Panathenaic Stadium (the marble stadium downtown) for the opening ceremonies, including a concert by Stevie Wonder.
So for one week the Special Olympics will be held at various venues in Athens as these children and adults with intellectual disabilities explore their abilities in various sports activities. But to make it even more challenging ADEDY, the Greek Civil Servant Trade Union has decided to hold a 48-hour strike on June 28-29, which means the Acropolis and other Archaeological sites and museums will be closed. They will be joined by the buses, suburban rail, the ferries, the trolleys and whoever else decides to join in the strike. They have announced that buses and trolleys will be available for the participants in the Special Olympics, but anyone arriving by air should plan on taking a taxi. But you may not have to worry about it because if the air-traffic controllers go on strike you won't be landing anyway, and they have yet to make an announcement.
During those two days many people will converge on Syntagma Square to join the Indignant and protest the vote on the austerity packages which will be going on in Parliament and will basically decide whether or not Greece runs out of money in two weeks. There are also rolling blackouts of electricity in the city but the good news is that they have agreed not to blackout any of the tourist areas. I don't know if Kypseli is considered a 'tourist area' but we have not had a blackout as far as I can tell but my daughter who spent the night in Holargos said there was no electricity there for three hours and she was not very happy about it. It is kind of like the Greeks hate each other and everybody else. The workers at the power company are upset with the government because they don't want to be privatized and lose their government pensions and even be fired if they don't do a good job. So what do they do? They make their fellow Athenians suffer, even those who are on their side. The members of the Civil Service union are mad at the government so what do they do? They close the Acropolis and piss off the tourists, demonstrate in Syntagma and disrupt the buses and trolleys so their fellow Athenians can't get home. If they are angry at the government why don't they go to the homes of the ministers they don't like and protest there? If the members of the Public Power companies are so annoyed why don't they turn off the power at the houses where the government ministers live, not the hard working people of Galatsi or Ano Kypseli. It is hard to take serious the demands of people who seem to take pleasure in causing suffering to people who agree with them. And why have strikes when handicapped people from all over the world are converging upon Athens for the Special Olympics? For that matter why does the government hold their austerity vote now when they know that the resulting protests and strikes are going to make life difficult for the Special Olympic participants? Why don't they just announce a postponement of the vote, or better yet why don't all the members of parliament go to the Grande resort Lagonissi and have their vote there? Or even better, why don't they not even vote since we know they are going to pass it and that the EU is going to give Greece their money anyway because the members of the EU don't want their countries to look like Greece next year.
So this should be an eventful week in Athens, though I won't be here to enjoy it. We leave on Sunday night for Lesvos which should be a lot less exciting but probably just as enjoyable, or even more. If you plan to be here don't worry. Unless you are staying in Syntagma Square the protest should not even bother you unless you need to use the bus, trolley, metro, ferries or whatever other services are going to be on strike. If you planned to go to the Acropolis those days, well, just go shopping instead. Or go to a taverna in a nice part of Athens and drink wine all day and go back to the hotel and watch the events in Syntagma on TV until it is time for dinner. If you happen to be on the islands you won't even know anything is going on unless you were supposed to come back to Athens one of those days in which case you may get a couple extra days holiday. Yes it seems chaotic but these things have a way of working themselves out. And remember that if you are visiting Athens and feel inconvenienced by these strikes, at least you don't live here. Make the best of it. That is the key to enjoying life.
(You can click on photos to see them full size)