How to Eat Sardeles Pastes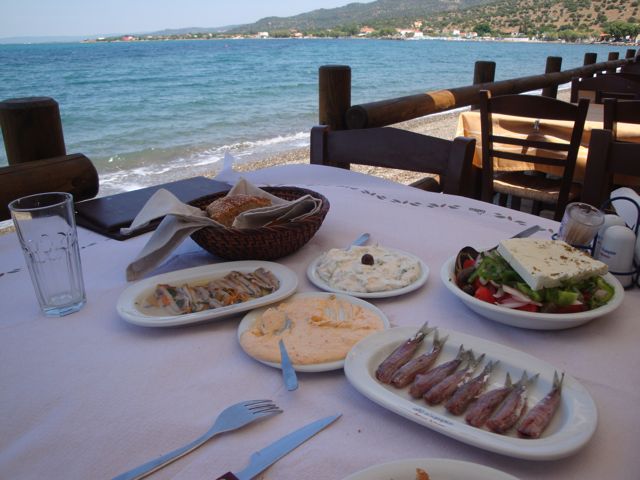 Yesterday we drove Amarandi to the airport in Mytilini, stopping first at the Giotis Psarotaverna in Nifida where a monk had told Pamela we could find the best and cheapest fish on the island. The restaurant was excellent and he even had skaros, one of my favorite fish which you can rarely find in restaurants. Then we drove to Mytilini, put Amarandi on the flight to Athens and drove to the Hotel Aphrodite where we had a swim, a shower and a wonderful dinner with our hosts Yiannis and Maria and Paul and Lina Morrison, two x-pats who have a beautiful house in Vatera. It was one of those classic meals where you stay at the table for hours talking about politics and the state of the country and though we drank several bottles of ouzo and ate lots of food I woke up at about 7am the next morning, swam for a couple hours and wrote yesterday's blog in one sitting, before heading back to Nifida to check out another fish taverna that Paul had recommended called Grigoris, which was supposed to be even better. It was. And the sardeles pastes were so good that we made a fun little video that I posted on youtube.
It is a little rough I know but its our first video besides the ones Andy Emery of OutsiderE did for us and those were totally professional. This was done with Andrea's little camera and even if it is not up to the level of his at least once you have seen it you will know how to eat sardeles pastes.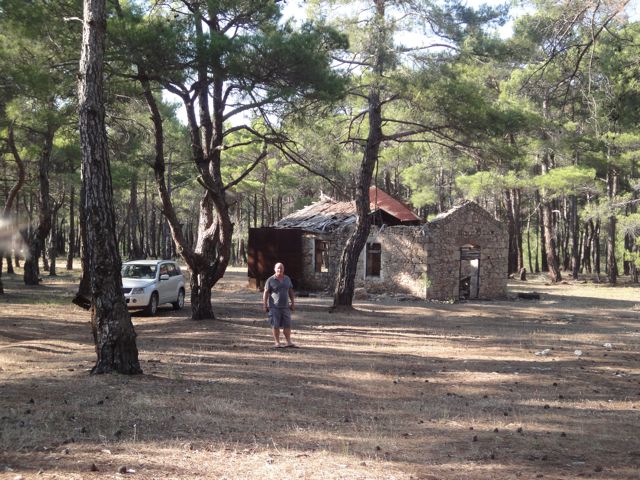 After lunch we went for a swim and then set out on a series of tasks, all of which ended in dismal failure. The first thing we did was go to the Monastery of Diamondi, where there are some beautiful frescos. But when we rang the bell on the monastery door nobody answered and I recalled that as we were driving through the village of Polychnitou I actually saw a monk driving a pickup truck headed into town. Our next destination were the ruins of the ancient temple at Mesa but on the way we took a detour into the woods and found this old mining camp in the pines. Every tree had an old rusted can where they used to extract resin which was quite a coincidence because Paul had just been complaining that none of the tavernas had retsina anymore. In fact when he said that I sent a message to some of my friends in Athens to find out if indeed there were any tavernas left that still had retsina by the barrel or was it something the modern Greeks were embarrassed about because so many foreigners had made jokes about retsina (though most people I know loved it). Elias could think of one taverna and he was not sure if it was still open. And here we were in a retsina graveyard.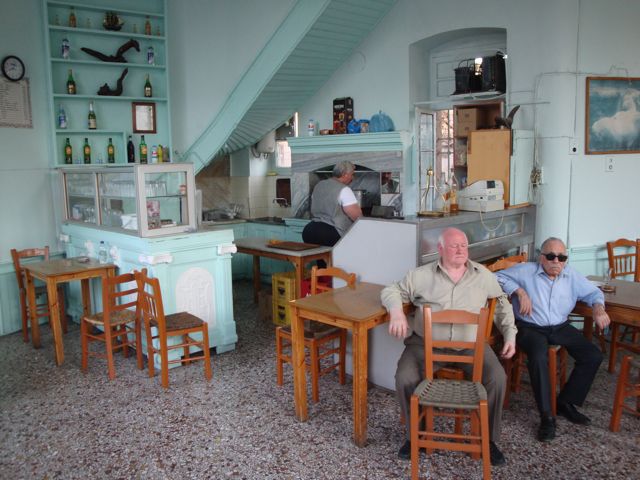 We continued to the ancient temple of Mesa, though we stopped two more times, at a couple rivers to check out the wildlife, and though we did not stay long when we got to the temple it was closed and the only photo I could get was through the bars of the gate. But there was another ancient site, the Sanctuary of Klopedi which we got to by taking narrow dirt roads through the hills and along the riverbeds near Agia Paraskevis, only to find that it was closed too. I say closed but it just means there was a fence with a lock around it and a dog that probably weighed 12 pounds but seemed fierce anyway and no ancient site is worth getting my ankles ripped apart or have to chase after a dog to get my flip-flop back. So we set off on our next task which was finding a phone card since I had run out of monades (units) in Agia Paraskevis. But phone cards had gone the way of retsina, they were no longer in style and it was not until we found an old man in a pandapoulion (everything store) who had not gotten the word, that I was finally able to refill my phone and reply to the people who had been sending me messages and wondering why I had not replied. Unfortunately as Andrea was getting out of the car in Agia Paraskevis, she dropped her camera and it broke so the shutter would not close. But that was better than it not being able to open because it was still usable and we took some nice photos in the old cafeneon where we had coffee.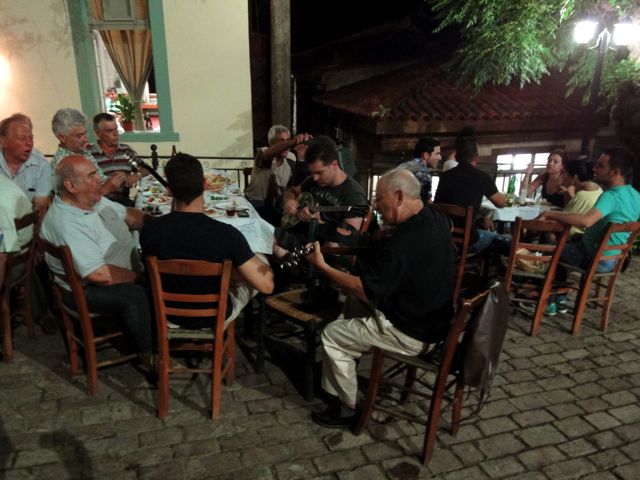 Finally we ended up at Tryfons where we had some Methymnaos wine and a couple mezedes and then went back up the mountain to the upper platia of Vatousa to find a huge party going on at the Paradosiako Cafeneon with two guys playing bouzoukia, joined by philanthropist and local hero Christos Papoutsis on guitar which I managed to capture on video with Andrea's camera and will post once I find a faster way to do it than through youtube.
We may be leaving the island tomorrow. We have not decided. We are not good at deciding. What we are good at is passing the time until it is a reasonable hour to go to one of the cafeneons and order a carafe of wine or a small bottle of ouzo and eat, drink and talk with friends and strangers which to me is the best part of being in Greece, better than all the beaches, ruins, churches, demonstrations, and hangovers combined. Today I barely left an area about fifteen by twenty feet that contains the table my laptop sits on, the kitchen, the bedroom, the patio and the toilet except when I went down to the upper platia to see if anyone was there worth talking to and they had all gone to sleep because they had been up all night eating and drinking and playing music. But tonight we will sit down and make our plans, happy in the knowledge that when we wake up tomorrow we will have forgotten them.
You can click on the photos to see them full-size