Farewell to Lesvos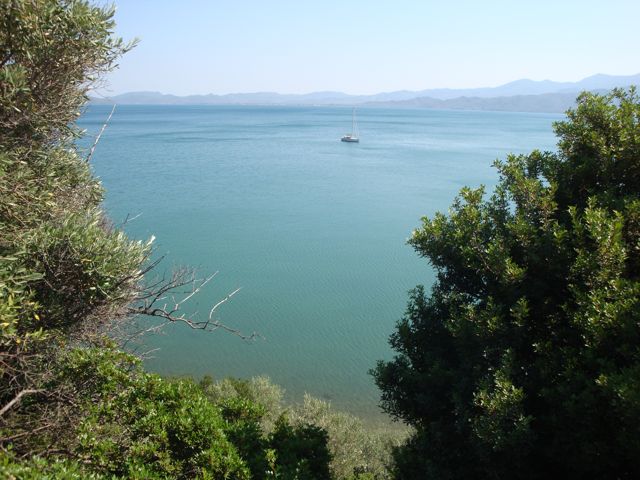 I am in my cabin on the ferry European Express. Out the window the coast of Turkey is so close I can see individual houses. I am feeling kind of sad about leaving Lesvos, like I am leaving the real Greece behind and going back to the Greece that is a caricature of Greece, where fishermen are paid to wear Greek fishermen hats and every restaurant advertises mousaka, and the beaches are full of sun beds and you can't hear the waves because of the throbbing of the techno-crap music, and people buy mixed drinks for $12 and brag about how wasted they got the night before. Not to put it down or anything. I suppose there are hints of this in some places in Lesvos but not to the degree that you find on Santorini and Mykonos and the other popular islands. Do I sound like I am complaining? I guess I am in a way but I am glad there is a Mykonos and a Santorini that can compete for a place in the top 100 islands of the world in magazines that you can't tell the ads from the articles. As long as the people who are only going to come to Greece once keep Mykonos and Santorini on the top of their must-do lists, islands like Lesvos are safe for the people who can appreciate Greece for what it is, and not what it is trying to sell. I am not saying that Santorini and Mykonos are not beautiful places. Santorini is visually spectacular and Mykonos town is a sparkling labyrinth of decedent commercialism that must be seen and experienced once in your life. I would say that Santorini and Mykonos are to Greece as Disneyland and Las Vegas are to America.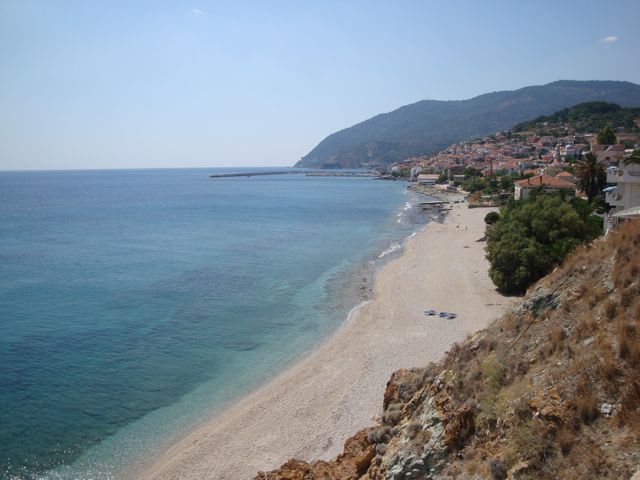 But Lesvos is simply the best island. Maybe not for everyone, but for those who long to see what Greece used to be like before it became polluted by greed and ignorance. I think of Greece as this amazing place that has more packed into its few miles than anywhere else in the world. Its like a microcosm of the world. Lesvos is a microcosm of Greece. There is more variety within the island of Lesvos than all the Cyclades put together. I can't think of an island that has more beautiful beaches. Sure each island has a handful of beaches that they are proud of but you see one and you may as well have seen them all. In Lesvos you find dozens of beaches that any one would be THE beach on most islands, and most of them are empty. You can have a beach five times the size of the biggest beach in Mykonos to yourself. And all of them are different. As for the food, I did not have a bad meal and I spent half of what I was spending in Kea and everything was fresh and many things were organic. Lesvos is Greece without the frills. A modest, honest, Greece that may be disappearing.
So now I am on the ferry and Lesvos is a memory. The last few days are kind of a blur. We were booked on the Monday ferry but changed our minds that morning, just as expected, and luckily Yiannis Hahathakis has a friend who works for the ferry company and was able to change our tickets for free even though you can't really change ferry tickets within 48 hours of the journey. That gave us two more entire days which we made use of by eating, drinking and exploring the wild coast between Gavatha and Skalohori, and coasting wildly in the village of Xidera at Panayotis Cafeneon, drinking Methymnaos wine and eating the vegetables that came from his garden and the paidakia which were from his own sheep. I think if I had to choose an island to live on for the rest of my life it would be Lesvos. First of all from a survival standpoint it is self-sufficient. If the world economy collapsed the people in Lesvos could feed themselves. (The people in Xidera probably would not even notice if the world economy collapsed.) The second reason is that if I had to spend the rest of my life on one of the Cyclades I would go stir-crazy because on those islands you know you are on an island. Lesvos is enormous and you can forget you are on an island sometimes. I can go for days in the village without seeing the sea. I can show a photo of Fanouromeni beach to someone in the village who is 85 years old and has lived there all his life and he will tell me he has never been there even though it is a 40 minute drive from Vatousa. But the big thing is the different parts of the island are so different from each other. You go to Vatera and Plomari and Agiassou and it is pine covered mountains, olive groves, and turquoise sea. Our area is vineyards and oak trees and beaches that have big waves when the north wind blows and the caldera of an enormous volcano. Between our village and Eressos and Sigri it looks like the moon until you get to the coast and then both towns are in fertile plains with lots of water and rivers. Mytilini is a real city with traffic lights and apartment buildings while all over the island are villages with anywhere from one hundred to several thousand inhabitants, many of whom raise sheep. It really is like its own little country and hopefully the problems of Athens won't affect it too adversely.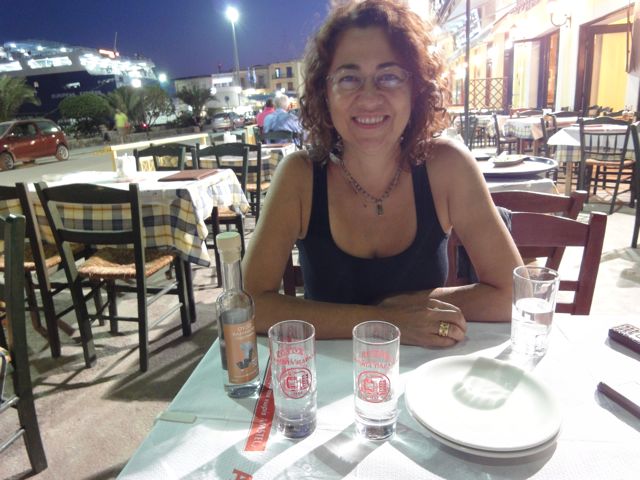 But Lesvos is two islands behind us now. The ship got into Chios at 9pm and stayed an hour, enough time for us to get off, cross the street to Tsibaeri, a small ouzeri-mezedopoulion on the waterfront owned by Valentina and Stavros, a beautiful young couple, who have the best food you have ever had to eat in the hour you have until the ferry leaves for Pireaus. It is not the best of circumstances I admit because the last thing I want to do is miss the ferry. Not just for myself but if I don't get on the ferry, many of the people who are parked behind my car won't be able to get off and I don't like having that many people mad at me. But we have done this several times now and are good at it. We get off the boat, sit down, we know pretty much what we want to eat, the sun-dried grilled mackerel, whatever pure distilled ouzo they have and whatever else they recommend. Tonight Valentina recommended the kolokithia salata which is a marinated zucchini salad that was amazing, the Santorini style tomato balls, and Andrea ordered vleeta which came in the biggest plate I have ever seen vleeta on. When we left they gave us ice-cream and a local spoon-sweet with yogurt and then a bottle of red wine to drink on the ferry, I am already looking forward to our one-hour visit next year. Making it less stressful than usual is the fact that the European Express has a digital sign that has the time on it and I could actually read it from where I was sitting.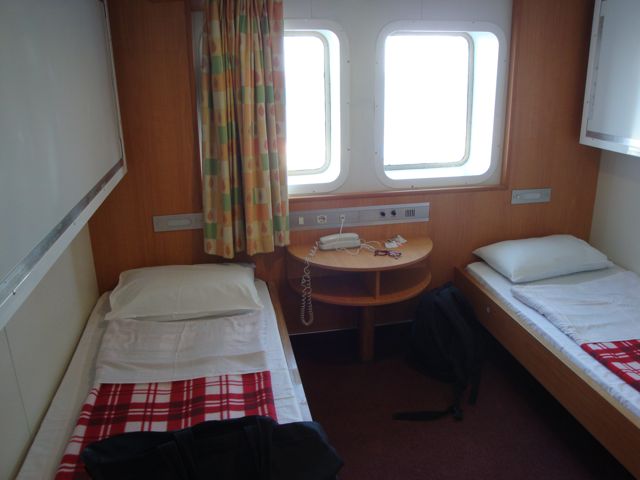 It is dark now but the sea is illuminated by an almost-full moon. The lights of Turkey are bright and there is a large cruise ship keeping pace with us along the Turkish coast. Once we round the southern part of the island the sea will probably get rough because there are no more islands to shelter it until we reach Andros or Tinos, maybe five hours from now. I like the European Express. The crew are very friendly and this is a really nice cabin, it is clean and most importantly the air-conditioner works great. Andrea asked for an extra blanket and the label on it is in Japanese. So when the Japanese ferryboat company sold the ship to the Tunisians they sold it with everything, and then when it finally came to Greece it came with the same blankets that the Japanese passengers were using thirty-five years ago. I don't know about you but that gives me a comfortable feeling. Life goes on. Tomorrow at 6am we will be in Pireaus and then I have to drive to Lavrion to catch the 8:30 ferry to Kea. Wish me luck, though missing that boat means a day at the beach, a nice fish lunch in a seaside taverna, and catching a later ferry.
Later....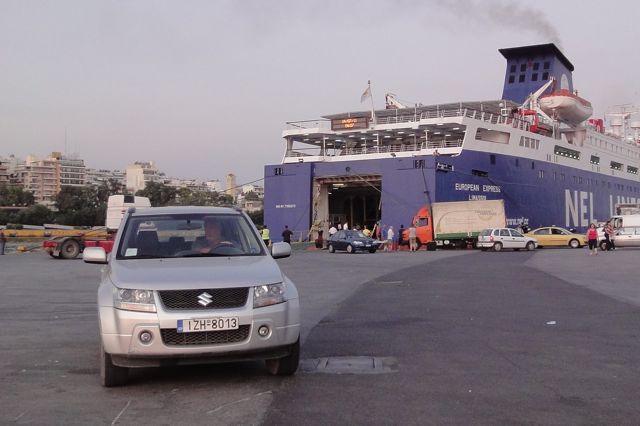 This is the last leg of the trip. We are on the ferry Marmari Express to Kea after driving quickly through Pireaus and along the coastal road to Sounion and then to Lavrion. I think I slept about three hours last night. I woke up around 2:30 and did not fall back asleep until about an hour before they came banging on the door to tell us that we had arrived in Pireaus. I did not mind being awake. I had lots of ideas swimming around in my head and for some reason they are easy to grasp at three and four in the morning. At 3:30 I could see the lights of our village in Kea and I sent Amarandi a message in case she was awake. Half an hour later I got a reply that she thought she had seen our boat. I don't know what I am going to do when we get to Kea. Probably sleep all day and go out to dinner at Rolando's. We also have to figure out how to get our luggage plus two cases and two boxes of wine up the mountain. I spend a lot of time worrying about stuff like this, kind of like the way I worry whenever I have to put the car on the ferry, whether it is going to be as easy as the guy pointing to a spot and me parking there or having to squeeze into a spot that is one foot longer than my car and the guy yelling directions and me trying to remember my eristera(left) from my dexia(right) while driving backwards. Usually it is not as stressful as it was thinking about it.
Well, almost in Kea. Gotta go.
You can click on the photos to see them full size.