The Latest from Athens and Lesvos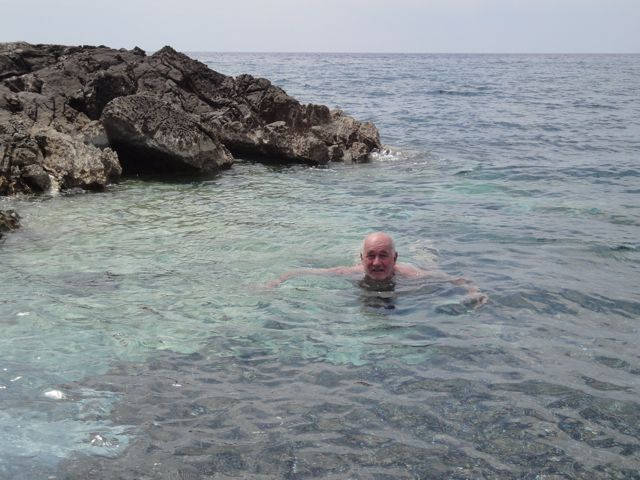 It has been awhile since I had the time to write to you, so long that I have to review my photos to remember what I have done, and yet I see it has only been 6 days. I have managed to swim for at least an hour every day except one and except for one night in Molyvos I have managed to not drink as much as I usually do when I come to the island. I feel pretty good in fact and though it takes at least a cup of coffee before I am clear-headed enough to face the world, I think that at the halfway point my body and mind may just survive this trip to Lesvos. But enough about me. Let me write about the situation in Athens for those who are looking for reassurance that Greece is safe and then we can talk about how much fun I am having in this summer of crisis.
Athens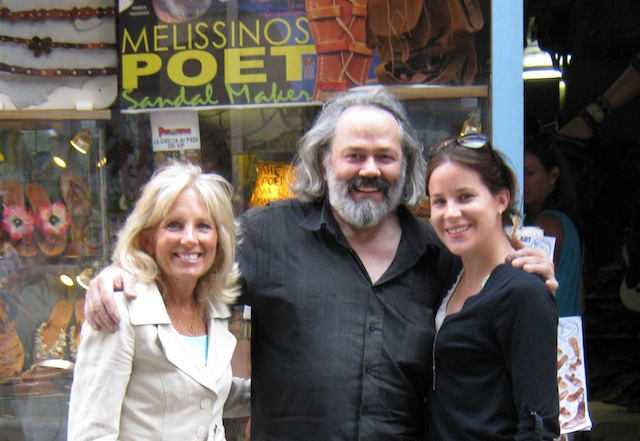 In Athens they have been rounding up tourists and executing them in Syntagma Square. I am a little worried that this may hurt tourism, at least for this season, which is a shame. But I would not call the situation dangerous just yet. Well actually I am kidding but I want to see if this report ends up on CNN and then every other news site. To be honest with you I only saw what was going on in Syntagma Square on TV, like everyone else except for the few hundred people who were actually in Syntagma Square, most of them fighting the several hundred police who were there to protect the government which was voting on the austerity measures which will release the money Greece needs to pay its debts and force the middle class into poverty for the next fifty years, similar to what is happening in the USA. So the good news is that next summer your holiday in Greece should be less expensive as prices are adjusted to attract more tourism. The bad news is that if you are American even if they dropped the prices 90% you still won't be able to afford the airfare to Greece. So what is the answer to the question I get every day, IS GREECE SAFE? Yes, Greece is safe. Yes there will be demonstrations but you don't have to take part. You can go to the Acropolis and shop in the Plaka and Monastiraki, and go out to the tavernas and the clubs at night, and spend your holiday on the islands and around the mainland and not even be aware that there are people in Syntagma Square who are fighting for the future of their country, their children and even their grandchildren or maybe because they don't like cops. Either way it is not your fight, not yet anyway. So if you are coming to Greece just ask at your hotel when you go out, whether this is a day that you should avoid Syntagma Square and instead of watching the Evzones go to the Parthenon instead. Or if you are really worried stay at the beach and take the tram, a bus or a taxi into town to see the Acropolis one day. But seriously, if it were so dangerous do you think Vice President Joe Biden would have let his wife and daughter come and buy sandals from Pandelis Melissinos?
But I am thinking that you have heard enough about the problems in Greece. Let's talk about Lesvos where the sea is clean, the fish is delicious and the people are friendly and happy even while they shake their heads in disbelief at what they see on television. And I am happily listening to Chris Stamey's 14 Shades of Green in the little mountain village of Vatousa, probably the only person in the village doing so at this particular moment.
Lesvos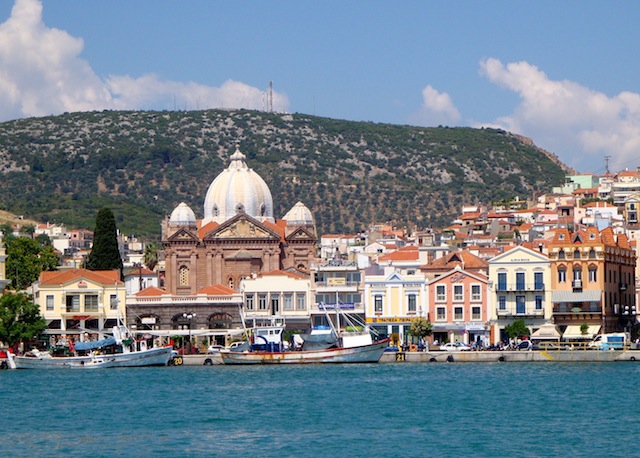 We took advantage of a couple days of cool weather and went to Mytilini for one night and then to Molyvos for another. In Mytilini we stayed at the Blue Sea Hotel, right on the waterfront, with a huge room and a balcony with a beautiful view of the harbor where we could have seen the ferries sail in and out of the harbor if they were not on strike. I think it was the first time I ever stayed at a hotel in Mytilini without turning on the air-conditioner. We walked around the city for hours, taking photos and trying to get a feeling of how much the economic crisis was affecting Mytilini. There were some shops that had closed and even a couple of the large cafes on the waterfront, though the others were full and did not look like they were going to go out of business anytime soon. We went to the line of restaurants that juts out into the harbor to eat at Stratos, where we usually ate when we were in town, but it had been replaced by a psistaria (grill house). We found another fish taverna halfway up. There were only two and the rest were psistarias which is what happens in an economic crisis and people won't go out often for expensive fish but they will go out every night for souvlakia and fried potatoes.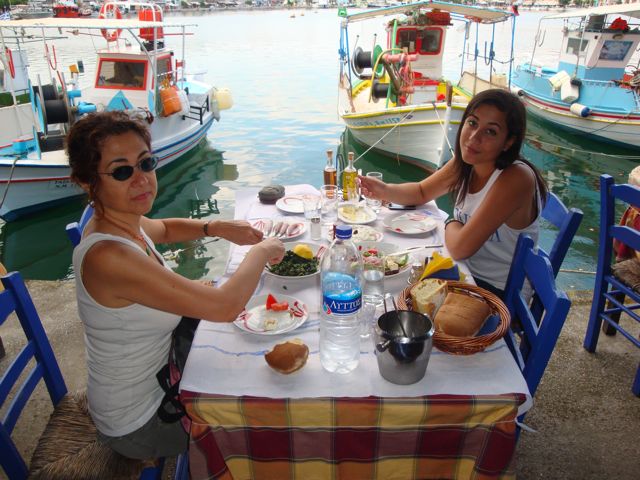 The restaurant was good and the owner was nice and I was ready to give them a great review and send them thousands of euros of business every summer, but they charged us 28 euros for half a kilo for barbounia (red mullet), and that night we saw them for 35 euros a kilo at a restaurant called Rembetiko in the old harbor that was even better. But it was an entertaining meal, mostly because the captain of the Turkish ferryboat that goes to Avalik had the day off because of the strike and was catching enormous kefalo (gray mullet) out of the harbor. Most people won't eat kefalo because they love dirty water. I don't know if he was going to eat them or feed them to the local cats, but they have spent the last two years attaching every house and every town and village in Lesvos to a sewer system and according to my friend Stergios Tekes at the Hotel Seahorse, you can eat kefalo even from Mytilini harbor because all the sea around Lesvos is clean. Anyway there are a couple seafood restaurants on that stretch of harbor, and because of their location they are a bit more expensive than what you will find around the island and even on the backside of Mytilini where the locals go, and if you go you will get decent fish, and maybe pay a little more for the A category fish but if you go for the usual grilled or fried sardines, kolios, and gavros, and a salad you will be OK. For desert they gave us two giant plates of halva, way more than we could eat.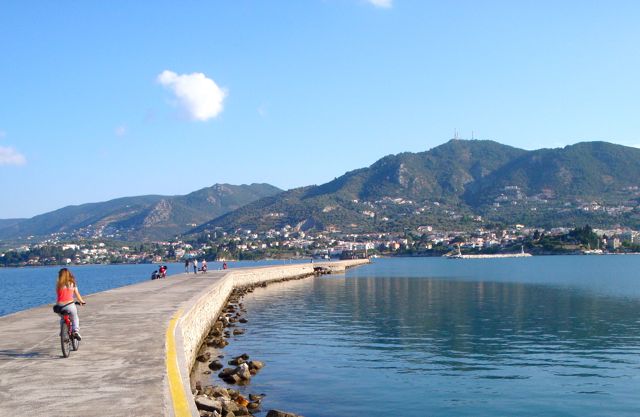 Afterwards we went back to the hotel to rest and then I walked over to the Statue of Liberty on the outside of the harbor where there are flat paved areas for swimming, with ladders for getting in and out of the sea, where all the old people go for their swim in the morning and the late afternoon. Despite being so close to the city the sea was beautiful and I swam for about an hour, well I did not really swim, I just sort of paddled around eavesdropping on all the old people who were talking about the austerity vote that had taken place that afternoon and how it had set the country back fifty years and it will take that long again to get back to the economic level we all enjoyed for the last twenty years. Afterwards I walked to the end of the breakwater that encloses the harbor which must be about a half a mile long. There were people jogging, riding their bikes, fishing and just strolling and by the time I got back to the hotel I felt like I had enough exercise for the day. Amarandi was in Facebook Paradise so Andrea and I went to the NV Cafe down the street for a coffee. It's one of a dozen or so cafes but is less claustrophobic than the others and also has a nice breeze blowing through it. To sweeten the appeal the beautiful waitresses give free cheesecake, served in shot glasses, topped with chocolate syrup with every coffee.
While we were sitting in the cafe my phone rang. It was Lena, who owns Eressos Travel, who I had not seen in about 5 years, asking me to come to meet her at another cafe at 8:45 because she wanted me to see something. Usually when someone wants me to see something it turns out to be some friend who wants to be on my website so I kept trying to get her to divulge more information about what it was she wanted me to see. She was very mysterious and when I met her I had no idea of what it was she wanted to show me. Luckily Andrea and Amarandi had gotten tired of waiting and were going to the fish tavernas in the old harbor where I said I would meet them in twenty minutes. It turned out that she wanted me to see a presentation of a network marketing travel program in an upstairs room of the Mojocafe. The guy making the presentation showed photos of holiday destinations all over the world, with very low prices, for example 145 euros for 4 nights in Las Vegas. So you join the club, take a trip, then come back and convince your friends that you had a good time and that they should take a trip too, and then you make money from them. Once I realized what it was I was looking for excuses to leave but Lena had introduced me to the guy running the program and he kept looking at me and speaking in English and I did not want to embarrass the guy by walking out. Finally he gave the floor to someone else and sat down with me to make a personal appeal for me to join the club. I thanked him and left, arranging to meet up with Lena later. "The problem with network marketing is that you start seeing all your friends as sources of income." I told her.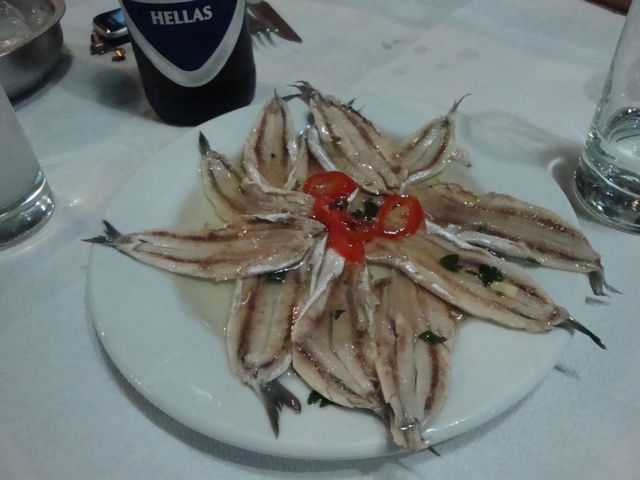 Andrea and Amarandi were at the Rembetiko fish restaurant which according to several people was the best of those in the harbor. It was packed with Mytilinians and so noisy it was hard to talk and if they were playing rembetika music I could not hear it. We just ordered some sardeles pastes, and some gavros marinatos (marinated anchovies) which were both excellent, but decided that we would go somewhere quieter that we had seen on the road from the new harbor. In the meantime we made friends with the one other foreigner in the restaurant, an American actor named Francis who was only in Lesvos to catch the ferry to Avalik, so he could take the bus 3 hours to Troy so he could have a beer and sit where the Achaeans had moored their ships, before taking the bus to Istanbul, going straight to the airport to buy a ticket so he could catch a flight to Athens so he could make his flight back to the USA two days from now. It was an insane plan and I asked him why he didn't just stay in Lesvos and enjoy the island. But he had a plan and wanted to stick with it. We left the restaurant and went to Kastro, a small ouzeri on Ermou Street across from Ermis, which is the most famous ouzeri in Mytilini. It was run by a guy named Giorgos who turned out to be a magician so after some delicious mezedes we were entertained with card tricks. Lena had tracked us down and when Andrea and Amarandi left she told me her life story of the last several years. She has been doing active meditations with the Osho people in Skala Eressos and she looked ten years younger than when I had last seen her. She told me there is a festival at the Osho Center starting this week and invited me to come. I told her about my years as a Rajneesh sanyassin when I was in my twenties, which I won't go into now, but were some of the most fun years of my life since I was in the best physical shape of my life, had all my hair, and the sanyassin girls were all beautiful, loved sex and were somewhat spiritual too.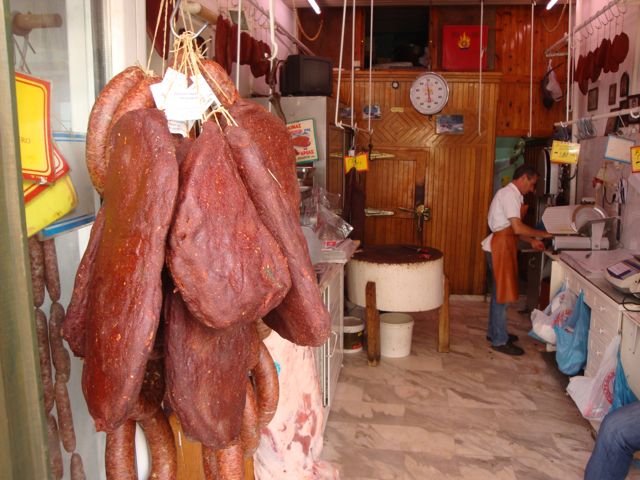 The next day we went to the agora (market) in Mytilini where I bought pastourma (like pastrami) from a small butcher shop called To Paradosiako that specializes in it. It sat in the car for two days and when I unwrapped it back in Vatousa it was still perfect, so I recommend you buy some when you come to Mytilini and keep so that if you want to have an ouzo on your hotel balcony you don't have to send out for pizza. I took a few dozen photos of the market and we spent about twenty minutes in the Ouzo Matis shop, watching them bottle the ouzo. It is a famous old shop and one of the oldest ouzos. It won a number of gold medals in the early nineteen-hundreds and these and other awards are displayed in the shop. You should also visit the old cafeneon which has been renovated into a spectacular bar with old photos of Mytilini, and the Kentrikon which sells all sorts of products from Lesvos, like ouzo, sardines etc. There are two shops which have taken the place of the now bankrupt Lesvos Shop, both on the waterfront and both full of traditional products from the island including Methymnaos wine.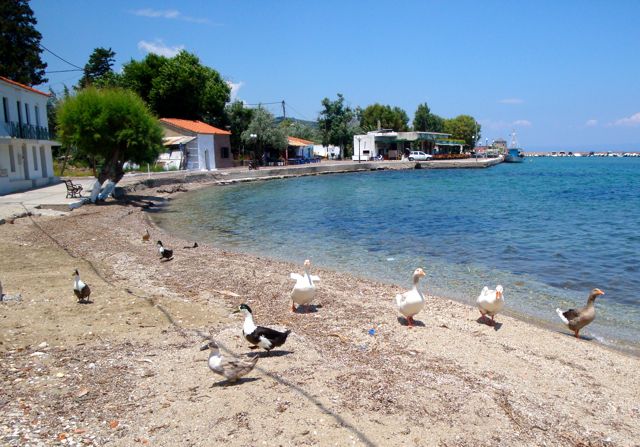 We left the Hotel Blue Sea and drove up the coast to Pigi Thermi where there once stood a beautiful historic hotel at the hot springs. Unfortunately the archaeologists found some ruins in the lovely garden and dug it up. The hotel closed and has never reopened and the ruins, which nobody cares about anymore, are a breeding ground for mosquitoes and a place for people to throw their garbage. The new baths are still open but the ancient hot baths are closed up and the water has risen to the back entrance where there are some ancient stones and columns holding the building up. But nobody seems to care and people have thrown their garbage down the stairs and even though inside the building there is a beautiful arch and ancient column supporting the building, you can't really see it anymore, and nobody seems to care whether you can or not. I knew it was in there so I took my camera and pointed it into the small window and took a photo with the flash and hoped for the best. We went by my friend Katy Karakondis's house but it was closed up and looked like it had been empty for years. Her neighbor said she had moved to Mytilini where her husband is a teacher at the high school. On the way back to the car we were attacked by a gang of geese and ducks which we somehow managed to evade without incurring much loss of life.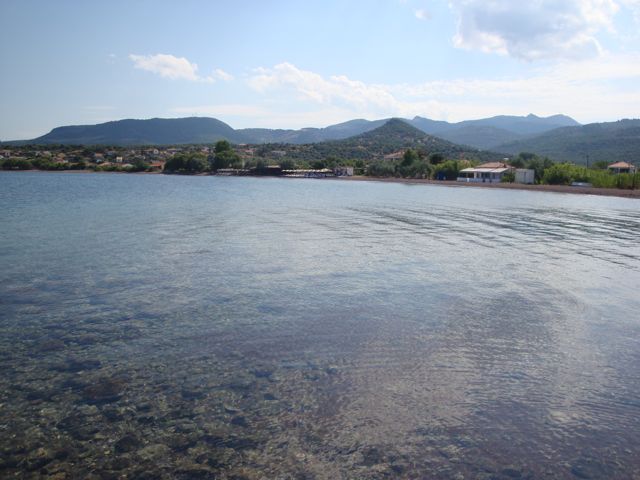 We got back on the road and went to the town of Mystegna. Actually we were in Skala Mystegna which is the beach, while Mystegna is the town above it in the hills. There was a small taverna called Posidonas where we had gone about ten years ago when Melinda and Theo from Molyvos were building their rental houses on the beach. We ate sardeles pastes (of course), fried tomato-keftedes which were amazing, fried gavros and small sardines which were mixed together, and grilled kolios (mackerel) and a beautiful Greek salad. From Skala Mystegna we drove to the red sand beach at Tsonia for a swim. The beach was empty except for maybe a half dozen foreigners who had come from Petra or Molyvos and were exploring the island. Tsonia is one of the nicest beaches on Lesvos, though it is far from just about everywhere. From Tsonia we drove another hour to Molyvos where we checked into the Hotel Seahorse and while Andrea and Amarandi went shopping I answered 48 e-mails, at least ten of them asking me if it was safe to come to Greece.
Molyvos to Vatousa
That evening we had an ouzo with Stergios Tekes at the Hotel Seahorse restaurant and then went to the Captain's Table to have dinner with Melinda and Theo, the owners, who are our best friends on the island. We drank six bottles of their excellent wine and then when they closed the restaurant we went to a nearby bar called Molly's which had the world's best music video collection and I stayed there til 4 in the morning with Martin, the owner. I would name a group and he would play a video. I saw a version of Free doing All Right Now that I had never seen before, a great video of Blue Cheer doing Summertime Blues from 1967 and even a video of Golden Earring doing Radar Love, live. Whatever I asked for Martin could find and if it was not on his laptop he would find it on Youtube. When he found a video of Family doing Good News/Bad News he told me that the guitarist, Charlie Whitney, lives on the island. I have to meet him! I ended up stumbling out of the bar after 4am. Luckily it was about twenty steps from my hotel. The next day I had a terrible hangover but I don't know whether to blame the ouzo at the Seahorse, the wine at Melinda's, or the Guinness at Molly's. But it has been my experience that every time I end a night of heavy drinking with a couple Guinness, I feel like hell the next day.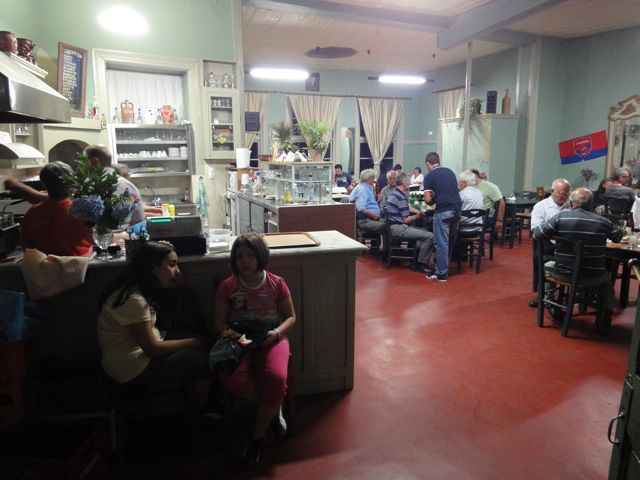 The next day we had lunch at the Seahorse and tried to kill some time until my head had cleared enough to get behind the wheel and drive back to Vatousa where some friends from Athens were visiting for the weekend. Andrea had a yummy yogurt with fruit while I ate the kind of food you have to eat when you are hungover and there is no patsa around, souzoukakia and very strong coffee. I wanted to stop for a swim but it was a cloudy day and nobody else seemed interested so I didn't make a big deal about it. When we got to Vatousa we were pleased to find that we now had high-speed Internet and disappointed to find out that the guy from OTE who set it up left one digit off the password so we could not use the wireless. Our friends had been drinking tsipuro all day from the bottle under the sink that was given to Pam by our friend Manolis in Kalonis who said it was probably too strong to drink but could be used for cleaning. It did not seem to bother Yannis, Mihos and Elizabeth who jumped in the car and went to the beach at 3 and did not come back until 9pm when we all met in the big cafeneon to drink some more and have dinner. Yannis the painter bought us one of everything we had already ordered, a bottle of FIX beer, a carafe of wine, and a bottle of ouzo. But nobody had drunk the ouzo so I ended up giving that away to another table where our Albanian pal Spiro Cooper was with his friends before climbing up the mountain to out house and my bed.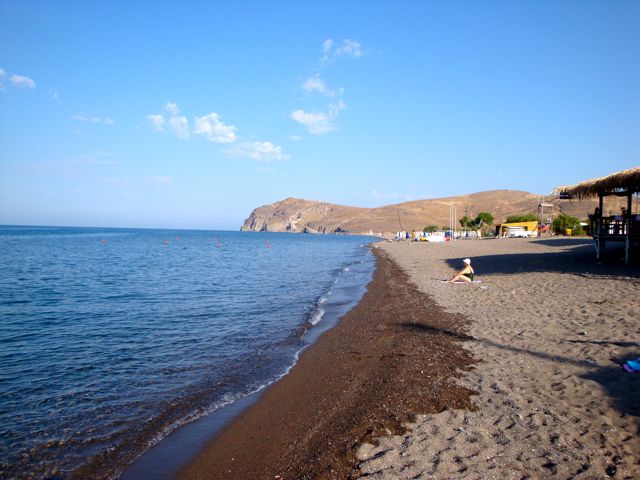 Today I woke up to a house full of people and had to be sociable first thing in the morning, which is not very easy for me. I was planning to spend the whole day writing since I had caught up with my e-mail, but when everyone else wanted to go to the beach for lunch and a swim I could not resist. We were going to go back to Sigri to Cavo d Oro, but Amarandi put up such a fuss that we decided to go to Skala Eressos instead. My favorite restaurant, The Blue Sardine, had not opened yet but Kosta, the owner who arrived from his mountain village somewhere on the mainland, was drinking his homemade tsipuro from his village while he and his friends ate, while taking a break from rebuilding the deck that gets washed away by winter storms every year. He gave me a glass, and one of the small clams he had gotten from Kaloni, and I returned to our table at Adonis restaurant with enough of a buzz to allow me to order a bottle of Ouzo Yiannatsi, some sardeles pastes and a couple lakerda (marinated tuna) even though I planned not to drink, so I could work this afternoon. Never mind. I drank one glass of ouzo and kept adding water so it lasted the entire meal and then came next door to Roots Cafe and wrote today's blog which pretty much catches you up with where I am now.
So reading the news here (free wireless all over the place in Skala Eressos) I see that Greece will get its money and things should be normal for the rest of the season. Unfortunately in Greece, normal means more strikes and demonstrations.
You can click on these photos to see them full size. For more about Lesvos see www.lesvos.com