Two More Videos!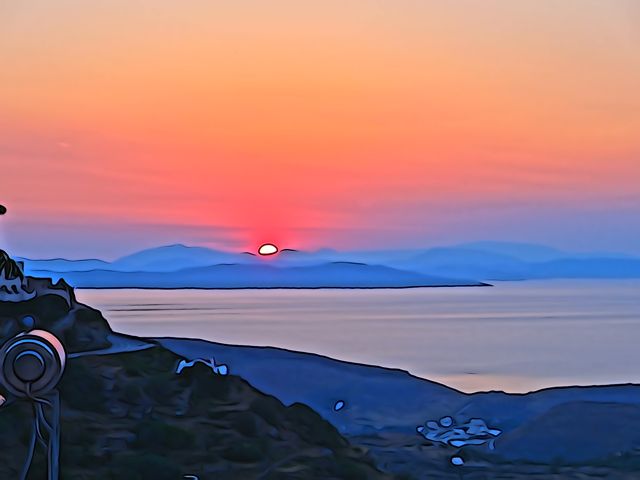 This morning Andrea wakes up and tells me she wants to go back to Athens with our friend Elizabeth who has been visiting us the last couple days. She has some family business to take care of and the heat wave seems to have broken somewhat. I thought about staying on Kea, eating dinner at Rolando's by myself, waiting for Amarandi to come home from the bars at 7am, sitting on the balcony with a glass of wine watching the sunset, and I thought about Athens, the crowded streets, the traffic, the tavernas and restaurants of Fokionos Negri, and all my friends there. "I'm coming too." I told her. She tells me she knew that is what I would say. Of course this is the weekend when the bars and clubs of Kea are full to the brim and there is no way to convince Amarandi to come and actually we don't really want her to. When she stays out all night in Kea we have a good idea of where she is and we know she is relatively safe, as safe as any 18 year old girl who looks like a 24 year old model can be in this country where all young people care about is sex and alcohol. But in Athens when she does not come home we have no idea where she is. So let her stay in Kea with her cousins and we have one less thing to worry about.
So I am sitting on the ferry boat Makedon, about to pull up anchor and take the one hour journey to Lavrion and the one hour drive to Kypseli for whatever the night may bring. Greece got the terms they wanted from the EU and the banks yesterday so people may be feeling pretty hopeful this weekend and maybe going out and celebrating. Not that they need a reason to go out and celebrate. They seem to go out no matter what. Yesterday in the En Lefko Cafe, Delapizza said "Look around us. This is late July and there is hardly anyone here on the island." But I am surprised at how many people there are on the island. Last night we ate at Yiannis Taverna and it was full, as was Rolando's across the square. Are people going to be in misery or are they going to go back to the way they were before they joined the EU when they didn't have money but they were still happy? There is no doubt you get used to all the stuff you buy when you have money and all the luxuries but when the average Greek is forced to tighten his belt is he going to stop eating and drinking with his friends and family? I think that will be the last thing to go. First they will stop using the motorboat and if they can't sell it they will abandon it. Same with the extra car and then the primary car. Those who rent their apartments will negotiate lower rents and landlords will accept it because they know they won't find new tenants. Members of the family with good jobs will help those without jobs and people will still go to the seashore and instead of the barbounia they will eat the gavros and the kolios. And in eight days the island will as always be full of people who have spent every August of the last fifteen years here and their friends will come to visit them and stay in their houses for a cheap holiday and when September comes the islanders will count the money and discover that things were not as bad as they had thought.
Andrea and I always talked about living somewhere in Europe that was closer to Athens than the USA. We were jealous of friends who just get on a flight and in two hours they are in Athens. With us it takes weeks of planning and then all the angst that comes with going away for a long time. We want to live somewhere that we can go to Athens on a whim and not worry about jet-lag so going to Greece becomes as easy as going to the beach from our house in North Carolina. But Kea fits that description. We have a house there and not only is is easy to get to Athens but it is even easier to get to the airport and go to Paris, Rome or London for a long weekend. I think I would spend late November or December until April in NC, watching Tarheel Basketball, maybe go to NY or San Francisco for a couple weeks and then back to Kea, or even Lesvos which is also within striking distance of Athens. But to be honest I can be happy anywhere and I can be miserable anywhere and I don't like making comittments or burning bridges so I will probably just keep doing what I have been doing.
Later in Athens...
We drove to the airport to see if the striking taxis were blocking the roads but there was not a taxi in site. People were coming out of the airport, getting on the buses to Syntagma and Pireaus, or going to the metro, and everything looked quite orderly. There was no traffic on the highway, nor in Kypseli. The air was clear. Maybe the taxis should stay on strike forever. And they just announced that the ferry boats are not going on strike. So all is well in Athens so far.
Oh yeah.... I almost forgot. I have two more videos. The first one is from Vatousa. It was one night when we had dinner at Tryphon's in the lower platia and came to the upper platia to discover we had been missing the party of the summer. I call it One Night in Vatousa, Lesvos and it features Chris Papoutsis on guitar and a couple guys I don't know even though they are practically my next-door neighbors. The woman singing is a Greek from Australia named Eleni, I think:
The second video is from our series on how to do things in Greece, and is the follow-up to my How to Clean and Eat Sardeles Pastes. It is called How to De-bone and Eat a Fish in Greece and was filmed at Rolando's Cafeneon in Ioulida, Kea and features pretty much everyone in the restaurant but Andrea is the star. I filmed it.
Hope you enjoy them.