Dellapizza's Terrace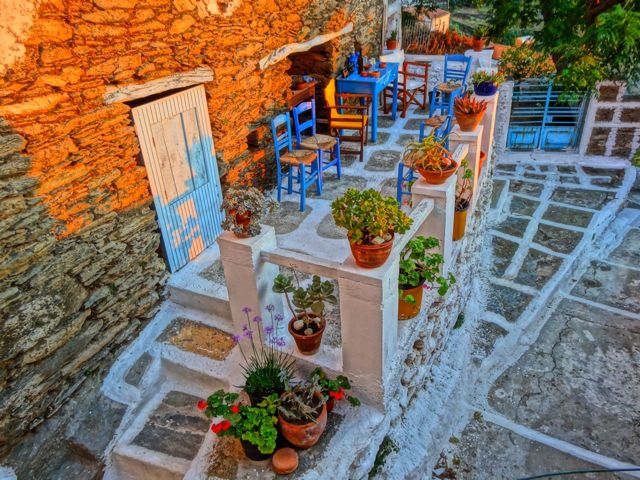 I am sitting on the new terrace that Dellapizza made for us. The house never had an outdoor area until now. It was like having a big beautiful apartment on an island but no garden, no outdoor space. But I told Del that I wanted to take the garbage strewn ruin of a house (it was a ruin when Andrea's father was a boy) and make an area to sit so people would see it and know it belonged to someone and stop throwing their garbage in it. Del, being Del worked for a week cleaning it out, then he raised the floor another foot using rocks from the ruin, put a slab of cement, built stairs out of ancient stones he found in the village, and then painted it. So right now I am sitting in the shade at the little table we put here, there is a nice breeze and I have a wonderful view of the sea, where at the moment the Octopus is passing. It is the world's largest yacht. I recognized it immediately from some photos Santorini Boo had posted on Facebook while it was in Santorini. It is sitting now about a mile off shore on the exact spot where the Britanic sunk, and since I know the yacht has a submarine, I assume they are paying it a visit.

But this is the reason we decided to stay an extra 4 days. Del finished the terrace the day before we would have left for Athens and I felt like it was not right that he put all this work into this and we just thank him and leave. So we decided to send Amarandi and her grandmother back and Andrea and I would stay until Sunday and return to the USA a day or two before we had to drive Amarandi to college because we know that we will never see her once she gets back to her friends in Chapel Hill. Then a couple nights ago Andrea and I woke up at the same time at around 5am and began talking about whether sending Amarandi back was the right thing to do, from a parent perspective. We decided that it did not really matter and Amarandi herself had told us she wanted us to stay here so she would not feel bad about not hanging out with us or coming home late. Just then I heard the back door open and knew that Amarandi had returned from her nighttime activities. After about 20 minutes I went into her room and asked her to shut down Facebook and go to sleep because she had to be up at noon for the ferry. To my surprise (shock really) she said "Dad, change my ticket. I don't want to go back." I told her we would discuss it in the morning, which we did and when her grandmother said she did not mind staying too I called USAir and was able to change the tickets quite easily and for just $178 each. Seemed like a good deal.

The Octopus is definitely sitting on top of the Britanic. I wonder if the port police know that the yacht with the helicopter on the back also has a submarine or that there are 8 well-trained ex-Navy seals on board for security should they venture out there to ask if they have a permit. I wonder if the yacht will come into port. I hope they don't come for dinner at Rolando's. Andrea googled it. It has 41 staterooms and costs a milion dollars to fill it with fuel.
Mimi, our neighbor who won the lottery a few weeks ago just walked out of his gate heading for the platia. A couple weeks after he won he was fishing and was pulling up a mesh bag that he keeps his fish alive and fresh in the sea and he did not notice a drakina, the posionous fish whose spines can kill you or make you wish you were dead, was sitting on the bag. He got stabbed and his arm swelled up like a balloon and he went into shock and was rushed to the clinic and shot full of cortisone or whatever it is they do in those situations. He is lucky to be alive they say. Last night he was at Rolando's with his pals, celebrating being alive and having a million euros to play with. Yesterday he bought a new fridge.
In the few days we have been using our new terrace I have seen more of the neighbors than I have in all the years I have been on the island put together. Even Rolando came by on his way to open the restaurant. Last night we decided to have a little get-togetherto celebrate our new terrace and since we really did not want a lot of people showing up we waited till the last minute when we knew everyone would have other plans and then sent out invitations by text message from my cell phone. Of course nobody showed up except us and Dellapizza so we ate chips and queso and smoked mackeral, drank wine and listened to Del as he told us his life story. Del is a cross between the artist Theophilos and Jesus Christ. The work on this terrace was back-breaking, dragging and placing stones in the hot sun, cleaning out the most disgusting garbage you can imagine and hauling it away, and turning some useless space that was an eyesore (and often smelled of the animals that died there) into a beautiful recreational space. And he refuses to take money from me. He does it because he sees ugliness and is compelled to make it beautiful as he has done all over this town. (See his website at www.greektravel.com/greekislands/kea/del).
Del complains about the small-mindedness of the villagers who think we are trying to steal the property (we actually talked to the owners and they said "Please! Do it!"). The property belonged to Giorgos, the butcher, who was killed in a car accident several years ago and I want to call it "H Gonia tou Giorgo" (George's Corner) or something like that except every time we mention his name the mother cries. A year after he died I sent them a photo I had taken of him in his butcher shop which the family still owns, and they blew it up to poster size and it looks over the shop like some kind of young diety in a blood-splattered white apron, holding a meat cleaver. But the neighbors around us seem to love what Del has created here. The first morning several came up and joined me in the taverna chairs Del had found and painted blue to match the doors he had relaced in the walls of the ruin. Then while I was sitting here a stranger came and sat down and began telling me about himself before pulling out some fake Rolex's and Bulgari jewelry which he tried to sell to me for 1500 euros each, and eventually came down to 100 euros before giving up. Later one of the neighbors asked if she could put her geraniums and succulants here because they don't get enough sun on her back steps. So we have the beginnings of a potted garden too. We have one more day to use it though. Tomorrow we leave for Athens.
Taxi Strike
I wanted to write a commentary on the taxi strike but the whole thing was so surreal I did not really know how to approach it or if I even wanted to pour gasoline on a fire. But it fizzled so thoroughly and so completely I wonder if the Greek taxis will ever recover. For those who did not follow it, the minister of transportation in the first Papandreou cabinet made a deal that was very much in the taxi driver's favor that would limit the number of licenses granted. Since a taxi license costs about 100,000 euros this insures that they keep their value and in fact become more valuable. But when the cabinet was reshuffled the new minister said he was throwing out the agreement and was lifting restrictions so anyone could get a taxi license if they had a taxi and a couple thousand euros. Of course the taxi drivers freaked out, as you would if you found out that a new law was going to sell the license you paid a hundred thousand euros for to any Pakistani, Albanian or EU member for two thousand euros. So they decided to flex their collective muscle and went on strike while at the same time blocking the airport, the ports, the roads in Athens and anything else they could think of that would cause problems and annoy people.
Everyone assumed that they would strike for a couple days, they would reach some kind of compromise with the government, and then they would go back to work since a taxi driver really can't afford to stay on strike for more than a couple days since like other humans they need to eat, drink and buy gasoline. But the union voted to continue the strike indefinitely and the government refused to back down. When the taxi drivers were criticized for destroying tourism some of them took over the entrances to the Acropolis and other archeological sites and let the tourists in for free just to prove that this was not the case. Meanwhile some of their brothers decided to block the arrival of a large cruise ship and two thousand taxi cabs raced to Pireaus, pouring oil on the road behind them to keep the motorcycle cops from following them, only to find that most of the people on the cruise had already disembarked and that they were only able to keep two tour buses bottled up in the port. Clearly this was a strike where the head of the centipeded did not know what any of the feet were doing and even the feet themselves were not sure. Not all taxi drivers wanted to go on strike in the first place. The taxi drivers who made their living doing tours and transfers for tourists certainly were not wild about going on strike during the busiest part of the tourist season. But the strike continued and as it continued the Athenians began to discover that they had an excellent public transportation system, and that the city streets were much safer to ride small motorbikes and vespas on without the taxis, and many swore that they would never use a taxi again. Travel agents who had been reliant on the taxis for their transfers started using mini-vans or going themselves to pick up their clients from the airport. People flying into Athens who were not getting picked up by their travel agents discovered that if their hotel was on the metro line or any of the bus lines from the airport, they could easily get to them and all they had to do was protect their wallets and handbags from pickpockets, which is not that difficult to do actually. Suddenly the taxi drivers realized that everyone was adjusting to their absense and the only people suffering were the taxi drivers themselves. (See Defeating the Pickpockets) The taxi drivers desperately wanted the government to negotiate with them so they could act like they had achieved their goals and go back to work. Meanwhile on the islands the taxi drivers who were fed up and really had no reason to strike in the first place, began going back to work. (Some islands the taxis never went on strike). Finally the taxi drivers met with the regional governor of Attika, probably the only guy they could get to talk to them, and he agreed that no new licenses would be granted until after September when the government would sit down and listen to their complaints. That was good enough for the taxi drivers and they all went back to work, even though the drivers in Crete wanted to continue the strike. But they vowed to be back in September if the government did not accept their demands or at least negotiate with them.
But you have to wonder how willing to strike are the taxis going to be after losing three weeks of summer business in a strike that got them absolutely nothing but the ire of their fellow Athenians, not to mention the tourists who were inconvenienced, in some cases not even being able to disembark from their ships? And was the taxi union manipulated by the government who knew they would over-react and hang themselves with the rope they were given? Or was the government just as inept and things worked out for them because the taxi drivers were even more so? It is hard to tell but it is obvious that at least for now people are not going to forgive the taxi drivers for being willing to destroy the country to get what they wanted. And does the fact that the government showed they had the balls to stand firm and dare the taxis to do their worst and face the consequences mean that when the civil servants and other groups go on strike in the fall they may find themselves in the same situation? I am all for unions but if they are not for the common good then fuck em. In the case of the taxi drivers they had a ligitimate complaint and were right to strike. But they squandered their support by going too far. They blew it.
Changing a society is never easy but it can be very interesting and if you are not too wrapped up in it, entertaining. I will be back in September. I want to see how this turns out. And if Athens is too crazy I will just come back to Kea and sit on my terrace.