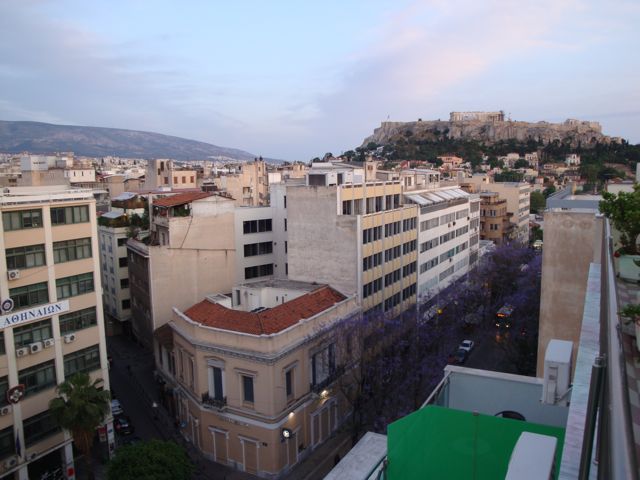 When you wake up from an afternoon nap on the day of arrival there is a feeling of disorientation that can feel a little unpleasant but only lasts a moment before you realize "Holy shit. I'm back in Greece!" It has been years since I have stayed at the Hotel Attalos. We inherited an apartment in Kypseli and no longer needed to stay in hotels. But this spring Andrea's father died and his wife moved into our apartment and we are now hotel people again. I like it. I like going to the rooftop bar and meeting people who came to Greece because of my website. I like when people want to have their picture taken with me or ask me to autograph the pages they have printed out from my website and have been carrying around Greece in a looseleaf binder. Isn't that why I was a musician? Being a writer is so much easier and I can do it from home. Yes there is some travel involved but thats OK too.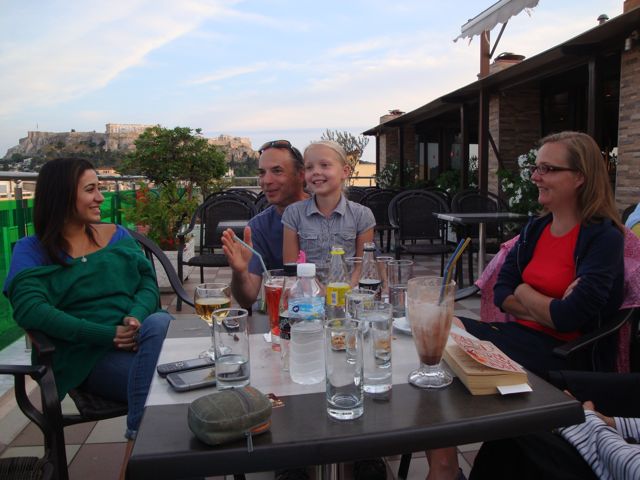 I go up to the rooftop bar where Aliki from Dolphin Hellas Travel is having a drink with Christian Cameron, an American novelist who last year put on a re-enactment of the Battle of Marathon to celebrate the 2500thanniversary. It was an important battle. Had the Greeks not beaten the Persians there and defeated the Persian fleet in the Battle of Salamina, there would never have been a Golden Age of Athens. Think about that when you ask why we should bail out Greece. When the Greeks were the front lines of Western Civilization they held their ground. If they hadn't we might all be Persians and you would be reading this in farsi.
Next year Cameron plans to do a re-anactment on Lesvos, perhaps the seige of the fortress at Molyvos by Achilles. He just returned from two weeks there and wants to buy a house on the island. Aliki and the Cameron family take their leave, heading for Thespidos Taverna in the Plaka just as Corinne Chandler of Athens Living joins us. She is on her way to a gay club in Gazi. No, she is not gay. She is married to our friend Panos and he is not gay. But she is a dancer and many of her friends are gay. I would go with her to the club because it sounds like fun, but in the last few months three people have accused me of being gay and two of them are in my family. My daughter says gay men like me for some reason so therefore I must be somewhat gay and not know it, as if playing on the women's rugby team makes her an expert. I can't help it if gay men like me. Babies like me. Cats like me too. That does not make me a baby or a cat. The problem is that the other two people who think I am gay are my ex-girlfriend and my wife. But what do they know?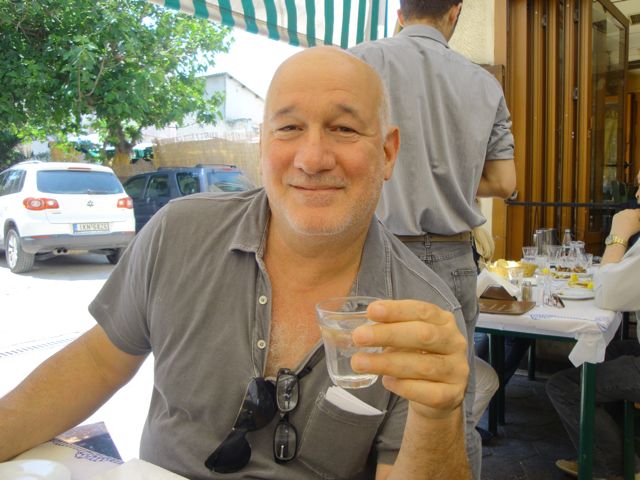 It does not matter. Gay or not Andrea is not going to allow me to run off to a gay club with Corinne after I have invited a dozen people to meet us at Taverna Psiri for dinner. Tony has just arrived on the Attalos rooftop with his luggage. He was on the ferry from Sifnos and met two girls who were coming here by taxi with New Jersey John, who works with George the Famous Taxi Driver. John is everybody's favorite because when they arrive in Greece and meet him at the airport they think maybe they got on the wrong flight and are in Newark. He speaks English without a Greek accent in perfect New Jerseyan English. But if you ask him what part of the States he is from he will look at you as if you are crazy and tell you he is not American. I don't think he realizes how American he sounds. He picked us up from the airport too. He's usually the first and last friend I see when I come to Greece. We invite the two American girls to come with us to the taverna too. Psiri is jumping for a Sunday night. Taverna Psiri has plenty of free tables and it is not hard to put several together to make room for a dozen or so people. Everyone converges on the restaurant at the same time, all of us fashionably fifteen minutes late. We order a million appetisors, some fried kalamari and koutsomoures and 2 kilos of paidakia and several carafes of wine which we drank mixed with soda until Yiannis Lambrou shows up with several bottles of Methymnaos wine from Lesvos which I never mix with soda because it is organic and does not give me a hangover no matter how much I drink, and because he would kill me if he saw me mixing it with soda, since he makes it. The rest of the evening is a blur. The next thing I knew I was in bed, wide awake, trying to estimate what time it is in North Carolina and how many hours it will be before I am actually tired. I finally give up and take one of Andrea's sleeping pills which kicks in just about the time Amarandi starts texting me and yelling at me from the balcony to wake up because she wants to go to the restaurant at the meat market.
So a typical first day.
There is a month before the elections and Athens seems like it is in a sort of limbo, floating over a sea of fear about the future. But the moment feels more real than the past or whatever is going to happen in the future and it feels pretty good. Probably there are people wavering about whether they should come to Greece. I know that frequent Greece travelers email me and ask why I have not been posting, either because they enjoy my writing and miss it or they want to be told whether or not it is safe to come to Greece. Well I have been here for 24 hours and it does not feel scary to me. It seems like Athens. Maybe a little more of an edge but that is forgotten when you see smiling children with balloons or you are drinking wine and eating paidaikia with your friends at a taverna and realize that life goes on regardless of what you read in the paper or see on the news. Of course the crisis is the main topic of conversation and if you look around you see evidence of it. But if this is the end of civilization it seems to be moving in slow motion and there is still plenty of time to enjoy the things I love that Athens offers.
So if you are on the fence about coming here I have not seen anything that would make me say don't come. Actually I think there should be some kind of initiative so that every Greek-American comes for the election and spends a couple weeks talking with their friends and relatives about Greece's options with the euro, and then those that are able to should vote. If you think it's too expensive to come here is what you do: Bring an empty suitcase and do your clothing shopping for the year. Everything is on sale and you can more than pay for your trip. Plus you will find much better clothes here than at your local mall. And after a few days shopping in Athens you get to go to the islands.