Agios Pnevmatos Weekend in Kea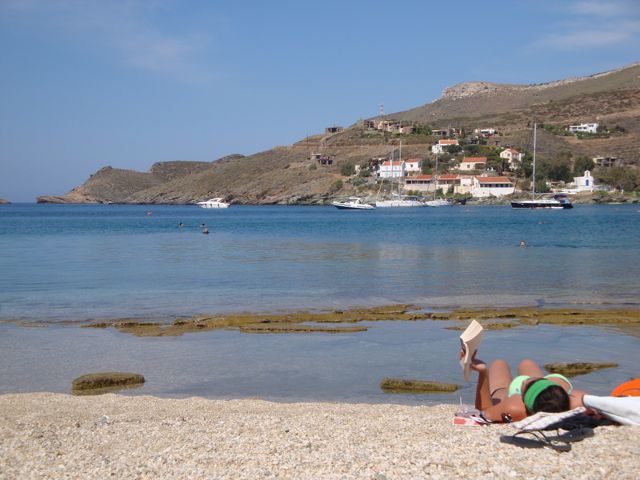 This is what I call paradise. I am sitting in my zero gravity chair on the beach at Otzias having just spent the last 45 minutes swimming around working up an appetite for dinner. Amarandi is happily reading her book, while Andrea in mask, snorkel and flippers has disappeared around the point and for all I know has been eaten by a whale. But that is OK because through the wonder of technology I am able to write this blog using the notes app on my iPhone. This means I don't have to sit in front of my laptop to be creative. If I had not crammed my iPhone so full of music that there is not even room for one photo I could even ditch my camera. The best thing is that I didn't get AT&T's ridiculously expensive international plan, so nobody can even call to bother me while I am writing. Maybe this will mean a surge in creativity. If I could learn to use more than one finger on this keyboard I could be quite prolific.
This is the weekend of Agios Pnevmatos, the name day of the Holy Spirit, a three day weekend that is to Greece as memorial day is to the USA. Kea was very quiet up to now. Two days ago we were on this same beach and there were maybe a dozen people. Today there are about a hundred people as well as a dozen yachts anchored in the bay and one guy trying to windsurf. It is probably everyone's first swim of the summer. The girls in their bikinis are completely white. The sea is on the chilly side but not so cold as to not be enjoyable once you get in. For me anyway. Our friend Eli took half an hour getting used to it before finally diving in and actually swimming. Come to think of it I have not seen her since she swam away half an hour ago. Well I am sure she is OK too.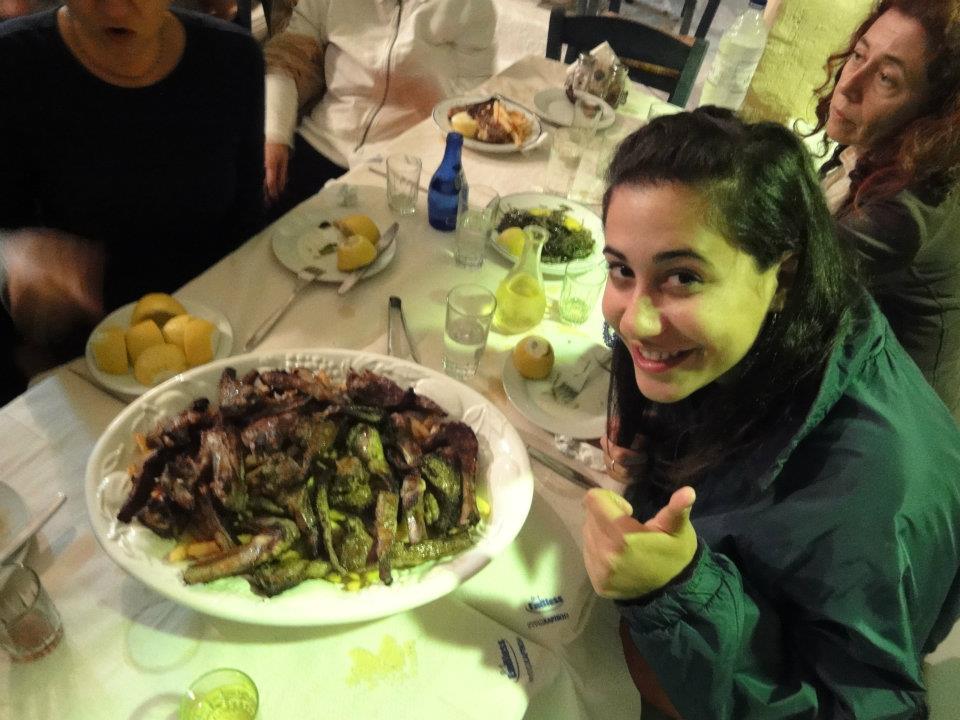 We have eaten every evening meal at Rolando's so far and it has been the high point of my day. Because it has been quiet here we have been able to get him to cook things that are not on the menu. The butcher shop is right next door so we can buy the local Kea sausages that he throws on the grill for meze. Last night we had steaks, cut and grilled to our specifications. The night before Rolando made about three kilos of paidaikia for us which we were barely able to finish. I suppose it is not an exaggeration to say I live for dinner. It's not just the food of course. It is the people too. Every night I get to spend with my beloved family in enthralling conversation is another night I will miss when I finally kill myself. I think I am a member of the most dysfunctional quintet since the early years of the Byrds. We have more arguments per-capita than the Greek parliament and like the Greek parliament nobody actually listens to what the other person says, or even themselves. They just argue. The only time we are not arguing is when we are chewing and that's only because nobody wants to get yelled at for spitting food or talking with their mouth full.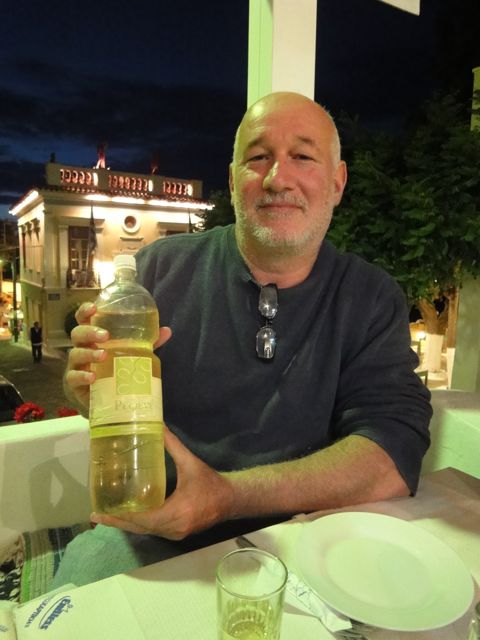 Thankfully I have made a discovery that turns even the most tension filled meal into a rollicking free for all of wit and humor. Actually it is a rediscovery. I have rediscovered that I love retsina. There is a new grocery store in Hora called Mpazis, run by our old friend Andonis who used to work at the Blind Dog Cafe (En Lefko- They sold the cafe and the dog died). The evil woman who owned the old grocery went out of business. Andrea said that her husband consigned a loan for his brother who went out of business and the banks took everything. Even their home. I feel bad for them but the woman had no business owning a grocery store. Her fruits and vegetables looked like they had fallen off the truck and she had followed behind picking them up off the highway. To make matters worse she also owned the computer shop and she knew less about computers than she did about vegetables. But that didn't matter because she put her 90 year old parents to work in the computer shop and they did not even know how to use the cash register much less what kind of toner to use in my printer that I had somehow managed to buy there. Now there is a new shop that has taken over the computer store and besides having a good selection of vegetables and fruit, they carry a large selection of Greek wines, tsipuro, ouzo, Whisky, Scotch and a wonderful retsina called Repsene, which comes from Iraklion, Crete and is sold in plastic water bottles. I have been drinking it every night and even if I open a bottle of my favorite wines I end up going back to the retsina. Maybe it has ruined my subtle tastebuds. I don't care. I wake up feeling fine and it tastes good with everything I have eaten. Rolando is thinking about carrying it and yesterday I saw Yannis buy two bottles for his taverna. If you recall, when I was in Athens with Pandelis Melissinos we discovered a retsina called Kexrimpari, from Thessaloniki, which was similar in taste. On Saturday night though we went to Yiannis taverna because he roasted a whole pig and we drank the popular bottled retsina called Malamatina which we can get in the USA and for most people is the only retsina they ever tasted (along with Kourtaki) and it did not taste anywhere near as good as the other two labels.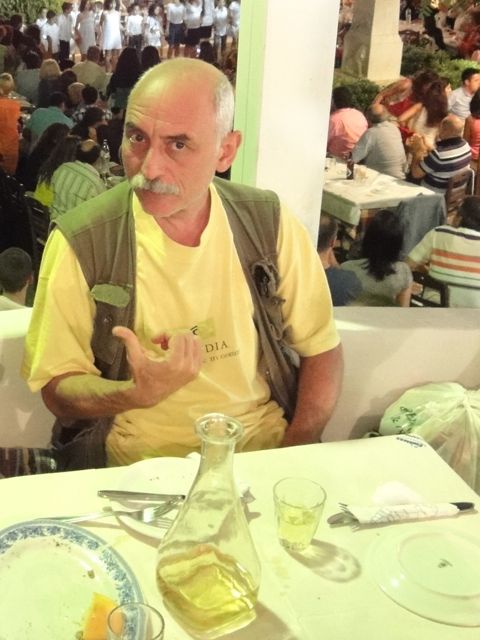 Yiannis Yannarakis, my brilliant computer nerd friend, finally gave me a believable explanation for why the Greeks drink retsina and why they became ashamed of it. Growing up here, the myth of retsina is similar to living in North Carolina where everyone has an explanation of why it is called the Tarheel State. (Actually come to think of it they are both gooey substances, tar and the pine resin that flavors retsina.) When we were teenagers we were told that during the Second World War, the Greeks put resin in the good wines so the Germans who occupied the country would not like it. That was probably nonsense. Another explanation was that since the most common tree in Greece is the pine tree, the wine got its flavor from the pine barrels it was stored in. That is a little more reasonable an explanation. But Yiannis said that the resin was put into the wine as a preservative in small amounts. But if the wine was bad they would put in larger amounts to mask the taste and gradually the Greeks began to like it as did many of the early tourists. They would also preserve with sugar and that is where you get Mavrodaphne and the sweet wines from Samos. But visitors always poked fun at retsina, saying it tastes like turpentine but not as good and things like that, which probably gave the Greeks a complex about it. Eventually as wine making methods in Greece improved everyone was making good wine and some people were making excellent wine. Retsina was looked down upon as being more working class, a sort of embarrassment to the world of wine. But I know poets and visionaries who have always loved retsina, even bad retsina, and their taste is being vindicated because it is making a comeback. In a way the same thing happened with ouzo which about ten years ago became fashionable and we saw the change from screwcap to corked bottles, with brands like Plomari and Mini. Watch for the same thing to happen. Right now you can get retsina in beer bottles, and plastic water bottles as well as the normal wine bottles, but Kexrimpari comes in a Mateuse type bottle and that is a sure sign that Retsina is on its way back.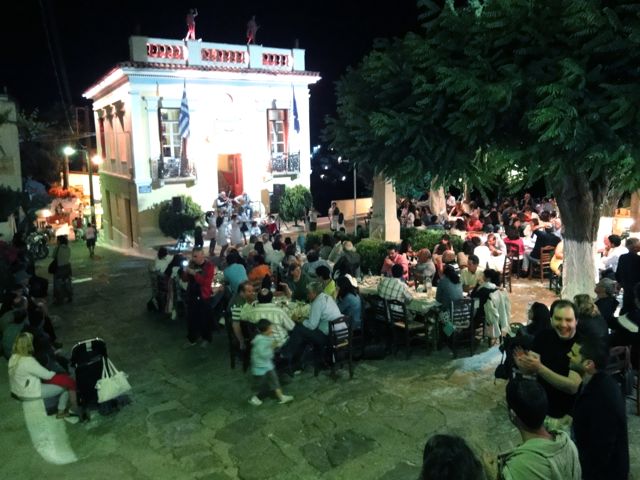 As I mentioned this is Agios Pnevmatos weekend and the bells start at about 7am and ring loudly and seemingly at random their only purpose to bother anyone who is not at church which is pretty much everyone but the priest and our friend Dimitris who is the cantor (I guess that is what you call the guy with the best voice) and the guys setting up the umbrella in the courtyard in case enough people come that they spill out of the church. Last night there was a panagiri in the square with Zoulos playing violin with some other musicians and all the school children dancing. The whole square was covered with tables and chairs from Rolando's and Yannis restaurant and by 10pm it was packed. Rolando's son Tony, the filmmaker, was waiting tables and the restaurant was going crazy trying to keep up with the orders. We had the whole patio overlooking the square but the friends we were meeting came about an hour late and by then the music was so loud it was impossible to have a conversation.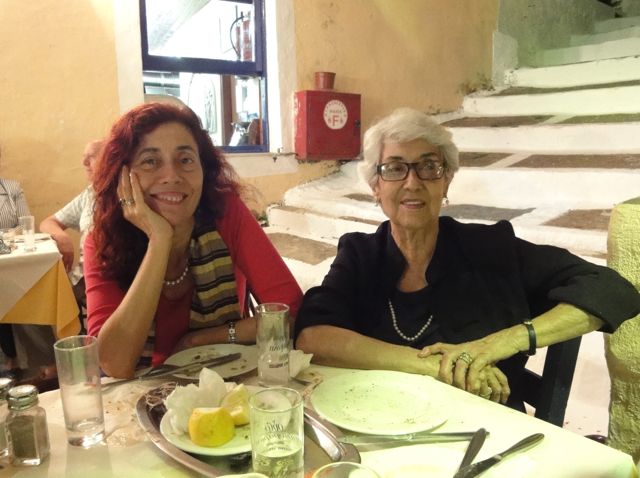 Last night was also the grand re-entry of Yaya who 5 days ago on a trip to the bathroom at 6am fell and broke her nose. There was blood everywhere and she had to calm Andrea and Amarandi down by telling them it looked worse than it actually was. Not an easy feat for an 85 year old woman laying in a pool of blood. Andrea said she understands why it is so difficult to get away with murder. Blood is very difficult to clean up. Everything you use to get it off the floor then has to be cleaned and it becomes like The Cat in the Hat Comes Back when he has to clean up that big red spot with all the little cats from A to Z that live in each preceding cat's hat, and the more they try to clean it the more of a mess they make til finally Cat Z who is almost microscopic has something that is sort of like a nuclear weapon or a reset button that cleans everything and makes it go back to normal. Well we did not have a cat Z so all the blood had to be cleaned up by hand. After a few days of convalescence Yaya was back on the scene last night with a lot of makeup to cover her black eye and a firm desire to never eat salt again which apparently is the cause of her dizziness, according to her. It may have also been the retsina she drank to keep Andrea from drinking more. I would suggest that but I like when she drinks. She loosens up after a glass of wine and I have never seen her drink more than a glass. Alcohol terrifies her though at 85 I don't think there is much chance of her becoming a serious alcoholic. Andrea's Aunt Amarandi spent the last three months of her life in pain because she did not want to get addicted to painkillers. When Andrea gave birth to our Amarandi other women told her to take the drugs, but she was set on natural childbirth. She suffered through the pain for about 15 hours before giving in and taking the drugs. She ended up getting a cesarean anyway.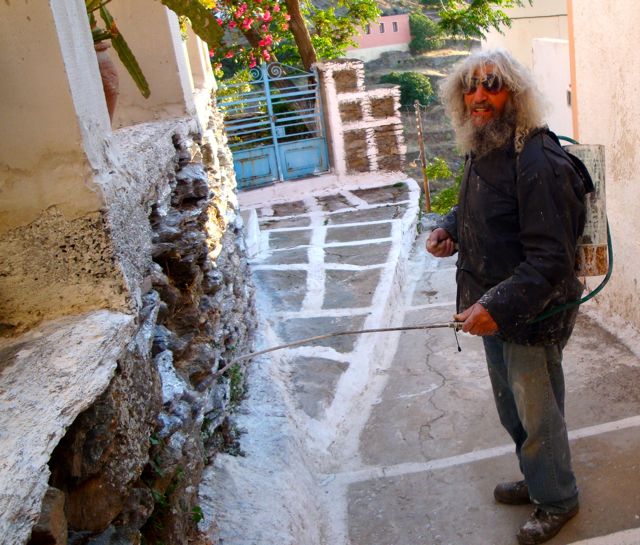 Dellapizza has started white-washing the walls and painting the columns he recently put up in our terrace which we have been putting to good use lately. I have started my day on the terrace, drinking coffee and watching the ships pass by on their way east to Istanbul and the Black Sea or to the west, to Italy, France, Spain and beyond. Last night I sat and watched the sunset with a glass of Red Tractor's dark red wine, listening to John Mayall's Bare Wires, waiting to see if the Mytilini ferry passed by as it does almost every night of the summer about 9:30. The town kicked Dellapizza out of the gallery he had built in one of the caves, next to the small park he had created out of the rubble strewn lot across from the Town Hall. The old mayor liked Del and appreciated his work but it seems like the new administration just think he is a nut. The main square looks amazing with beautiful red flowers lining the steps and the walls, the hedges and plants trimmed and the streets spotless, having just been whitewashed this week for the Agios Pnevmatos holiday. Right now Andrea is buying planting boxes and soil and tomato and pepper plants which we will put between the columns and finally have a garden. If the economy collapses in August I think I can survive on what I manage to grow and what we have in the liquor cabinet with a little help from Rolando's where we will go for dinner regardless of who wins the elections and what happens to the country.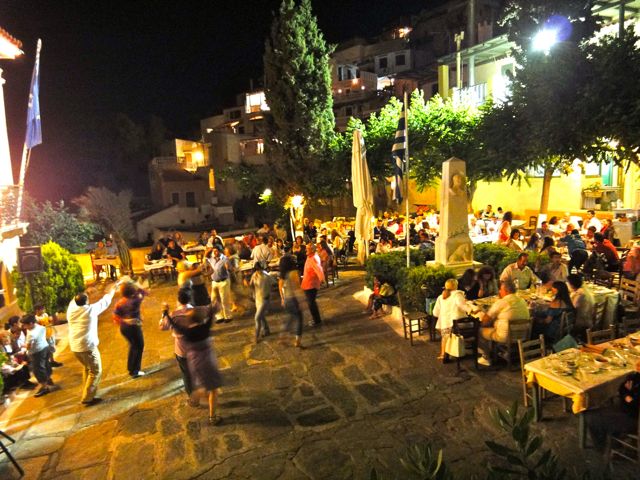 It is hard to believe the crisis I read about every day in the newspapers on-line, is going on within sight of my terrace, across the straits of the Cavo d Oro, in Attika. It sure does not feel like there is a crisis. This summer feels like any other summer. Wake up, drink coffee, eat breakfast, work a little bit, go to the beach, come back and take a shower, read the news, have a drink on the terrace, and go to Rolando's at about 9 for long dinners and conversation lasting three or four hours. Last night there were three of the younger taxi drivers there, having delivered the last of the weekenders to the ferry, drinking ouzo and eating mezedes. They charge about 8 euros to go between Hora and the port and can probably do four to six trips an hour. Throw in a few longer and shorter trips to other places and they can probably make about four hundred euros in a day on weekends like Agios Pnevmatos. The life of an island taxi driver is much better than those in Athens. No wonder they never want to go on strike. It sort of shows you the situation in Greece. People are afraid of what the future may bring. But in most places, especially on the islands, life goes on as normal. And despite the crisis, thousands of Athenians packed their bags and went to the islands for the holiday weekend where they went swimming with their families and ate and drank and danced with their friends. Probably no matter what happens with the economy or the government, they will all be back again in August.