Life and Death in Kea
Mavromatis the butcher must be over 80 years old but he is still in good shape. We sometimes run into him when we take walks on the old paths outside the village where he keeps his animals in a pen, above the villa his son has built that is bigger than the hotel next door. He also keeps some of his cows in the olive grove below Agios Constantinos, the small church that belongs to Andrea and Pam that was built by their great grandfather Constantine Jeromnimon in 1892 or sometime thereabouts. Yesterday we had a memorial service at the church for their father, Andrew Jerome, who died in March on St Patricks day. Mavromatis was there, not for the funeral but to feed his cows. The church is right above the slaughterhouse which is convenient for Mavromichalis but caused a family crisis when the old aunts returned to Kea from Athens one summer to discover it had been built there. It's an ugly building, and the idea of what terrible things go on there late at night when there is nobody around to hear the cries of the animals, clashes with the quiet beauty of the church which sits on a hill above an old marble fountain, surrounded by fruit trees that Andy had planted a few years ago.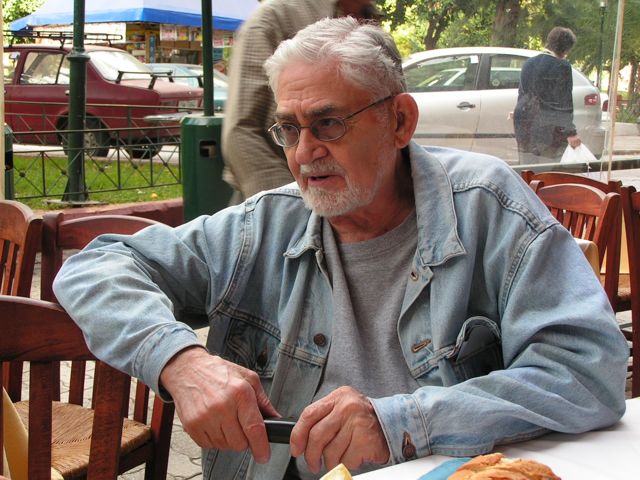 Andy was a reformed alcoholic who met Ruthie, his wife after Elaine (better known to my readers as Yaya), in AA some thirty years ago. He was also one of those guys who could do anything he set his mind to. He'd had many interesting professions in his life after he came to the USA, from pharmaceutical salesman to airline executive to racing car driver to manager of the PX in Athens, Ethiopia, Iceland and Minot, North Dakota among other jobs. His last couple jobs were as a lobster fisherman and lighthouse keeper on an uninhibited island in the North Atlantic. When Andrea's aunt Poppy in Athens became old, a neighbor named Jella, a bleached blond predatory type in her sixties, began an intense 'friendship' with her while she siphoned thousands of euros from her bank accounts. Andy and Ruthie came to Greece to take care of Thea Poppy and to keep Jella from stealing it all. When Poppy died, the family fortune in Athens, which was whatever money Jella had not gotten her hands on, went to Andy, enough to live on in the apartment in Kypseli above ours. Andy got old but he was the kind of guy who could always entertain himself so spending the last couple years in an apartment in Kypseli was not as grim as it might be for others. In contrast to my father who threatened to throw the computer out the window should his wife ever bring one home, and my mother who has mastered scrabble and basic email and not much else in her ten years of computering, Andy not only embraced the technology he began building his own computers and knew the Internet the way you know the way to the supermarket.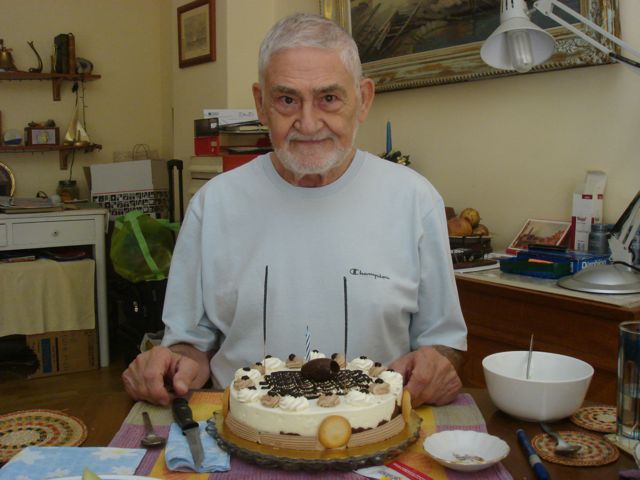 The apartment Andy and Ruthie shared had been given by his sisters to a nephew in America who had no interest in it. They had given my daughter Amarandi the identical apartment downstairs which Andrea had restored and furnished and we lived there in 2009 and stayed there whenever we visited Athens. Andy and Ruthie paid the taxes and the bills for the upstairs apartment and fixed that up assuming that the nephew would be happy with this arrangement since he didn't care about the apartment in the first place and would not want the expense or responsibility of the electric and the water bills and the taxes and the monthly payments that all the tenants had to pay for the upkeep of the building. It was a good deal for everyone involved.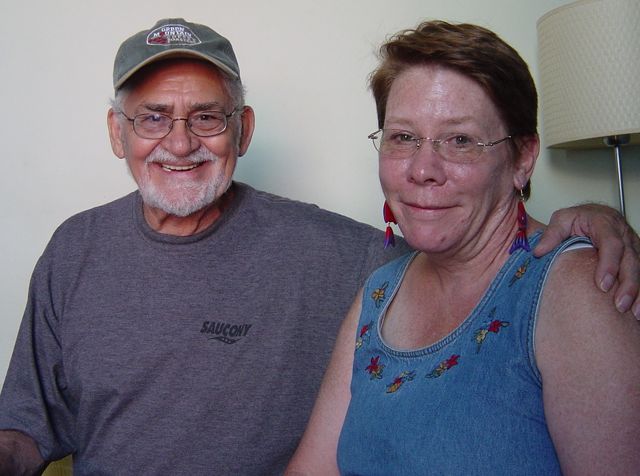 Until one day the nephew decided he wanted to sell the apartment and gave his Uncle Andy a month to get out. We sent emails to the nephew telling him that giving an old man with a heart condition a month to move was unreasonable and that the stress might kill him. But the nephew was insistant that he needed to sell the apartment now, that he had money issues, health issues, and that we were being unfair to him by asking him to give Uncle Andy a few months to slowly move since he needed the money right away. This was also at a time when you could not give away an apartment in Kypseli because of the crisis. The streets are full of for sale signs and nothing sells because nobody has any money. But the nephew claimed he had a buyer, a rich Greek-American, which later became a group of Brazilians. We knew legally in Greece you can't throw an old man and woman out on the street just because you want to sell your apartment, even if he is your uncle. But since they would be moving to an identical apartment one floor below they should be allowed to take their time and make the move gradually and within three or four months the nephew would have his apartment to do whatever he wanted with. If potential buyers wanted to see it during this period they would be welcome to, and would've seen a nice furnished apartment with a kindly old couple living in it instead of bare rooms. The nephew kept complaining but that was all he could do. Pam went to Athens for Christmas and made changes to the downstairs bathroom that would make it more accessable to Andy and packed up all our stuff and sent it to an empty apartment that belonged to their Aunt Anna who had died a few months before. Andy and Ruthie seemed resigned to the fact that they were moving even when Andy's health took a turn for the worse. He died in the upstairs apartment. Ruthie moved downstairs. Despite the rush to get them out the apartment is still unsold and empty. Nobody has even shown up to look at it.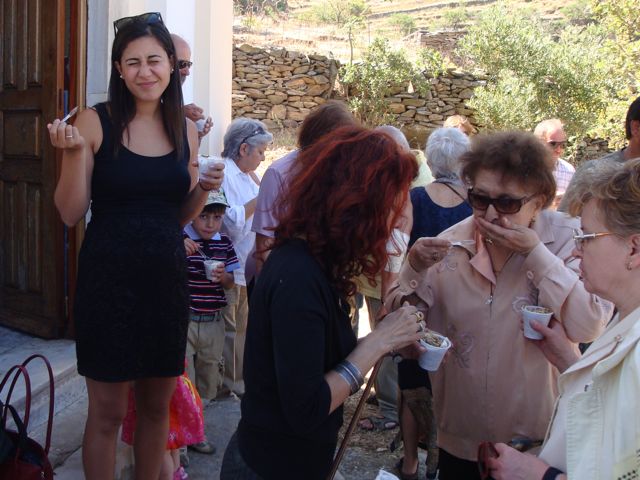 So yesterday was Andy's memorial service which Pamela put together. She had the family church swept and dusted. She hired the new handsome young priest, a former farmer from Boetia who was smart enough to realize it would be better to be a priest in a small island village than depend on EU farm subsidies for the next few years. Pam arranged for the communion bread from the bakery. She went to Kostas at the zacharoplastion to have him make the koliva, the food of the dead, an awful mix of nuts, sugar, parsley and who knows what, that tastes so repulsive that you forget someone you love has just died. She arranged everything and invited any relative or friend of her father she could find. The small church could only hold about half the people who showed up to pay their respects so most of us sat outside and chatted in the morning sun.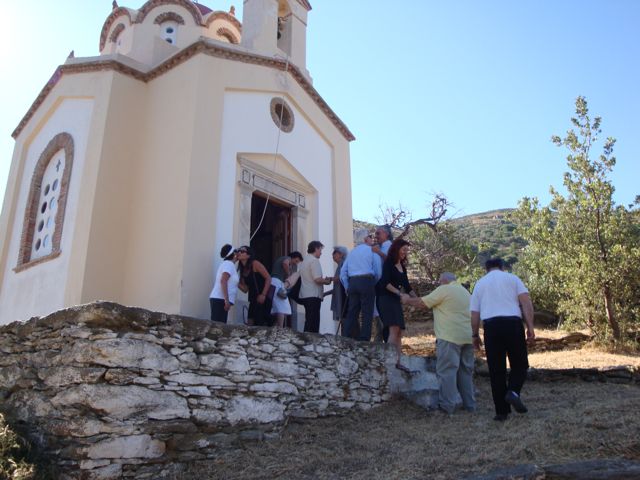 Rolando was there with his powerful voice, singing psalms with Dimitris Perouchas, the psaltis. Kostis Marulis came, representing Red Tractor Farms who told me he had a case of his new wine waiting for me at his house. Andy's gardener was there as was Georgakis, the son of our contractor who still has the rabbit Andrea rescued from Andy's apartment building two years ago. Even the lady from the Alpha bank was there with her three children who were our primary source of entertainment. Their joy at seeing the cows, birds and trees around the church made us wonder if they had ever been outdoors before. Ruthie cried through most of the ceremony and unlike the rest of the family members who drifted in and out of the church, she sat through the entire service, which lasted about an hour and a half before moving outside for a final blessing on the grave that holds many of Andrea's relatives and where I too may one day be buried if there is any room left by then. I had to keep reminding myself of why we were there by looking at the little blue Suzuki jeep he used to drive which was parked by the marble fountain in front of the church. Besides a minor blaze in the bread basket which threatened to engulf the small church but was quickly brought under control by beating down the flames with a loaf of holy bread, there were no major mishaps. Afterwards we all met for coffee at Magazes Restaurant in the port, provided for free by Stephanos Alexander, the owner and a nephew of Andy.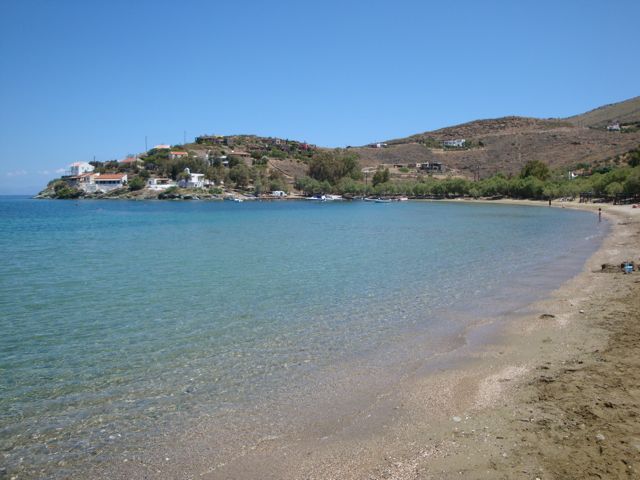 After coffee Andrea and I went swimming at Otzias. Andrea began to swim out to the buoys that keep the yachts from running over the swimmers. Since I don't want to be in the position of having to try to rescue her if she starts drowning and wind up drowning myself, I swam parallel to the beach so as to avoid the stress of even thinking about it. Afterwards we had lunch at Yannis Stefas taverna across the road. We decided not to drink his wine for lunch, to cut back on our alcohol, though it went for naught when Yannis brought us the bill and two glasses of rakomilo, raki mixed with honey. Then we stopped at Red Tractor to visit Kostis and Marcie and after talking about the upcoming elections and some island gossip they gave us a case of their new wine. Cutting back on drinking is not easy in Kea when everyone you know keeps giving you alcohol. On the way home we stopped at the new butcher and bought a kilo of his kababs, recommended by Kostis, to bring to Rolando's for him to grill for dinner. When I got to the house after carrying a case of wine up the mountain, I found Yaya sitting on the back porch eating the koliva, the food of the dead.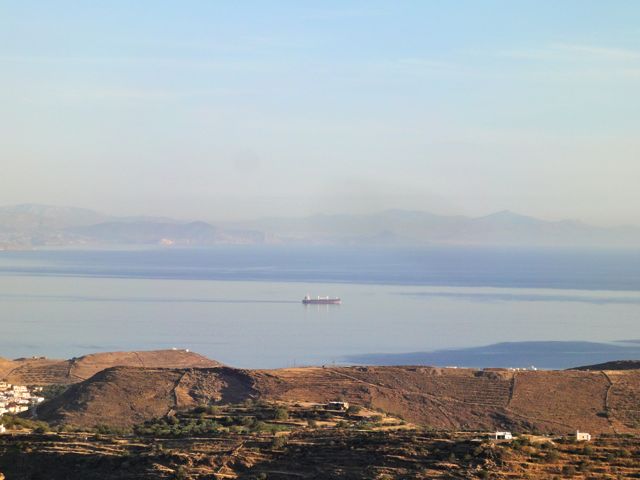 This morning when I woke up and sat on the terrace warching the ships passing through the Cavo d Oro I could see and hear old Mavromatis, the butcher, running and yelling, chasing a goat on the stone path past the school. Following him was an Albanian worker shepherding a group of sheep in front of him who clearly did not want to walk in that direction but had no choice. They were all crying loudly, as were the sheep that were left behind. Mavromatis' goat and the small herd of sheep passed on the road below our house on their way down the mountain towards Agios Constantinos to the slaughterhouse. Eventually they were out of earshot of the remaining sheep and the mournful cries ended and they went back to doing what sheep do, eating and drinking and sleeping, until it is their turn to walk down the mountain with Mavromatis the old butcher.