Greece News Roundup
I have a one hour ferry ride from Lavrion to Kea, after an overnight ferry from Mytilini to Pireaus and a one hour drive from Pireaus to Lavrion so I may as well bring you up to date on my adventures. It has been a month or so and I may leave a few things out but this is how my summer has been so far.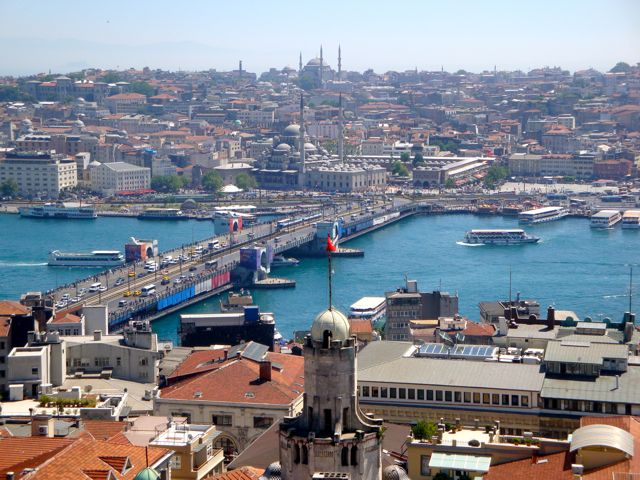 After a couple weeks in Kea, doing the things we normally do in Kea which is eat, drink, swim and sleep, with an occasional day spent updating my Kea website, we decided to take a short trip. But where? We had Amarandi with us which meant if we drove too much she would complain, or if we went to a town that did not have tourists she would think it was too boring and make our lives miserable. But if we went somewhere too touristy then Andrea would be unhappy. We decided, well I decided actually, to fly to Istanbul which was pretty easy. All we had to do was drive to the port, take a one hour ferry trip to Lavrion, drive to the airport, give the keys to the car to Salvo from Swift and get on a Turkish Air jet and fly to Istanbul in an hour for about a hundred euros. Istanbul was fantastic and I am not going into too much detail because I actually wrote a lot about it and I am just waiting for the opportunity to put the words and the photos together on my Istanbul pages. We stayed at the Hotel Neorion again and they made us feel very welcome. We had at some great restaurants, saw some of the sites we missed on our first visit and would have stayed longer except Amarandi hated it. We did manage to stay a week and the cool thing about it was that when we decided to leave, we just bought a ticket for the next day and left.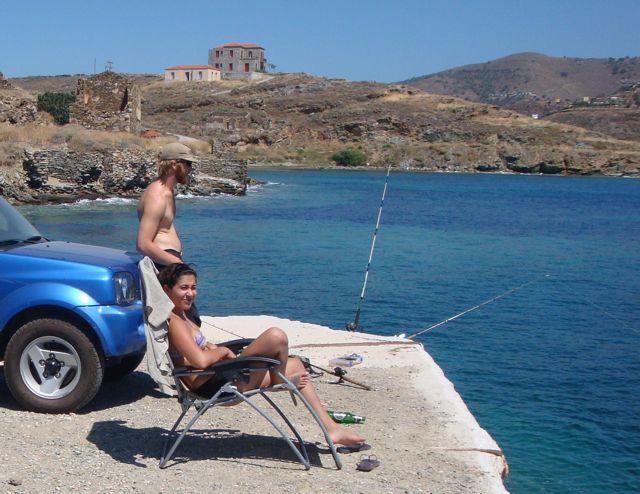 Back in Kea Amarandi was counting the days for her boyfriend Ernie to arrive and once he did she began counting the days til he would leave. She had come to the realization that many of us do that some aspects of our life in America don't translate into our lives in Greece. Ernie showed up with a 12 foot plastic tube that contained 3 serious fishing poles after not heeding my advice that the pocket fisherman collapsible pole will be pole enough for the fish he would catch in Greece. But he was planning to land a couple swordfish. To his credit he did catch a sort of barracuda but he shot it from the dock with a speargun. He was also snorkeling one day and looked into an undersea gave when suddenly a monstrous creature came hurtling towards him like an enraged walrus. It was actually a large seal that he had frightened and it rushed past him and out to open sea, but I think he was a little bit traumatized by the experience. I have never been attacked by a frightened seal, or any kind of seal, but I assume they are capable of biting at least as hard as a large German shepherd and these kinds of things are magnified underwater.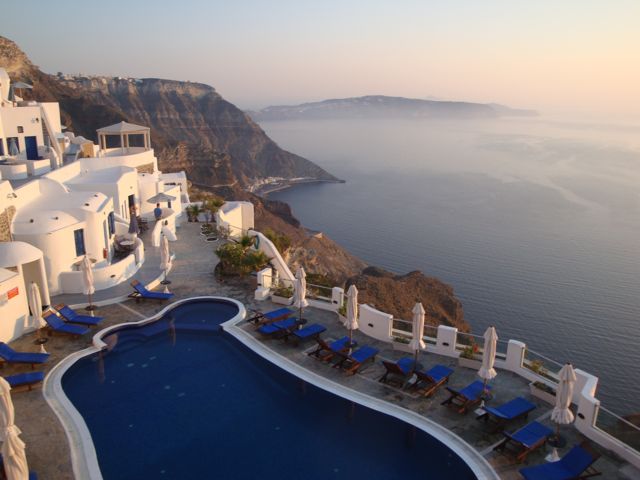 Amarandi and Ernie took off for Santorini as young people who want to escape their parents are prone to do. But that night she sent a message and asked when we were coming. Couples who only spend a few hours a week together come to the realization that spending 24 hours a day together brings up some of the weaknesses in the relationship, for example communicating with each other. I think she wanted us as a diversion and since we had nothing better to do we bought tickets, round trip this time, drove to the port, got on the ferry to Lavrion, drove to the airport and this time left the car in long term parking and flew to Santorini where we spend three nights at the truly spectacular Hotel Volcano View Villas in a two bedroom apartment with a living room/kitchen and a view of the caldera right above the very spot where the Louis Cruise Ship sank a few years ago. We took the kids out to dinner a couple times and took Amarandi on a tour of the island with us when she and Ernie had a fight and went off to the most remote part of the island to fish.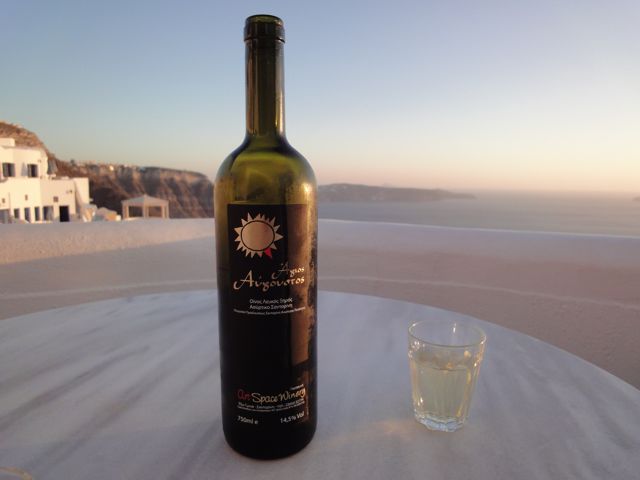 When we came back to the hotel after the first afternoon we found a dozen bottles of wine waiting for us from Art Space Winery which we had visited a few years ago and I had written about. The owner of the winery, Antonis Argiros, had seen on Facebook that we were on our way to Santorini and somehow figured out where we were staying and had the wine sent to us in thanks. So we went back to the winery to thank him for the wine and he gave us several more bottles to thank us for coming to thank him. The wine in Santorini is delicious and his wine is exceptional but way more than we could drink in the few days we had on the island, especially since everywhere we went there was good wine. Because we were traveling light, I had my computer bag with a couple shirts and a pair of jeans jammed into it, and Andrea had what was really just a giant handbag, we had to find a way to get all these bottles of wine back to the car in the Athens airport. It took a few hours but we finally found a shop that sold hard suitcases and somehow the wine all fit. Our last night was spent at a fantastic Cretan restaurant with Andonis and also Dimitris and Patricia of Ocean Wave Tours called Metaxi Mas, which happens to be the only restaurant that has Andonis Art Space wine, since he makes it in such small quantities. We drank quite a bit and ate a lot too and it was one of those memorable evenings that I have trouble remembering. We set out to discover some restaurants that were not the typical tourist fare and I think we were pretty successful considering the number of days we had there. I would give a quick review but they are all on my Santorini site now and I am halfway through this ferry trip and if I don't bang this out now I will never finish it.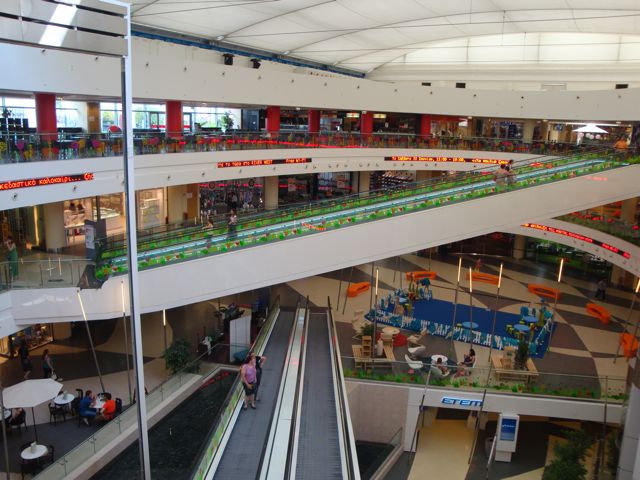 So Amarandi and Ernie went off to fight some more in Sifnos while Andrea and I flew back to Athens, got the car out of the parking lot, drove to Kypseli where she did our taxes while I waited double parked on the street. The we went by our old apartment where Ruthie, the widow of Andrea's father now lives, picked up a bunch of videos, then drove to the Athens IKEA (not the one at the airport) and while Andrea bought a couch and had it sent to her sister, I explored the River View Mall which would have had a river view had the river not been paved over and turned into a major highway. But they had a Carre Four Supermarket, a Coffeetime, where I bought a couple pounds of fresh ground Ethiopian coffee, and a vintage car show, all of which enabled me to pass the time while Andrea did her thing in IKEA. (I can't stand going to IKEA. It disturbs me, I don't know why). There was also another Fishspa, where you put your feet in a tank of water and the fish nibble at them and it is supposedly like a cross between a foot massage and an orgasm. These fish spas are everywhere now the way hamburgers and toast suddenly appeared in Greece twenty or thirty years ago and overnight everyone was selling them.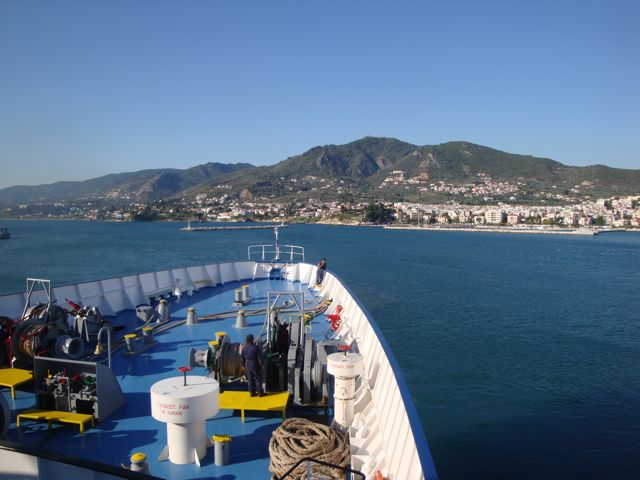 But our adventure was just beginning because from the River View Mall we drove to Pireaus and onto the European Express ferry to Lesvos. The boat left at 6pm and we got our luxury cabin which costs about 15 euros more than a normal double and had two double beds, a tv, a big picture window and three times as much room as a normal cabin and if it had been a hotel would have been the biggest room we stayed in. We woke up in Mytilini, drove off the ferry and spent an entire month there, which ended last night when we got back on the European Express, sailed back to Pireaus (after a one hour stop in Chios at our favorite restaurant) and drove to the ferry in Lavrion. And that brings us up to date except for a month of stuff that happened in Lesvos which I don't have time for because we are almost in the harbor of Kea. But there was a heat wave while we were in Lesvos so I got to spend a lot of time updating Lesvos.com and adding new photos so please check it out.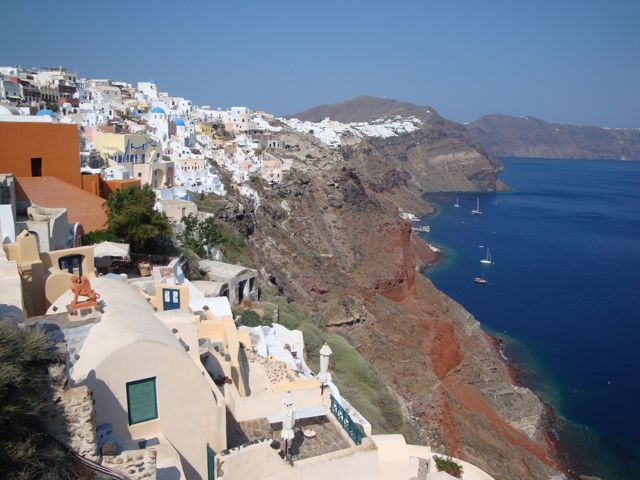 As far as the crisis goes, outside of Athens it is not that obvious, especially if you have never been to Greece before. In Lesvos there were a lot fewer tourists which was bad for business but good for those of us who did come because rooms were cheaper, there were not a bunch of idiots on motorbikes on the roads, and people had time to hang out and talk. The island is not dependent on tourism and can survive without it but many visitors are starting to come from Turkey so that is hopeful. Santorini was packed and I have heard the same about Mykonos. The only evidence of the financial crisis which in Athens is something like the Great Depression, is when you talk to people who are visiting their ancestral homes in Lesvos and you ask them how things are in Athens and they tell you 'awful' and then you have to listen to their tales of woe which is better than having to experience it. But even in Athens if you don't know the city it will just seem like a normal city where you see poor people sleeping on cardboard boxes or begging, not unlike New York or San Francisco. What makes it different is that in the past you never saw anything like this in Athens. But the apprehension I had about coming this summer was a wasted emotion. It has so far been the most problem free summer in the last several years. No strikes, no demonstrations, no riots, no traffic, plenty of seats and cabins on the ferries, and the cafes have cut the price of coffee in half in some places. Well, as they say one man's crisis is another man's opportunity and travelers who disregarded everything they read and saw on the news and came to Greece all had a pretty good time. In the next few months we will know whether Greece stays with the euro or goes back to the drachma. We may also find out whether some of us in countries outside of Greece find ourselves in the same situation that Greece is in now.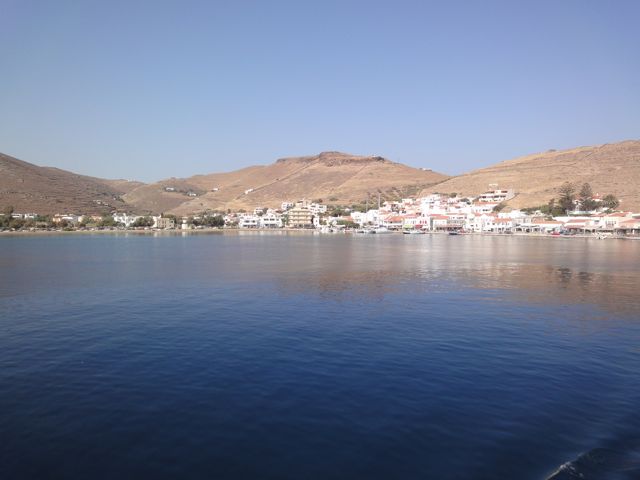 Just entered the harbor in Kea. Time to drive my car off the ferry, always one of my favorite things to do. I made one amazing discovery which you may find useful when packing for Greece. Because we left for Santorini in such a hurry I threw a handful of clothes into my bag not realizing that afterwards we would be in Lesvos for a month. When I got to Santorini I realized I had packed one pair of cargo shorts (which I wore every day), two pairs of jeans (I wore one pair one night in Santorini, unnecessarily I might add) four T-shirts, one of which I did not even find until last night on the ferry boat because it had scrunched up at the bottom of my bag, two button-down shirts, only one of which I wore the same night I wore the jeans in Santorini, again against my will (Andrea wanted me to dress up) three pairs of socks, none of which I wore and ended up just leaving them at Pam's house in Vatousa, my colorful boxer shorts which I wore around the house, and two bathing suits which I always leave in the car and only one of which I have ever worn. Oh yes and a pair of flip-flops, the kind with the beer bottle opener on the bottom which I never used, the opener I mean. My flip-flops were my only shoes. So actually I was traveling in Greece for one month and all I really wore was my cargo-shorts, three of the four T-shirts and my flipflops. If you keep this in mind when packing for Greece you will be unlikely to be charged for extra baggage by the airlines.
For those with Facebook see my 12 Step Plan for Getting from Santorini to Lesvos