The Lost Turkey Blog
I just found this on my computer. I don't even remember writing it but apparently I did on June 16th and forgot to post it....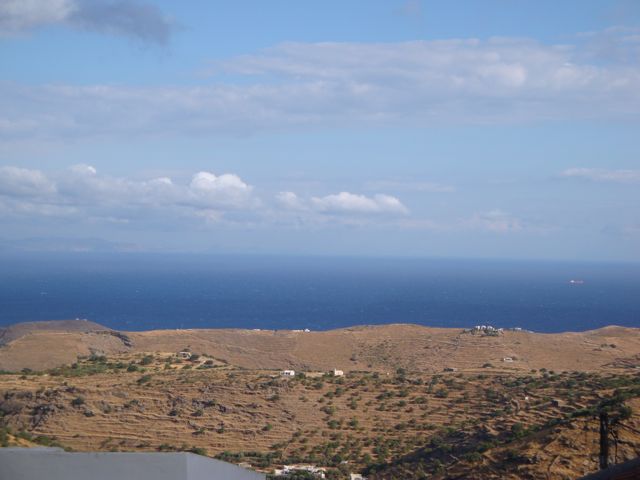 It's Saturday on Kea. Normally on a Saturday morning the sea would be dotted with small white boats as Athenians come to Kea for the weekend, those that can afford the fuel anyway. But it is blowing 8 Beaufort today and the only white on the sea are whitecaps and one lone tanker, so loaded down that it just plows steadily through the waves. The ferry actually came this morning. Mimi, our next door neighbor who won the lottery last summer, arrived with his mother and his girlfriend, and they said the trip was terrible. I had not seen Mimi since last summer. He was the waiter at the cafe until the day he won a million euros. For the next few nights we would see him at Rolando's or Yiannis Taverna, eating and drinking with his circle of friends. A couple days later he got stung by a drakina, a poisonous fish and almost died. I guess at that point he realized that he needed to live life to its fullest, as many people have after near death experience, and left the island. We became friends on Facebook over the winter and I would see posts of photos of Mimi all over Europe. It seemed like he was by himself but if he was who took all the photos of him in Madame Toussant's Wax Museum, posing with Princess Dianna, Ghengis Kahn, Margaret Thatcher and many other well-known people? There was something innocent and beautiful about the young guy from the island, traveling the world after winning the lottery, posing with the most famous celebrities of all time. Or walking along the Seine and the Thames after spending years in the little cafe waiting for a customer to come and order an ice-cream or a cappuccino. And now Mimi is back from Patras where he has moved, with a beautiful girlfriend who he will probably marry since now he is a good catch. It's kind of a beautiful story but there is a part of me that sees the other side. If Mimi had not won the lottery would he be girlfriendless forever, working at the cafe, never leaving the island except maybe to go to Athens? There are a lot of Mimis in Greece and not all of them will win the lottery.

Yesterday morning I woke up for my last day in Istanbul. (Constantinople if you are Greek). We were there for a week. We had some time on our hands and a daughter who does not like long car trips, otherwise we would have driven to Ipirus and walked the Vikos Gorge. We had been in Istanbul in September and I was sick the entire time so we had missed some pretty important sights. It is not easy being Greek and having to admit that even though you were in Constantinople you did not visit Agia Sophia, which to most Greeks is more important than the Parthenon. Or to have Turkish friends and have to admit you did not get as far as Taksim Square or go to the Topkapi Palace. Istanbul was sort of an embarrassment for me. I had been there and done little and now it was time to rectify the situation. I knew that Andrea would take Amarandi to the Grand Bazaar and that would make her happy, since she loves to shop, and that the Turkish food would be similar enough to Greek food so as not to freak her out like say French Food, which on our trip to Paris she had avoided by staying in the hotel and only going out at night for sushi. So on Friday morning I suggested to Andrea that we go to Istanbul for a week and Andrea thought that was a great idea. I went to Kayak and discovered that a one-way ticket on Turkish-Air, leaving the next day cost about $125. Then I checked the ferry schedules and came up with an efficient plan that if everything fell into place, would be relatively painless and we could leave Kea at noon and be eating meze and drinking raki that evening. Even Amarandi was semi-enthused, though she saw it as just a way for the time to pass more quickly until her boyfriend Ernie arrived from the states than sitting around the house in Kea, doing Facebook and watching TV.

So Saturday we woke up, got rid of any perishable food in the fridge, drove to the port and put the Suzuki on the ferry. After a one hour ferry trip we drove to the airport where Salvo from Swift Car-Rentals took the car and we got on the flight to Istanbul where we were met by a representative of the Neorion Hotel where we were staying. For those who are visiting Istanbul let me take this opportunity to pass on some valuable information. When you arrive at Attaturk International Airport you need to get your visa before you get on the long line for passport control. Otherwise you will spend a half hour on line only to be told that you need to go back and get a visa, and then once you have paid your 20 euros for the visa you have to convince the 500 people who are ahead of you on line that you should be allowed to go to the front. We actually just went to the line for VIPs and Flight Crew, which was not even a line, just a security guard and he allowed us to cut in front of the rest of the common people and people seemed to accept it. But you can avoid the embarrassment by getting the visa first. Actually the woman border guard who had told us we needed a visa also told us just to come back to her and we would not have to stand in line. But when we returned she was gone, a clever plan to avoid conflict with exasperated tourists who would rather scream and yell and be carted off to Turkish prison, rather than have to get a visa and stand in line again after a long flight. Of course this could all be avoided if there were signs that told people that they needed the visa before going to passport control instead of just having signs to each and letting the tourist guess which goes first.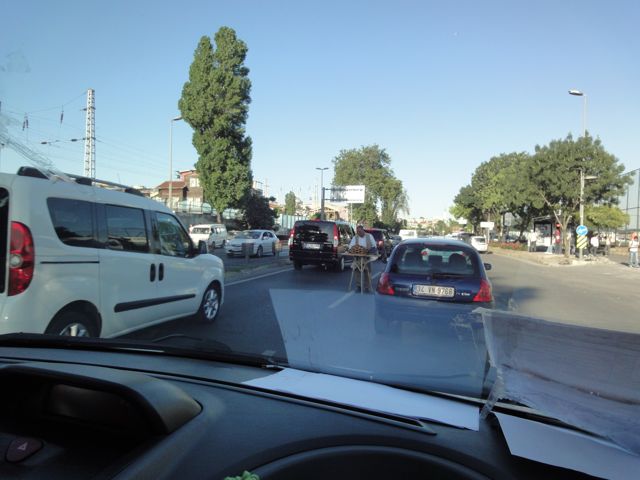 All things considered though it was still pretty easy and we still got to the baggage carousel before our luggage did. There is virtually no customs check so you just get your bag and go out the door into the terminal and into a sea of guys all with signs with names on them. There were hundreds. I slowly read each sign because I knew that whoever was picking me up had no idea what I looked like and every time I looked at a sign, the guy holding it would think that I was the person they came to pick up. Finally I saw my name and the driver, a short fat guy who looked like he did nothing but drive and walking was something he had done as a child but rarely since. He was sincerely happy to see us though and easy to follow through the crowd. He did not volunteer to help us with our luggage but to be honest with you he did not seem physically capable of it. Holding the sign with my name on it was enough of a challenge. This guy was clearly a driver, nothing more, nothing less. Doing a transfer for a hotel was not his thing unless it was picking someone up at the hotel and leaving them at the airport. But he had mastered two essential words of English. No Problem. When we got to the hotel Mr Farouk, the owner confided in me that the hotel had its own preferred drivers but in the summer there were so many transfers they had to use other drivers, some not quite ready for prime-time tourism. Our driver, despite his deficiencies was better than some, who race through the narrow streets like children on high-speed bumper cars, terrifying the passengers, particularly those who are first time visitors and don't realize that this is how people drive here where getting from point A to point B means overcoming many obstacles including road work, other cars and pedestrians. Since I drive in Athens I know that close-calls are a part of every trip no matter how long or short. I remember once I counted all the near mishaps driving from the Hotel Attalos to the ferry in Pireaus and there were eleven. This was the first time I had driven my car. It had about ten kilometers on it and despite the fact that I was a novice at maneuvering through Athens traffic, not one of the eleven would have been my fault. It was all other drivers and pedestrians doing stupid things (for example opening the door on a busy street without looking to see if there was a car coming etc). And yet I avoided every potential accident without even being a good driver. So imagine someone who is a professional driver in Istanbul. They live in a world of close calls and know that there is just enough time to squeeze into the quickly disappearing space between the large truck and the group of pedestrians crossing the street. It's instinct. They can be talking on their cell phones while making a move that would be considered risky by a NASCAR driver. Meanwhile in the back seat the newly arriving tourist is ready for intravenous Valium. It is no wonder that when you arrive at the Hotel Neorion they offer you a complimentary glass of wine or a raki. Honestly though, we have had four drivers on our trips to Istanbul, three of them regular drivers for the hotel, and they were all great. Better than I would be anyway. So if you feel nervous about the driving style of your driver just watch the scenery and don't look forward. You are in capable hands. Unless of course the owner of the vehicle has lent it to his cousin from the village so he can make some extra money.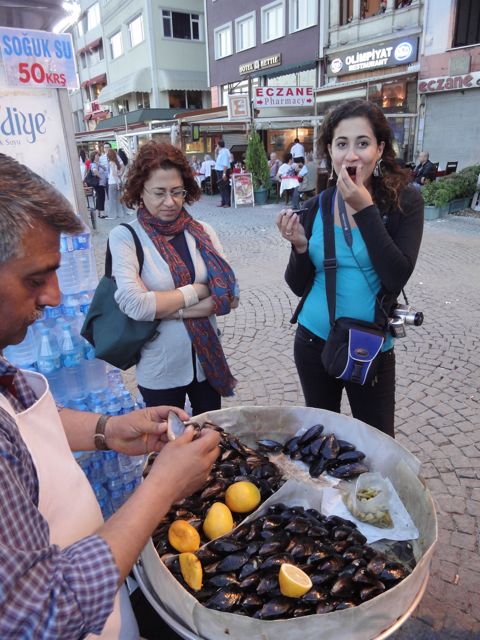 Just as when we arrived in Istanbul last September, our friend Cem was waiting for us at the hotel. We dumped our bags in our room and went up to the roof for the complimentary wine, and watched the ships and ferries passing by on the Bosphorus and the Golden Horn. We spent a lot of time doing that. It is really one of the best places to have a quiet drink and the fact that the quiet drink is also free makes it even better. They also have really good Turkish wine. It's called Patera and they make a red and a white. The Sirkeci Hotel group also owns several really good restaurants and they all have Patera on the wine list and we did not drink much else (besides raki of course). After the sun set we walked down to Eminonu Pier so Amarandi could try her first midye, the stuffed mussels sold on the quay. It's usually one guy with a big tray with two or three sizes of mussels and you point to the size you want and he opens them, squirts on some lemon and keeps handing them to you until you tell him to stop. He has been keeping score so when you are finished he tells you what you owe. (They are cheap and filling). Some people say that you should not buy mussels from the street, that you don't know where they come from and that you should only buy them from a restaurant. Other people, like Cem, say you never order them from a restaurant, you should only order them from the street but you should know which of the street venders have the best mussels. Cem had one guy in mind at Eminonu but he had sold out so we walked across the Galata Bridge, past the fish restaurants where in each one the touts try to get you to come in to their restaurant, the only one that has fresh fish, to Karakoy Pier where there was another guy Cem knew had good mussels. Amarandi loved them of course and had around seven big ones. I had four or five and I think Andrea had one. Cem did not eat any, highly suspicious, but we let it pass because they were so good and we did not want to stop eating them, even if they were going to make us sick.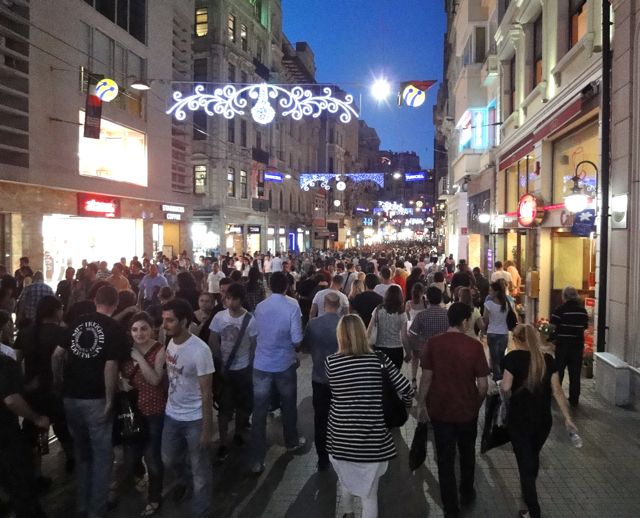 From Karakoy we took the world's second oldest metro to Beyoglu. It's just one stop and the train goes back and forth up and down the hill under the Galata Tower. At the top is Istiklal Street which is to Istanbul as Ermou Street is to Athens except it is jam packed with people at night and it is a lot longer. There are all sorts of shops, department stores, consulates (including the Greek), cafes, a couple Starbucks, street entertainers, and an old trolley that goes slowly up and down Istiklal Street, parting the crowd like Moses and the Red Sea. This is the European section of Istanbul, called Beyoglu. Most of the buildings are impressive, having once housed the embassies when Istanbul was the capital of Turkey, before the fall of the Ottoman's. The side streets are filled with shops and people too and in and around what is called The Flower Passage, a sort of indoor street, are fish restaurants called meyhanes, sort of a cross between a psaro-taverna and a mezedopoulion, and fish markets too.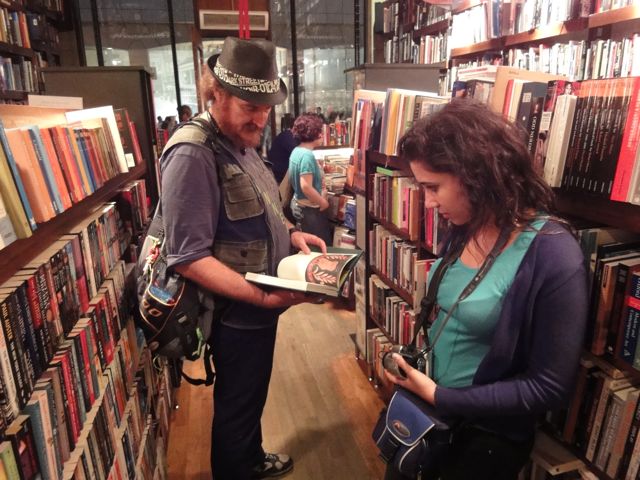 We made a quick stop at Robinson Crusoe Bookshop which is to Istanbul as Shakespeare and Company is to Paris, an English language bookshop and beacon to foreign poets, writers and readers. We were just seeing what was available as far as guidebooks since all we had was a 2003 Lonely Planet Turkey, because we had left all our guidebooks in the USA, not really expecting to be in Istanbul this summer. Lonely Planet is OK but they don't pay their writers very much so they end up being experts on what is cheap instead of what is good. John Freely has lived in Istanbul for 43 years so he is one of those guys like Edmund Keeley, Francis Leigh Fermer and Kevin Andrews in Greece, the respected X-pats who know the culture well and share it with everyone who comes later. But the body of work of the Greek travel writers is miniscule compared to Freely who has written some thirty books about Istanbul and Turkey. I imagine for many people a John Freely sighting is like seeing Elvis or maybe Stephen King. I pretty much decided to go with him as my Istanbul guru after browsing through some of his books but somehow never got around to buying one, relying instead on the out of date Lonely Planet, Time Out Istanbul, and the cute girls in the lobby of the Hotel Neorion who were happy to give me daily advice on what to see and do.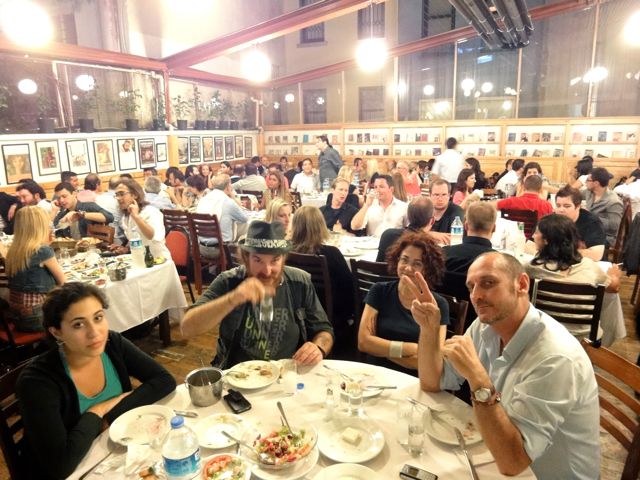 We met Cem's brother Demir at one called Yakup2 which was formerly Greek. From the outside there are six or seven tables, but we walk through the indoor seating area to a narrow stairway that leads to a roof terrace that is massive, seating several hundred people. Demir is waiting for us with a bottle of Tekirdag Rakisi, a raki made from green grapes and we order a bunch of mezes and spend several hours drinking eating and talking, just like in Greece. We had the green olives wrapped in hamsi (anchovies), kuru fasulye (small lime beans in olive oil), lakerda (marinated tuna), cacik (like sadziki but without garlic), and the melon with cheese that seems to come automatically in these fish places when you order raki. We also had sheep's brains, not my idea. Not that I find eating sheep brains any worse then eating kokoretsi or testicles, because I know some Greek people (mostly Greek-Americans) take great pleasure in eating sheep brains on Easter Sunday. But it does not taste that good, at least not good enough to get excited about, and the texture is disgusting, more like oatmeal than meat, and it is so high in cholesterol that if you decided you were going to try to live on sheep brain you might not make it a week before you needed a heart transplant. In other words unlike the stuffed mussels the pleasure is not worth the risk.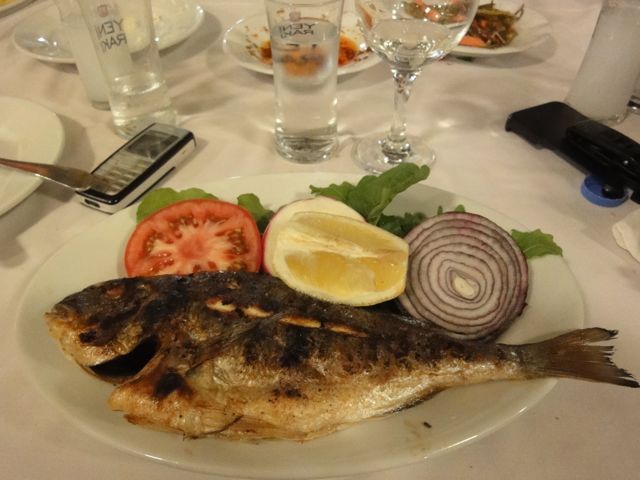 Eventually we got our main courses. Andrea ate lavrek which is lavraki in Greek, usually farmed but tasty. In Turkey they cook the fish simply, mostly grilled and maybe serve it with a tomato and a piece of lettuce and lemon. We ate fish several times and Andrea came to the incredible realization that none of the Turks we ate with knew how to clean a fish. For those who have not seen Andrea's tutorial video on how to clean and eat a fish let me just describe the process because it is sort of an art form. When the fish arrives, usually whole and looking pretty much like a fish, you make an incision with your knife (it does not have to even be sharp-even a butter knife will do) in the belly and slice the fish parallel to the plate, then using your fork and knife to unfold the fish so you have one side with the bone in and the other without. Then you take out the spine which comes with the head and tail, and separate the little fin bones from the two filets. Now you can easily eat the now boneless fish after seasoning it with lemon, salt and pepper (or for some of us Greeks olive oil and garlic too). But several times we went to eat with friends in fish restaurants and it was as if we were the only ones who had ever eaten a fish. Some people just sort of dug away at it with their fork like they were strip-mining for protein. Others kind of scraped the meat off and prospected for bones in the pile of meat, spitting them out or swallowing them and hoping for the best. They loved fish and yet they had not mastered the basic technique of de-boning one and making it safe for consumption. But lets be fair. The Turks were not sea people, having originated from the steppes of Asia. They have only been eating fish since the fall of Constantinople in 1453. Major cultural changes like knowing how to eat a fish do not happen overnight. Perhaps expelling the Greeks was not such a good idea after all. Or at least they should have waited until they had learned from them how to clean a fish and then kicked them out. But I think that once we get Andrea's video in to the hands of a few influential people we can remedy the situation and accelerate the process of cultural change and perhaps save the Turks another hundred years. It would be ironic to say the least. Andrea's family left Constantinople when the city fell to the Turks almost 600 years ago and came to Kea with their gold and wealth and knowledge to build churches, schools, fountains, and government while civilizing the island which was just farmers and peasants. Now Andrea returns to Turkey and shows them how to clean a fish, a lost art from the golden age of Constantinople. Of course we don't really know if Turks don't know how to eat a fish. All we know is that the people who we went out to dinner with didn't and for all we know those people could hate fish but they took us to fish restaurants because they know Greeks love fish.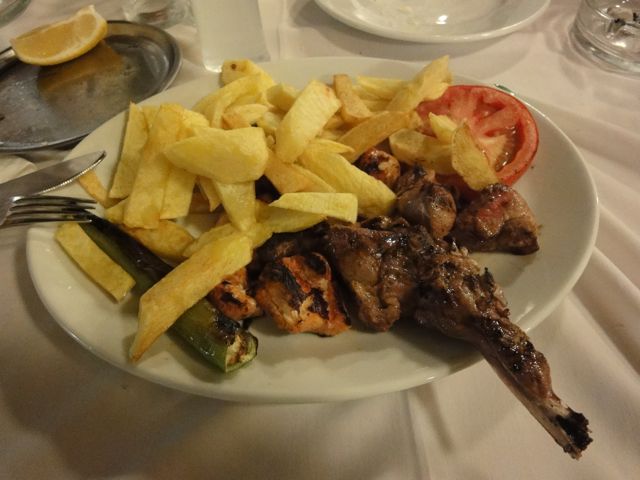 I ordered the mixed grill which is like a mixed grill at my favorite restaurant in Athens only half the price, a quarter of the meat, no sausage, and twice the potatoes. I figured it was a good way to get an idea of what meats were done well. For me the spicier the meat the better so I liked the doner kebabs which are minced meat and spices packed together on a skewer and grilled. Everything else tasted as you would expect. Grilled chicken tasted surprisingly similar to grilled chicken and grilled lamb to grilled lamb and grilled beef to.... well you get the idea. There is no pork though in Turkish cooking. Like the Jews, Muslims don't eat pig so all the yummy looking sausages in the butcher shops are made of beef and the bacon served at the hotel breakfast buffet is veal. In a way it is sad that two cultures that will never know the joy of eating baby-back ribs, or NC style pulled pork BBQ, or roasted suckling pig from Yiannis, don't get along. But it is just as tragic that the people of India who practice Hinduism will never know the taste of Turkish pastourma, the most pleasurable use of a cow known to mankind.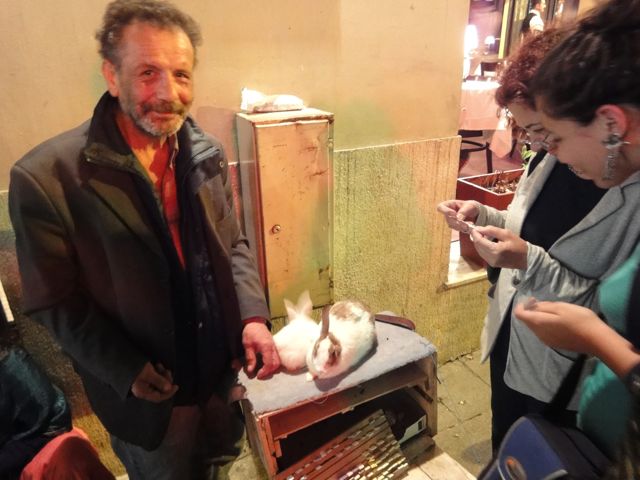 Almost as tragic for us though, was that the various foods that were now inhabiting the stomach of Amarandi, the stuffed mussels, sheep brains, fish, beans and meats, decided that like the Jews, Muslims, Hindu and Christians of the world, they could not get along either, causing an internal upheaval and great suffering for my daughter who wanted to go home immediately, though not before getting her fortune told by a rabbit outside the restaurant. Proving that Istanbul is indeed a magical place, the rabbit chose from the folded pieces of paper, the one which read: #35. you love so much someone and you are going to crazy when you don't see him. you are suddenly wake up at midnight and you waste your sleeps. but don't worry he-she loves you to. you will be happy soon. Not grammatically correct but far beyond what you would get from a Chinese fortune cookie and essentially right on the nose considering that the only reason Amarandi agreed to come to Turkey was because she thought it would make the time pass quicker til her boyfriend came to Greece. So, how is it that a Turkish rabbit got it so right with my daughter? When I went to a human psychic in 1986 she told me that Lisa Tuchek was my soulmate. And yet I have not seen her in 25 years except on Facebook. Did the psychic just get it wrong? Are Turkish rabbits better fortunetellers than human American psychics? Do Turks eat rabbits? Do cows and pigs know the future too? What about cats and dogs? Are we humans the only beings on the planet who do not know who we are and what the future has in store for us? These questions went through my mind in the taxi home and through the night until after 4:44am when the muezzin called the faithful to prayer from the mosque at Hoca Pasa street and I finally fell asleep, only to dream of Mavromatis' goats and sheep trying to convince him not to take them to the slaughterhouse below the church of Agios Constantinos, named for Constantine, the Emperor of Constantinople, now Istanbul. A fitting close to a pretty weird day that began on the island of Kea and ended in Turkey.