FISHING RE-UNITES TEACHER AND STUDENT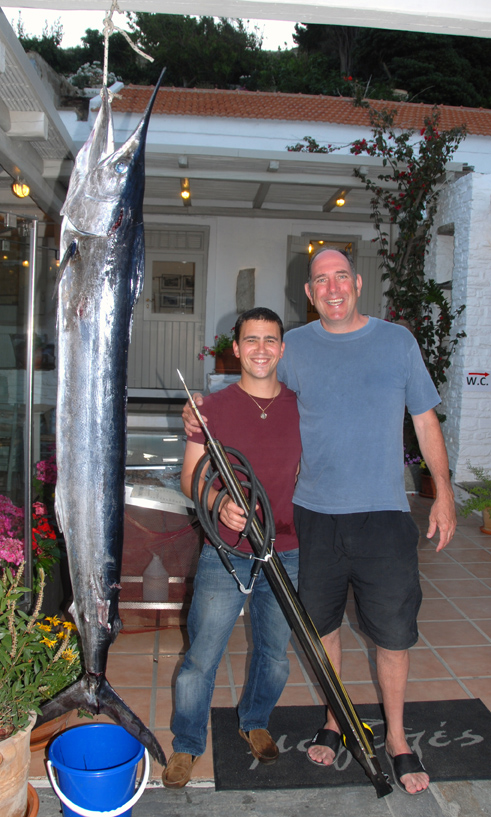 June 1, 2011 - Until recently, ACS Graduate Stefanos Alexandrou (1999) and former ACS Physical Education Instructor Tim Robinson (91-93, 97-98) had been out of touch. Both have firm connections with the island of Kea, but for ten years the two rarely crossed paths. On the first day of June that all changed. Tim ran into Stefanos at his new taverna, Magazes, across from the ferry landing in the port of Kea. "It was great to talk with Stefanos after many years, but I had no idea what was about to transpire," said Robinson.
It was then that Tim went off to fish at one of the more popular strands on Kea, the beach at Otzias, where he had often seen a lot of nice fish (sargos and grey mullet) while swimming with a mask. Since the water was still cold there was hardly anyone on the beach. But another hunter had beaten him to the spot. Circling in the bay, in very shallow water, was a 55 Kilo, and two meter swordfish. "At first I thought it was a small shark," offered Tim, "but after a while I wasn't quite sure. What I did know is that the water was milky white and it was a big fish. It was then that I decided to get a pro. So I drove back to Korhssia and to
Magazes Estiatopio,
to recruit Stefanos." After Tim explained the situation to him, Stephanos grapped his two 800 euro spear guns and sprang into action. In about seven minutes, donning a wet suit and gear in hand, he had crossed the three kilometer distance and was entering the water at Otzias. Two hours later the fish was hanging on the front beam of Magazes. Tim continued, "I am astounded by Stefanos's knowledge of the sea, fish, and their preparation. He took and processed that fish with absolute integrity and precision. I was basically a gun barer-chasing the two of them around the bay. Nothing was wasted, and some lucky folks ate well at a very reasonable price at
Magazes
the next day."
Tim Robinson is mid-stream in a doctorate of sport management at the United States Sports Academy. He coaches and officiates soccer and basketball in Portland, Maine, and is an adjunct instructor of sport management at the University of New England.
Stefanos Alexandrou is managing the Magazes Estiatopio and continues to perfect his knowledge of the seas, fishing, and boating.