My Surprise Trip to Istanbul, Turkey!
Kelly thinks the mailman hates her. She would not feel this way if we still had Jesse, the Rastafarian mailman who walked his entire route with a smile on his face. But the new guy drives his mail-truck everywhere and parked it in Kelly's driveway. Kelly asked him not to because if they needed to get out and he was delivering mail a couple houses down she would be stuck. We would too since we share the same driveway. So the mailman stopped parking there. He also stopped delivering their mail. Or so Kelly believes. Maybe she and Ryan are just less popular than they were and all the junk-mail advertisers have given up because they never buy anything anyway. It seems too unlikely that a mailman would be so angry about being asked not to park in their driveway that he would just stop delivering the mail. First of all he would have to dispose of the mail in such a way that it would never be found and a mailman who is so lazy he drives his mail truck and parks at every other house is not going to stay up late a night shredding the mail of a customer he does not like. I think it is just a coincidence that right after she complained she stopped getting her mail.
Anyway I too have noticed that some of my mail has been missing. Neither my American Express or my Citibank credit card bills came in August. Amex sent me an e-mail and I was able to pay it from my savings account before they were annoyed enough to punish me. Citibank kept calling and leaving messages on my answering machine but since they did not tell me what they were calling about I just assumed that they wanted to sell me something. Then I realized that I had not gotten my bill from them and phoned them back and was able to pay them too from my savings account. But when I got my September bill they had raised my interest rate to 28%. This was after being a Citibank customer for about 10 years and never missing a payment. Of course that means I am the kind of customer they hate because I always pay my entire bill and they never get to charge me interest, except for the last month when I didn't get the bill. So I called them up to tell them I was closing my credit card account because they had raised my interest rate, expecting them to offer me some kind of deal to keep me, including lowering my rate to the previous level (whatever that was) and maybe throwing in some bonus miles on American. Instead they did not even try to convince me to stay with them and together we set the Guinness World Record for the shortest phone call for a credit card transaction. Canceling my credit card was easier than asking for my balance. So that was the end of it I thought. It had been a good ride. I had 180,000 miles on American Airways that only cost me last month's interest payment so it seemed like I had come out ahead. Until I got the e-mail from American Airways which informed me that since I was no longer a Citibank customer my miles would no longer be valid after November. No it does not seem fair does it? After all I had earned those miles through years of carefree spending.
It just so happened that my friend Steve from Monterey, was going to London on Sept 23rd and then taking trains through Europe to Prague and Budapest. We would use our miles to join Steve in London and then either go with him, or fly to Athens and maybe go to Crete. Our London taxi driving friend Dave was there so we could hang out for a few days while we decided on a plan. So we booked the tickets, only to discover that Steve had become ill and had canceled his trip. This put us in a quandary about a trip we had only booked because we had to use the tickets and this seemed like a good way to use them. Then I remembered that my best friend from high school, Peter Christ, was going to be in Istanbul for the week and we could surprise him. So for $200 more we booked one way flights from London on Turkish Air and set upon the task of reading everything we could find about Istanbul. I spent so much time on Google earth that I felt like you could drop me anywhere in the city of Istanbul and I could find my way to the sea and then home like the true Greek I was. We went to Tripadvisor and found the Hotel Neorion, the only hotel I had ever seen that had a 10 point rating, then we went to my Booking.com site for Greece and booked it and instantly made 42 euros. We even stopped drinking for a couple nights in preparation for a visit to a Muslim country, totally unnecessary for Istanbul, but not drinking for a couple nights can't be a bad thing, can it? Then on Thursday Sept 22nd we flew from RDU to London, an amazingly easy 7 hour flight, and then hung out in Heathrow Airport for 4 more hours before our 3 hour flight to Istanbul.
(Photos are clickable to see them full size)
Arrival In Istanbul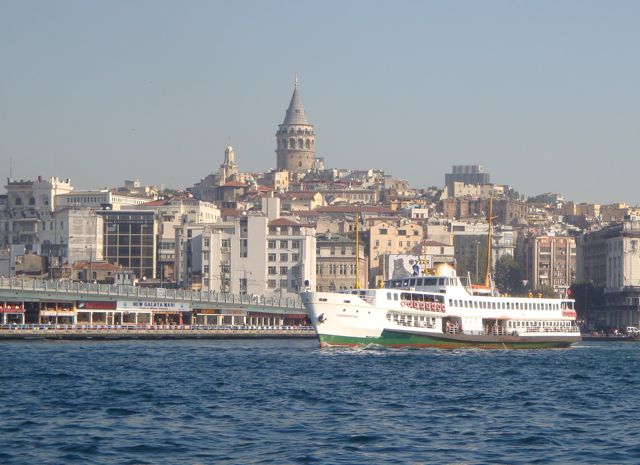 One really does not get a full impression of a city by exploring it on Google Earth, but perhaps I am stating the obvious. Despite the loss of intelligence and awareness which comes with being jet-lagged, I was in awe from the moment we left the airport. Our hotel had sent a driver who spoke little English but was tall enough for us to see the sign with my name on it, and he drove us along the sea of Marmara and even stopped at the Kumkapi Fish Market so we could have a look. The first impression I had which was of the suburbs, was how modern the buildings were and how clean everything was. I don't think I saw as much as a plastic candy wrapper the entire way in. On top of that the entire coast was one long park area where people could jog, walk, have picnics or just hang out, sort of like the lake in Chicago. This is a very livable city, I realized. It appears that the government actually cares about the quality of life for its citizens. What a concept! Traffic got pretty heavy once we got to the old part of the city and we had to zig-zag our way through the small streets until we got to the Hotel Neorion where we were welcomed with a glass of wine for Andrea, a glass of raki for me, some meze (snacks) to go with them, and the immediate arrival of our Turkish friend Cem Aydogdu who had moved to Istanbul from Chapel Hill a few years ago. Then Peter and his girlfriend Phoebe showed up and we ordered more raki and more wine and when we decided we should go out somewhere for dinner we came to the realization that we had not even seen our room yet. We took our bags up and made a quick inspection of the room, nice big double bed with dramatic painting at the head, fantastic modern shower, widescreen satellite TV, fully stocked mini-bar complimentary plate of loukoumia. Looks perfect. Let's go eat.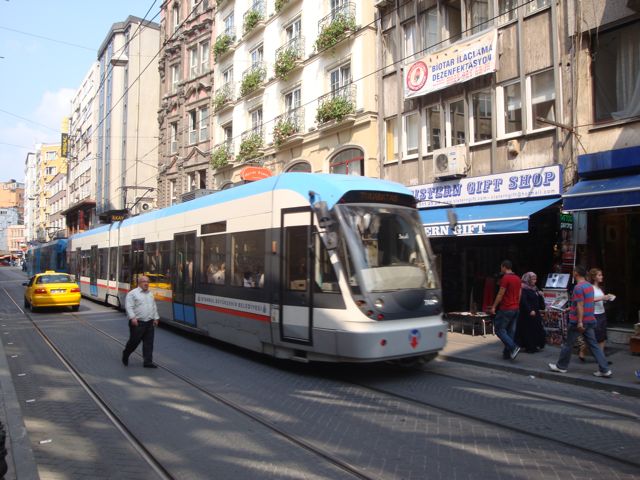 We crossed Hudavenegar Cadessi (cadessi means avenue) where the beautiful modern tram runs from one end of the old city, across the Galata Bridge, to the far end of the new city, so close to the sidewalk that it can brush your shoulder as it passes you. We passed the historic Sirkeci Railway station, built to receive the Orient Express, and then crossed busy Kennedy Cadessi which I am going to assume is named after the American President and not someone in Turkey named Kennedy. Actually it is an impressive road that runs along the coast, the same road we took from the airport into the city. In Athens there is a Kennedy Square but it is an insignificant little crossroads in a distant suburb which I would not even have know about except I happened to go to school a couple blocks away. The fact that in Turkey they name a major highway after JFK (or Robert... who knows?) is like a welcome sign for Americans. JFK was our hero too! Come. We love you. (Now they need a Ronald Reagan Road to bring the Republicans.)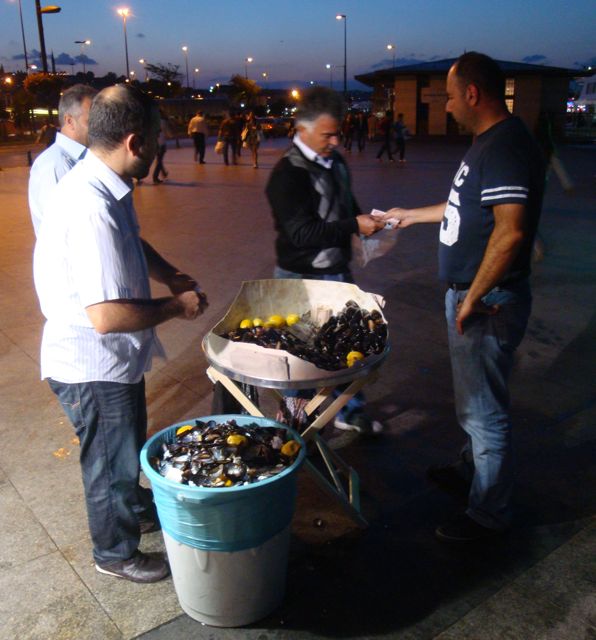 The Golden Horn is a body of water that comes off the Bosphorus that separates the old city, where we were staying, from the modern Istanbul, the area called Beyoglu. The two sides of the city are connected by the Galata Bridge and the rest of the city, mostly the Asian side, is connected by ferry boats that run from the docks at Eminonu on one side of the bridge and Karakou on the other. The ferries are almost like buses, coming and going every few minutes and costing 2 Turkish Lira, which is about a dollar or less than a euro for a trip that can take a half an hour or more. The dock is full of activity. There are small wooden boats tied up that sell Balik-Ekmek which is grilled fillet of mackerel on bread, a terrific and cheap dinner for those poverty stricken travelers. You can have your hors d'oeuvres nearby where men sell mussels stuffed with rice and herbs from baskets on the waterfront, where you just keep eating them for 30 cents(or whatever they call the fractions of the TL) for a small one to 1TL for a huge one. You just keep eating them and at the end the guy tells you what you owe. Of course many tourists would be terrified to eat something sold off the street, no health inspections, probably swarming with bubonic plague germs or worse, but these are worth the risk. I could stand with one of these mussel merchants and eat them until I exploded. Nearby are the guys who sell corn for a lira, either grilled or boiled-take your pick, or roasted chestnuts for 2 TL for a bag that is enough to satisfy two people. Then there is the old man who sells pickles. All kinds of pickles. Carrots, cabbage, mixed vegetables and pickle-pickles. He also sells a pickle juice that is spicy and is said to be very good for you if you have a hangover or are feeling under the weather. I believe it. The stuff is intense but if I could import the stuff I would drink it every day.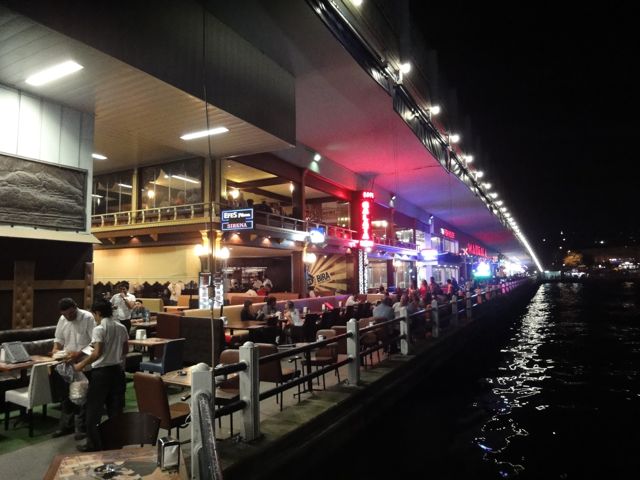 Since we were on our way to dinner we really could not hang around and sample everything there was to eat on the dock, so we headed for the Galata Bridge. The bridge has two levels. The upper level has a road for the cars, tracks for the tram, a sidewalk on each side for the pedestrians, and a railing for hundreds of people to rest their fishing poles on as they fished in the Golden Horn. It is not like fishing in Greece from the dock where you spend hours putting little balls of bread on your hook in the hopes of catching a kefalo to give to your cat. People on the bridge are catching fish continuously and what they catch depends upon what kind of fish happens to be going up or down the Golden Horn. I saw a guy pull up a nice sized zargana (needlefish) and others pulling up gopa, mackeral, and some fish I did not even know what they were. Anytime of day or night you will find people fishing from the bridge. Meanwhile there is a lower level that has fish and kebab restaurants, cafes, bars, nightclubs and even a couple fancy restaurants with waiters who invite you in as you walk past. By the time we got to the other side of the bridge I had promised so many of them that I would return to eat in their restaurant that I would have had to eat five meals a day for the rest of our stay in order to accommodate them all, a difficult though not impossible task for me.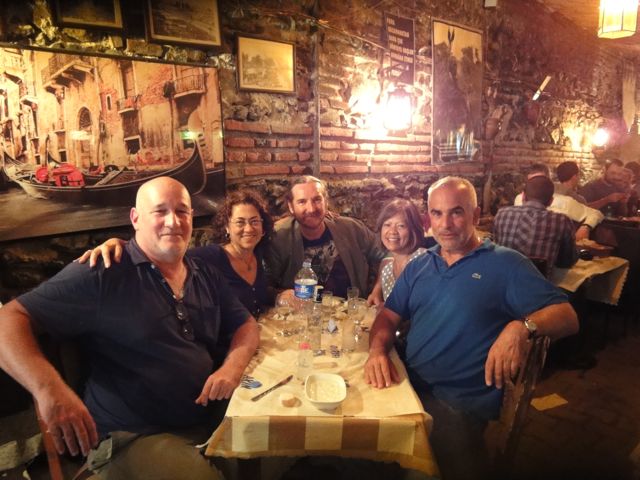 When we reached the other side Cem took us through a fish market that was in the process of closing down for the evening, to a small fish restaurant right on the shore. The problem was that this small restaurant had a large garden which was full of tables, all of them full, with waiters running back and forth carrying large trays of fish and mezes and there were a number of other people waiting for tables to open up. But Cem knew the owner and we did not wait for more than twenty minutes which was fine with me because there was so much going on, that watching the cooks and waiters work was a pleasure. We got our table and within two minutes we had a bottle of raki, we were shown a tray of meze and picked out a half dozen or so, and ordered several varieties of grilled fish. One minute later the food began arriving. So despite the fact that this was a popular restaurant on a Friday night, so busy that to me it looked like complete chaos, everything was working perfectly. While eating fish and drinking raki in this Turkish fish restaurant on the shores of the Golden Horn we heard no less than four Greek songs, including three by Theodorakis and one by Kaldaras.
Tourist Stuff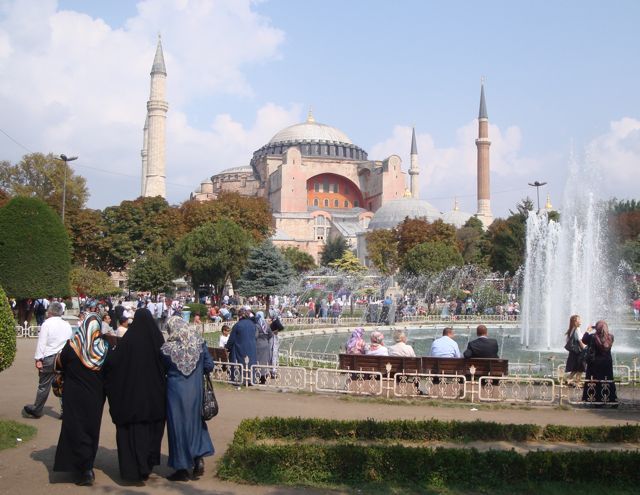 To be honest with you I don't really have much of a recollection of that first night after all the raki and the fact that I had gone about 36 hours without sleep, and I am pretty proud of myself for remembering as much as I have related here, mostly because looking at the photos I took jarred my memory. I do remember saying goodbye to Cem so he could catch a bus because he missed the last ferry to the Asian side, and then making our way back to the hotel where I got a solid two hours sleep before waking up at 4am. At around 5 I heard the muezzin calling the faithful to prayer and in my sleep-deprived, jet lagged state I think it was one of the most beautiful things I ever heard. I could actually hear several from different minarets around the city. I lay in bed thinking my little spiritual thoughts until 7am when I showered, dressed, and took off to see the primary sites of Old Istanbul, namely the massive Agia Sophia, the mother church of Greek Orthodoxy, now a museum, and the Blue Mosque, right next door and no less impressive. It's a good time to walk around if you want to take photos that won't have six thousand tourists in them, though it is too early to go into Agia Sophia which opens at 9am.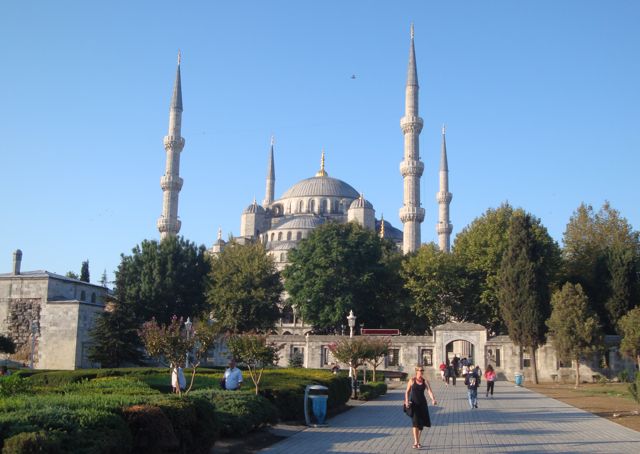 During the tourist season, which it still is somewhat even at the end of September, you need to get there about 9 if you don't want to spend ages on line at either the church or the Mosque and since we had arrived on Friday it was the weekend which meant both places were even more busy. In fact we committed the biggest sin a Greek who visits Istanbul(or Constantinople as we call it) can commit. We did not go into Agia Sophia which is like going to Athens and not going into the Parthenon. Except in Athens you are not allowed to go into the Parthenon, you can only stand outside and admire it which is what we did with Agia Sophia, knowing full well that it is not the outside that is impressive, being merely a massive church with a bunch of sheds added to it. It is the enormous interior which was an architectural feat that has never been duplicated since, or so I read somewhere, that is the most impressive part of the church. Anyway I wouldn't stand on line to see the Rolling Stones much less to go into a church, no matter how spectacular it is or important it is to my heritage or western civilization. But honestly I thought I would be able to go another day because at the time I did not know I would catch the flu, which would severely cut into the time and energy I had for doing touristic stuff, unless I wanted to sacrifice the more important aspects of travel which is eating and drinking and staying out late making new friends. As it turned out, that morning was the only one I would wake up early. The next morning we woke up at 2pm and the other mornings we barely made it to the fantastic buffet breakfast at the hotel which ended at 11am.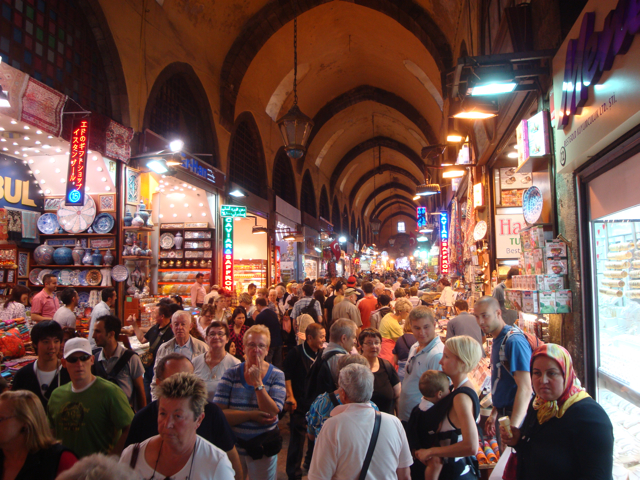 The rest of the day Andrea and I wandered around the Spice Market which was near our hotel just across from the Galata Bridge and behind the New Mosque which is just as impressive as the Blue Mosque. The Spice Market and surrounding areas may have been my favorite part of the city. I could have spent several days there. Yes it is an actual spice market though there are all sorts of shops there in a large covered area, though nowhere near as large as the Grand Bazaar which is just a little bit smaller than the town I live in. Both are full of people, tourists and locals, and merchants say whatever they can to get you into their shops if you show even a passing interest or make eye contact. It is all done in a playful way, by people who can understand the art of making the sale. Not that I actually bought anything. The closest I came was thinking about buying an African Grey from a pet store in the plant and garden market behind the New Mosque, though I realized that this would probably be impractical with all the flying we had yet to do on this trip. Speaking of the plant and garden market, not only can you buy exotic plant seeds and bulbs that have not been genetically modified to take home with you (illegally of course) but they sell leeches too. Yes, live leeches in big jars, swimming around or climbing the walls desperately trying to escape and terrorize the shoppers. They are used for therapeutic purposes, sort of like blood-letting I suppose, though they seemed to be more of a curiosity than something people actually bought and took home with them either to cure a family member or as a pet. For something the size of a common earthworm they are pretty active and aggressive and one can only wonder what the affect would be if you bought a bag full and it broke on the tram or even better on the airplane.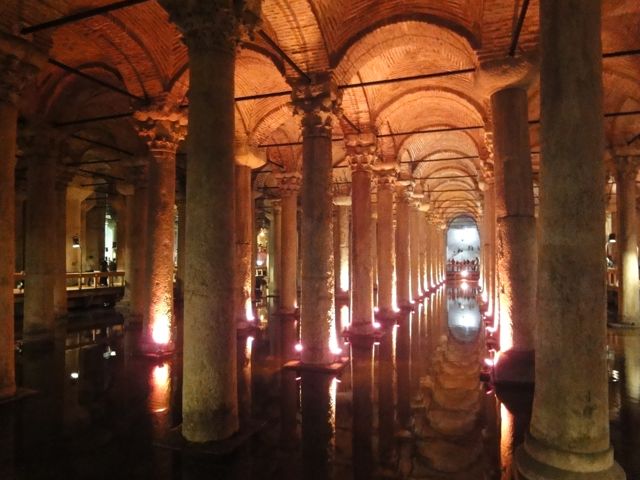 Being dragged around Istanbul with the flu is not something I planned on but the girls at the hotel had given me a package of something called TYLOLHOT which is like alka-seltzer and would make me forget I was ill for hours at a time. Of course when it wore off I was miserable and when I am miserable I am not a very good tourist, much less a travel writer. But Andrea was understanding and did not force me to do too much. But she did insist we wait on line to go down into the Basilica Cistern, just off the large square that used to be the Hippodrome. It was a relatively painless wait as the line moves quickly and once we were below the city streets I was glad she made me come with her. This large underground water tank was built in the reign of Justinian in the 6th Century. After the fall of Constantinople the Turks did not even know it existed until people began catching fish in their basements. There are elevated walkways above the water among the 336 columns and some of the fish, that will come right up to you if you linger in one spot, look like they could weigh twenty kilos. The main event are two giant Medusa heads which form the base of two columns. If you wonder why they are sideways the reason is that they were pre-Christian and like the columns, salvaged from pagan temples that were destroyed in the mass-insanity that marked the beginning of Christianity as a major religion. The heads would have been underwater, never to be seen, so they were placed in a way that would offer the column the most support, even if it did not look quite right. There is also a small cafe, though few if any people were taking advantage of the novelty of having a coffee, tea or soda in a cistern. Unlike a cave, the climate was not entirely pleasant. It was pretty humid and though it is a spectacular place I was happy to be back above ground.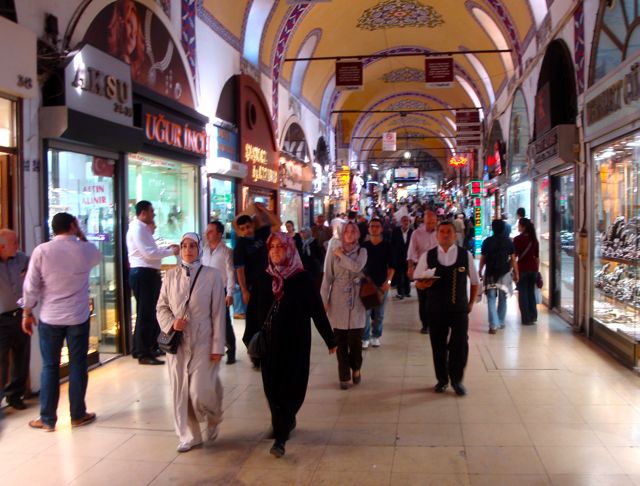 Istanbul is the kind of city that you can just wander around the back streets and you are going to certainly see many things you have never seen before or even thought about. If you have a map and a good sense of direction you can allow yourself to just get lost and then find your way back. The city defines the world commercial and everywhere things are being sold, shops are being re-supplied, often by men carrying large boxes on the shoulders or in carts because many streets are too narrow to bring a truck through. Of course the center of commercial Istanbul is the Grand Bazaar which is a covered market of carpet shops, jewellery, clothing, handbags, backgammon boards, lamps, narghiles, icons, T-shirts, tourist shops, cafes, restaurants, and even a gold and currency market like a street level Wall Street. It goes on for miles, a shopper's paradise and even if you are not really a shopper, like me, you will find something of interest to keep you occupied while the shoppers in your family do their thing. For me, after wandering around taking photos of everything in site, it was an area of small cafes among some old columns where I could drink Turkish coffee and watch the people walk by. Andrea had found a jeweler whose work was internationally known and he had a small shop in the bazaar and an old Christian icon dealer named Burhan Ersay who had some beautiful pieces and a fascinating little shop that featured ornate knives and daggers and jewellery too.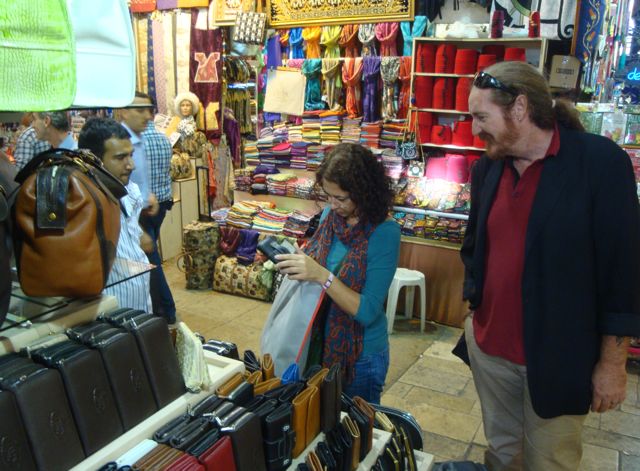 I had been using my Greek phone to communicate with Cem by text messages because it was so cheap to use it this way and by chance he texted me that hew as in the bazaar as well and met us in front of the jewelry section. He and Andrea went to a small shop that had Turkish knock-offs of name brand leather bags that were so well made that the name brands don't dare sue because if it goes to court the Turkish bags will be proven to be better and then they will become the name brand or so goes the logic if you accept the premise that they are better. Andrea bought a $15,000 bag for about $150 though I don't know why she would want to even look like someone who would buy a $15,000 handbag. But besides knocking off name-brand bags, Turkey produces just about everything you would need in a decent sized country and unlike China it is all of good quality, these bags being an example. So next time you want a $15,000 hand bag, come to Istanbul, by a $150 bag and spend the rest of the money on hotels, food and whatever else you can find at the bazaar that will make your life complete.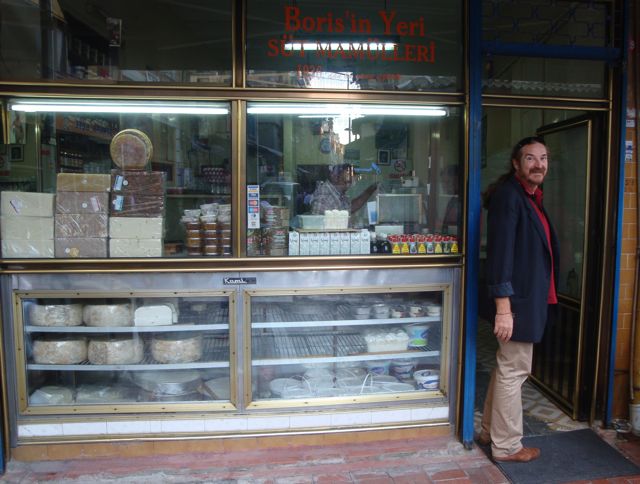 For me, there was only one thing I wanted and that was a black T-shirt that said Istanbul with the N being the logo for the NY Yankees. But that, according to Cem, who had one himself, could only be found at a store called Mavi on Divan Yolu Cadessi, sort of a Turkish version of The Gap (There is one at the airport too). So we left the bazaar and walked there and then down to Kumkapi, the old Armenian neighborhood which is now a mixture of residential (mostly Kurds), small neighborhood shops, and dozens and dozens of fish restaurants. If you want to eat fish this is the area you go to. For us it was too early for fish and I was feeling lousy so we went to a small milk shop called Boris N Yeri that has been open since 1936. Andrea and Cem had tea and deserts while I had hot water and a cup of my miracle-working TYLOLHOT, the wonderful Alka-seltzer like medicine (that even now 3 weeks later I think about with fond memories, as I gaze at the package on my desk, awaiting my next flu so I can use it to kick its ass.) Andrea had kazan Dibi which is a sort of custard that is cooked so the bottom burns slightly. It tastes better than it sounds. When we had renewed ourselves we walked to the Kumkapi rail station to catch the train back to the Sirkeci station in our neighborhood. In the station there was a small cafe, sort of like a kiosk that you would see in Athens and even there they sold the midye dolmasi (stuffed mussels) that were sold on the street. In fact if you go into a Turkish version of a convenience store, or 7-11 you will find a tray of stuffed mussels that you can buy individually. As pickled-pigs-feet are to the south, midye dolmasi are to Istanbul.
Dining in Istanbul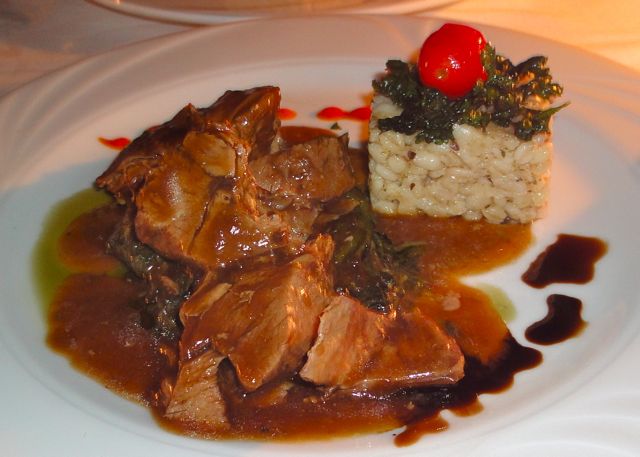 Dinners were hit or miss. When we went out with Cem or went to restaurants that the hotel told us to go to, the food was good. When we chose restaurants on our own because the guy who dragged us off the street was funny or nice we either got burned or ate badly. So let me talk about the good restaurants first. Our hotel, the Hotel Neorion, is part of a group of hotels called the Sirkeci Group, who besides owning hotels are also responsible for taking the neighborhood of Sirkici which was known mostly for its automotive and tire shops, as well as its crime, and turning it into one of the safest and most enjoyable neighborhoods in Istanbul. They also own several restaurants which are in the hotels, some on the roof and others on the main floor. Each restaurant has a theme. For example the Pasazade Restaurant serves Ottoman Cuisine. The Sirikeci Balikcisi is a fish restaurant. The Imbat serves Mediterranean Cuisine and the restaurant we went to, Neyzade serves traditional Turkish food. Having eaten at Neyzade all we wanted to do was try the other restaurants but unfortunately we did not have the number of days left in our trip that would have allowed us to, nor would it have been fair to only eat at restaurants owned by one company, even though in retrospect we could have had an extra night were we not convinced of our own ability to choose a good restaurant based on our success rate in Greece.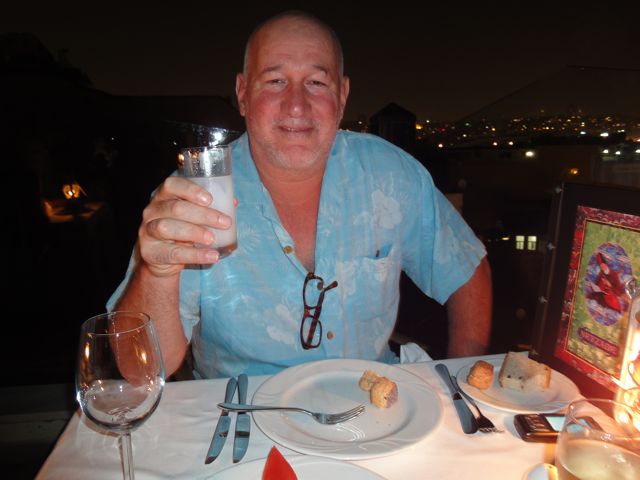 But back to Neyzade. The restaurant is on the roof of Sirkeci Konak Hotel with a view of the Gulhane Park right below it. I am more of a street level restaurant kind of guy and when we first got to the restaurant my impulse was to go find a kebob place that served raki, but we decided to stay and check it out even though almost every table was filled with foreigners, many of them old enough to be our parents. One reason we came here was because the wine the hotel served, called Patara, was so good that Andrea only wanted to go to restaurants that served the same wine and since we could do all our dinner research online in our hotel, we found that all the restaurants of the Sirkeci Group had Patara. We chose Neyzade because it was the favorite of the guy who happened to be on duty at the hotel when we were ready to go out but everyone at the hotel had their favorite restaurant in the group. So we sat down. The service was impeccable and the atmosphere was quiet but pleasant and after the first meze which was pastourma (like pastrami) served on mashed fava from Southern Anatolia, we decided to stick it out and have the whole meal. Andrea had Eggplant Puree Kebab which was nicely seasoned meatballs served on char-broiled eggplant which is pureed and sprinkled with parsley, while I had the Baked Lamb Leg, yes conservative since I would have ordered the same thing in Greece, but I have to say this was surprisingly good and quite different from anything you would get in Greece. Of course everyone eating at the tables around us looked like they had gotten something way better than what we had ordered but this often happens with us. Being Greek, we ate and lingered and were the last people to leave the restaurant. On the way home we made friends with some people at a group of tourist shops who allowed me to photograph every single item they sold.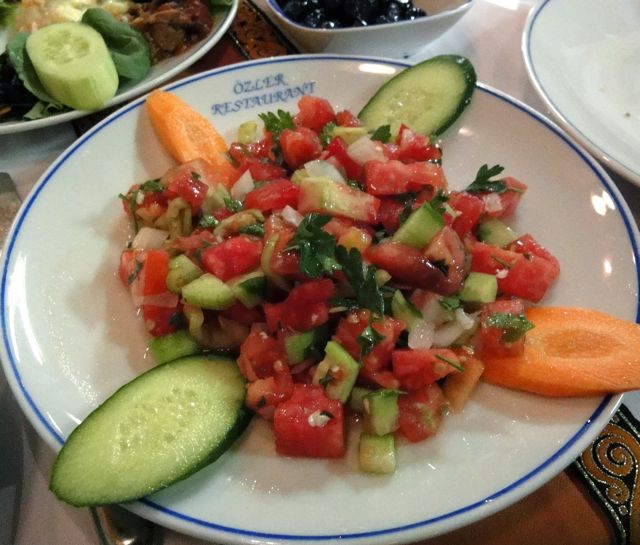 The following night we met Peter and his girlfriend Phoebe (remember them?) on the roof of our hotel where we had a glass of wine and then set off on our own to find a simple working class restaurant on tiny Hocapasa street that served raki and wine, since none of us are the kind of people that can go out to eat without drinking. Hocapasi is a pedestrian street right across from our hotel with lots of small restaurants that serve traditional Turkish food. Because you can't sell alcohol within 50 meters of a mosque, and there is a small mosque which these restaurants are all gathered around, this seems like mission impossible. However one or two of them do sell alcohol and serve it in such a way that you would not know it is alcohol if you passed by. But then you have to ask yourself, if this is a traditional restaurant and by tradition, if not divine decree, you can't serve alcohol in a restaurant near a mosque, then isn't this breaking the law? And if someone breaks the law, and not just any law but the law of God, or his messenger, or whatever Muslim holy person made this law, then what is to keep him from overcharging a tourist? Had we asked ourselves this question we would not have gone to the restaurant who when we asked if he had raki answered "Of Course!" But the guy was so quick with the table settings and so friendly that we took a chance despite Andrea's instantaneous recognition that the place was a dive and the guy was a jerk.
I on the other hand wanted the restaurant to be good, that hidden gem we travel writers dream about, where you have a wonderful meal and a series of fantastic coincidences that makes it a night to remember. The waiter turns out to be your best friend's cousin, or Bruce Springsteen and Martin Scorsessi are sitting at the next table and join you because they miss speaking English and they are so desperate that they laugh at everything you say, or Sean Connery has been eating here every night since they filmed From Russia With Love in the Basilica Cistern. Sadly nothing like this happened and though the food was edible we ordered just enough to not get wasted on the raki and the guy charged us a fortune to make up for what we did not order. Andrea scrutinised the bill and found several problems with it, the kind of thing you might pull if you thought your customers were idiots and were sure you would never see them again. 15 TL for the bread. Another 15 for the table. 32TL for the twelve koftes (meatballs) sitting naked on a plate (he said it was a double order but then where was the salad and vegetables that it comes with according to the photo on the menu?) Andrea challenged him on several different items on the inflated bill which turned our overly charming waiter into a blathering idiot chanting random phrases in English incoherently as we left. We headed for another restaurant a block away on Ibni Kemal.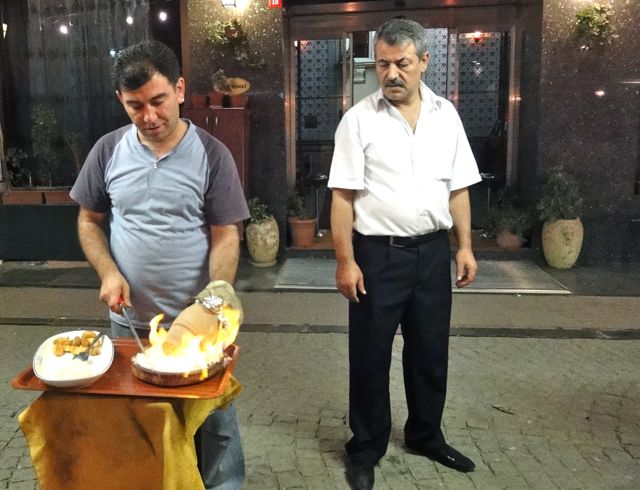 When we sat down at the next restaurant we discussed the previous episode. I would have just paid the bill and left and added it to my list of experiences to learn by. After all even if he had taken me for a few Turkish Lira (maybe 40 or so) didn't I win in the end? He felt like he had ripped off a group of foreigners and was happy with his 40 extra Turkish lira, not realizing that one of those foreigners could have put him on a website that would have made him countless Turkish lira. We would have been both happy, him with his money and me because he had kept me from putting a rip-off restaurant on my website. But with Andrea's method I now have to avoid the street the restaurant is on for the rest of my life. (This happens in Greece too, don't worry.) In the meantime we had chosen the second restaurant by watching a well-dressed waiter crack open a sealed ceramic container full of meat and vegetables that had been cooked in an open fire, while a young assistant looked on. It was an impressive display and we knew we had to try this. When it was our turn the young assistant was given the opportunity, perhaps after years of training, to crack open his first clay pot, which he managed to do but not as cleanly as his mentor and what I thought was a rutabaga turned out to be a shard of clay that only the alert eyes of Andrea had kept me from eating.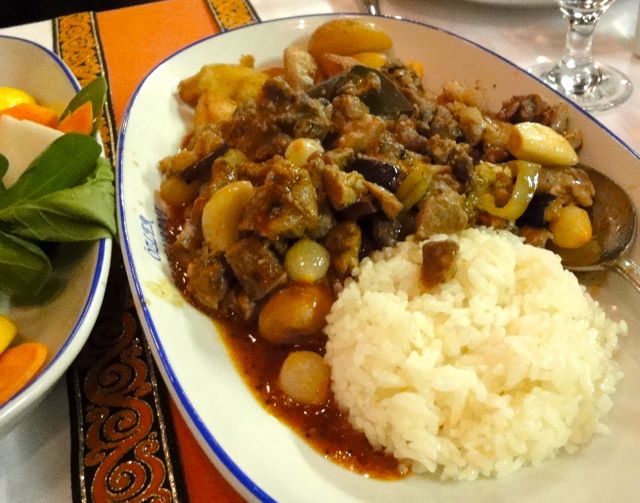 But the dish itself was good, similar to mastela cooking from the island of Sifnos, which keeps the meat and vegetables moist. I ordered the spicy kebob which was really not spicy enough for me. That is the thing about Turkish food compared to Greek food. They say that Turkish food is spicier, which it is. But I live for nachos and jalapenos, and in Indian restaurants I go beyond bindaloo and vindaloo to tindaloo. At another restaurant I asked if they had grilled spicy peppers which I had seen in some kebob joints and the waiter said he did, but I watched him sneak to the grocery store down the street and come back with a handful of cayenne and something that looked vaguely like anaheim peppers which he grilled and these were hot. Maybe too hot for human consumption but closer to what I was expecting from Turkish food.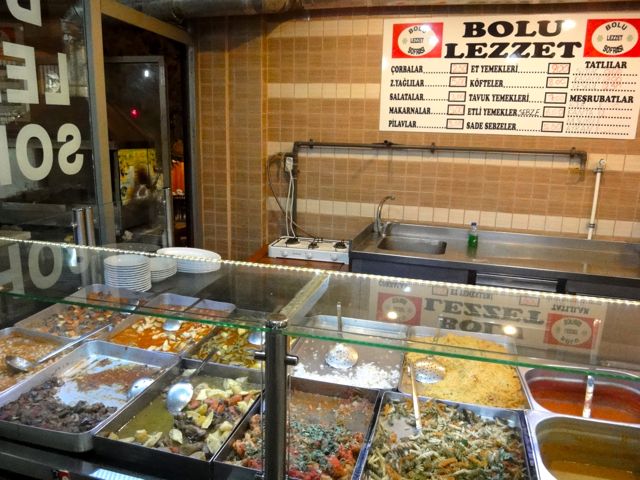 By the way, many Turkish restaurants have menus with photos of the food, like touristy Chinese restaurants in New York. Generally we have a rule never to eat at a restaurant that has photos of the food since of course this means the customers have no idea what anything is and that means it is a tourist restaurant. But let's be honest here. We are tourists. We don't know what anything is, do we? For me, knowing Greek food, many of the names are similar enough for me to figure out just like you as an American or British could go to Germany and have a pretty good idea that a weiner-schnitzel is something like a hot-dog. (I don't know actually... is it?) But most visitors don't know what a Bademli Tavuk is or don't know a Nohutlu pilav from a Cevizli biber so the photos of food are a good idea until you become fluent in Turkish cuisine. So if you have one of those no restaurants with photos rules, don't be afraid to suspend it until you have your favorite dishes figured out. Anyway you can find the restaurants with the photos where there are Turks eating just like you would go to a Chinese restaurant if it had Chinese people in it, whether there are photos on the menu or not. How do you know if they are Turks? I have no idea. I suppose you can ask. But if you want to eat what the Turks eat go to one of the working class restaurants like Bolu Lezzet on Hocapasa street and just point to what you want.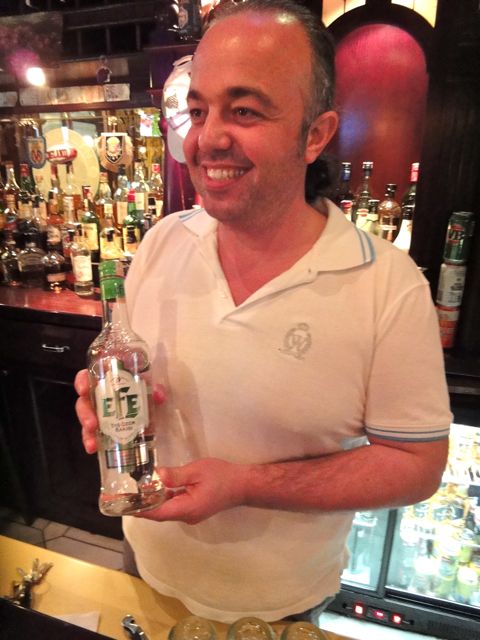 Not being satisfied with two restaurants in one night we decided to continue the evening by going to the North Shield Sports Bar which advertises dozens if not hundreds of soccer, football, baseball, and other games daily on the outside wall. It was a good thing we did because it was here that I made perhaps the most important discovery of the entire trip. First of all the bar. You would think you were in America if you looked around at your surroundings, and even if you were blind you would think you were in America by the loud American voices of people who could not bear to miss their Redskins or Bears or Giants or Cowboys even if it means staying up all night to watch them and missing the early morning cruise up the Bosphorus. Unfortunately for Peter his team had already lost and been eliminated from playoff contention an hour before we arrived. Luckily for Andrea and I we struck up a conversation with one of the few Turks in the bar, who happened to be the bartender. Everywhere we had gone they had served us Raki Yeni. It was as if that was the only raki in the whole country. It took great courage but Andrea asked if perhaps there was not something better than Yeni, maybe something distilled the way in Greece we have commercial ouzo like Plomari and Mini, and pure 100% distilled ouzo like Yianatsi, Barbajiannis, or Babatzim or Mexico has tequila made with 100% agave. The bartender looked at Andrea to gauge the sincerity of her question and when satisfied, reached down and pulled out a bottle of Efe Green. "This is what you should ask for when you order raki. And if you want something really special get the Efe Gold which is aged in oak barrels." From that night on, wherever we went we ordered Efe which not only tasted better than the Yeni, but you could see the waiters eyes fill with respect for the foreigner who knew to order Efe. This is no ordinary tourist. This is a seasoned traveler who knows the truth about raki and perhaps many more such truths. "No Kassim, don't overcharge this one. He ordered Efe Raki. We can not fool him."
Eating in Asia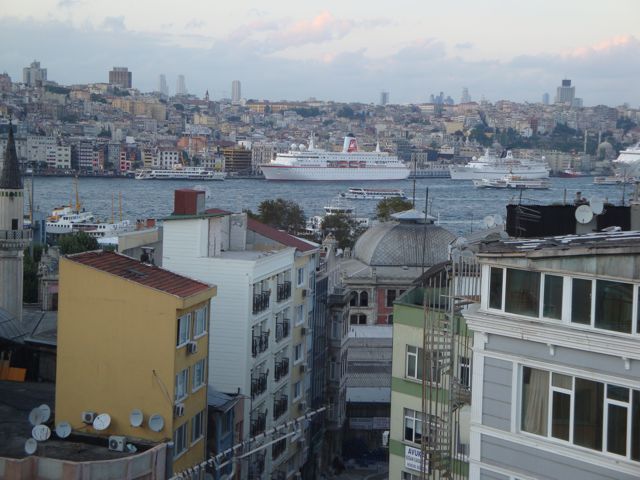 Our final night which began like all the others, on the roof of the Neorion Hotel, drinking free wine and eating salted peanuts and trying to decide where to eat while watching the ferries zip in and out of the harbor, when Cem said "Let's go to Asia!" We had assumed we would be going to Beyoglu to one of the mehenes, which are to Turkey as tavernas are to Greeks, but taking a ferry to Asia would kill two birds with one stone: ferries and Asia. "If Matt does not take a ferry this trip will be considered a failure and I will never hear the end of it" I head Andrea tell Cem when she thought I was not listening, making me feel like I was an immature five-year old, while at the same time knowing she was probably right. At this point our jet lag combined with the terrible flu-like disease (that probably came from my daughter's visit to a university frat party), which lay dormant in my body, waiting for the most inconvenient time to disable me, kicked in and I realized that half the stuff I planned to do in Turkey, I would not be able to do, and so we had resigned ourselves to coming back in December. So what the hell? Forget doing the tourist stuff. Taksim Square could wait. The walk down Istikal Cadessi would have to come at a later time, perhaps when there were few tourists in the city. Putting it in perspective: what would you rather do for dinner. Take the tram from the old city to the new? Or take a ferry from Europe to Asia?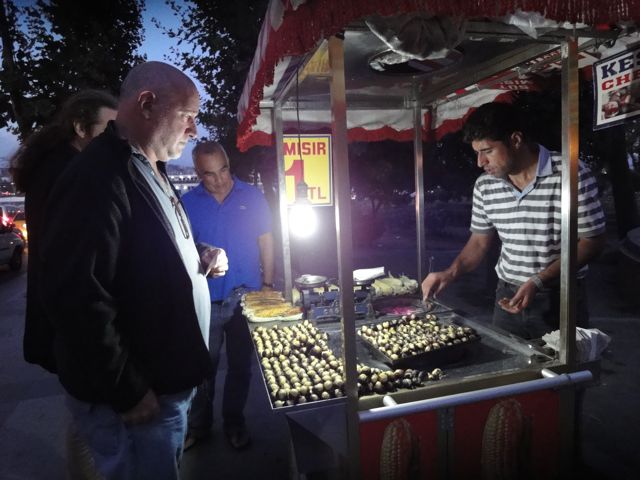 So we left the hotel and walked down to the pier at Eminonou, stopping for some roast chestnuts on the way, which caused us to miss our ferry. No problem. There was another in half an hour so we stood around eating stuffed mussels and drinking pickle juice until it came. (Make sure you try some. There is an old man who sells it on the wharf.) Then we crossed the Bosphorus in the darkness with the lights of Topkapi Palace, Agia Sophia and the Blue Mosque behind us heading for a land of mystery for dinner. I had gone to the back of the boat and when we arrived at the first stop, the magnificent Haydarpasa Railway station, which serves Anatolia, I got off, not realizing there was another stop. As I disembarked I noticed that people were staying on board and I realized I would have to make a snap decision because I did not see any of my pals on land. Luckily they saw me and shouted to get back on board which I did just as the ship was pulling away from the dock.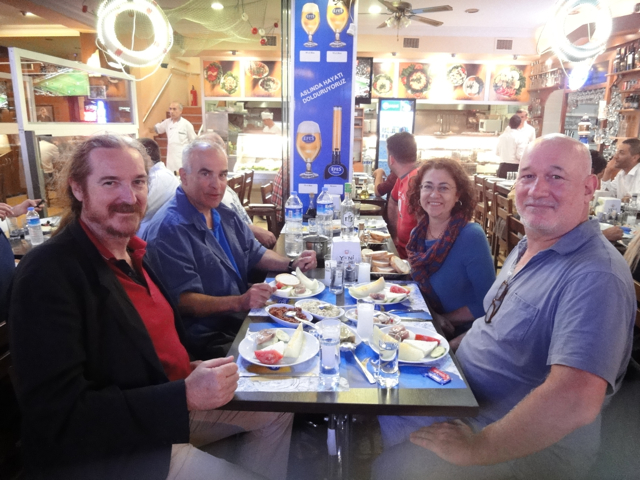 We got off the ferry at the second stop which is the port of Kadikou and walked across a busy street into an area of small restaurants, cafes and shops on a narrow pedestrian street. I was expecting something more eastern and exotic but this was very cosmopolitan and full of young people eating and drinking, talking, all with an eye on large flat screen TVs which seemed to be in every bar and restaurant showing a football game between Galatsaray, one of the major teams in Istanbul and a smaller team, from the provinces I suppose. Cem had a couple restaurants in mind but we nixed the first one which was a cooked-food place, (sort of like what you would call a working-class estiatorion in Greece), and went for the fish-mezedes place which was called Hamsipub Balik restaurant at Güneslibahçe Street No: 33/B. As in other meze places they brought out a tray with each meze they offered, wrapped in plastic, and we pointed to the ones we wanted which were brought out to us several minutes later along with the Efe Green.
"Ahhh, so you know about Efe Green?" Cem asked us, clearly impressed as were the waiters who then preceded to give us the best service we had yet experienced, serving us each portions of various dishes and stopping just short of de-boning our fish and spoon-feeding us.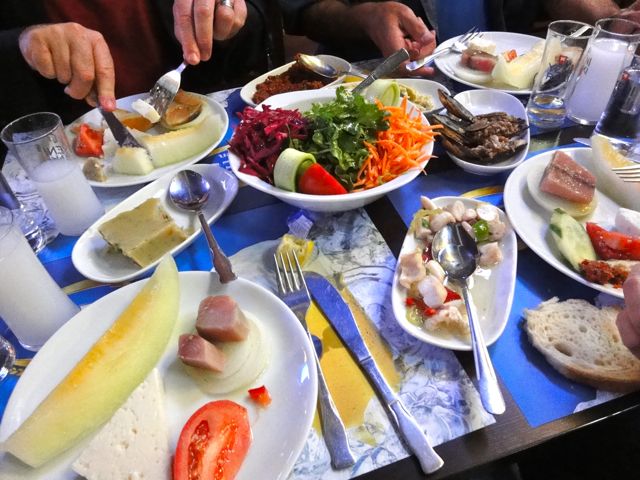 From the small meze plates we chose the marinated octopus which unlike in Greece is skinned and white so it looks like scallops, the lakerda (marinated tuna just like we eat on Lesvos), grilled squid, saksuka (spicy peppers and tomato and one of our staples), patlican salatasi (eggplant salad), a shrimp dish baked in a clay pot (like saganaki without cheese), and melon served with a salty feta-type cheese. For our main course we had grilled palamidi, which is a small tuna. We also had stuffed mussels but Cem told us that few people eat these in restaurants, just on the streets so despite my ordering of the Efe Green I had showed my hand and there was no doubt that I was a tourist. The whole street was buzzing with the voices of people talking and eating and besides a table across the street at another restaurant it seemed to me that we were the only foreigners. And it was not the Asia I expected to see with beggars and mysterious women in burkas. These were upper-middle-class professionals out for a fun Monday night.
"Is it always like this?" I asked Cem.
"No. It is even more crowded on weekends." He told me.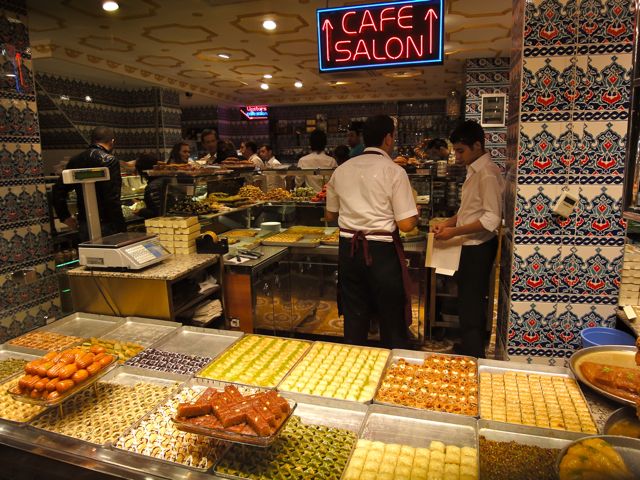 After dinner Cem continued on to his apartment on the Asian side while we took the last ferry back to the European side which was going to the port of Karakou, right across the Galata bridge from Sirkeci. Even after midnight there were people fishing off the bridge and on the other side people were still selling and eating stuffed mussels and batik-ekmek from the boats. We stopped at the Hafiz Mustafa sweet shop (founded in 1864) where Andrea bought loukoumia for gifts to our friends in Greece and I took about a hundred photos of the various sweets they sold, from every angle which I will no doubt find some use for. It is funny thinking about this because when we came back to the USA, Andrea became disturbed that she had gained five pounds. But it seems like every night in Istanbul we would stop at the Hafiz Mustafa sweet shop and even if we were just buying gifts to bring to Athens (like you can't get loukoumia, baklava and kataiffi there) someone in the store would be handing out sweets who would not accept that you were on a diet or too full to eat anymore. "Here. Eat it! No excuses!"
Breakfast and Meze at the Hotel Neorion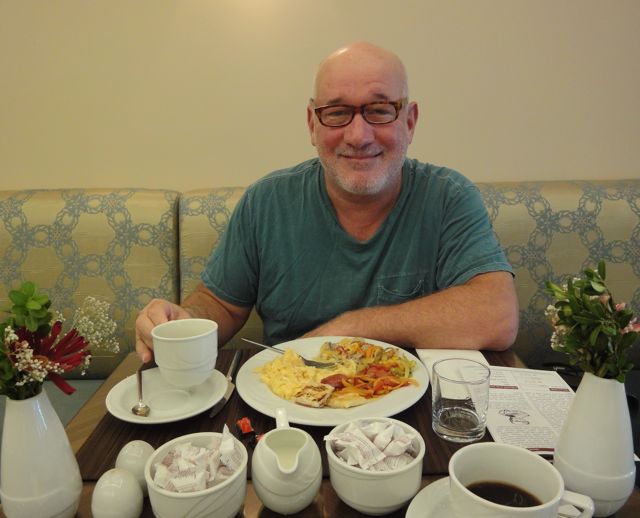 I should mention the breakfast buffet at the Hotel Neorion because it really was something to write home about, in fact I would suggest that every hotel owner in Greece should come here to see what a breakfast buffet should look like. Starting at the beginning there is a real honeycomb filled with honey which as soon as I became ill Andrea insisted that I eat. Well actually she told me to suck the honey out of the honeycomb and when there was nothing left but a ball of wax, spit it out and start over. I don't know if it made me feel any better but it sure tasted good and made my sore throat feel better. The best part for me was the hot food on the buffet. Imagine covered trays that you open to reveal scrambled eggs, fried eggs, two different kinds of beef sausage in a tomato and pepper sauce, veal bacon, creamed sauteed mushrooms with onions and peppers, and thinly sliced sauteed green, yellow and red peppers and Su Böregi (cheese pie or tiropitas in Greek). It is no wonder I never got to eat any kebabs or koftas on the street. Breakfast kept me full until dinner. There were also various cheeses and raw vegetables, many different breads and rolls and croissants, yogurt and both fresh and dried fruit as well as fruit preserves. If the breakfast buffet is not enough, from 2 until 6pm they roll out the buffet trays again and offer the same mezes you are offered at the neighborhood restaurants, only these are free. You pay for the wine and raki or whatever it is that you drink, but if you can wait until 6pm they serve free wine on the roof with salted peanuts and a fantastic view.
Leaving Istanbul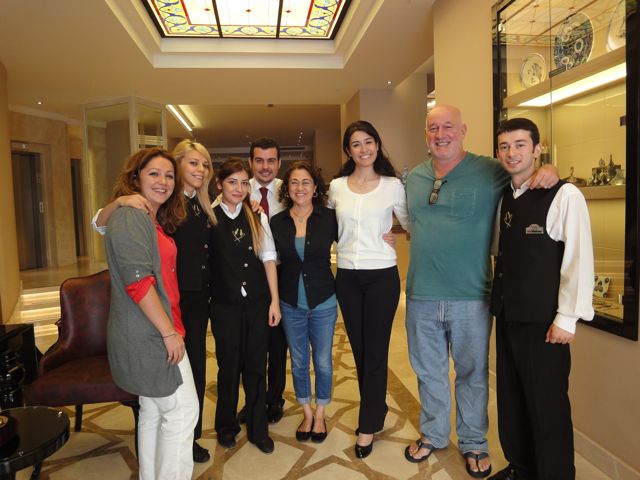 Our final morning after yet another wonderful breakfast at the Hotel Neorion which once again kept me from needing or wanting lunch, we sat down to check out and pay our bill. In the Hotel Neorion they don't have a counter like most hotels, but a desk like you would find in an office and you sit down and go through the formalities of checking in and out in a very informal way. Suddenly the lobby seemed to fill up with people and the staff of the hotel sang Happy Birthday and gave me a commemorative plate of Istanbul (which sits on my desk in Athens, the only piece of art I own). How they knew it was my birthday I don't know. But I was deeply moved, and I still am when I think back on it. We spent the last hour walking in nearby Gulhane Park, and then went for a Turkish Coffee at a small tea shop across the street from the hotel where we continued our struggles with the Turkish word for Thank You: tesekkür ederim. When we returned to the hotel a mini-bus was waiting to take us to the airport and the staff of the hotel came out and waved goodbye from the steps as we drove away.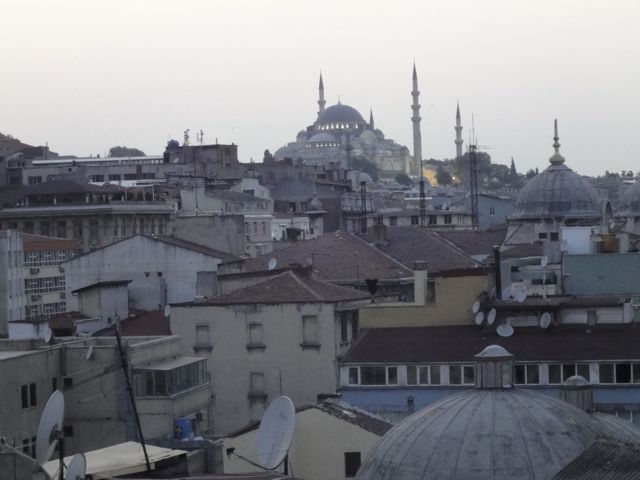 So looking back on the trip I have an entirely new understanding of Turkey. I see it this way. Back in the twenties both Greece and Turkey had the kind of leaders that don't come along very often and when they do it is usually at critical times that will change a country's history. Turkey had Mustapha Kemal, known as Attaturk (which means the father of the Turks-his image is everywhere). He was a visionary who took a people whose empire, the Ottoman, had been unraveling for decades and was about to be carved up by the world powers. Greece had Eleftherios Venizelos who had the presence of mind to join the winning side at the end of World War I and get a piece of the Turkish pie. But while the Turks fell in step behind their leader whose remaking of Turkish society carried them into the 20th Century, the Greeks dumped Venizelos and brought back their German king who preceded to make a disaster of Greece's foreign policy to the point where the Greek army was routed in Turkey and sent running back to Greece, with the entire Christian population in its wake. Since then Turkey has grown to be a world leader while Greece has struggled to pay its bills. Turkey produces so many products that they could be self-sufficient if they had to.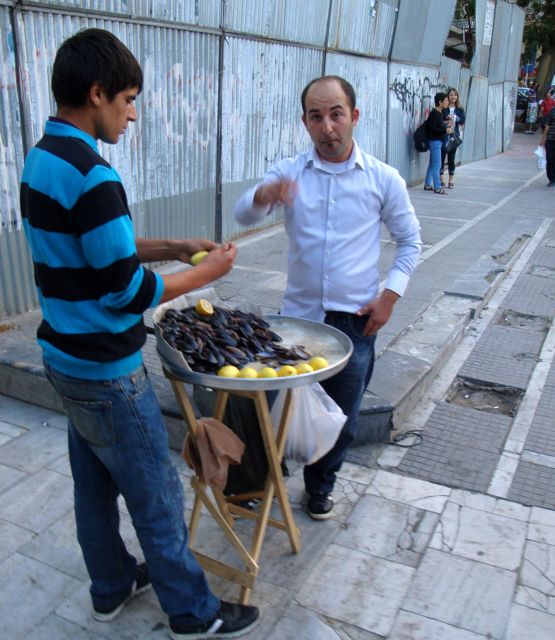 Andrea's family comes from Istanbul so she felt very comfortable and I really had a Greek feeling the whole time I was there despite my inability to even say thank-you in Turkish. The people of Istanbul looked just like the people of Athens to me. In a way they were. Back in the last century when Greece and Turkey exchanged populations they didn't know about DNA. If you were Christian you went to Greece. If you were Muslim you went to Turkey. So both countries are a mix of Greek and Turk with a few Armenians and Jews thrown in. The Greeks and Turks share many of the same words. Add or subtract a vowel or alter the spelling and I could figure out what many things were. The Turks were happy, good natured, friendly and generous in every interaction we had with them. A man was selling mussels on the street and one of his customers saw me looking at them and offered me one. "Come and try one," he said. Many times was I offered tea by a shop-keeper and if I told them I was not really buying anything they replied "Did I say anything about buying? I invited you to have tea." We drank tea. We talked. We said goodbye and promised to come back if we were ever in the market a carpet, some leeches, or whatever they were selling. This is salesmanship for sure, but it is done with a wink and a smile and it starts with making you feel comfortable.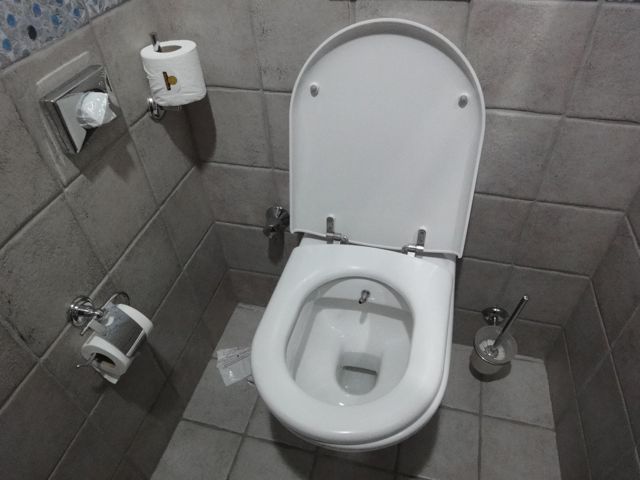 And finally a word about Turkish toilets. Forget everything you have ever read or heard about Turkish toilets. It is not true. Or maybe it was true and still is in some places but as far as hygiene goes the Turks are way ahead of us. Though they probably don't exist in every hotel and restaurant, in several we discovered a small nozzle just below the toilet seat and a faucet on the right side of the toilet itself. If you sit on the toilet and turn the nozzle it shoots out a stream of water that much improves upon the job that toilet paper is supposed to do and feels pretty good as well. This is revolutionary. I am not much of a shopper for someone who travels so much but if I were going to bring anything back from Turkey it would be one of these toilets, or at least the technology for producing them.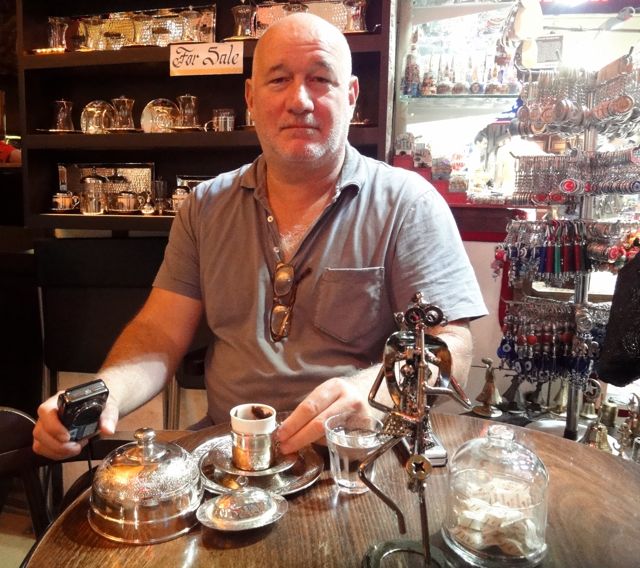 But even without the toilets I think Istanbul is the best place I have ever visited. And if it were not for the mailman not delivering my credit card bill and Citibank being such jerks I probably would have never gone there. One thing is I know for certain. You can't really see Istanbul in 4 days. Sure you can hit the primary tourist spots if you plan your time carefully or go on a tour. Istanbul is a big city-something like 19 million people live here. If you only have 4 days then OK. That is better than nothing. But I guarantee you will run out of days before you run out of things to do and see. Luckily for me, I had not even finished writing this article when I got an e-mail from George at Fantasy Travel who went to visit Istanbul after hearing me rave about it one night at dinner. He loved it so much he rented a space for an office there which will be open in December. So I better get working on my website for Turkey. I suppose this is my back-up plan in case Greece's economic problems continue. But I should have done this years ago. I could have had a dozen visits under my belt by now.
See you in Istanbul, I hope.
(You can click on the photos to see them full size)