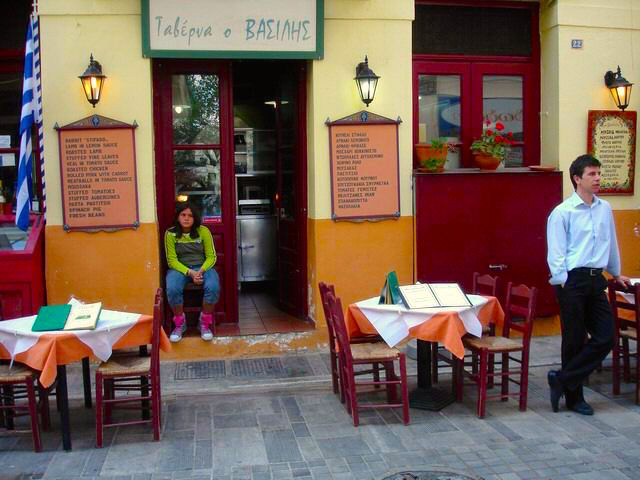 Nafplio is loaded with good restaurants with extensive menus, in English. All the tables are on the pedestrian streets or in the squares and it is just a matter of finding the one with the right scenary and the menu that appeals to you. Staikopolou street which is two blocks above Constitution Squatre (Platia Syntagma), has many of them and the rest are scattered around the city. There are also seafood restaurants on Boubalinas street along the waterfront. Everyone raved about Alaloum which has 2 locations on Bouboulinas along the waterfront across from the parking, and near Karima Kastro, down the street from the Byron Hotel. Unfortunately for us it was closed for the month of June. Try The Palio Arhontiko (Old Mansion) at 7 Siokou street recommended by the gastronimical experts at Lonely Planet and is popular with tourists as well as the Athenians who flood the city on weekends. We ate at Vassilis Taverna at Staikopoulou 22, which my local friends told me is the best for traditional home-style cooking. I made the mistake of insisting upon Mytilini Ouzo which may have been a mistake since Ouzo Karoni has been bottled in Nafplio since 1869, by the same family, using the same recipe and it tastes pretty good to me and the locals are quite proud of it. To insist on any other is practically an insult.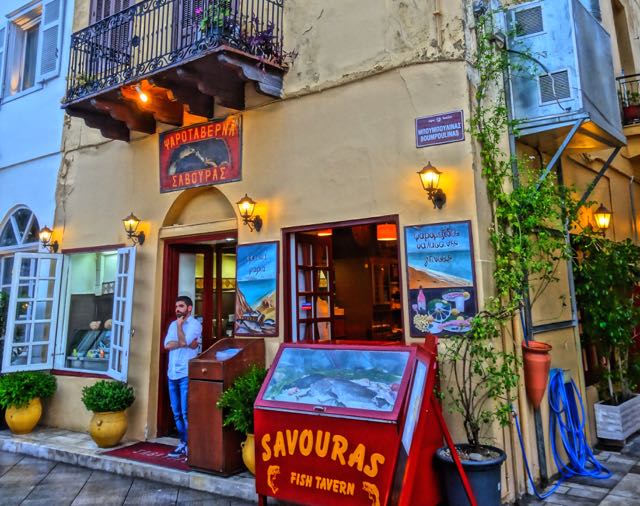 One of the oldest and most popular restaurants is O Savouras, right on the palm-tree lined waterfront. We came here with George the Famous Taxi Driver one afternoon and had an incredible meal. Try the media saganaki which is mussels cooked with cheese in tomato sauce. Also their tirokafteri, which is a spicy cheese spread. The fried shrimp and fried koutsomouris (small red mullett) were cooked to perfection. I imagine at this restaurant if you go with the fish you can't go wrong. It's at #79 Boumboulinas street. Even in the winter you can sit outside under the awning, kept warm by their gas heaters. Many restaurants will display their fish in a glass case outside. But ask to see the fish in the psigeo (psee-gee-oh) which is the refrigerator inside. Most fish is sold by the kilo. Barbounia (red mullett) are the best and most expensive along with lobster. But koutsomoures are a variety of red mullet which are less red, a lot cheaper and almost as good. Some will say they are better. When you ask at the hotel they will tell you that this is where to go for seafood. Is it the best? I don't know. It is probably the best of the popular places on the waterfront and it has been around forever. If you are going to be in town for a few days it is worth a lunch or a dinner, not just for the food but because it is also a good place to people watch. A good habit to get into is asking if the fish is fresh. If it was not frozen they will tell you it is. But then ask if it came in today (sim-eh-rah) and if they say yes, go for it and hopefully they were telling the truth.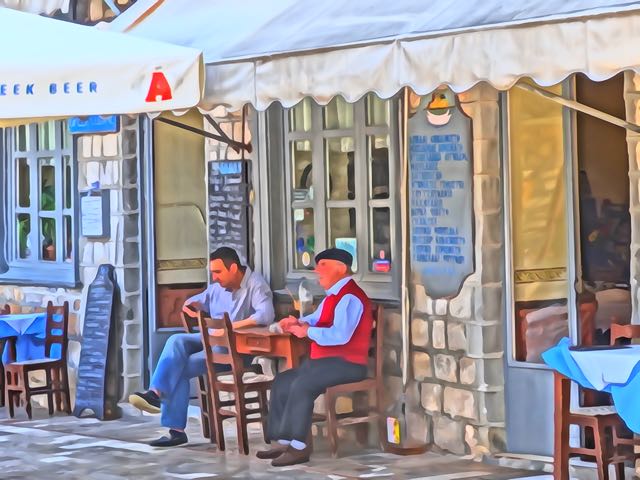 The Ellas Restaurant on the corner of Syntagma Square right across the street from the old mosque, claims to be the oldest estiatorion in Greece, an institution that serves traditional Greek food in the most touristy part of the city. O Pseiras at 25th of March #33 which may be the best Locals Only Taverna and is reviewed by ex-pat Sindri Anderson here. If you are too lazy to read that order the gouges, the pasta dish from the southern Peloponnesos, and anything with lamb in it. For grilled meat go a little further to Killinis at 41 March 25th Street which is just outside the old city and whose grill chef has the reputation of being a master. Also outside the old town Stable Thrakotaverna at Profiti Ilia 12 who are also known for their grilled meat, friendly staff and taverna atmosphere and their provatina. For ouzo and mezedes try To Lixnari at 33 Plapouta for dishes like smoked regga (herring), gavros pastes (salted anchovies), smoked trout from Mount Taygettos, several different mussel dishes including curry and saganaki, and a number of meat mezedes like beef tongue, spetsofai, Macedonian bekri-meze, loukaniko (sausage), soutzoukakia, saligaria (snails) and various other meat and vegetable mezedes that go with ouzo, tsipuro, and raki, each dish for around 5 euros or less. They also have a nice choice of ouzo including Babatzim and local Karonis Tsipuro. Good palio Rembetika music in a traditional atmosphere and popular with the Greeks so if you are looking for mousaka, souvlaki and the soundtrack to Zorba the Greek go somewhere else.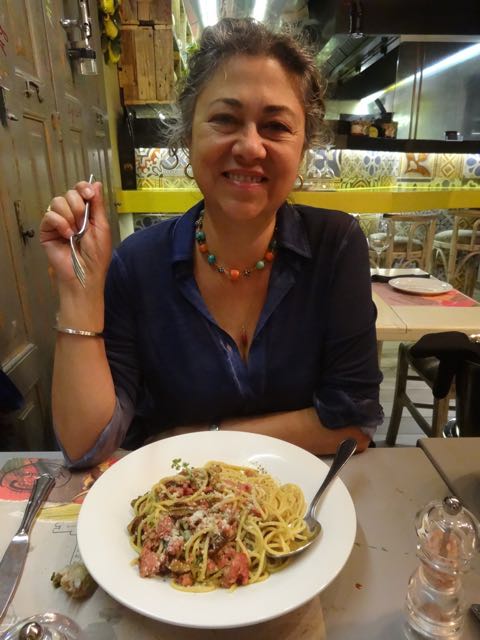 One of my favorite restaurants is Trattoria a Gratella which is in Filleninon square on the waterfront, right next to the white church of Agios Nicholaos. If you have been in Greece for awhile and grown tired of Greek food (yes, it happens) this small Italian restaurant is a welcome change and may be one of the best Italian restaurants you have ever eaten at. Start off with a their grilled vegetables or pleuvrota (oyster) mushrooms and then go for one of their delicious pasta dishes, or a pizza. I had the pasta puttanesca which was spicy and heavy on the anchovies, just the way I like it. But the pasta dish that Andrea got was out of this world. I guess I was a little too drunk to even ask what it was but it had sausage and a sort of lemon flavor, made with garlic and olive oil and I wished I had ordered it too, though don't get me wrong, I was quite happy with the puttanesca, I mean it was better than I could make. Nice wine list including a Santorini Asyrtiko which we happily drank on top of the local Nemean moschofilero by Skouros, which we had been drinking at the Mavros Gatos, a hip little theater bar just down the street. Service was friendly and we actually considered staying in Nafplion one more night so we could eat there again just to make sure it was as good as we thought it was. The salads were mountainous, the portions were filling, and the atmosphere was quiet and very Italian feeling. In fact when we left we had forgotten we were in Greece. Maybe I dreamed it all. Go and try it and let me know. (I went back in Sept 2020 and they had taken my favorite dish, the garlic and sausage one, off the menu and replaced it with something they said was similar but was nothing like it. So if you go ask for the garlic and sausage and lemon pasta and maybe they will put it back on the menu.)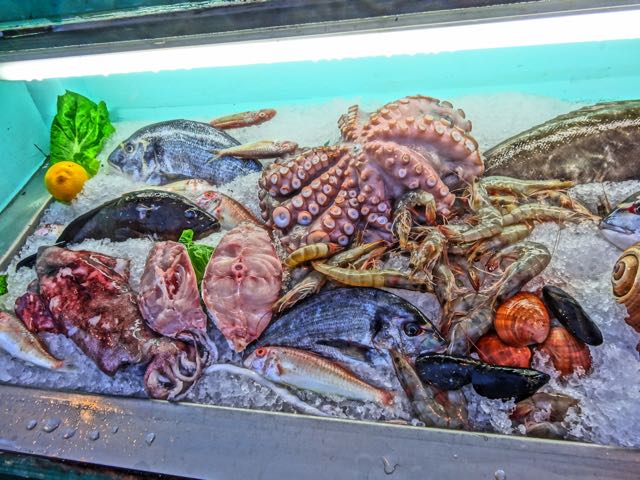 Long time Greece Traveler and frequent visitor to Nafplio, Lydia Massey had these to add:
O Kipos – Good place near the harbour. We went twice. Fantastic honey salad. Sometimes live music. Ta Fanaria – down an alley. Good traditional restaurant. Very reliable and good value. Rather excessively attentive service, but we can live with that. Karima Kastro – always reliable. Very near the Hotel Byron. Great value and friendly. Usually busy. To Omorfo Tavernaki – good and reliable. Nice staff. La Gratella – delicious Italian food. The pasta dish to go for is the one with garlic and sausage (has a long name) – Matt's recommendation. Alaloum – pretty good. Always completely crowded, which is a good sign in a town with so many places to eat. Massive portions. If you have the moussaka, don't have a starter. (Richard tells me 'al aloum' is Arabic for 'the news'). Vasilis – one of the standards. It's next door to Christoforos, so we've not been there before. Fine.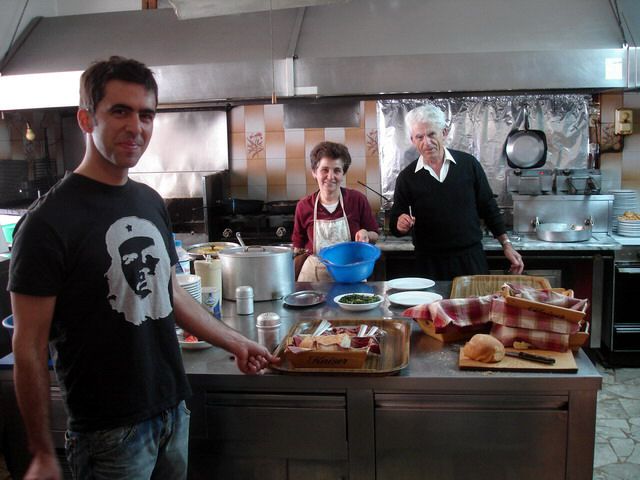 If you have a car at your disposal there are a couple places outside of Nafplion that I highly recommend. In the small fishing village of Vivari which is sort of Southeast of Nafplion, beyond Tolon there is the Taverna Gorgona run by the Diamantopoulos family. They specialize in fresh fish and other Greek dishes. The restaurant is right on the sea to the right of the small pier. Vivari was one of the first fish farms in Greece and there is a large lagoon which is the original site. Now small boats bring the fish in from the farms which are located away from the village. There are a nukmber of other fish tavernas on the waterfront so if Gorgona is full don't fret. They all looked pretty good to me. On the same side of Nafplion past the road that leads up to the Palamidi fortress is Karathona beach where most opf the locals go to swim. There is a very nice fish taverna of the same name there. Its only open in the summer though.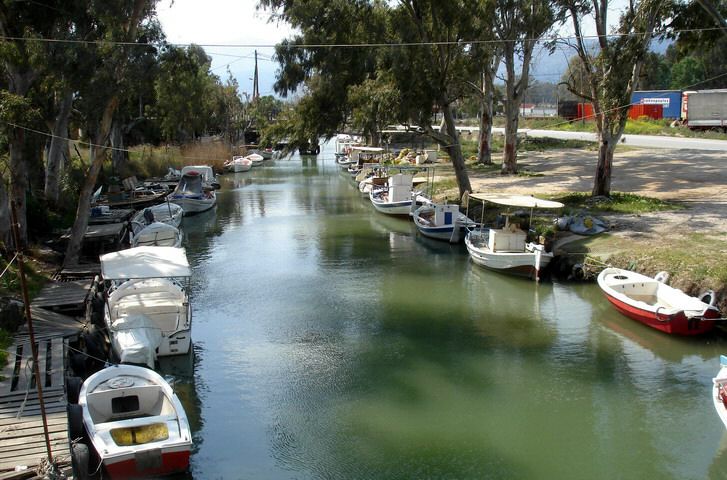 On the other side of Nafplion in Paralia Timeniou in the area called Nea Kios is a river delta where many of the area fishing boats are based and there is a large seafood market where restaurants and locals go to buy their fish. Just over the small bridge is one of the best seafood restaurants you will ever eat in. It is called Tsakiris and any taxi will know where it is. Owned by Antonis and Kostas Tsakiris you can't go wrong here. Sundays and holidays the place is jumping all day and into the night. To get there just follow the coastal road towards Argos from Nafplion. You will see a big parking lot just before the turnoff to the town of Nea Kios. We had the fried glossa (flounder) and some large fresh fried shrimp (garides tiganita). We also ate fresh grilled bakaliaro (cod) and grilled octopus. We were the only foreigners in the restaurant. Everyone else was Greek, celebrating the last couple days of the easter holiday.
Bars and Cafes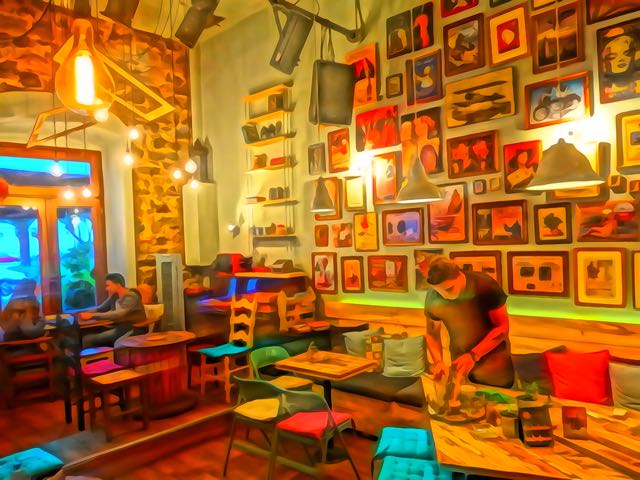 There are tons of cafes and bars scattered all over the old town. Nafplio nightlife can rival any city in the free world, and the choices range from sidewalk cafes where you can talk, to discos on the coast road outside of town where you can barely hear yourself think. In between there are bars that play old rembetika, jazz, blues, rock or no music at all. It's just a matter of wandering around until you hear something you like, stopping in for a drink and then deciding if thisis the place for you. We found a temporary home at a small artsy theater bar called O Mavros Gatos on the corner of Sofroni and Boubalinas Street right at the end of the row of waterfront restaurants and cafes. They played the best music of any of the places we visited or even passed and it is a popular place so get there early if you want a seat. Nearby, the 360 Cafe and Wine Bar at 26 Papanikolaou Street is as trendy and sophisticated as anything you will find in NYC. Gallika Salon de Thé & French Bakery in Kolokotroni Square is French owned and offer french specialities like pure butter croissants, baguette, quiches and everything is home made with high quality products and traditional recipes.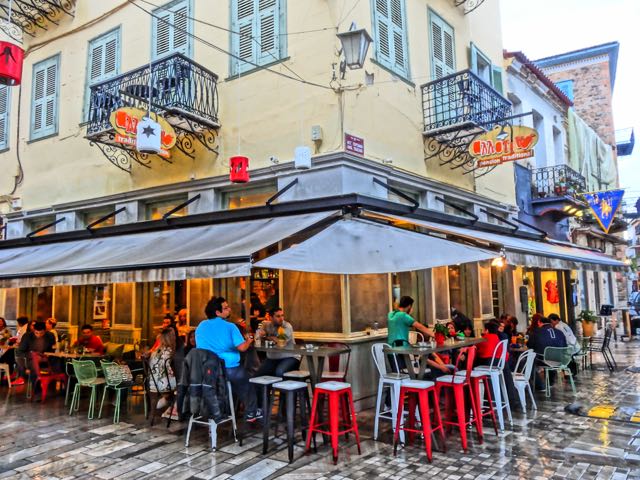 At the Rosso Cafe Music Bar, just behind the Hotel Grande Bretagne and next to your soon to be favorite ice-cream shop, you can sit at a table made from a vintage VW Beetle. The Cafe Xenon is on the ground floor of a restored historical Greek mansion right in Syntagma Square, a great location for people watching. The cafe-bar at the Allotino Pension at 19 Vas. Konstantinou st is another popular place to hang out, day or night. Stathmos at the old train station features drinks, ice-cream and snacks in a very pleasant environment. As most places in Greece these coffee bars are fun for the whole family. Mom and Dad can have a quiet drink or two (or many) while the kids have ice-cream or local sweets and then run around playing with the other kids whose parents are doing the same. Because much of Old Nafplio is automobile free, there is little danger of children being run over.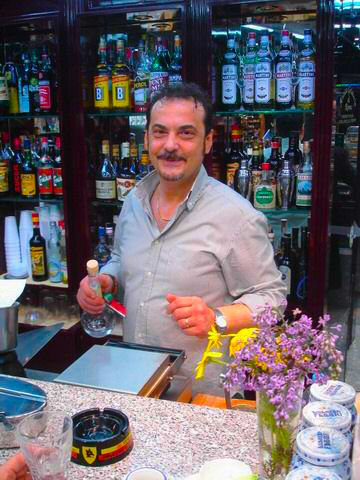 The shops stay open late so you don't have to just hang out and drink. You can hang out and shop for jewelry, clothes at the many boutiques, (like Asia which specializes in clothes and gifts from India), Greek Art, ceramics, sandals, leather goods, musical instruments, carpets, hookahs (yes there is a hookah shop) and just about anything else you might 'need'. After dinner (or even before) The Antica Gelateria di Roma is a traditional Italian Ice-cream shop owned by a traditional Italian, Marcello Raffo. His ice-cream is all produced on premises using the original Sicillian recipe and all natural indredients. (Ice-cream was invented in Sicily.) The variety of flavors, sundaes and special shakes and coffees is so diverse and enticing that I was literally run over by my daughter as she rushed to the counter to place her order. The success of this small shop has spawned several dozen other gelaterias in Nafplion, just as the success of the Komboloi Museum has turned Nafplion into the worry-bead capital of Greece. But my suggestion is to hold off on your ice-cream until you get here. They also serve excellent espresso and capuccino and have thousands of Italian products for sale, from Prosecco to Pasta. It is also a bar where you can get a nice grappa or lemoncello to finish off your evening while the kids eat the ice-cream that will have them bouncing on the beds all night long. I don't want to seem like my eating philosophy is forsaking my Greek roots but to wrap things up, if any of the eating establishments that I have mentioned, are essential for a successful visit to Nafplion it would be Antica Gelateria di Roma and Trattoria a Gratella, which if you think about it makes sense since the Venetians were here for about 500 years.
For more about Greek Food visit Matt Barrett's Guide to Greek Food