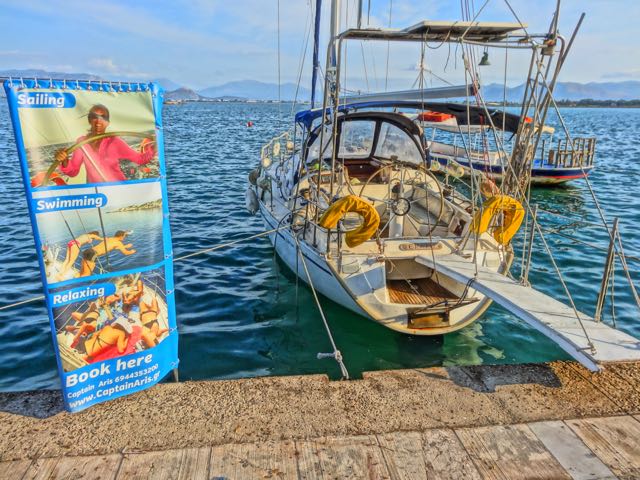 Captain Aris does sailing trips around the area on the 42 foot Erato located in the port right by Filleninon Square. E-mail Capt Aris
There are several cruises that stop in Nafplio and it is also a popular port for sailboats and yachts. There is no longer a Flying Dolphin Hydrofoil in the summer from Pireaus but you can make connections to and from Hydra, Spetses, Aegina and Poros through Hermioni, Porto Heli, Galata (Poros), Kosta (Spetses), and Methena though getting from these places by bus can be tricky. You can always hire a taxi though.
You can rent bicycles in Nafplio and explore the city and surrounding areas which is basically flat. They have a bicycle rental program similar to the Velib program in Paris, plus there are several places to rent bikes like Nafplio Bike at #2 Cyprus Street.
You can choose to see Naplion as part of a day-trip with Athen's most famous taxi driver George Kokkotos. I was able to visit Acrocorinth, ancient Corinth, Nafplion, Myceneae, Argos and Epidavros in one day-trip. For more information see www.greecetravel.com/taxi
You can rent a car and use Nafplio or Tolon as your base to see the Argolis and the rest of the Peloponessos.
Nafplion is also included in a number of day-tours and overnight tours which you can book through Fantasy Travel or Dolphin Hellas Travel.