By Colin Bareass (with help from the Nudists of Matt's Greece Travel Guides Group on Facebook)
So you want to come to Greece and sunbathe and swim naked? OK. Lots of people do. So where are the Official Nudist Beaches or as the professional nudists prefer: Official Naturist Beaches? Well, there are none actually. There are beaches where people swim nude but no official nudist beaches, mainly because officials don't want to designate nudist beaches and get in trouble with their constituents, yayas or their priest or even the Archbishop. What are known as nudist beaches, or naturist beaches, or beaches where people go naked, are generally out of the way beaches where people who enjoy being naked can feel comfortable and where people who don't want to see naked people can avoid. That being said, even some of the popular beaches, with beach chairs and umbrellas and cafes, where children, parents and beach attired people go, if you walk far enough you may find people topless or bottomless or both. But nudity on Greek beaches is something the authorities prefer to look the other way, as long as it is not flaunted.
First of all going topless is almost normal and can be found on almost any beach. I suggest surveying your surroundings before taking off your top and if there is not a convention of priests, an elementary school trip, or any group around who might be offended, and there are others who are topless (female I mean) then go ahead. The worst that will happen is someone will ask you to put your top on. As for full nudity on beaches my suggestion is to go as far as you can go, if possible at least as far as the first fully nude person. But for those more adventurous types on the Greek Islands and mainland there are hundreds, maybe thousands, of remote beaches, or swimming areas off the rocks where you can go naked.
Mykonos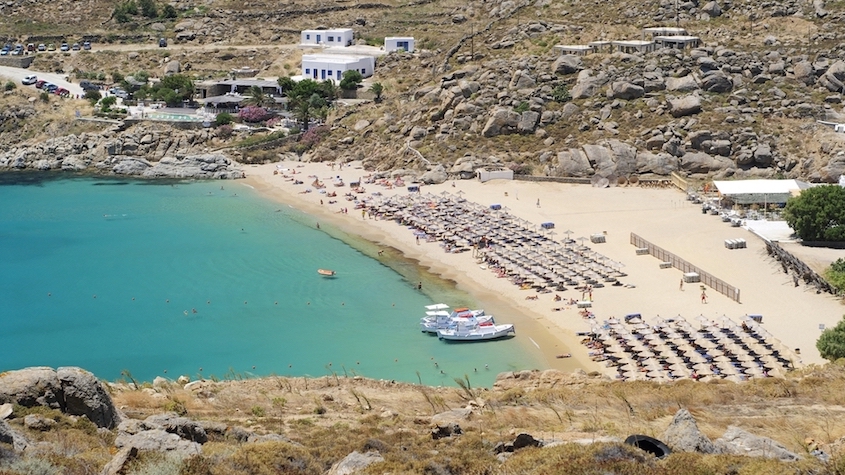 Super Paradise Beach Mykonos
There are beaches on popular islands that even though they are not official nudist beaches, are historically so, though now they may be somewhat of a mix. In Mykonos there is Super Paradise Beach and Agios Ioannis Beach. But in Mykonos most of the beaches are in small or large coves and if you walk out on the peninsulas at either end you can usually find areas where there are flat stones and privacy right on the sea. On almost any island actually. Also the far end at Agios Sostis, last I heard it was OK to go naked. See Matt's Guide to Mykonos
Santorini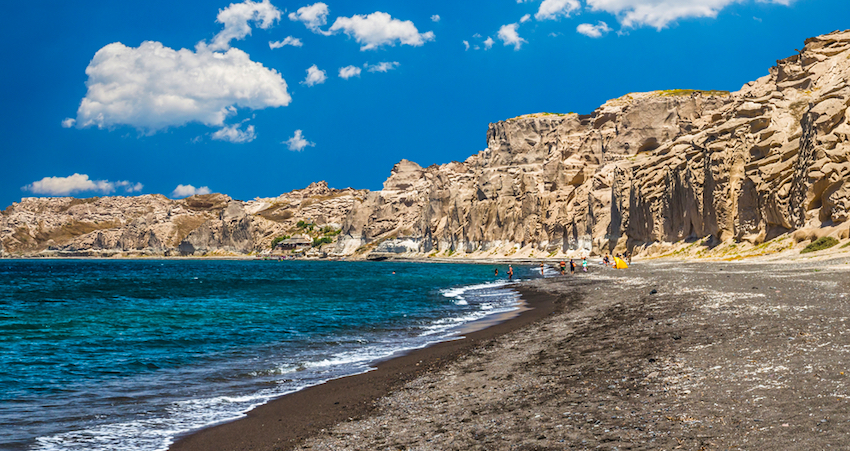 Vlychada Beach Santorini
In Santorini the far right end of Vlyhada Beach is nude and gay but straight friendly too. On Karterados Beach to the left near the trees is also where you can go. I once swam nude at Perivolos, many years ago before it was built up, and while I was in the water two mothers arrived in their car with a half dozen children and before I could get out of the water they had parked their blankets and beach toys between me and my towel and swim trunks. I stood in the water smiling bashfully for half an hour at the beautiful young mothers, who smiled back, while I waited for them all to look away simultaneously and give me an opportunity to escape. It never happened. Finally I asked one of the little boys to bring me my bathing suit. I will never forget the look on one of the women's face when she realized she had exchanged smiles with a naked man. Anyway the point of this story is don't take any beach for granted. Just because you are the only one on the beach doesn't mean you will stay the only one on the beach. So keep your clothes close and when you hear a car be ready to move. Generally topless is acceptable anywhere except Monolithos, "the family beach". There are a few rocky beaches that nobody goes to that you can get away with being naked but walking is so difficult I broke 11 toes trying to get into the sea. See Matt's Guide to Santorini
Lesvos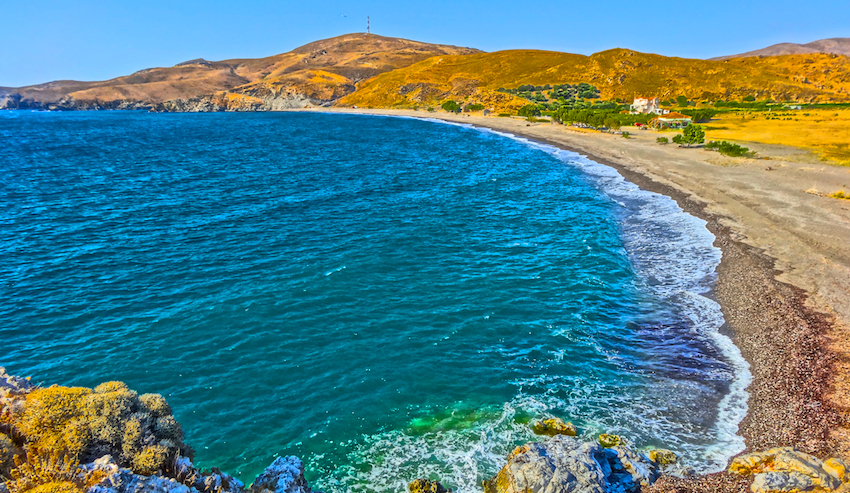 Faneromeni Beach, Lesvos
Lesvos has so many long beaches and so few tourists to fill them that if you walk far enough, which is not that far, you can swim and sunbathe naked and almost any of them. In Sigri there are half a dozen beaches and the only one people don't swim nude is the one in town. Skala Eressos you can just walk to where the river with the turtles reaches (almost) the sea and from there until the big hotel at the end of the beach nudity is practiced. Vatera Beach is 7 kilometers long so just keep walking or driving until you are alone or you find other naked people to join. Kampo Antissa is also a few kilometers long and except for some weekends in August it is empty. Remember that in the summer the beach that was empty all week long may be full on Saturday and even more so on Sunday and probably not with fellow naturists. My favorite beach is Feneromeni near Sigri. Please don't come there. Thanks. See Matt's Lesvos Guide
Crete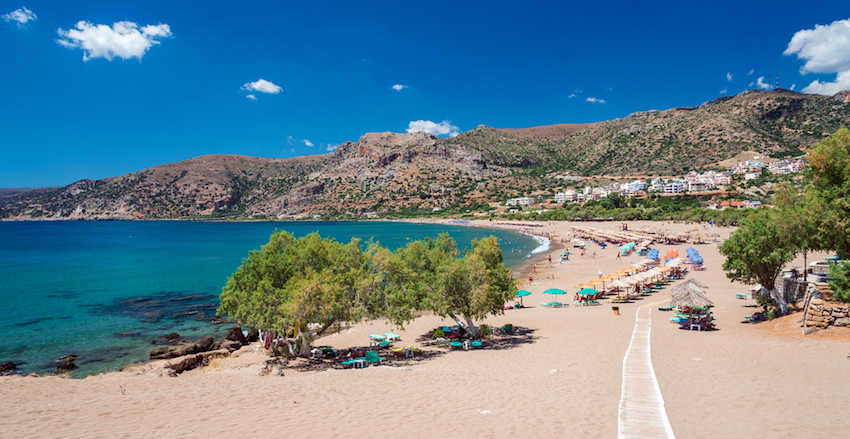 Paliochora, Crete
Back in the 60's and 70's you could swim nude just about anywhere in southern Crete. In Matala those who wanted to swim naked could trudge over the hill to Kokkini Ammos (Red Beach), as they still can, though bring sunscreen and whatever shade you can carry. In Paliochora, Crete there is a section at the far end of the main beach where you can go nude and they even have sun-beds and umbrellas. As Charles Morris noted "The nude beach starts at the sign that says, "Nudism strictly forbidden" As I have often observed, the best way to get a Greek to do something is to tell him not to..." Nudism is also practiced nearby at the far end of Anidri beach. To the east Sweetwater Beach near Hora Sfakion is a pebble beach you go to by boat and is naked friendly. There is a taverna there but don't go there naked. On the north side of Vai Beach, just over the hill, is bathing suit optional Itanos beach. The first place I swam nude for an extended period of time was in Agia Roumeli where the stream from the Samaria Gorge meets the sea. But I was camped there for several days and I don't think I even saw another person except when I walked into town in the evening. Also Mikro Amoudaki is a small cove next to Mikro Amoudi Beach in southern Crete, east of Plakias which is known as a naturist beach. Someone told me the locals call it "Pig Beach" but I don't know if it is true. Even if it is I would not take it personally. See Matt's Guide to Crete
Naxos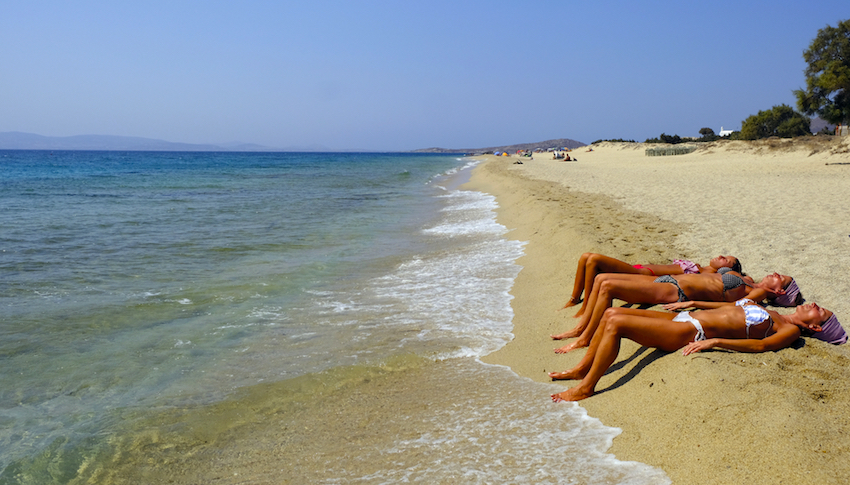 Plaka Beach, Naxos
Nudity is practiced on Plaka Beach on Naxos, not the organised parts where everybody else is, but in the small coves at the north part and anywhere towards the southern end. You can also go to the rocky area of Agia Anna. The northern part of Agios Prokopios seems to be nudist friendly. Alyko Beach by the hotel ruins is also definitely nudist friendly, but they tend to stick to the southern end of the small cove. See Matt's Guide to Naxos
Paros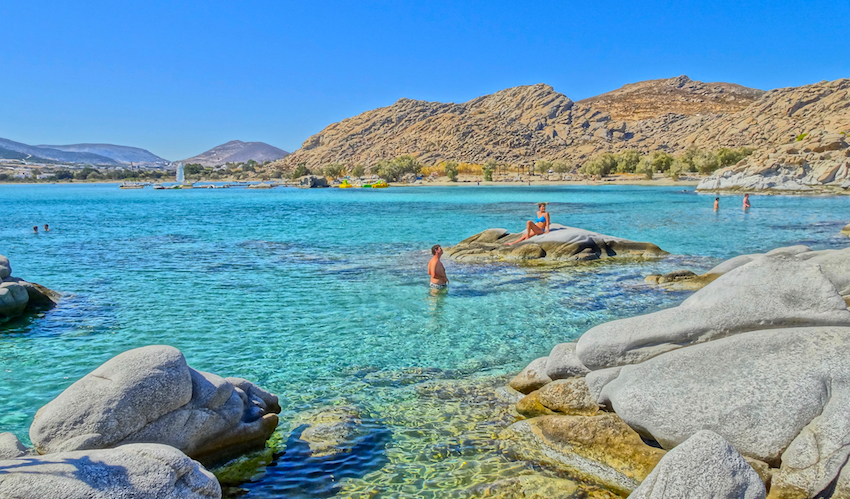 Kolimbithres, Paros
Most practicing nudists in Paros head for the famous Lageri Beach, another of those well known unofficial nudist beaches, near Naoussa. The rocks of Kolimbithres where naked people once proliferated still offer some privacy, though not much in the high season. People also swim naked around Monasteri Beach just beyond Kolimbithres. On the long sandy beaches like Golden Beach where most non-nudist people go you can usually find privacy on the far edges and on the nearby rocks. There are signs that say No Nudity on some of the beaches so at the very least try not to be naked anywhere near them as it limits plausible deniability. Antiparos is more popular with nudists and the most popular beach is the one at Antiparos Camping. See Matt's Guide to Paros
Peloponnesos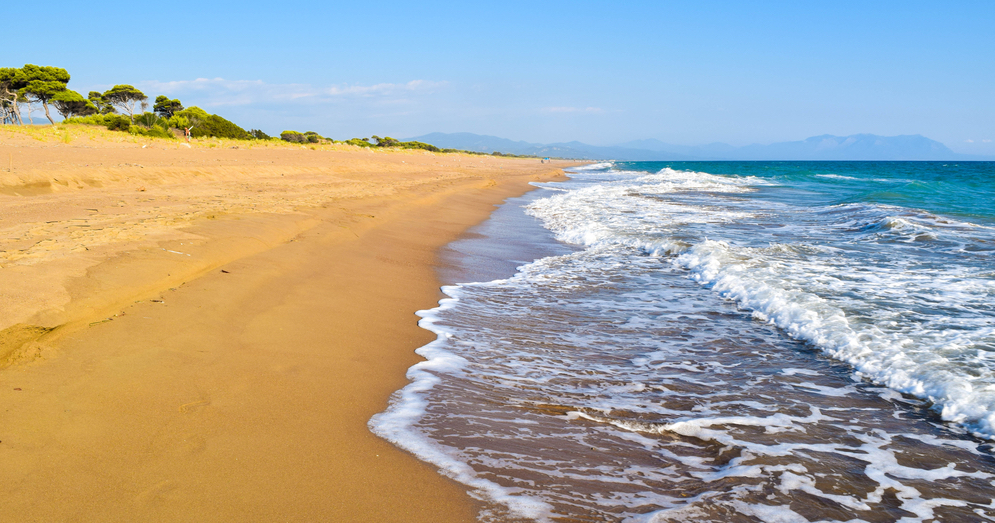 Kaifas Beach, West Peloponnesos
Near Kalamata my friend Aris asked a bar owner for directions to a nude beach and he said "It's about a kilometre from Stoupa, just look for Palio Archidia". I don't know if this is really a place though. But if you speak Greek you will think the bar owner had a sense of humor. If you can't find Palio Archidia there are the beaches of Zacharo in the west Peloponessos which go on for miles. See Matt's Guide to the Peloponnesos
Thassos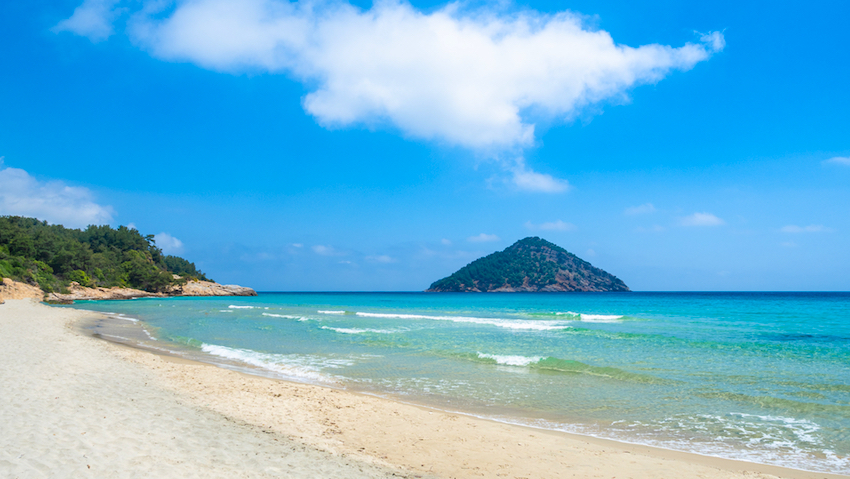 Paradise Beach, Thassos
Paradise Beach on Thassos is beautiful and the nudist area is where gentle shelves of rocks slope into the sea, pine forests behind it and a small island right in front. See Matt's Guide to Thassos
Corfu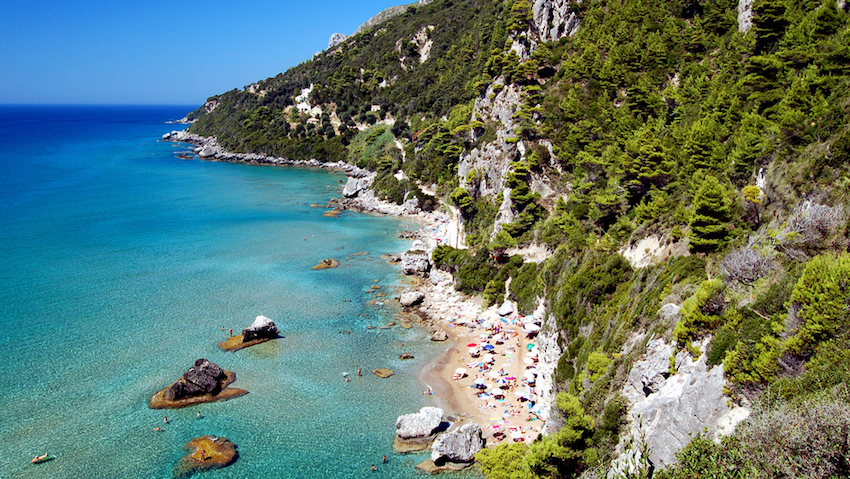 Myrtiotissa Beach, Corfu
There are two unofficial nudist beaches on either side of Agios Georgos South in Corfu. One has cliffs at the back and is quite secluded (but very hot!). The other is at the end of a very long beach and is more open with dunes and greenery behind and is a bit cooler. The most well known of the nudist beaches is Mytriotissa by Glyfada Beach. See Matt's Guide to Corfu
Skiathos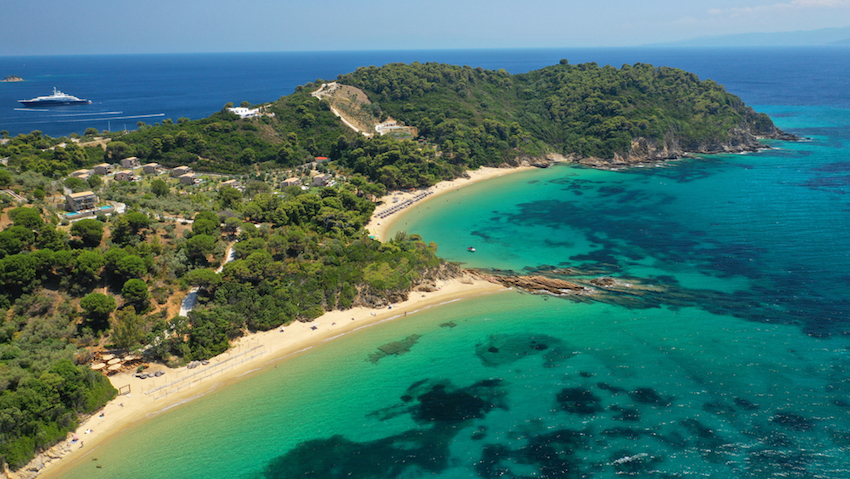 Big and Little Banana Beaches, Skiathos
In Skiathos there is Big Banana Beach and Little Banana Beach (no jokes please) and Little Banana Beach is actually an official unofficial nudist beach administered by the NCG (Nudist Club of Greece). Or maybe it is Big Banana Beach. Anyway size does not matter. Just go to the first one you come to and if people are wearing bathing suits go to the next one. See Matt's Guide to Skiathos
Poutsonissi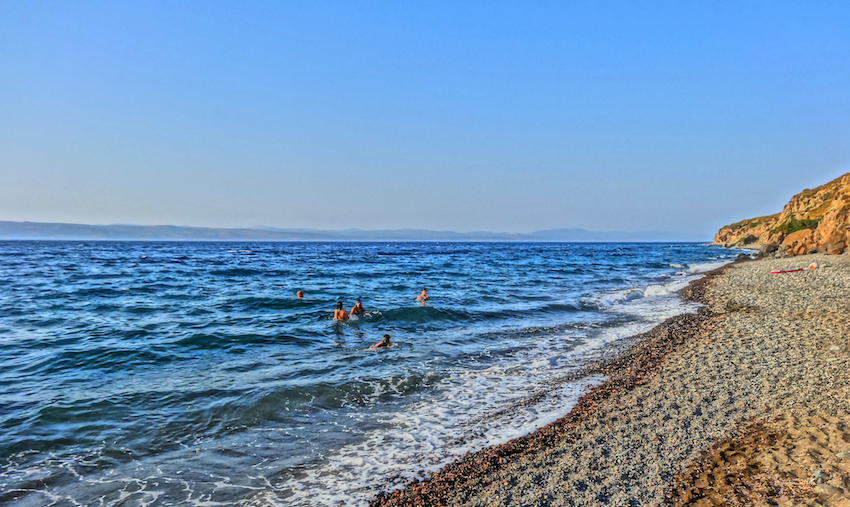 Kokkinokolo Beach, Poutsonissi
On the quiet island of Poutsonissi while it is technically illegal to swim and sunbathe naked, an old law that has been on the books since the Byzantine period has made the whole issue moot. The law states that while nudity is forbidden on the island, in order to arrest someone for practicing nudism, the arresting officer must also be naked. (Something to do with an eye-for-an-eye, or casting the first stone). This has enabled islanders and tourists to disobey the law without fear for more than 800 years and nudity is practiced all over the island, even in some shops and restaurants and in church, though during important Holy Days it is forbidden or at least frowned upon. See Matt's Guide to Poutsonissi
Kea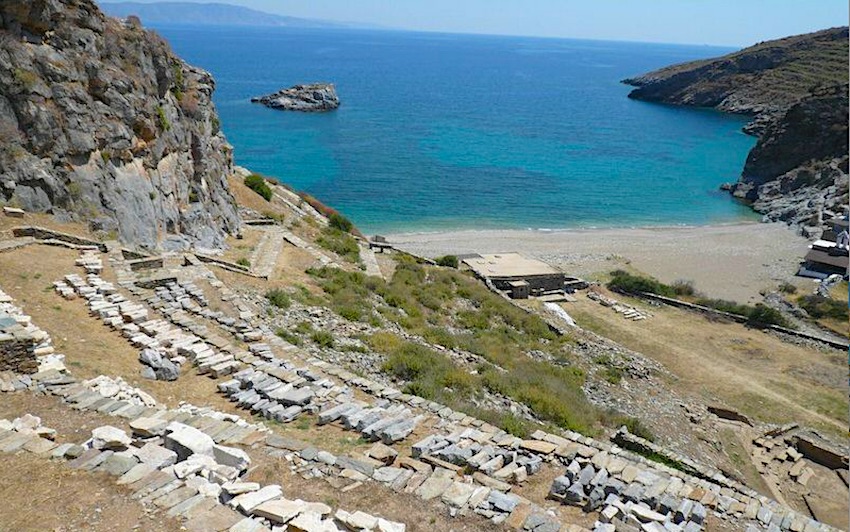 Ancient Karthea, Kea
If you have a rental car, and even better a jeep, and you are there anytime besides August and weekends in July, you can find lots of beaches where there will be nobody but you and if there is somebody it is a good chance they will be naked too. Kaliskia you will need a jeep, and Poles which is a double beach below the Ancient City of Karthea is a 45 minute walk each way (at least). The far end of Megalo Poles you will see someone coming long before they see you. If you follow the path on the north end of the beach in Poisses there is a small beach where I see people go, I assume to swim naked. I never had the urge to follow them. On the road to Orkos Beach there is a turn off to the tiny Psathi Beach where I myself have gone naked, and if there are few people, or no people, you can go to the far edges of Orkos and Sikaminias and you probably won't be bothered. Even in Spathi when the only people there are the family who own the restaurant with the beach chairs and umbrellas. Anyway you can see people driving 10 minutes before they get there which gives you plenty of time to throw something on. I have seen naked people at Xyla, in some of the small coves and flat stones around Koundouros, and the sandy beach at Lipari. Supposedly the most accepted place to be naked is at Koka by the ruins of the old coal fuel station on one of the beaches or the rocks below the road. It is one of the least nice beaches so being naked there seems like banishment. I used to swim naked at Vroskopos but they built a giant hotel there. But if you come between Mid-September and the middle of June you can go naked just about anywhere except the town beaches. Even parts of Otzias. See Matt's Guide to Kea
Sifnos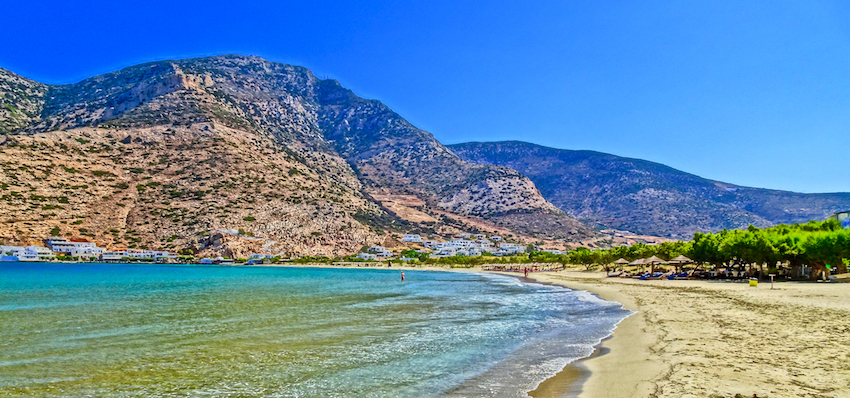 Kamares, Sifnos
In the olden days Fasalou was the official unofficial nudist beach but after a couple hotels sprouted up there appeared a sign with these ominous words
Nudity is not Permitted
Transgressors will be Sanctified
Please withdraw to the Isolated places
We were not sure what it all meant but the message was clear. And that is pretty much the rule for the island of Sifnos to this day. Nudism is not permitted but if you want to do it go where nobody can see you, which like most islands mean on the far ends of long beaches or on or between the rocks. In Kamares the rocks beyond Agia Marina are private enough. There are several small beaches you can reach by boat. See Matt's Guide to Sifnos
More Islands
Nas Beach in Ikaria, Tsamadou Beach in Samos, Psili Ammos and Linginou on Patmos, Megalos Roukounas, Katsouni, and Caletta in Anafi (the island where they say people think you are weird if you wear a bathing suit), Pahia Ammos on Nisyros... the list of places you can swim naked goes on and on and it is kind of silly to choose an island based on whether or not it has a nudist beach. If you want to swim or sunbathe nude, wherever you are, just ask someone. They are not going to tell you and then call the cops on you. Nobody cares and even the people who do care don't care enough to do something about it. Just respect the feelings of those who may be offended by the sight of your naked body and go as far away from them as you can get and enjoy yourself.