Beaches and Coastal Villages of Pelion
Some of the best beaches in Greece are in Pelion. The peninsula and the mountain face east and west curling around to the southwest which means you have two very different coastlines. The east coast is the Aegean Sea and on windy days, particularly during Meltemi, you can have big waves, though chances are you will have plenty of calm days as well. There are also some sheltered areas that don't have waves unless it is extremely windy and the southern part of Pelion the beaches face south and are sheltered by the Sporades Islands, particularly Skiathos. The western side of Pelion has beaches sheltered from the north wind so the seas are usually very calm and perfect for families with small children. The beaches and towns inside the Pegassitikos Gulf are hotter than the towns and beaches that face east. But if you have a car you can go whichever way the wind blows, or doesn't.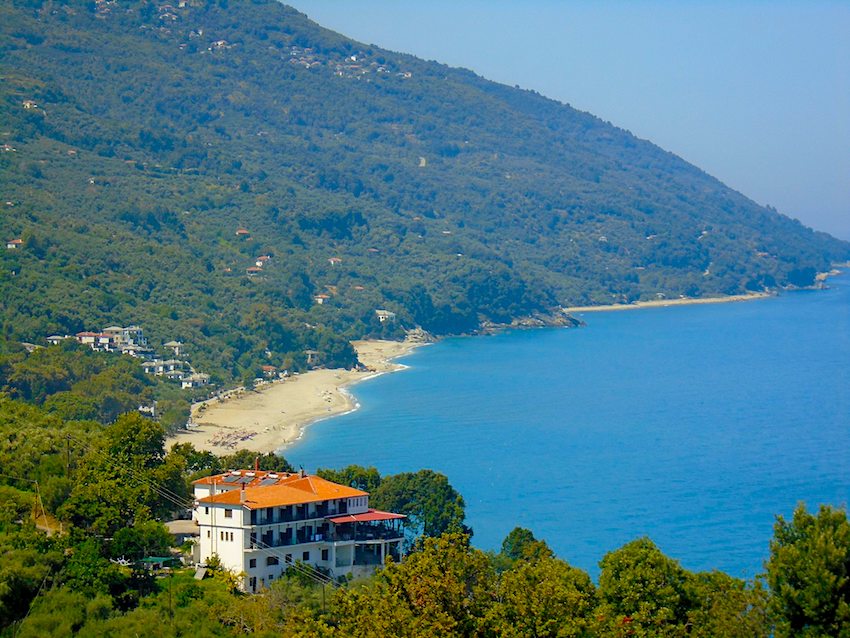 Horefto is also near the village of Zagora and is one of the longest beaches in Pelion. There are restaurants and accommodations and shops in the village and there are several other beaches nearby if you want to get away from the summer crowds. I recommend the Aeolis Hotel, where we stayed. Beautiful small hotel with a pool and right on the beach too. Click here for hotels in Horefto
Photo by Debbie Millios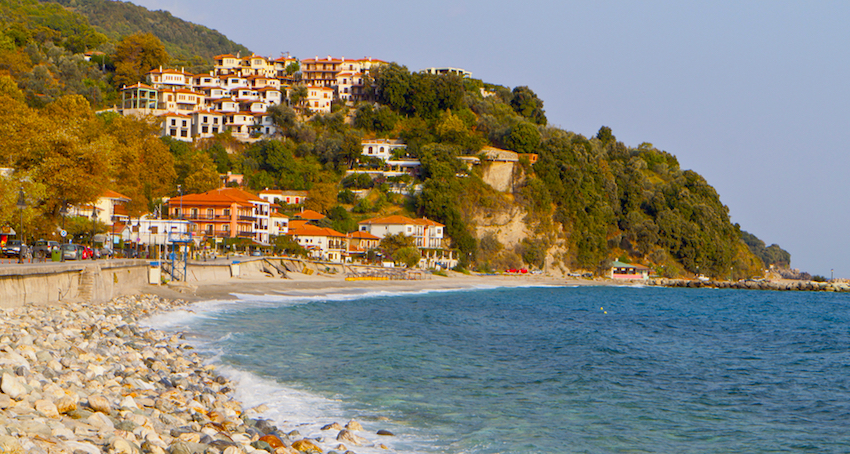 Agios Ioannis is on the east coast below the village of Zagoria and is a popular beach town with tavernas, shops and hotels. Click Here for Hotels in Agios Ioannis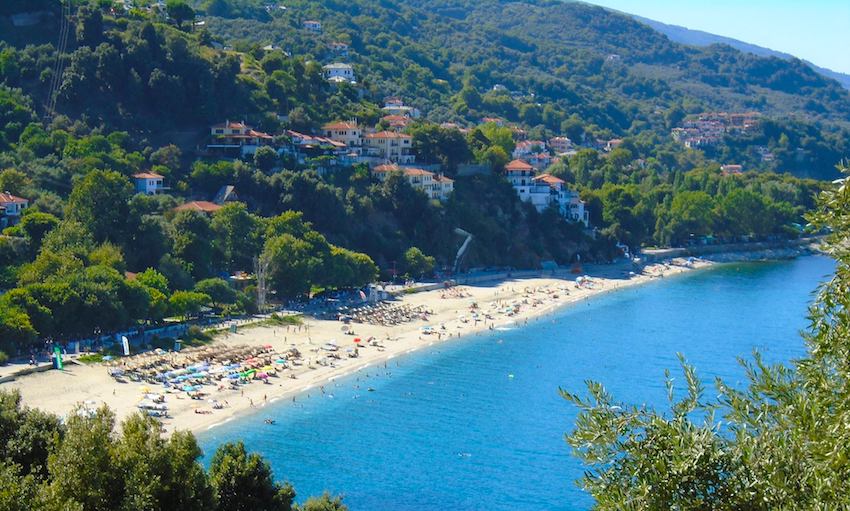 Papa Nero is a popular beach between Agios Ioannis and Damouhari with restaurants, rooms and camping. Click Here for Hotels in Nearby Agios Ioannis and if you use the map the properties to the south of Agios Ioannis are at Papanero. Photo by Debbie Millios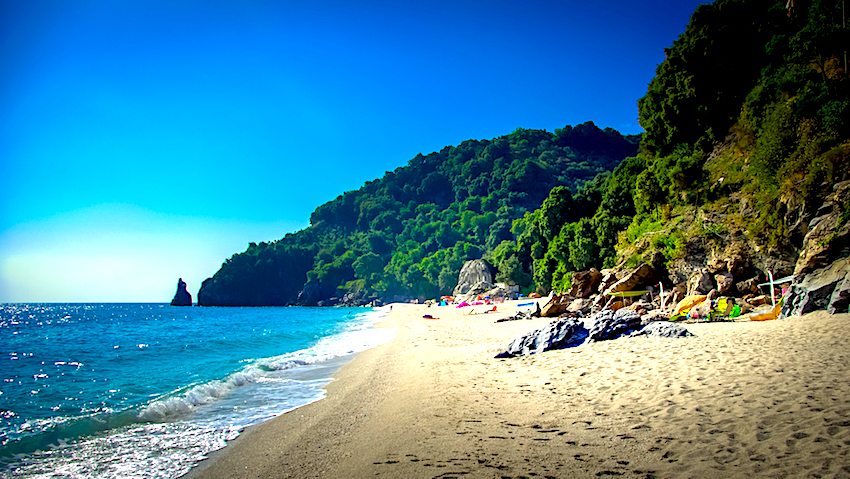 Agia Seranta is a white sand beach with crystal cleaer water, pine trees and even a taverna and beach chairs and umbrellas. It is below Zagora, between Horefto and Agios Ioannis. It can get busy in the summer so come early if you don't want to park too far away. Click Here for Hotels in Nearby Agios Ioannis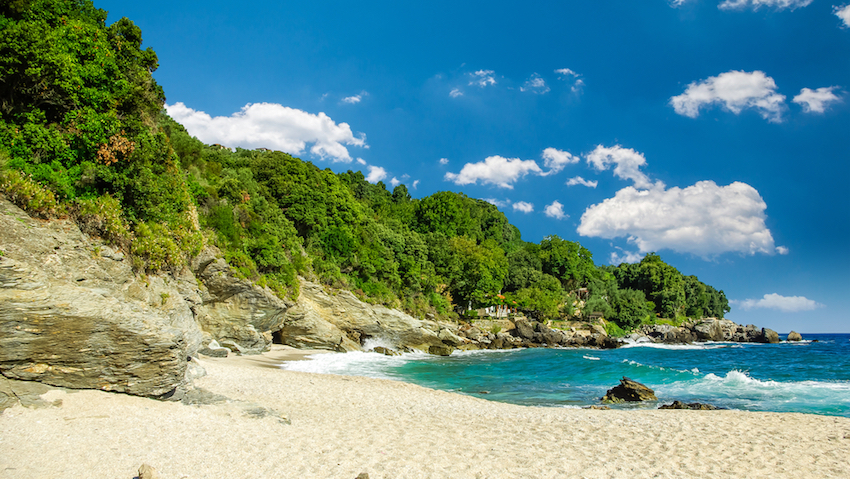 Plaka Beach is near Agios Ioannis and can be reached by walking path from there or by car. There are umbrellas and beach chairs as well as cafes and restaurants. Click Here for Hotels in Nearby Agios Ioannis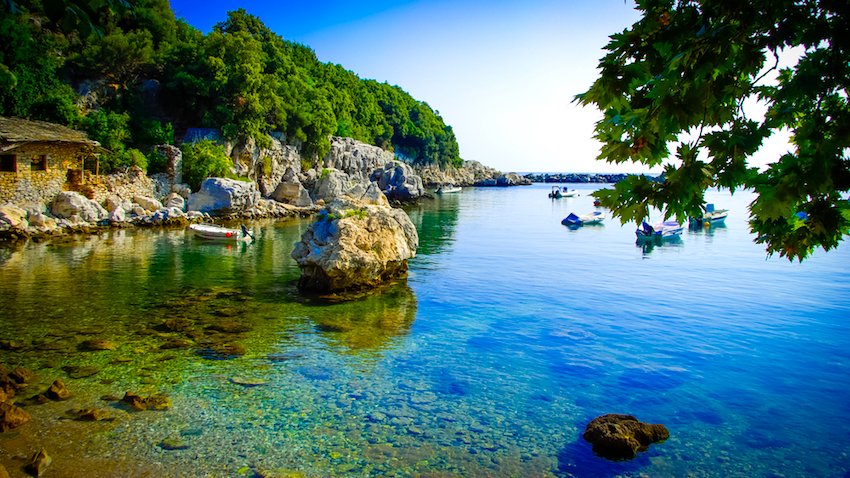 Damouchari is the only natural harbor on the east side of the Pelion Peninsula and is known for its twin coves and white pebbles. There are hotels and rooms nearby as well as tavernas but it is popular mostly with Greeks who know about it and a smattering of foreign tourists. Click here for hotels in Damouchari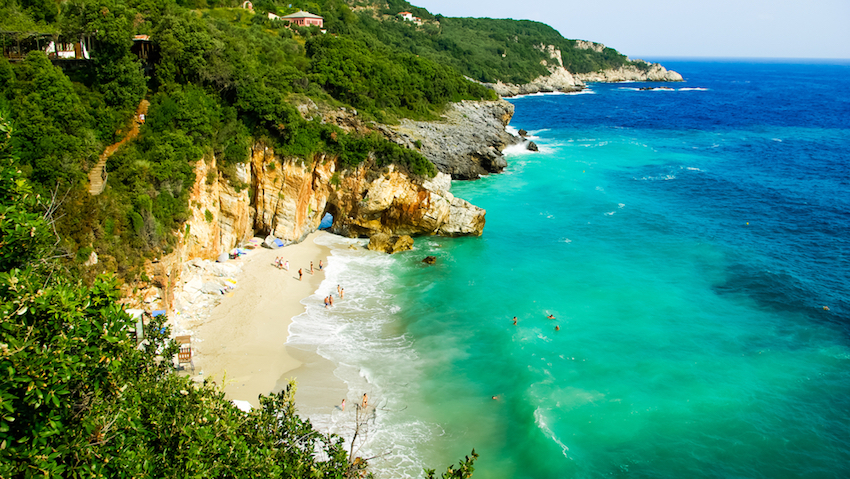 Milopotamos Beach is near the village of Tsagarada on the east side of the Pelion Penisula and is one of the most popular beaches with pine trees, white pebbles, a few tavernas and sunbeds and umbrellas for rent. Click here for hotels in Milopotamos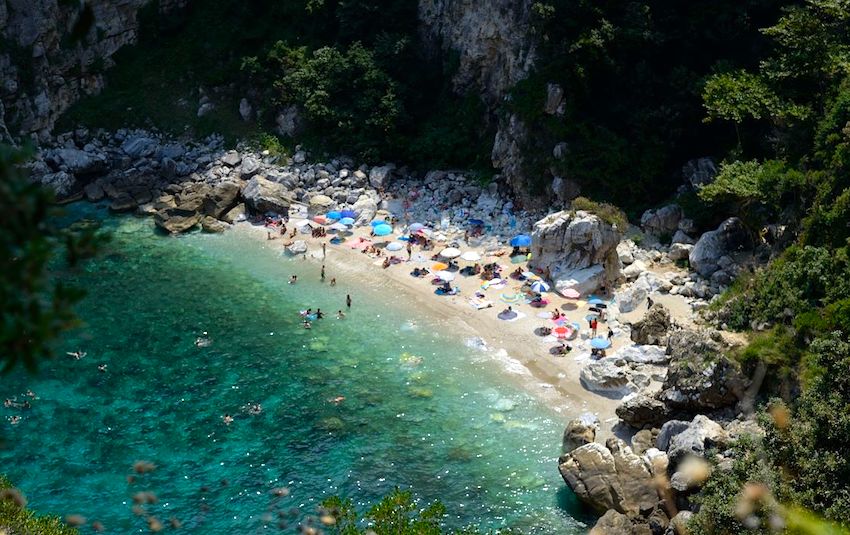 Fakistra Beach is below the village of Tskarada and close to the beach town of Damouchari in eastern Pelion and is a great place for snorkling. You have to park above the beach and walk down the path to reach it but it is on many lists of the Most Beautiful Beaches in Greece.. Photo by Aleix Valeijo. Click here for hotels in Damouchari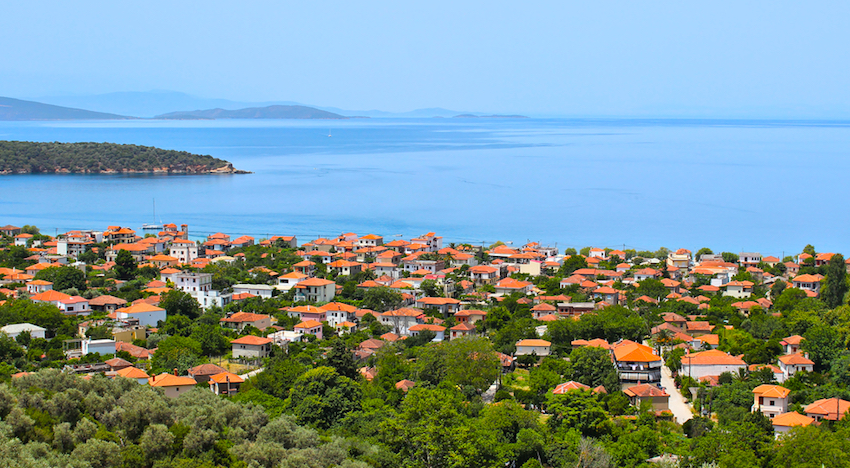 Milina is a small fishing village with a beach in the Pagassitikos Gulf with hotels, camping, restaurants and lots of shops and tourists in the summer. Because of its location in the gulf it is a popular stop for sailboats seeking calm water. Click Here for Hotels in Milina
Tzasteni is a small settlement in one of the many bays on the way to Trikeri that may be one of the most photographed places in Greece.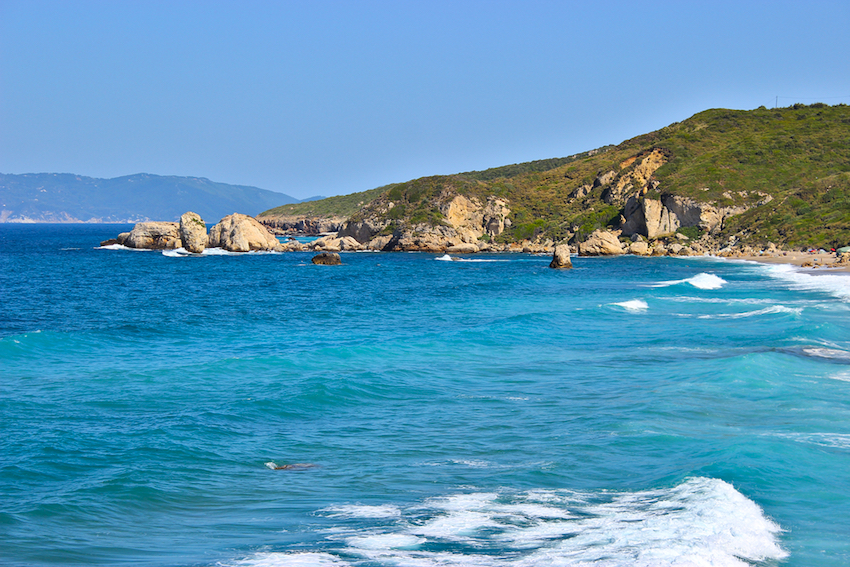 Melani Beach is a non-organized beach, meaning no umbrellas, beach chairs, cantinas etc, known for its impressive rock formations and as a great place for snorkling (when it is not too wavey).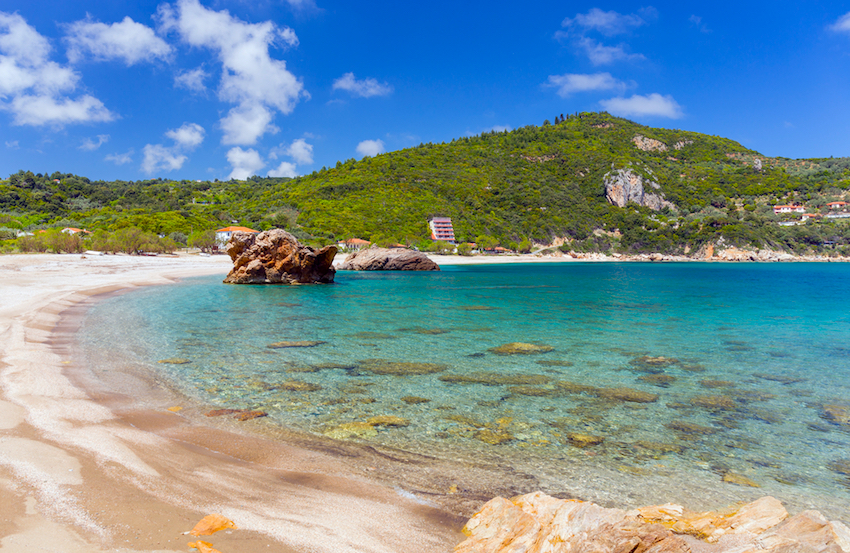 Paltsi Beach is a large sandy beach west of the village of Argalasti with a small river and two massive rocks in the sea. There are hotels and restaurants nearby and the fact that the beach faces south means that it is somewhat protected from the north wind, unlike most of the beaches on the east coast of Pelion. Click here for hotels in Paltsi Beach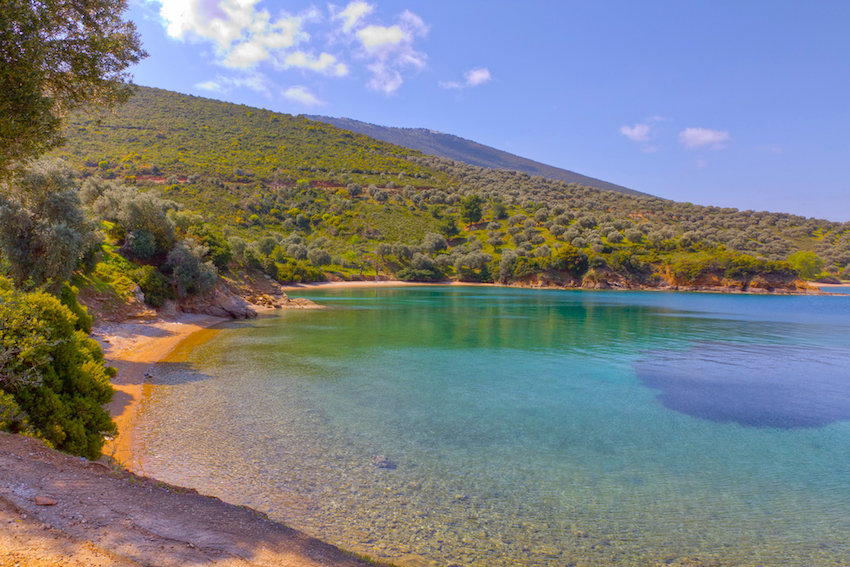 Tzasteni Beach is one of the numerous small bays and coves between the village of Milina and the village of Trikeri on the very tip of Pelion and the entrance to the Pagassitikos Gulf. There are no amenities so at the very least bring water, if not an umbrella. Click Here for Hotels in Melina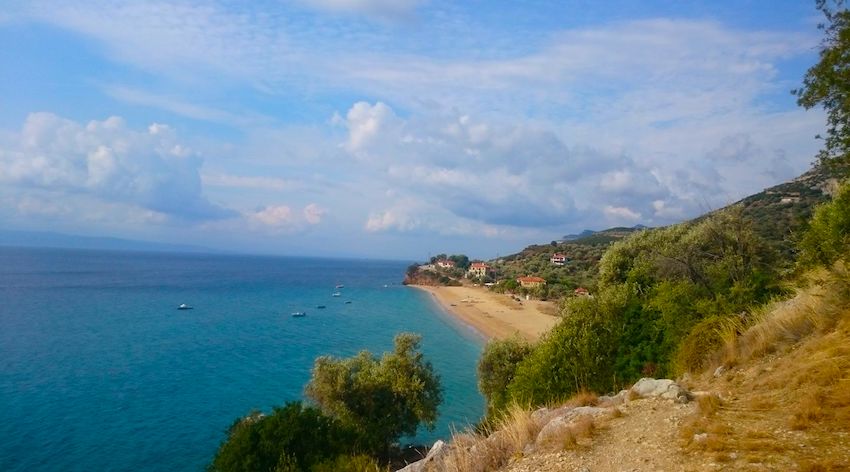 Mikro Beach on the south coast of Pelion has sand and fine pebbles and several nice tavernas and a handful of hotels. Photo by Carol Johnson. Click Here for Hotels in Mikro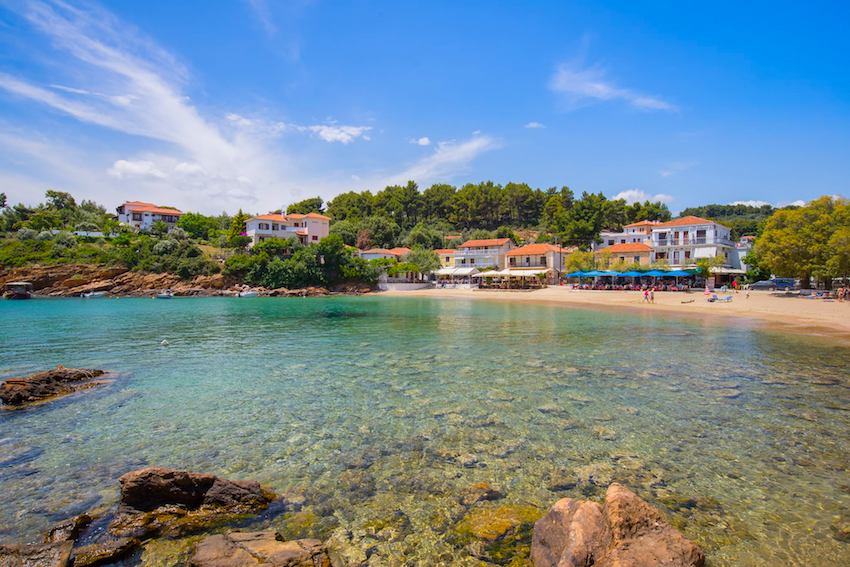 Katigiorgis Beach is in a small fishing village in southern Pelion near Platanias. There are some small family run hotels and fish tavernas and there are several other beaches nearby. Photo by Chrissy Stone. Click here for hotels in nearby Platanias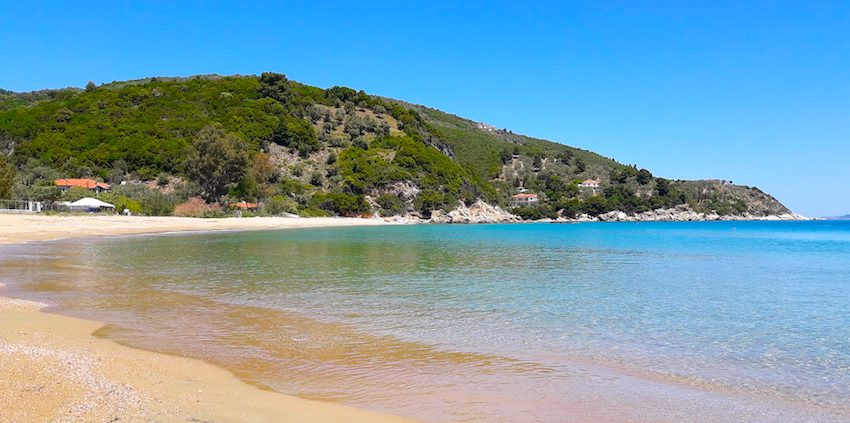 Kastri is a small beach community in southern Pelion with tavernas, rooms to let and a campground. Photo by Sylvia Mavrikova. There are a few rooms in Kastri, in particular the Ktena Apartments, though there are a number of other properties in Platanias which is nearby. Click here for hotels in nearby Platanias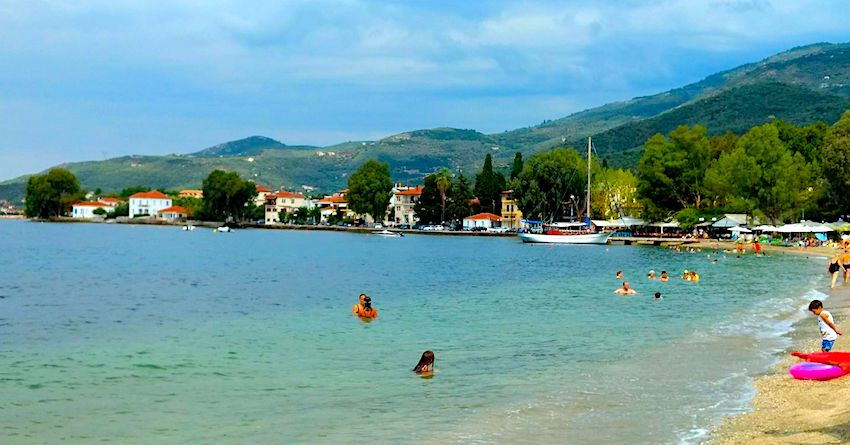 Kala Nera is a large town in the gulf with hotels, restaurants, cafes, bars, shops and nightlife. Because it is in the gulf the water is almost always calm and it is a good place for families with small children. Photo by Konstantina Johnson. Click Here for Hotels in Kala Nera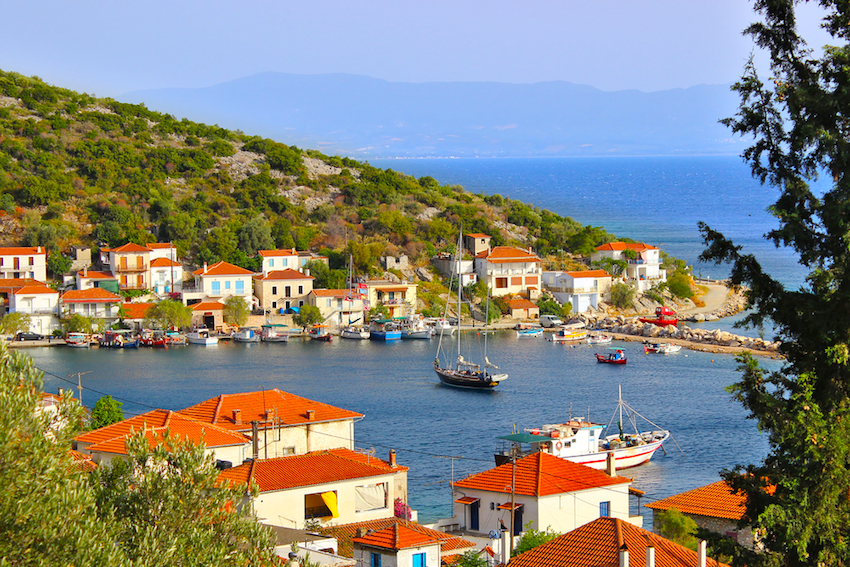 Agia Kyriaki is the port for Trikeri, the last village on the Pelion penisula. It sits in the middle of the Pegassitkos Gulf and at one time could only be reached by boat. It is a popular stop for adventerous sailboaters and has some excellent fish tavernas.Click Here for Hotels in Agia Kyriaki