There are many hotels, rooms, traditional guest houses, apartments and villas on Pelion and it is just a matter of where you want to stay. The first thing you have to decide is whether you want to be on the sea or in one of the traditional mountain villages. I have included links to hotels from each beach and village in those sections of this guide. In this section I have listed the most popular and highly rated hotels according to guests, and a couple that are my own personal choices. You can also use Booking.com's Pelion Hotel Search if you are looking for a specific type of hotel, villa, guesthouse in a specific area, or depending on your budget and whatever amenities you require.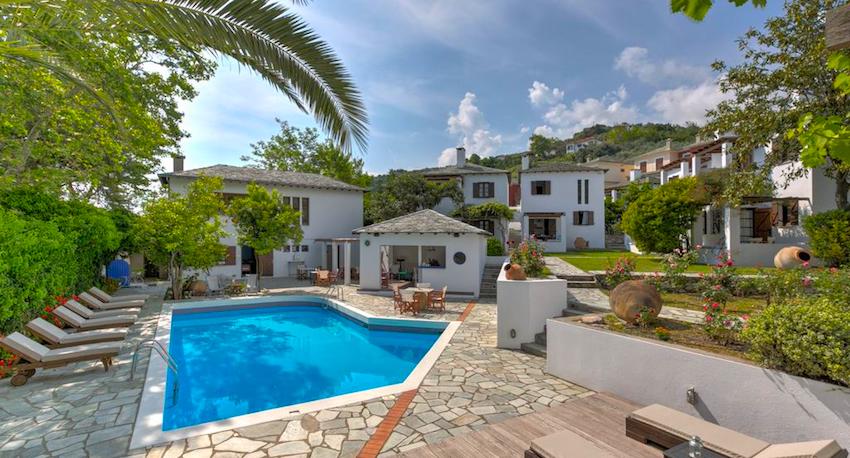 The Aiolos Hotel in Horefto would be my first choice and because of that you may want to book it quickly or you may not find a room. We stayed here and it was beautiful. I could spend my life there I think. It was righton the beach, had a pool and the room we had was like having your own house. It offers self-catered accommodation with free Wi-Fi, fireplace and balcony or patio overlooking the Aegean Sea or the rose gardens. Featuring stone-paved floors and traditional décor, the air-conditioned units at the Aeolos guest house have a seating area with sofa and flat-screen TV. Each includes a kitchenette with cooking hobs, fridge and dining area.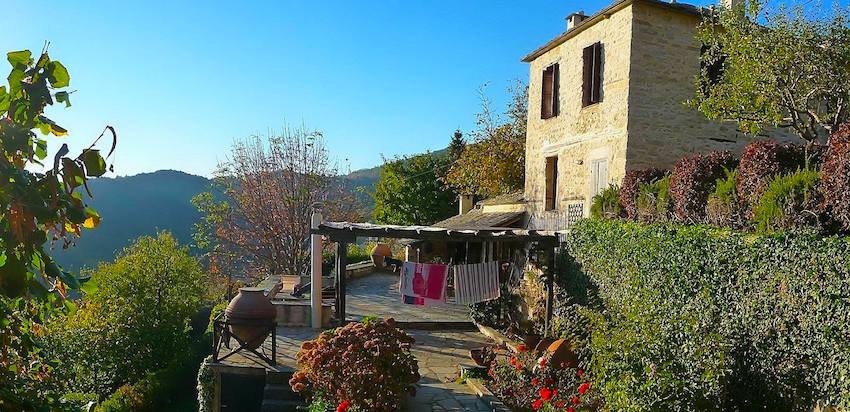 Pinakates House is an old stone house built in the 1880's and recently restored. It has three levels: The top level is one room which occupies the whole floor. There is a fireplace, king size bed, sofa , old desc etc. The medium level has the WC. shower room and a room with 2 double beds with the red wall. The lower level has a fully equiped kitchen with table for 6 people. The kitchen has direct access to the terrace and also to an adjacent room (in the past it was a stable) which serves as a living room or 3d bedrroom. There are couches/beds, armchairs, large fireplaces etc and it is a wonderful place to call home whether you are here for summer or winter or in between. The village of Pinakates has cafes, restaurants and shops and the closest beach is 20 minutes away.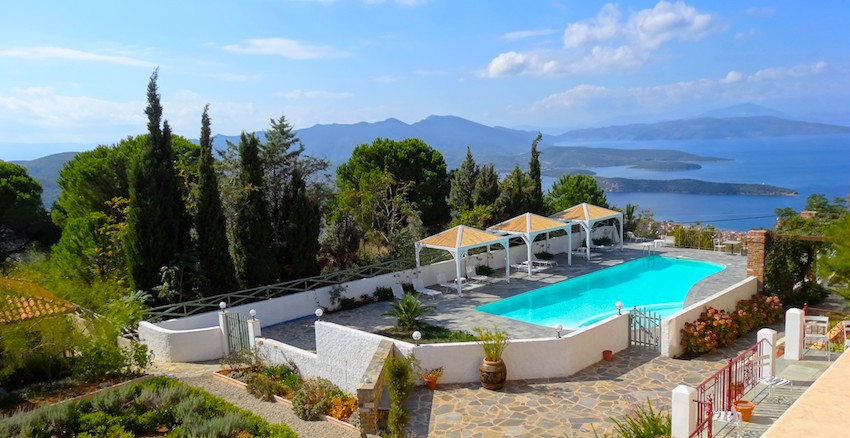 Open since December 2013 Lagou Raxi has consolidated its reputation as the preferred destination to experience the authentic Greece. The Anglo/French owners and Greek staff offer traditional cuisine and dishes from other Mediterranean countries in the Azure restaurant. Delicious cooked breakfasts are particularly appreciated by kalderimi walkers, especially those who choose the South Pelion Trail. Each of the 20 rooms is named after a local beach. The hotel enjoys stunning uninterrupted sea-views and sunsets and is a short walk from the shaded village square. The Mediterranean Centre for Art, Gardens, Plants and Design, based at the hotel, offers short courses. Large Pool, Gardens, Tennis court, Bar – five village tavernas, three museums, two gift shops. They are open all year!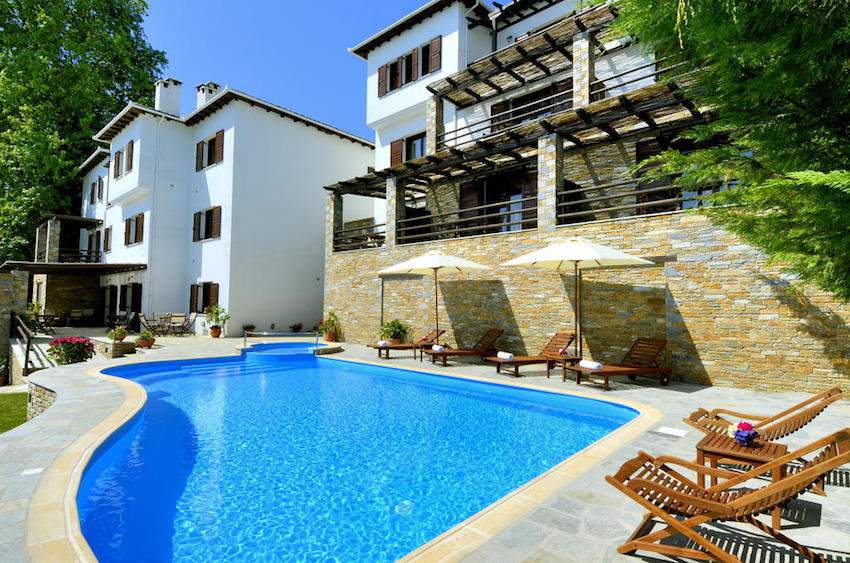 Surrounded by gardens, the recently built Zagora Hotel is situated in the center of Zagora, only 51 meters from the village's central square.The traditionally structured hotel offers 15 rooms allocated in its 2 buildings. Each unit offers free internet, while disposing traditional decoration including a fireplace. Rooms for disabled guests are also available.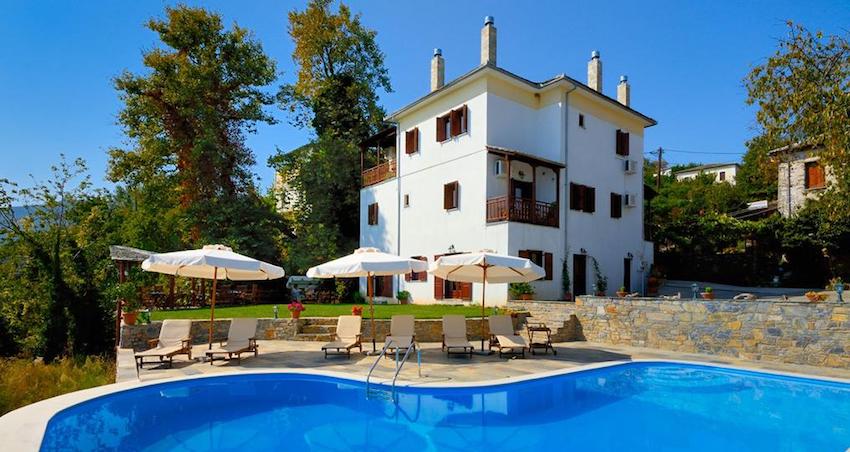 Theareston Guesthouse is just steps away from the main square in the village of Zagora. It features a hot tub and sauna, and an outdoor pool with sun terrace. Rooms enjoy views of Mount Kentavros and the Aegean Sea. Constructed with local stone and wood, the rooms have a fireplace. Each includes an LCD TV and a kitchenette. Wi-Fi is free throughout the premises, and room service is provided. Guests can start their day with a rich traditional breakfast, including homemade pies and jams, as well as fruit, pancakes and freshly baked bread. There is a satellite TV at the café bar. Theareston's front desk organizes hiking and walking tours and can arrange for car hire. Ski storage is provided. Free private parking is offered. This property also has one of the top-rated locations in Zagora.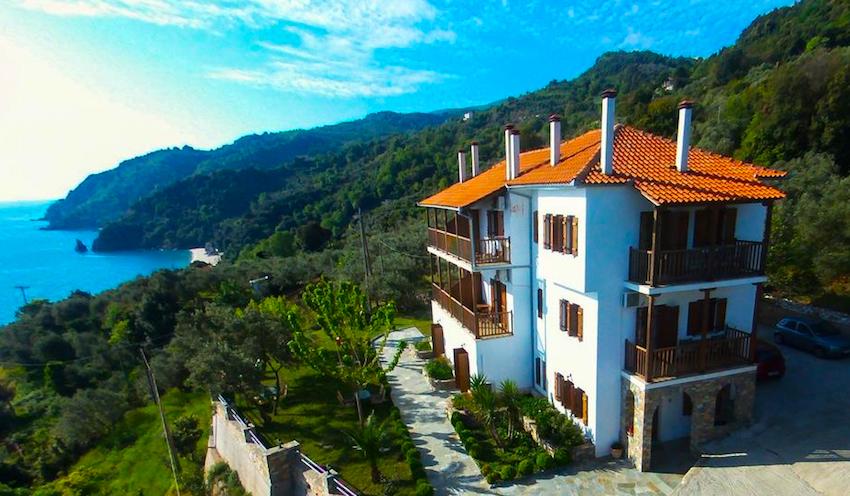 The traditionally-built Guesthouse Enastron is perched on a green hill, just 300 m from Chorefto Beach in Pelion and within 600 m from Agioi Saranta Beach. It offers studios with fireplace and a balcony overlooking the Aegean Sea and the garden. Fitted with beamed ceilings and dark-wooden furnishings, all studios of Enastron offer air conditioning. Each unit features an LCD/LED TV and a kitchenette with dining area, fridge and cooking hobs. An iron, an electric kettle and a hairdryer are available upon request.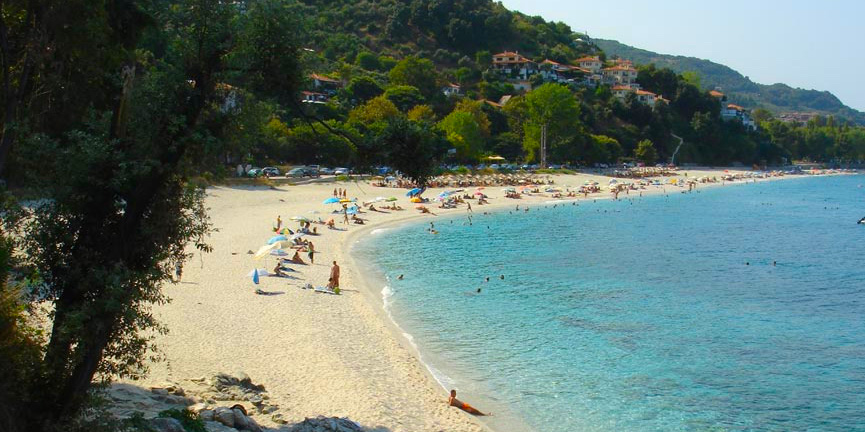 The Katerina Fotopoulos Rooms and Apartments are a "home" away from your home just a few steps from the lovely Papanero Beach. The Fotopoulos family are there to welcome you and to tend to your needs, while you stay in your self contained apartment, with kitchenette, balcony with ocean view, en-suite bathroom, air conditioning and TV. Free WiFi is available on the patio and also reaches some of the rooms. Breakfast baskets can be served to your room, or you can make your own or go to one of the beach cafes 5 minutes walk from your apartment.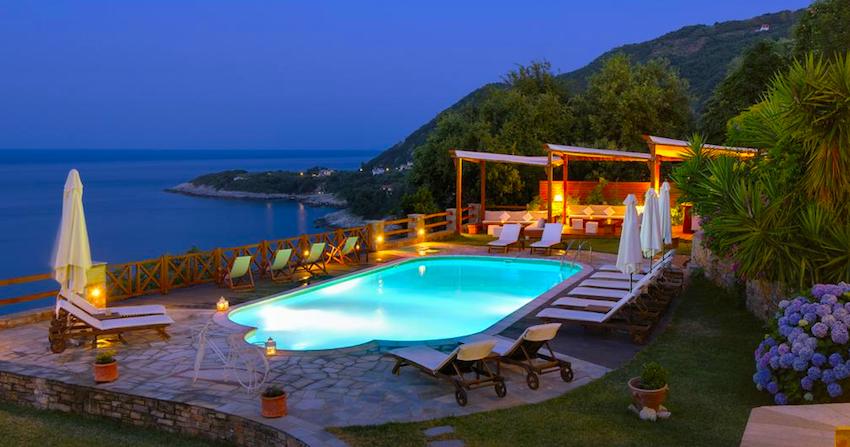 Agapitos Villas and Guesthouses located in the village of Mouresi, is a traditional complex built with respect to the Pelion architectural style. It features a swimming pool and free on-site parking and is a 2 minute walk from Papa Nero beach. Agapitos offers elegant guesthouses and each room has individual decoration inspired by its own unique name. Some rooms include a fireplace and hydromassage shower or spa bath. All have a balcony and offer free Internet access. At the hotel's El Resto Bar, one of the most famous restaurants in the Eastern Pelion region, guests can enjoy local specialties prepared by experienced and award-winning chefs. The restaurant also features a terrace overlooking Agios Ioannis beach, Papa Nero beach and the mountains.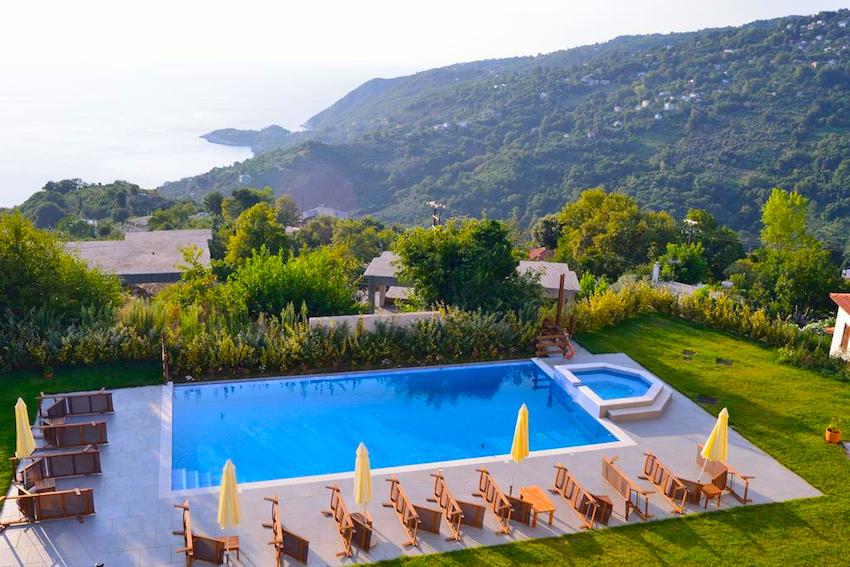 Built with respect to Pelion architecture and in harmony with its natural surroundings, Theta Hotel is located in the traditional village of Agios Dimitrios. Featuring an outdoor pool, it has a lounge bar and offers elegant accommodation with mountain or sea views. Rooms and suites at Theta Hotel feature stylish, yet warm interiors, including wooden floors and luxurious bathrooms. They all come with a TV, minibar and safety box, while most also have a fireplace, as well as hydromassage facilities.
Located a few steps from the beach of Agios Ioannis in Pelio and just a 5-minute walk from Papa Nero Beach, Pansion Martha features a seafront bar, air-conditioned rooms with furnished balcony overlooking the lush greenery or the Aegean Sea. A flat-screen TV and fridge are included in all the bright rooms at the Martha Pansion. Each has a private bathroom with free toiletries. Breakfast is served at the on-site bar by the sea. Mini markets, taverns and cafés are within a 1-minute walk. Plaka Beach and Papa-Nero Beach are a 5-minute walk away. Free WiFi access is available in all areas and free private parking is offered nearby the property. This property also has one of the top-rated locations in Agios Ioannis. Guests are happier about it compared to other properties in the area, especially couples.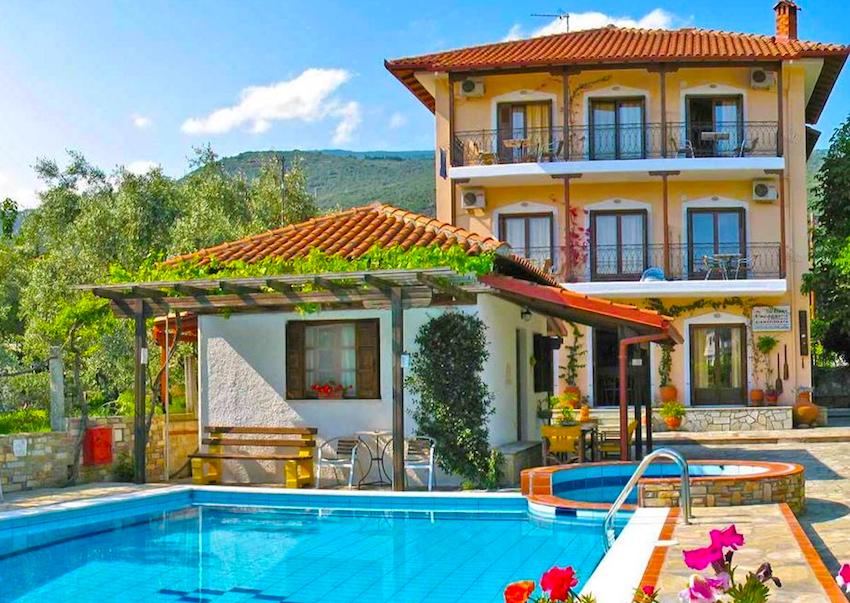 Only 100 meters from Kala Nera Beach, taverns and shops, Pagaseon Studios features a, seasonal outdoor pool and a lounge bar by the fireplace. It offers self-catered accommodation with a private balcony and free Wi-Fi. Fitted with traditional elements, all air-conditioned studios offer views of the Pelion Mountain or the property's pool. Each includes a kitchenette with a fridge, coffee maker and kettle. A TV and private bathroom are standard. The stone-paved sun terrace offers relaxing moments by the pool. This property also has one of the top-rated locations in Kala Nera! Guests are happier about it compared to other properties in the area. Couples in particular like the location.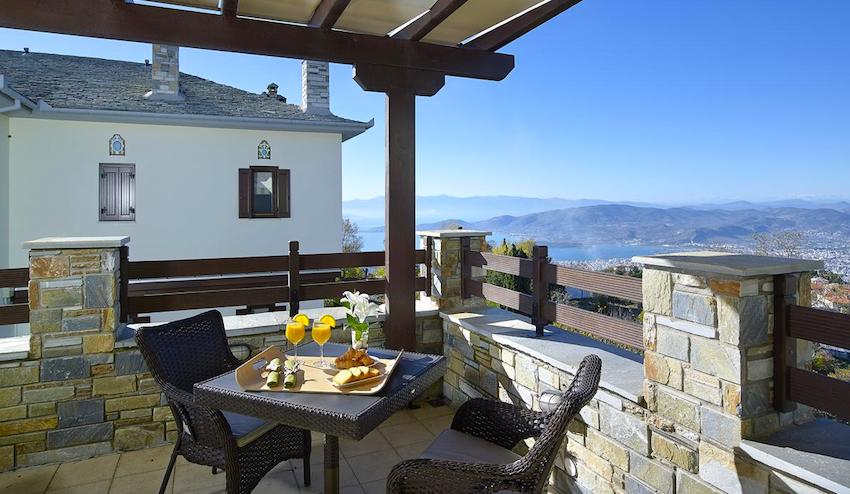 Imagine having breakfast with this view of Volos. Stevalia Hotel & Spa is located in Katichori of Pelion, within 1 km from the scenic village of Portaria. It has a spa centre, and offers free Wi-Fi in all areas and luxurious, classic rooms. Each room and suite of Stevalia Hotel is elegant and features wooden floors, fine furniture, a work desk and a marble bathroom. 32'' LCD TVs, minibar and luxury toiletries are standard. The hotel spa offers personalised massage treatments and includes a spa pool, adventure tropical rain and sauna. A buffet breakfast includes traditional, local products and can also be served in the guestrooms. Guests are provided with 24-hour room service. Stevalia Hotel & Spa lies within 10 km from Volos Town and a 15- minute drive from Hania Ski Resort.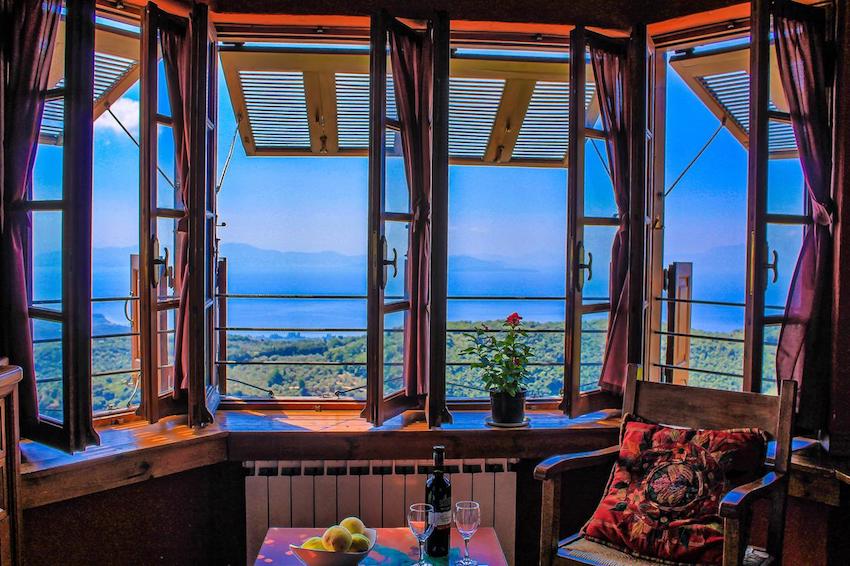 Located in the scenic village of Vizitsa, the traditionally-built Hotel Stoikos features a bar with free Wi-Fi and a terrace overlooking the Pagasetic Gulf. It offers air-conditioned accommodation with views over the sea, the mountains or the green surroundings. Fitted with wooden ceilings and floors, the traditionally decorated rooms of Stoikos have soft colours. Each bright unit is equipped with a fridge, a fan and a TV. The private bathroom is stocked with free toiletries and a hairdryer. Some units open out to a balcony. Guests can start their day with a traditional breakfast served daily at the dining area by the fireplace. Drinks and coffees can also be enjoyed at the on-site bar throughout the day.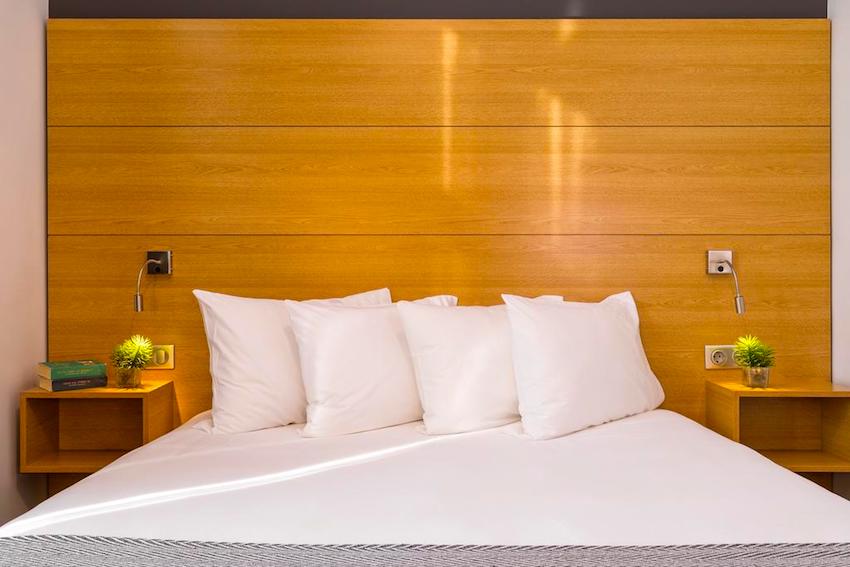 The modern designed Hotel Aegli, conveniently situated near the port and center of Volos, provides accommodations throughout the year, in a great location, which offer views of the port. All of the well-furnished rooms have elegant decorations with light wood furnishings. They feature air conditioning, private bathroom with bathroom amenities and TV. The Aegli hotel has a 24-hour front desk, room service and an internet corner. Guests have the option of a rich breakfast served daily. This is one of the most popular hotels in Volos.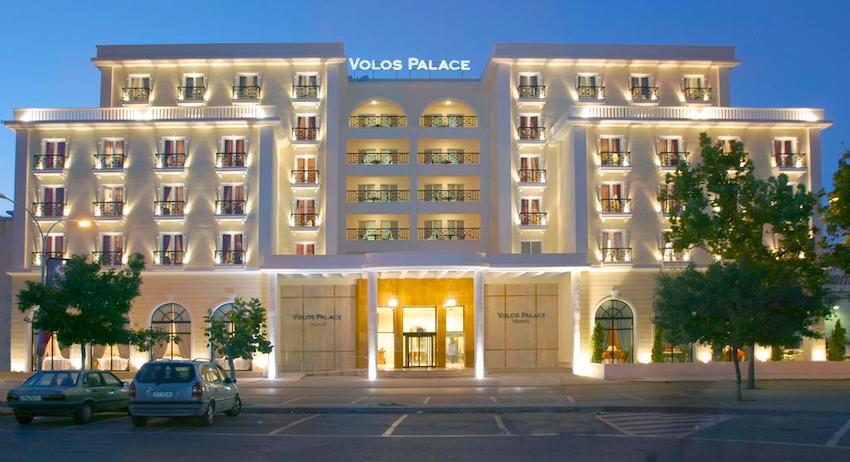 The Volos Palace, conveniently located in the center of the city of Volos, with views of the Pagasetic Gulf, offers 4 star accommodation services all year round. Each well appointed guestroom features internet connection, minibar, TV, air condition and bathroom with amenities. Along with bar and restaurant facilities, guests at Volos Palace are provided with a 24-hour front desk, wireless internet free of charge in public areas. There are dozens of restaurants, tsipuradika, cafes and shops around the hotel.

You can find hotels in Pelion by location, price, whether or not it has a swimming pool, and see photos and reviews by using this link to Booking.com. Excellent prices and many hotels you can book and then cancel with no cancellation fee. For those who want to book without using a travel agency this is the best way to do it.
More Hotels in Pelion
You can book these hotels, get more information, see their location and see more photos by clicking on the name. They are listed from the highest category to the lowest.
Valis Resort Hotel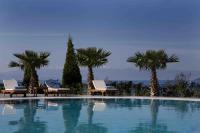 The Valis Resort is a brand new luxurious establishment located on the coastal hillside of Agria, offering you a natural outdoors setting and imposing modern interior. The Valis Resort offers an unforgettable experience with it deluxe atmosphere, style and personalized service. Agria is a pleasant location and hosts a large beach, as well as a few monasteries built into rock. Along the beach you will find a number taverns, cafes and bars where you can enjoy yourself. The Soutraki village is also only one km away and hosts another wonderful alternative beach resort. Located on the hillside of Mount Pelion, the Valis hotel provides an ideal base for visiting its large natural forests. The nightlife in Agria is very intense, especially during the summer. The village organizes a number of cultural shows, such as paint exhibitions and the "International Guitars Festival". If you are looking for a holiday that combines culture, luxurious accommodation and natural serenity, the Valis Resort is the model to choose.
Xenia Volou Domotel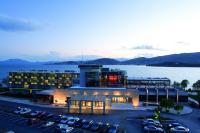 The location of the Xenia Volou Domotel by the sea, under the shade of the Centaurs mountain, renders this hotel an ideal choice for visitors to the city of Volos. A starting point for short excursions to the beautiful islands of Sporades or the picturesque villages of Pilion, this hotel is ideal for those on the move. Alternatively, use the hotel as a relaxation centre, where you can unwind in the indoor pool, use the fitness centre, and reinvigorate the senses in the spa and wellness centre. Dine in the restaurant amidst views of the sea and the hills. A visit to the popular waterfront or some of the beaches should not be missed, where you can find restaurants, bars and entertainment.
12 Months Luxury Resort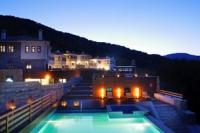 The "12 Months" Luxury Resort is a 5 star establishment offering a variety of leisurely enjoyments for every seasonal surrounding, ranging from relaxing on the beach to skiing on the mountains.
The Luxury Resort is located 7-10 kilometres from the most stunning beaches and 50 kilometres from the area's ski centre. The resort is encircled by a natural environment and is ideal for recreational activities. You can take a 4x4 vehicle for excursions across the rugged mountain path or walk through the region's natural forests. Located close to the town of Tsagarada and the Aegean Sea, this is an ideal resort for those who require serenity and a refreshing change from daily life. This is the correct choice for those who demand a high level of personalized services. The hotel offers a range of activities from relaxing in the sauna or having a massage to playing tennis or making use of the fitness centre. Wireless internet and private parking are free of charge.

Xenia Palace Portarias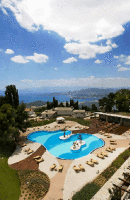 Xenia Palace Portarias looks towards Volos, the Pagasetic Gulf and the mount of the Centaurs, with the aura of a hotel that exhales fine taste and style. Imposing, elegant, classy and enthralling, the new ornament of Portaria masterly combines luxury with traditional elements, exquisite services and a professional standard hospitality. The hotel complements its services with a space of good life and beauty, aiming to satisfy the demands of every guest. The health club offers moments of relaxation and revival through its specially chosen spa treatments.
Librating at the edge of the leap, the Cafe Veranda, all day bar restaurant, makes an impression with its breathtaken panoramic view of the city that embraces the calm water of the gulf. Wireless internet is available in public areas and is free of charge. Wired internet is available in the entire hotel and is free of charge.
Archontiko Argyro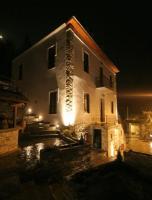 This modern hotel is conveniently located in Koukourava, merely 4 km from Volos City and 3 minutes drive from Makrinitsa Village with magnificent views of the forest, sea and valley.
Surrounded by a beautiful natural environment, this hotel is of a typical design and features a relaxing and cosy atmosphere. All of the rooms are equipped with a fireplace where you can relax and truly enjoy everything that the area has to offer.
Having opened its doors just before the Christmas of 2007 after an extensive renovation, this hotel houses elegantly furnished, comfortable and contemporary accommodation with traditional touches. These aspects are perfectly in keeping with the building and position in which it is situated, the ideal base for a visit to Greece.
Wireless internet is available in public areas and is free of charge.
Portaria Hotel & Spa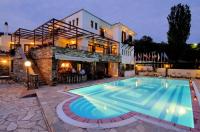 No matter the season, at Portaria Hotel & Spa a holiday is a break away from the pressures of urban life.
The soft colors and the modern furnishing harmoniously combining the classical with the modern, create a beautiful and cosy atmosphere.Every room of 60 rooms 18-24m2 carries its individual character and have designed and decorated to offer moments of relaxation to our guests.Enjoy the view of village, mountain or to the garden
We value your precious time, our comfortable and pleasant surroundings along with our friendly service, fine cuisine, entertainment, sports activities and excursions all combine to fulfil your every need. Wireless internet is available in the entire hotel and charges are applicable.
Hotel Kipseli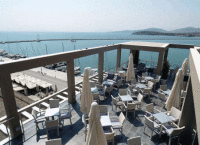 Situated next to Volos Beach, this modern boutique hotel offers an amazing view of the Pagasitic Gulf and provides free internet access and complimentary breakfast.
Each of the rooms at Kipseli Hotel is tastefully decorated in neutral tones and equipped with LCD TV. Free internet access allows you to stay in touch with work or family.
Enjoy a romantic dinner or a relaxing drink on Kipseli's beautiful rooftop terrace, whilst admiring the fabulous view of Volos Beach. Enjoy a coffee or a light snack at Kipseli's beach café, which is open until late in the evening.
Next to Kipseli Hotel, you can visit the traditional tsipouradika eating places and taste the local liquor and appetizers. The main market of Volos is also just a short walk away from Kipseli, making it an excellent base for an authentic experience.
Boutique Hotel Tasia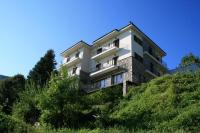 Located on the mountain of Pelion in the village of Hania, this hotel is just 2 km from the ski centre and 30 km from the town of Volos. The hotel has 30 rooms and 2 luxury suites ready to accommodate you on your holiday. The hotel restaurant has very good chefs and serves traditional food, ideal after a day exploring the area.

Enjoy the mountains and panoramic views whether you plan to ski, walk, visit the coast or tour the whole of Pelion. Wireless internet is available in the entire hotel and is free of charge.
Leda Village Resort Hotel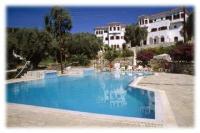 Built and decorated in unique Pelion architectural style, this hotel is peacefully located in a beautiful bay surrounded by lush vegetation and next to a private beach. Rooms and apartments are connected to each other by small paved paths, bordered by gardens full of flowers. In this way, Leda Hotel is like a traditional village at the sea, but with all the modern facilities for a perfect holiday. The perfect combination of mountains and sea make Pelion an ideal holiday destination throughout the year. We have a large swimming pool, offering you a wonderful place to enjoy a refreshing dip in the summer months. For keeping active and fit, we have a wonderful gym where guests are more than welcome to work out. Alternatively, make your exercise competitive with a game on our tennis court. Wired internet is available in public areas and charges are applicable.
Katia Hotel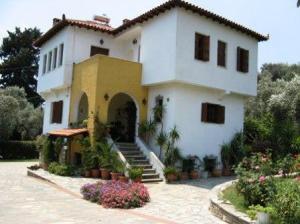 At the foot of South-eastern Pelion, there where the mountain literaly touches the sea, in coastal Afissos, the Hotel Katia and its people wait for you to accommodate you in a traditional and familial environment.
In the refurbished and completely equipped rooms you will find the calm and quietness for a enjoyable sleep and you will wake up from the singing of the birds in village square or from the church-bell of Saint Marina on Sunday morning.
In the breakfast room you will enjoy your morning selecting from the dreamy buffet with all kinds of goodies one expects to find when in village at Pelion. Kneaded bread, home made marmalades and pastries, tomatoes, olives and eggs from our property, local fresh milk, galotyri (traditional Greek cheese made with both ovine and goaty milk)and honey, traditional pies, all homemade. Wireless internet is available in public areas and costs EUR 3.00 per hour.
The marvellous location of the Astromeria Hotel, in Makryrachi village, allows you to experience the many different aspects of Greece. Peaceful towns, lively beach resorts and traditional mountain villages compete for attention underneath the hot Mediterranean sun.
Astromeria Hotel is located in the traditional village of Makrirachi 3km from the most beautiful seashores of Pelion (St. Saranta and Chorefto) and 15km from Agriolefkes ski centre. Built in the centre of the village, Astromeria offers magnificent views to the Centaurs Mountain, Pelion, and the Aegean Sea.
The Astromeria provides plenty of entertainment for the family, along with stunning views of the mountain of Centaurs and Aegean Sea.
Enjoy a leisurely breakfast in your room, followed by a relaxing swim in the large outdoor pool. Hire one of the hotels bikes and explore the beautiful mountain villages of Pelion. Enjoy a refreshing drink at the spacious hotel bar. Wired internet is available in public areas and is free of charge.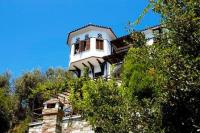 Located in a very beautiful and quiet part of the coastal village of Horto, is where you will find the Diplomats Holidays complex, offering a wonderful selection of comfortable apartments for your stay in Pelion.
Diplomats Holidays is situated right in front of the crystal blue waters of the Pagasitic Gulf, providing the perfect setting in which you can enjoy your unique Pelion holidays and travel experience.
Built in the style of the traditional Pelion architecture, the apartments and studios blend in perfectly with the green and luscious scenery that thrives all around us.
With the charming tree-shaded beach right in front of us, we are perfectly located for visitors to Pelion to enjoy their summer holidays in a very friendly and relaxed environment. An ideal choice for those wishing to enjoy a relaxing holiday by the beach.
Hotel Kalama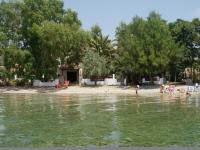 The Hotel Kalama is located near the seaside of village Kalamos, well known for tranquility, peaceful and clear water and tasteful fresh seafood. It is located just 5 meters from the seaside. Every apartment has a seperate entrance, kitchen, balcony with great view, facilities for cooking and a spacious children's playground. Especially suitable for families, as well as individuals, who dream of peaceful holidays with rest and quiteness.


You can find hotels in Pelion by location, price, whether or not it has a swimming pool, and see photos and reviews by using this link to booking.com. Excellent prices and many hotels you can book and then cancel with no cancellation fee. For those who want to book without using a travel agency this is the best way to do it. You can also use my Hotels of Greece Pelion Page
For hotels in other towns in Pelion, transportation there and hotels all over Greece visit Fantasy Travel or Dolphin Hellas Travel.

For taxi transfers from Athens to Pelion contact George the Famous Taxi Driver
If you are planning to rent a car and drive from Athens to Pelion check out Swift Rent-a-Car. They will pick you up at the airport or your hotel and drive you to the National road and let you by-pass the notorious Athens traffic.