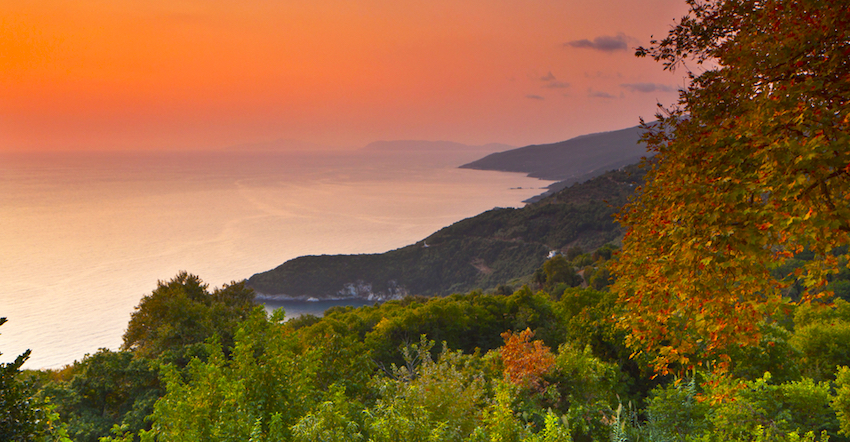 The mountain villages of Mount Pelion are popular year round destinations. In the summer their altitude makes their climate very comfortable day and night, and most of them are within a 20 minute drive to the nearest beach. In the winter they get snow, in fact there is skiing at The Mount Pelion Ski Center at Agriolefkes near the village of Hania. In the spring there are the wildflowers and in the fall the leaves changing colors may make you feel like you are in New England. Historical mansions and houses have been converted into hotels, BnBs and villas, and every village is famous for its restaurants, wine, tsipuro and local dishes. There are hiking trails, streams, waterfalls and miles and miles of forests to explore.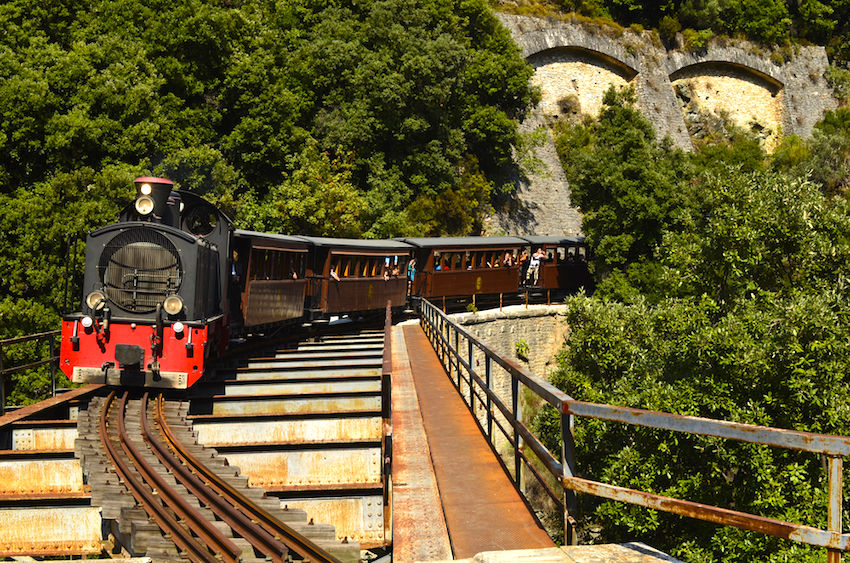 Those of you without a car will be pleased to know that there is a small old fashioned train that starts from Ano Lehonia Railway Station which is 12km from Volos, and travels through beautiful mountain scenary and sea views to the town of Milies in the south of Pelion. The departure time from Ano Lehonia is 10:00 (outbound). From Milies the train departs at 15:00 (inbound). On both legs, a 15m stop is made at Ano Gatzea. Return tickets cost 18 euro for adults and 10 euro for children, while one-way tickets cost 10 and 6 euro respectively. But the best way to see Pelion is with a car, though having a car does not mean you should not do this unique journey, especially if you have children.
The Villages
Portaria is a scenic village above Volos with a beautiful town square and a very large platanos (sycamore) tree. Famous in the past for its cheese and retsina and a small Byzantine church with frescos from the 16th Century. For those planning to climb to Pliasidi, the second highest peak on Mount Pelion this is a good place to stay. The village is also known for the distinctive Pelion style traditonal houses. Thank you to Fantasy Travel for the photo. Click here for hotels, villas and rooms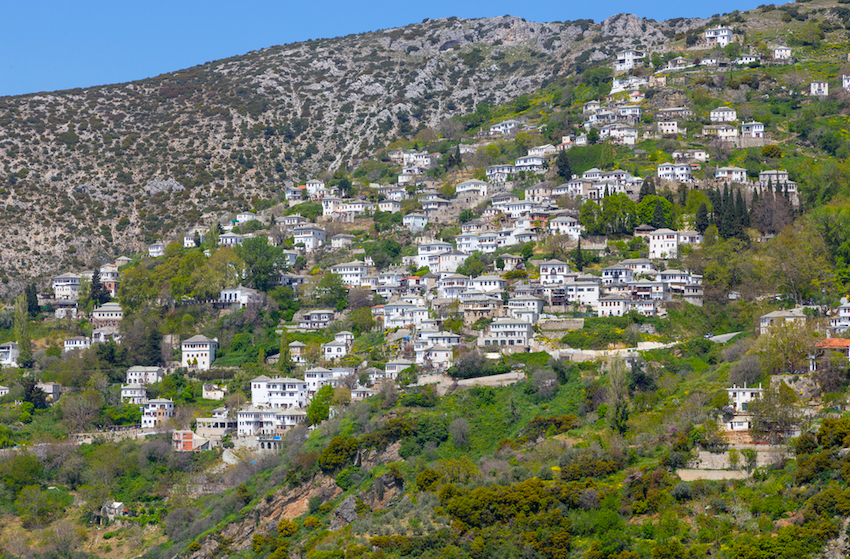 Makrinitsa is the next village above Portaria, with a view of Volos and the Pegassitikos Gulf. Like many of the mountain villages the historic mansions have been turned into hotels and BnBs. There are several historic churches and the town has a large hollow platanos tree and marble fountain in the platia. Thank you to Fantasy Travel for the photo. Click here for hotels, villas and rooms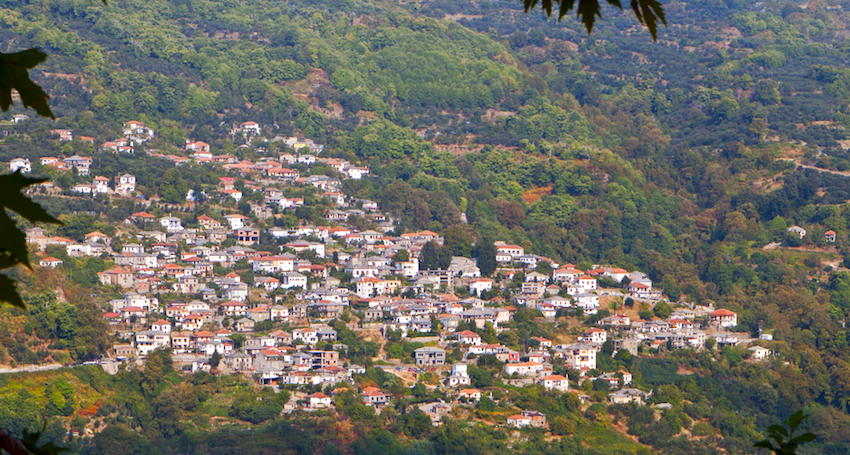 Zagora is Pelion's largest village on the east side of Mount Pelion with a view of the Aegean Sea. The village is known for its red wine and fruit orchards, chestnut and oak forests which surround it. In the platia is the Church of Agios Giorgos. Below is the beach town of Horefto. Fantasy Travel. Thank you to Fantasy Travel for the photo. Click here for hotels, villas and rooms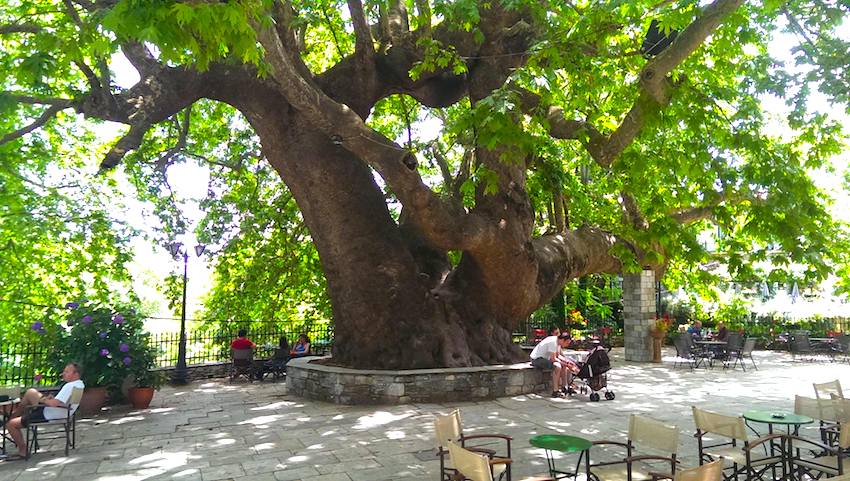 Tsangarada is famous for its 1000 year old platanos tree and its narrow cobblestone streets as well as its spectacular views of the Aegean Sea. Many of the traditional houses have been converted into hotels and the restaurants are known for their spetsofai, a spicy (by Greek standards) sausage and tomato dish that goes well with tsipuro, especially in the winter. The closest beach is Milopotamos right below the village. Photo by Patricia Mason. Click here for hotels, villas and rooms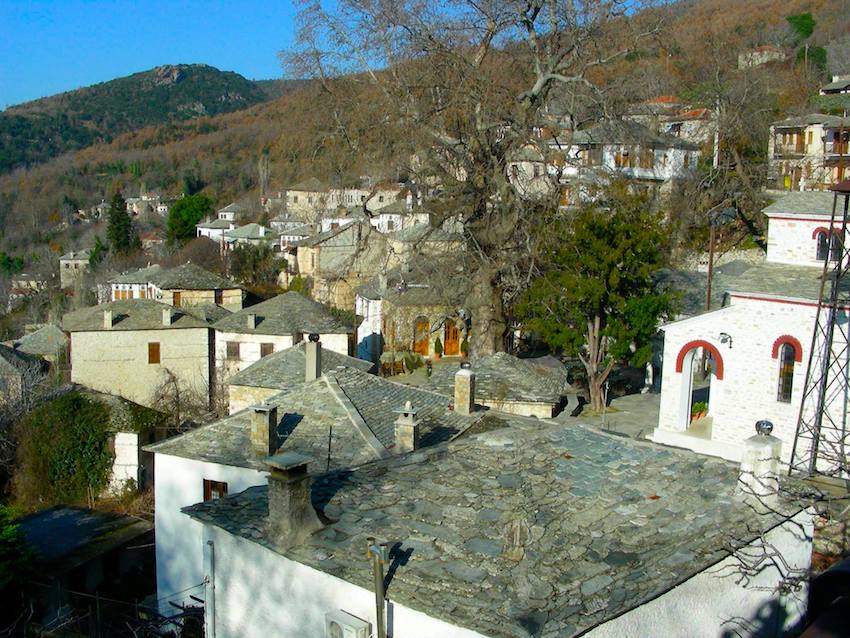 Pinakates is a traditional village in central Pelion, with large houses and mansions, many which have been restored for use as hotels and BnBs. Its central square is known for its spring fed fountain. Photo by Kostis Marulis whose Pinakates Home is one of the beautiful traditional houses that are for rent.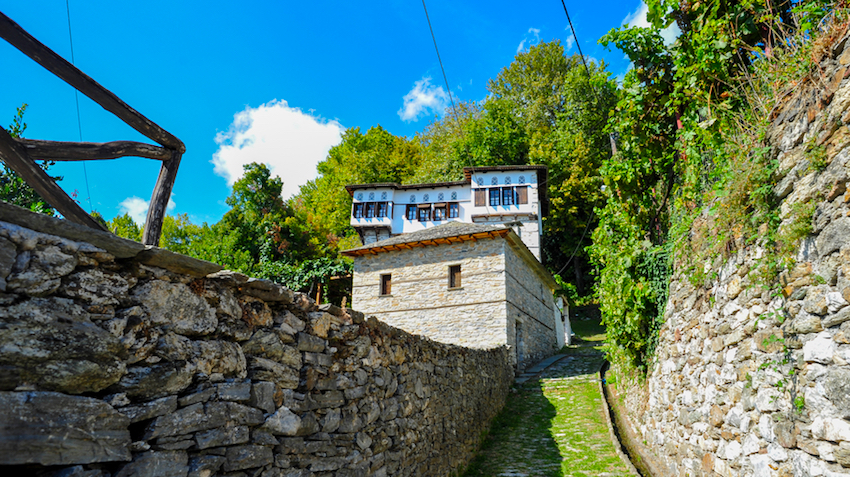 Vizitsa is a protected village over looking the Pagassitkos Gulf, also with mansions and houses that have been converted for tourist accommodation. The 18th Century Monastery of Agios Ioannis and the Church of Zoodochos Pigi are both worth a visit as is the platia with its fountain and giant platanos tree. The area around the village is good for hiking (as in most of these villages). The village is also known for its tsipuro and wine. Thank you to Fantasy Travel for the photo. Click here for hotels, villas and rooms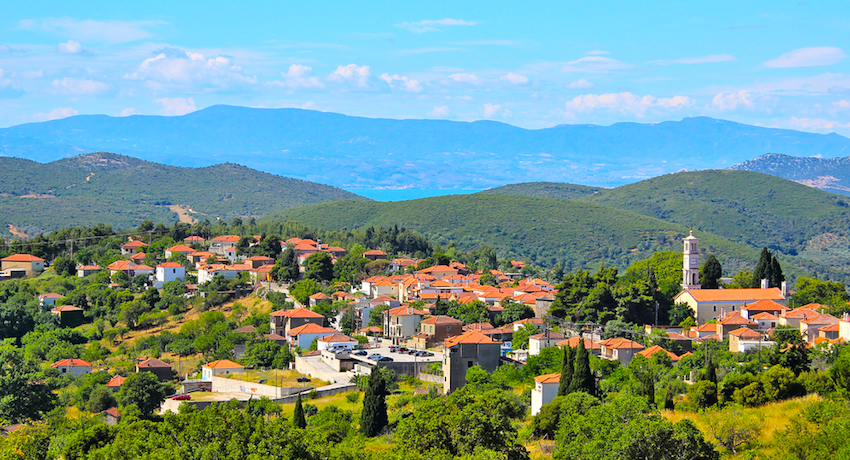 Lafkos is in the southwestern part of Mount Pelion above the seaside towns of Horto and Milina. Like the other villages is has a beautiful town square and many of the historic houses have been converted into accommodations. There are restaurants, shops and a 3 museums including a radio museum, perhaps the only one in Greece. Thank you to Fantasy Travel for the photo. Click here for hotels, villas and rooms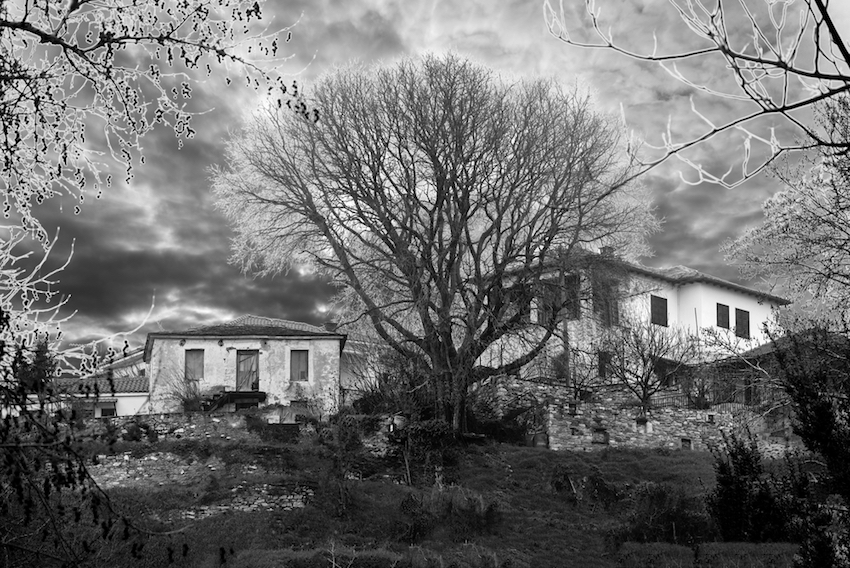 Milies is a beautiful mountain town with an important history, and has restaurants, cafes, hotels and traditional crafts. This is the town the Pelion train ends up in. Thank you to Fantasy Travel for the photo. Click here for hotels, villas and rooms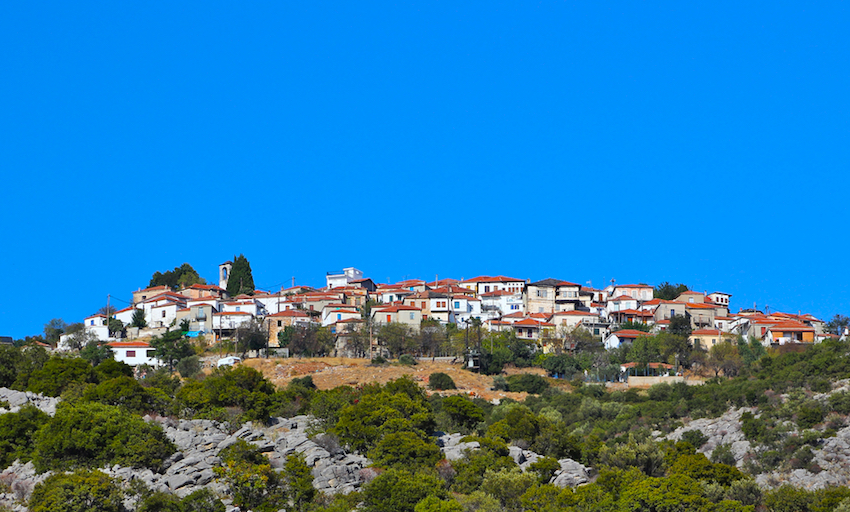 Trikeri is the last village, on a hillside on the narrow penisula that juts into the Pegassitos Gulf. There are several churches of historic interest and many old mansions built by Greek sea captains. With its port of Agia Kyriaki, Trikeri is more like an island, and in fact in the not so didtant past the only way to reach it was by sea. Thank you to Fantasy Travel for the photo. Click here for hotels and rooms