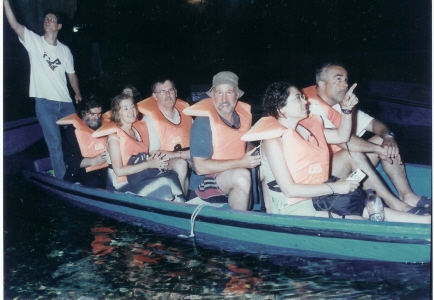 I don't think I can say it any more plainly than this: GO TO THE DIROS CAVES!!!!!!!!!!!
The images of my two trips through these underground waterways are etched in my mind forever. Good thing too because none of my photos came out and the postcards you see don't do them justice. The Diros Caves are perhaps the most important natural site in Greece and in their own way as spectacular as the caldera of Santorini. The Paleolithic and Neolithic artifacts found here, many of which are in display in the museum, mean that the caves were one of the earliest inhabited places in Greece. The known part of the caves cover an area of around 33000 square meters of which only 5000 square meters have been explored. Some say that the caves go even further, maybe as far as Mount Tagetos and Sparta.
Located at the top of the Mani between the town of Pirgos Dirou and Areopolis the entrance is a few meters above the sea and a beautiful stone beach. When you arrive at the Caves you buy your 15 euro ticket at the booth and continue driving to the parking lot just outside the entrance. Try to get here early especially in the summer. In the off season you should also come early because it closes early. When you enter the cave you will walk down a stairway to an underground lake where there are boats waiting. You are given a life-vest and then each boat gets a guide who uses poles to journey through the caverns and tunnels, which are eerily lit and adorned with stalactites and stalagmites, many with interesting names. You will pass through some sections just wide enough to allow your boat, where you have to duck your head and then enter into an enormous subterranean room where you can hear the voices of people on other boats in the distance. The air is a comfortable seventy degrees at any time of the year (so bring a sweater or light jacket if you tend to get cold).
Some guidebooks warn people with claustrophobia that this may not be for them. Possibly not, but it would be a shame to miss it so maybe take whatever you need to get on an airplane. I did not find it scary at all until I read in Frommers about the giant eels that live there. (I asked and there are no giant eels.) If there is someone in your group who has a fear of caves they can go to the museum while the rest of your group goes into the cavern. The boat trip takes around half an hour and then there is a ten minute walk to the exit. The price is a little high for a half-hour tour but with some things you can't think about what it costs. You just have to do it. This is one of them.
Helpful Travel Information

The Diros caves are just an hour from Gythion so stay there. Here is a list of Gythion hotels with photos and reviews. You can also stay in the town of Aereopolis in the Mani which is even closer than Githeon and you can find hotels there by clicking here. It's a cool place to stay and some of the hotels are the historic towers that the area is known for.
You can do the Diros Caves as a day trip with George the Famous Taxi Driver but it is about a 4 hour drive from Athens so it is better to do it as an overnight trip. For car rentals see www.greektravel.com/swift

Pictures don't do them justice but just to give you some idea I have included these postcards.
You can click on them to enlarge.