The first time I had ever heard of Katakolon was in an email from a tourist. She was doing one of those cruises to the Greek islands on one of those massive cruise ships that hold thousands of people that can only go to ports large enough to handle them. She was asking about tours and things to do and she listed the places the ship was stopping: Venice, Crete, Santorini, Rhodes, Mykonos, Patmos, Ephesus, and Istanbul, all places you would expect a Mediterranean cruise ship to go to. And, one more: Katakolon.
I assumed it was some place in Turkey, maybe having something to do with Galipoli or maybe a city on the Black Sea. I asked her if they told her anything about Katakolon, was there anything in the cruise brochure or on the cruise website, but she knew as much about Katakolon as she did about the other stops, which was pretty much nothing. (Lots of cruise people are like this. Not to imply that they are ignorant. Maybe they just like surprises.)
So I googled Katakolon but all it said was that it was a small port and beach town near the city of Pyrgos in the northwest Peloponessos. I looked on the map and it dawned on me that Katakolon was the nearest port to Ancient Olympia.
Now it all made sense.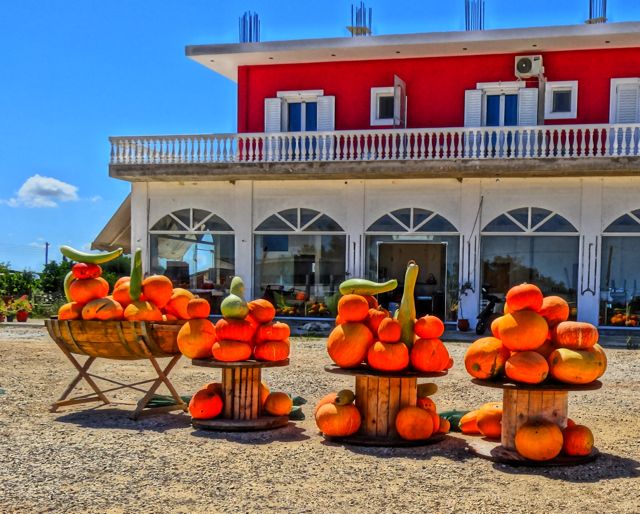 Except for one little problem. How could this little hole-in-the-wall port be a stop for these floating cities? I had to go and see it for myself. So on the way back from Kefalonia we took a short detour through the largely agricultural province of Eleia, which is known for the port of Patras, ex-prime minister George Papandreau, and pumpkins. Our first stop was the market town of Pyrgos which was actually more of a drive-through than an actual stop. There are not many reasons for a tourist to go to Pyrgos. There is a nice coastal area of sandy beaches with hotels and tavernas and there is a Homeric town with an ancient acropolis and the remains of a castle just east of Katakolon. But Pyrgos is known as the clothes shopping capital of the Peloponessos. Apparently people come from all over to shop in the boutiques, shoe stores and haberdasheries of Pyrgos where they can find the latest styles from Paris and Rome and wherever styles come from. Unfortunately we arrived on a Sunday during a garbage strike that had been going on for a month so our time in Pyrgos was limited to however long it takes to race through the town with the windows rolled up and the AC on to keep the smell out.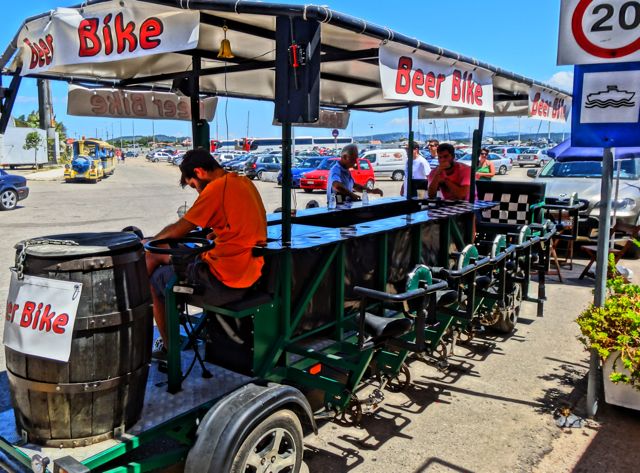 Thankfully the strike did not extend to Katakolon and we drove into the small seaside town and found a parking lot the size of the one at your local mall, filled with cars, buses, taxis, horse drawn carriages, and even a vehicle that looked something like a tourist train though it had a row of seats on either side of a bar and there was a keg of beer in the front next to the driver. It was called the Beer Bike and sure enough each seat had pedals. What it did not have was customers so I could not see if it was actually powered by the pedals or it was just a sophisticated exercise machine that enabled tourists to not put on weight while drinking beer. For those who don't need to drink beer while exploring the town there was also a horse-drawn carriage and supposedly some kind of tourist train like they have in the Plaka in Athens, but I didn't see it.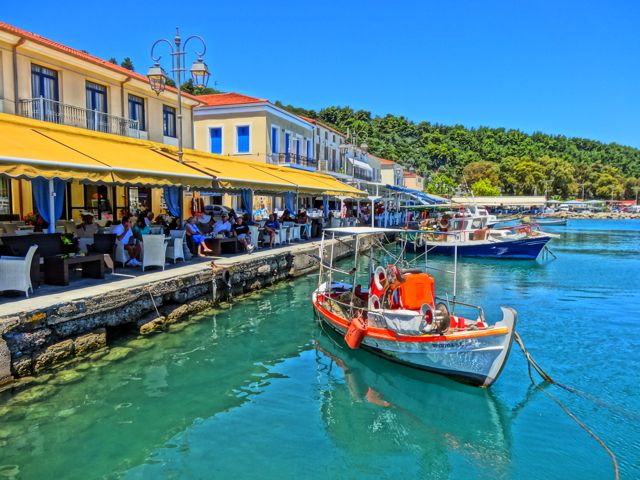 The town's center of activity was a couple blocks of tavernas, cafes and tourist shops on the waterfront facing the dock. This area was filled with all the people who did not know or care enough about Olympia to take the excursion arranged by the cruise company, or hire a taxi to go on their own. They were doing the things people generally do in this situation, buying worry-beads and other gifts for friends back home, eating Mousska, and drinking. Mostly drinking. The first restaurant we saw was called Karoussos that had a couple giant swordfishes on display in a glass refrigerator, a large fish tank full of lobsters and large fish that you could choose to have cooked for you then and there, and for those who needed more visual coercion a giant menu with pictures of just about every popular Greek dish which was a great idea since for many people Katakolon will be their first stop in Greece.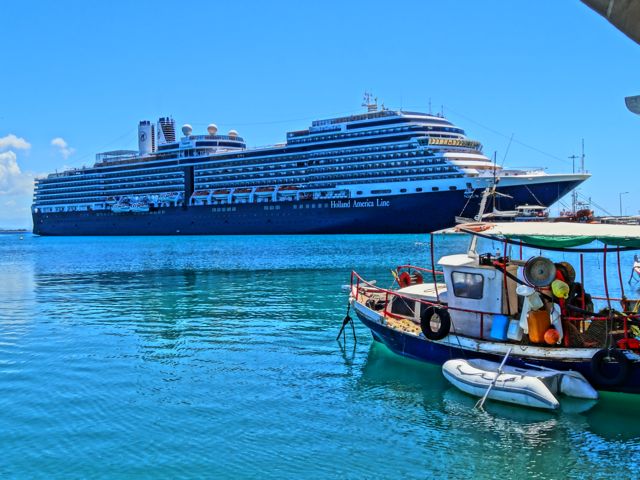 So you have this typical looking tourist town that could be almost any Greek island, and people wandering around the shops and cafes and restaurants and it all looks normal except for one thing. There in the harbor, dwarfing everything around it, was the biggest cruise ship I had seen up close. Imagine the Empire State Building laying on its side in the middle of the Plaka and you have some idea of what the effect was on me. But being a guy I like stuff like this and I wished I was there when there were two or three of these docked. What is it like when thousands of tourists descend on this little port all at once looking for souvlakia or taxis to Olympia? And what about the people who had tavernas and shops in the days before the town's most famous son, multi-zillionaire Yiannis Latsis, spent his hard earned money to build a port that could accommodate these ships? They must have thought they had died and gone to heaven when that first ship pulled into the harbor and the passengers emerged and devoured everything in sight like multicolored locusts. Yiannis Latisis with one simple move, made the whole village rich. You have to smile about that. It is not often that a Greek millionaire gives back to the community in such dramatic fashion. They usually donate a park with a statue of themselves in it or maybe put air-conditioning in the village church because they went there once in the summer and it was too hot for them.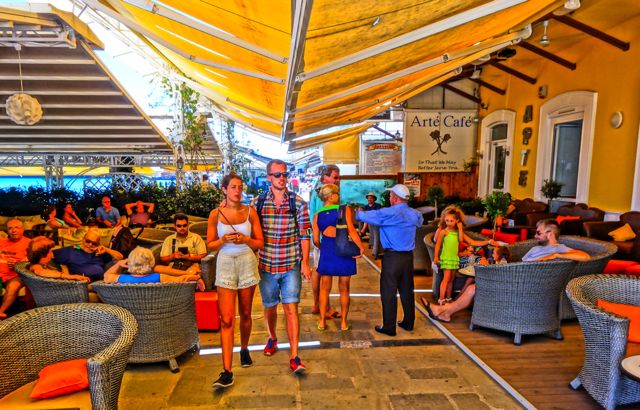 Well, being a professional travel writer I took a quick walk through the town, taking a few photos, while Andrea checked out the jewelry stores to see what the competition was up to, and then we got back in the car and drove away, happy that we had seen Katakolon and not really mourning the fact that we would probably never see it again. Not to imply that Katakolon is a terrible place and you should not go there. For what it is Katakolon is great. If you are on a cruise ship and it is on the itinerary and you have no interest in seeing Ancient Olympia it is a wonderful place to sit, eat, drink and people watch. Unfortunately most of the people you will be watching are the same people you see on the ship. But sometimes that can be a good thing. In all likelihood Katakolon and the surrounding area may be the most authentically Greek place on your cruise itinerary with the exception of Athens' port of Pireaus. There is a long sandy beach that stretches for miles, within walking distance, and an historic lighthouse. There is Pontikokastro, on the ancient Acropolis of Fia, built by the Franks in the 13th century. (I looked up all this stuff on Google, I did not actually see them. But that is what travel writers do)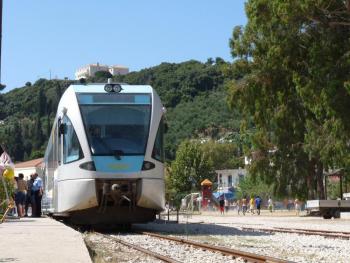 By the way there is a train that goes between Katakolon, Pyrgos and Olympia though the schedule is kind of tricky. The train that goes from Olympia to Katakolon is great because that means you can be there in 45 minutes and go for a swim. What is not so great is that it needs to be a quick one because it goes back to Olympia less than an hour later and does not come back. Which means the people who are taking the train from Katakolon to Olympia don't have a way back either. So hypothetically you have two groups of people at each end of the train line but no train that would enable them to exchange places. However the train does continue to go back and forth between Olympia and Pyrgos until around 2 pm when it stops going anywhere. Yes it is confusing but you can phone 26210 22224 and perhaps someone can help you make sense of it. The good news is that this is just the schedule on the Greek National Train website which has never been the most comprehensible, and the company says that trains to Olympia will coincide with the arrival and departures of the ships. If not I know a nice taxi driver in Katakolon who can rescue you wherever you are if he is not doing a tour with some of your fellow passengers.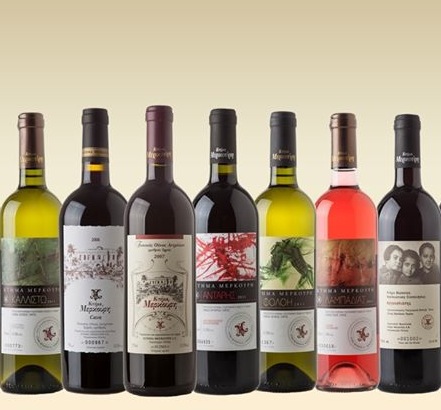 If you don't want to start drinking before sundown unless you have a very good reason there is the nearby Mercouri Winery right outside of Katakolon. You can get a taxi for about ten euros (though most taxis in Katakolon would rather take you somewhere they can make a lot more than ten euros). You may want to ask how much it will cost to go round trip if he waits for you. The winery is actually on the Mercouri Estate, one of the oldest family estates in Greece, and they also produce currants (Katapolon was known as the center for the export of currants) and their own high quality olive oil. To arrange a visit to the Mercouri Estate, which also features an array of plants and animals, email them at Mercouri@otenet.gr
Don't forget to visit the Museum of Ancient Greek Technology. It was founded by Kostas Kotsanas and holds about 300 operating reconstructions of mechanisms and inventions of the ancient Greeks covering the period from 2200 BC to 100 AD. This museum comes highly recommended by those who have visited it, especially those people who love machines. The ancient Greeks invented a number of surprising technical devices, many of which laid the foundation for the machines that make up our modern technological nightmare world. The hours are sporadic but it is usually open when the big ships come in. In the same building you can also visit the Museum of Ancient Greek Instruments.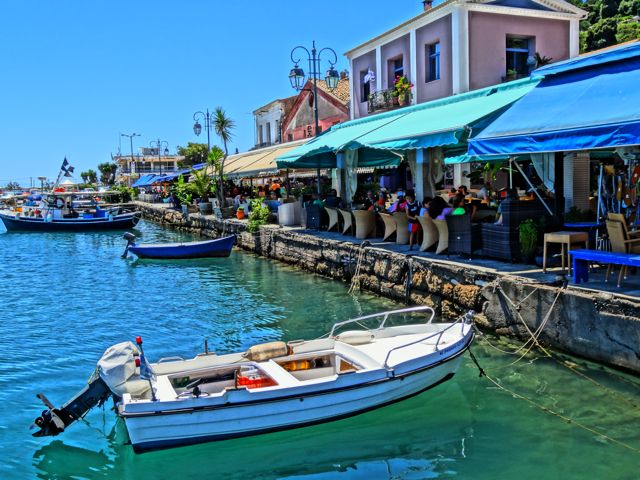 Does all this mean that if you are exploring the Peloponessos that you should go out of your way to visit Katakolon? Well, not really. Unless you love seeing large cruise ships and feel like getting a bite to eat and going for a swim and you happened to be in the neighborhood. There are a lot better ways of spending your time in the Peloponessos then going to Katakalon. Even the allure of the Mercouri Winery is not enough to merit the trip since you can go to Nemea and have your choice of dozens of wineries. But if you have a night or two in Olympia then Katakolon and the surrounding area is worth a visit, especially if you have not had your fill of beach time. But if you are on a large international cruise ship and Katakolon is on your itinerary then it is nice to know that it is more than just a place to get off the boat and find a way to Olympia.