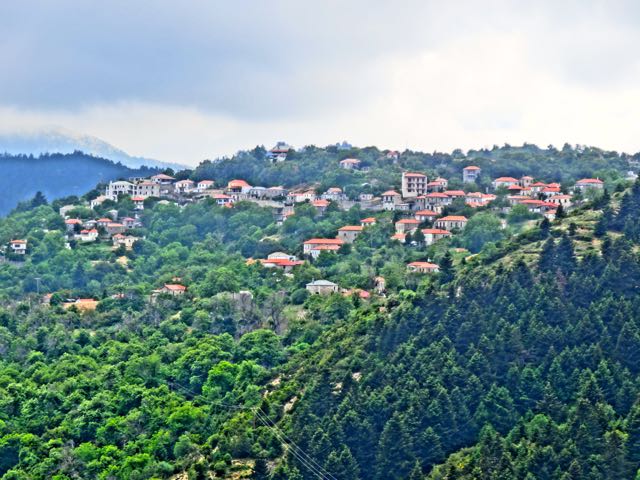 It is summer in Greece. It is so hot in the Peloponessos that the cicadas are bursting into flames. Life is bearable in the shade, under the trees in the seaside taverna, or in the sea, or in your air conditioned hotel room. But you ask yourself "Is this what life is all about? Is pleasure just the release from pain? Is comfort the avoidance of discomfort? Where can I go to feel cool all the time?"
The answer comes in a flash of divine inspiration. "Go to Kosmas, my son."
Kosmas is a small town in the mountains of Arkadia on Mount Parnon, an hour or so from Tripoli, Sparta, Leonideon and the east coast of the Peloponessos. Surrounded by forests of chestnut trees and pine, it is high enough for there to be a difference in temperature of ten or more degrees from these other places. That is centigrade. On a recent trip we left the coastal town of Kyparissi where it was a balmy 26 c. An hour later we were in Kosmas where it was 14c and a gentle rain was falling. We put on our jackets and wandered around the town before going to one of the grill houses that Kosmas is famous for. There was a fire going in the fireplace and it was as if we had changed seasons in an hour.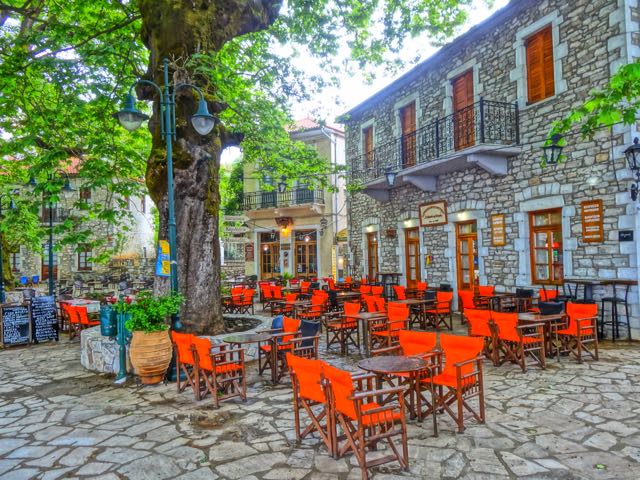 Kosmas has a large platanos (sycamore) shaded square that surrounds a church of cathedral like proportions, Agia Anaragiri, built in 1884, and a marble fountain where fresh spring water gushes from the mouths of lions. There are several cafés and restaurants in the square, a famous pottery shop, a couple stores that sell traditional products like mountain tea, dried fruits, chestnuts, and the wonderful amber colored wine that the area is known for. The last two visits we ate at the small traditional restaurant called O Elatos where two women and their husbands crank out dishes of grilled paidakia (lambchops), hirino brizoles (pork chops), moschari (beef steak), sikotaria (liver) and other meat dishes. But the specialties of the village are yida, a goat soup that is eaten in the winter, gkougkes, which is a local thick pasta with cheese, and pitaroudia, the local horta or spinach pie which is fried, grilled or sauteed instead of baked. For those of us with family and homes in the southeastern Peloponessos it is often a question of whether or not we go home quickly through Sparta and Tripolis, or take the road through Kosmas and stop for lunch. And if lunch ends up taking longer than expected and the drive all the way back to Athens seems too far, we just go to Nafplio for the night.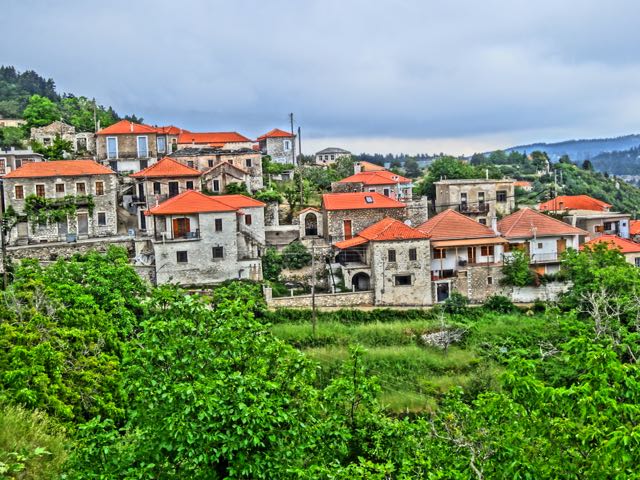 Kosmas has several hotels and rooms, open year round since many people come here to hike the trails or enjoy the snow. Lithoxtista features fully equipped units with views over the mountain and the Saronic Gulf. Fitted with a fireplace and Coco-Mat beds, each villa has a TV, a balcony and a patio. There is a full kitchen with a microwave and an oven, a shower, private bathroom and a hairdryer. You can enjoy sea view and mountain view from the room. Complimentary breakfast items are also included in each unit. The Lamprou has year round accommodation with heating and airconditioning. Meleatis Apollo Guesthouse features free WiFi and a sun terrace, and an on-site restaurant. Offering a garden with BBQ facilities. Kosmas Studios offers self-catering accommodation with mountain views. All studios are simply furnished and feature wooden ceilings. They are fitted with a kitchenette and a bathroom with a bath or shower. Free WiFi is available in some units. Each room is equipped with a flat-screen TV. Feeling comfortable can be addicting whether it is in the dog days of summer or the snowy winter. Visit Kosmas and you may never return to the sea again.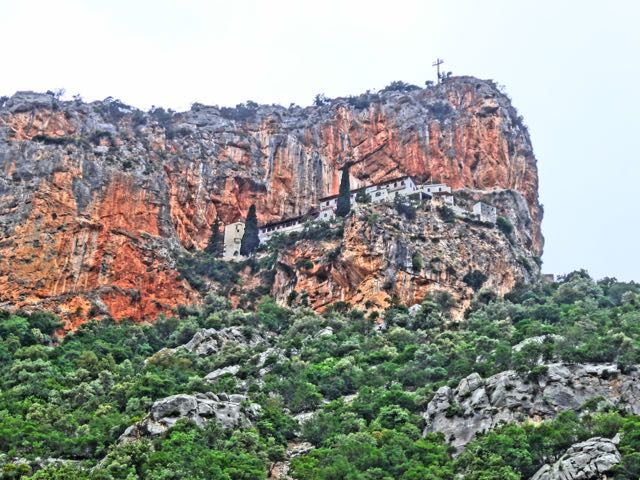 For those coming and going by way of Leonideon, the narrow gorge that begins just north of Kosmas and takes you down to the sea, is a special treat. You can stop at the Monastery of the Panagia Elona and talk to the monks while you marvel at the view of the gorge and the riverbed below. The origin of the monastery date back to the 14th century when shepherds saw a strange light emanating from a nearly inaccessible area on the rock cliff. When the local people climbed up they discovered a candle illuminating an icon of the Virgin Mary and the Child Jesus. A small church was built on the spot. The monastery was burned and looted and the monks massacred after the failed revolution of 1770. The current church was built in 1809 and the monastery is now somewhat of a convent. Be sure to visit with the ladies from Leonideon who have set up shop in the parking lot where they sell traditional goods, including the best honey you will have ever tasted. I highly recommend the carob honey. You should also buy a bottle of Spatholatho, a red oil made from Saint John's Wort that is an ancient cure for cuts and open wounds. Spatholatho means sword-oil. I doubt you will find this in your local pharmacy. They also sell fresh bee pollon, capers, mountain tea, volvous, which is the pickled bulb of the tassel hyacinth.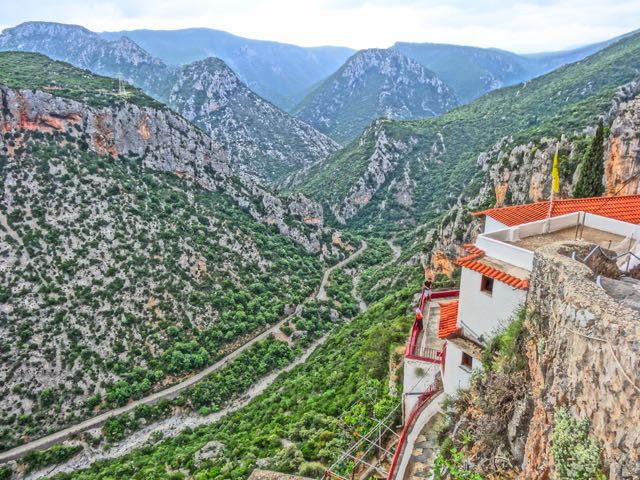 View from the monastery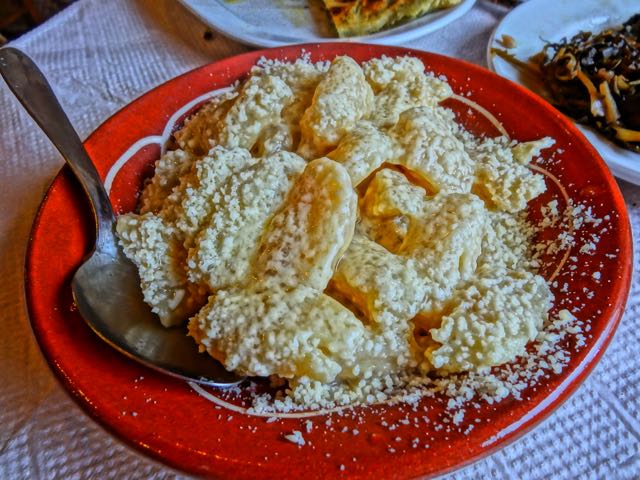 Gkougkes: A Kosmas Specialty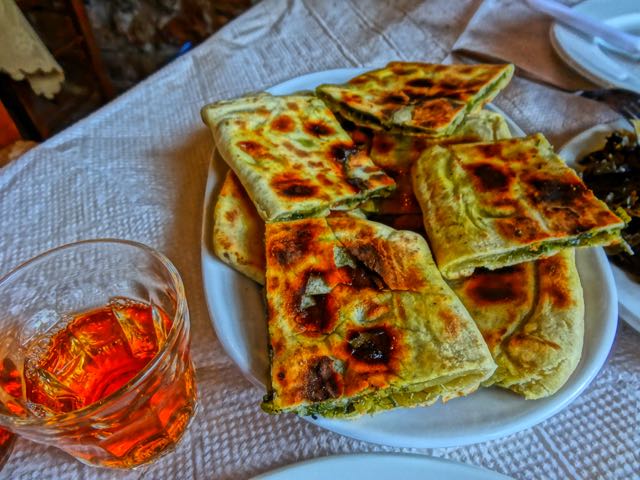 Pitaroudia: like spanakopita, with the famous wine of Kosmas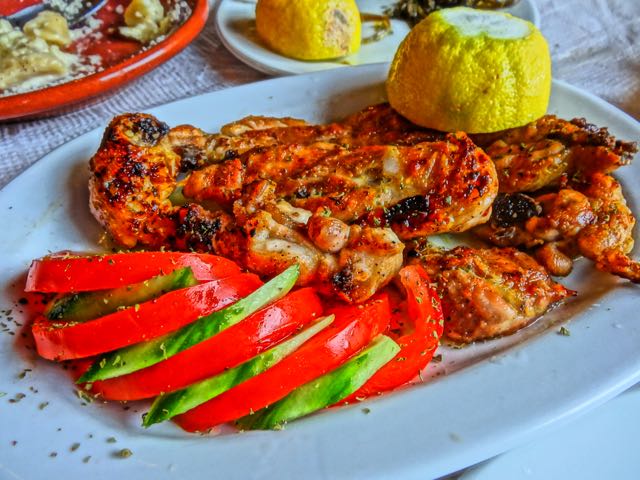 Chicken Paidaikia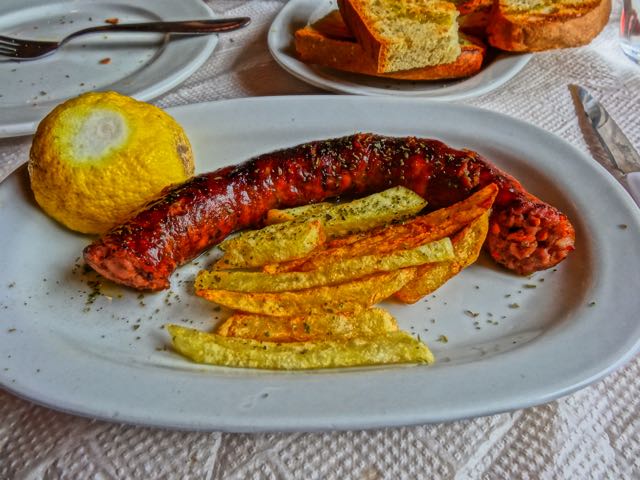 Loukaniko: the local sausage has bits of orange rind in it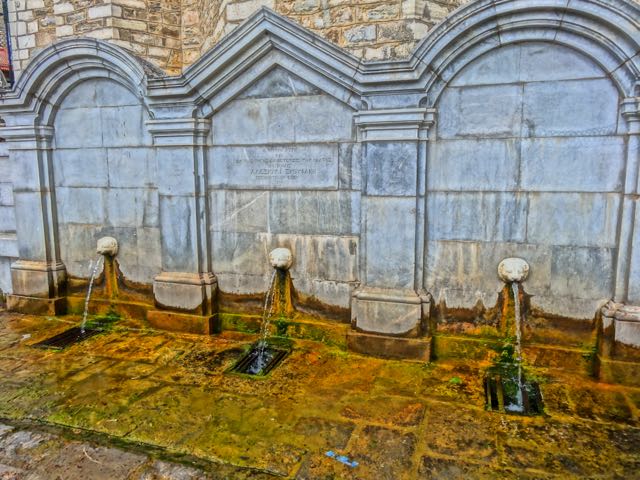 The famous lion fountain of Kosmas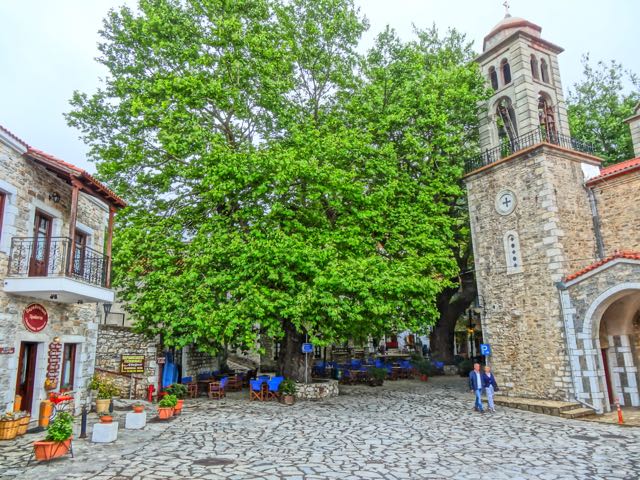 Kosmas platia
Join Matt Barrett's Greece Travel Guides Group on Facebook for comments, photos and other fun stuff. If you enjoy using my Greece Guides and find this page useful please share it with your friends on Facebook and Google+ by using the buttons on this, and other pages.