Kyparissi, Lakonia, Peloponessos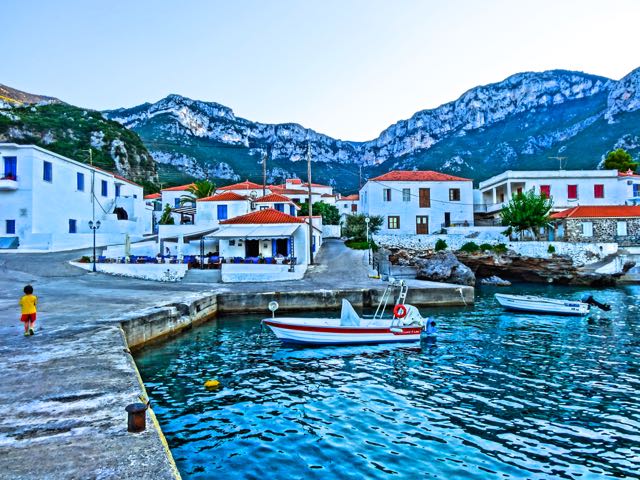 Kyparissi is the kind of holiday place that if you know about it, you only tell your closest friends because you are afraid of spoiling it. But really it would be a hard place to spoil just because of the difficulties in getting here. You could tell the whole world about your holiday in the land of the Hunzas but only about one person in 25 million is going to visit there because not everyone wants to cross icy mountain peaks riding on a yak to visit some place you told them was nice. Kyparissi is sort of like that. Even though it has been written up in many Greek magazines, and featured in the book The Most Beautiful Villages of Greece, and is the favorite destination of George H Bush, Prince Charles and may have been the last place Princess Diana visited before her ill-fated trip to Paris, getting to Kyparissi is a formidable task to anyone who does not have access to a high-powered yacht with a helicopter.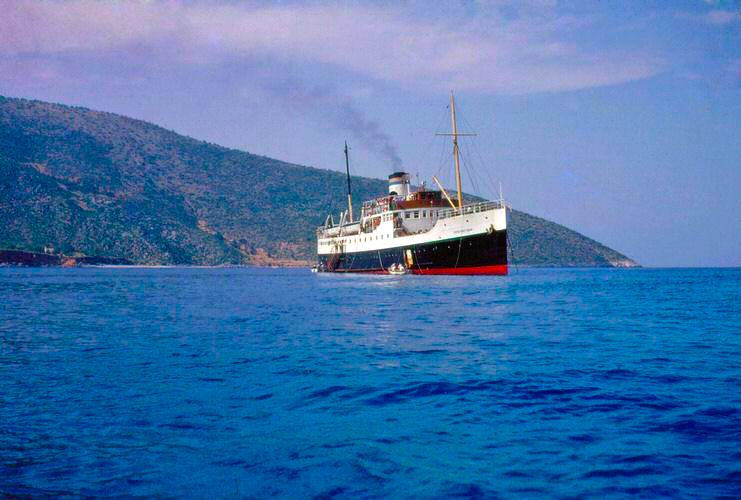 In the old days there was a weekly ferry that started in Pireaus and followed the east coast of the Peloponessos, and stopped in Kyparissi on its way to Monemvasia, Kythira and Crete, before returning the way it had come. We took this ferry from Githion to Kyparissi in 1963 and a later boat in the eighties and early nineties. Later the Flying Dolphins took this route and stopped here daily in the summer until the new dock collapsed within a few months of being built and the old dock was too unsheltered and there were too few passengers to make the trip lucrative. They cut service back to just weekends and eventually stopped it altogether. The ferry and flying dolphin skippers never liked stopping in Kyparissi anyway. The old boats used to anchor in the bay and small caique would ferry the people to the dock. The later ferries began docking at Agios Nicholaos and at the main dock when the sea was not too rough. But there were days when we would wait for the flying dolphin only to see it pass us by because it was too much of a hassle to try to dock and whoever wanted to get off in Kyparissi could take a taxi from Geraka or Monemvasia. For those who wanted to go to Athens... too bad. For those who arrived at Agios Nicholaos by Flying Dolphin for the first time it was a confusing experience. For awhile Yiannis Zefiris would ferry people to the town dock in his little boat but once he stopped the only way in was to catch a ride with someone or walk for about an hour. When my father came back to the village in the eighties with his new bride he assumed that if they began walking that someone would pick them up. Wrong. He had to walk all the way into the village with his suitcases.
"The villagers are not friendly" he said to me.
"They are very friendly", I explained to him since I spent many of my summers here. "If you had asked someone for a ride and they refused then I would say you would be justified in believing the village was unfriendly. But just because they did not notice a seven foot man and his five foot tall bride walking into town does not mean they are not friendly, just unobservant.
He never forgave the village for his long walk and never returned.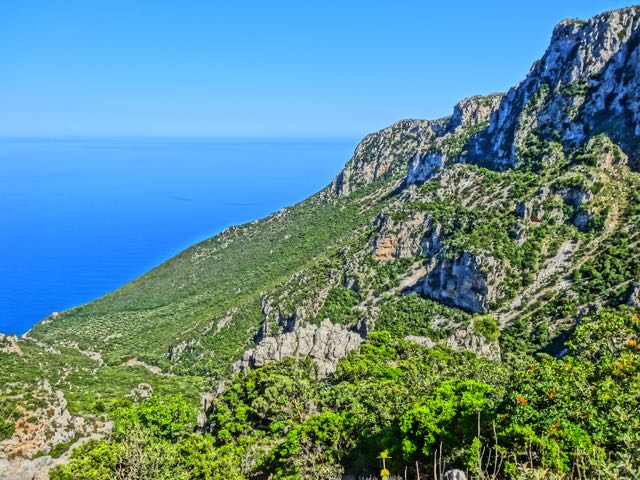 In the sixties they had built a road to connect Kyparissi with Leonideon which you can still take from the north side of the village. It hugs the coast for a few miles and then turns inland to the nearly abandoned village of Kapsala, home to the Mavromichalis clan from the Mani, who fought to liberate Greece from the Turks and then according to local legend were framed by the British for the murder of Greece's first Head of State. The road continues past several beautiful beaches and ends abruptly at the border of Arkadia. The Arkadians decided they did not want to lose tourist business to Laconia so they just didn't build their portion of the road. It has been fifty years and the people of Kyparissi still blame the Arkadians for the lack of tourism which they see as a curse, but anyone else would see as a blessing. (The road goes through now). There is another road though. One of the most frightening in Greece, it hugs the mountainside for several miles, just wide enough for two cars to pass in most places. There is even a spot that so terrified even a seasoned professional Athens taxi driver that he had to be led down the mountainside by keeping his eyes on my rear bumper and not looking at either side. This road and the lack of a boat have kept Kyparissi as unspoiled as a Greek coastal village can be.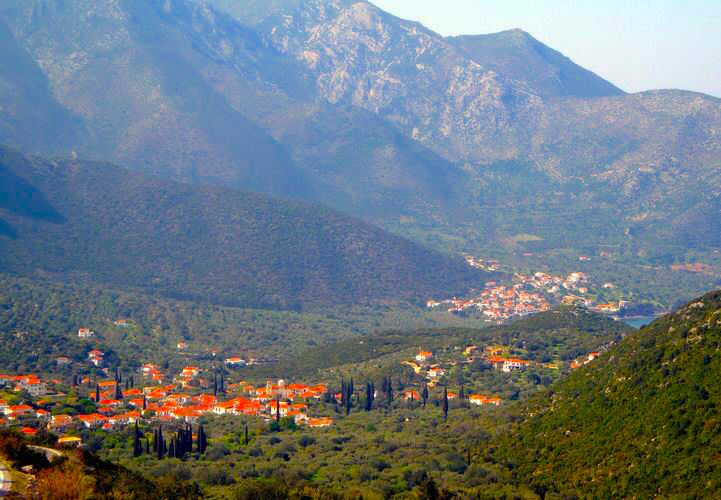 Kyparissi was an ancient sanctuary of Asclepius and used to be known as Kyfanta. At some point in its history the people of this lush valley of olive trees, pine and carob left the coast and moved to a highpoint where the village was hidden from the sea and the pirates who raided the coast. This did not help them when some very determined pirates climbed the mountain and slaughtered most of the villagers and threw their bodies in a well. Many of the survivors went to Sfakia, Crete which was one of the few unconquerable places left in Greece. The people who inhabit the region now are the descendants of those who stayed and the Mavromichalis clan. Kyparissi is actually three villages. Vrissi is the first village you come to, the highest of the three on the slopes of the mountain range that surrounds the valley. It is rich in water with a spring running through the town. Everyone has beautiful gardens, orchards and olive trees. There is a small cafeneon in a tiny platia that has been turned into a restaurant with very good food and a nice atmosphere. From Vrissi there are paths that lead up into the mountains, around the hills and to the spring which gushes from a crevice in the rock walls that rise several thousand feet. There are few shops, no hotels and if you arrive between 2 and 6pm you might not see a single person on the narrow streets.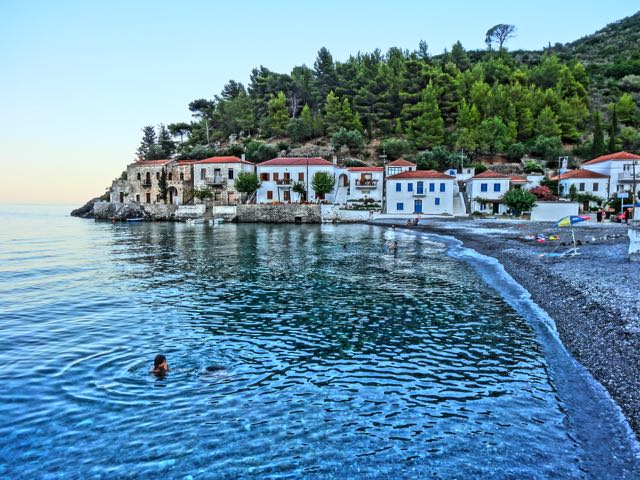 The road goes downhill in relatively extreme fashion and passes the Schiller designed elementary school, crosses a bridge over a dry river bed and goes past the graveyard and the beautiful old church before reaching the town of Parilea (photo), which means beach. There are several small hotels here, the best among them being Kyfanta Apartments which are large studios with kitchens and a view of the sea, owned by Yannis and Esther. Yiannis is from Kyparissi while Esther comes from Spain and is the multi-linguist of the family, speaking several including Spanish, English and Greek. You can find other hotels and rooms on Booking.com's Kyparissi Pages. Parilea also has a couple restaurants, both quite good. One is known as Rovatsos and is in a modern looking apartment style building overlooking the sea and features fresh fish, local meat, cheese and vegetables and as do all the restaurants, excellent local wine. They also have the world's largest and tastiest olives. Almost next door is Trocadero, owned by Panagiotis Volis, a resident of Montreal who returned to his ancestral village to serve some of the best food you will find in Laconia including what may be the best omelets in Greece. For those who have not been impressed with the breakfast buffets served at most hotels in Athens and the popular islands, finding a restaurant where a guy will make an omelet with anything you ask him to put in, is not only refreshing, but may save you money because you will probably be able to skip lunch.
There are several cafe-bars including To Kafe tis Maritsela, a beautifully designed stone basement place owned by Maria Fasili. Nearby is the pandapoleon which means a store that sells everything, owned by Girogos Zeferis who makes a delicious organic wine and is also one of the few fishermen that sells his daily catch to the restaurants. On the far side of Parilea is an actual supermarket, not on the scale of one you might find at home but by Kyparissi standards certainly super enough. There is a small beach to the right of the dock and a larger one to the left of town that stretches perhaps a quarter of a mile and separates Parilea from the third of the three villages, called Metropolis. At the entrance to this part of Kyparissi there is a coffee shop/restaurant called To Glykaki where you can eat hand made deserts, ice cream & snacks of all kinds made by Nora and her son Theodore. My cousin claims they have tacos here too but I am not sure whether or not he was hallucinating. But you should ask just in case it is true. Lula's Taverna overlooks the beach and has delicious food, like Greek home cooking, cooked by Lula, her sister and their family. Across the street is the bakery and zacharoplasteion (sweet shop) in the former location of Tiris Taverna, probably the best restaurant in the village. The bad news is that it closed a number of years ago.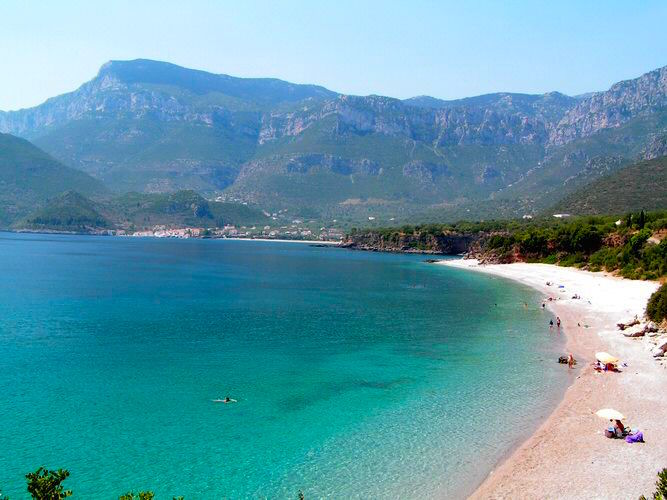 The good news is that a new improved Taverna Tiris re-opened in a new spectacular location at the far north end of the bay overlooking the fishing boats in the small harbor of Agios Nicholaos where the Flying Dolphin used to come, now used mostly by sailboaters. Fresh fish, home grown vegetables and local meats, cheese and wine have made Tiris a favorite not just with the locals and the Athenians who visit but also for the yacht and sailboat people who stop here overnight in the summer months. If you have to choose one restaurant to eat at I recommend this one, though chances are if you are in Kyparissi it will be for more than a night and you can try the others too. If you don't have a car it will take about half an hour to walk there, but there is a beautiful beach right below the restaurant so you can come for lunch and make a day of it or come early for dinner and go for a swim. When the sea is rough this is the best place to swim and when the sea is not rough it is the best place to get away from the few people who are on the beaches in town.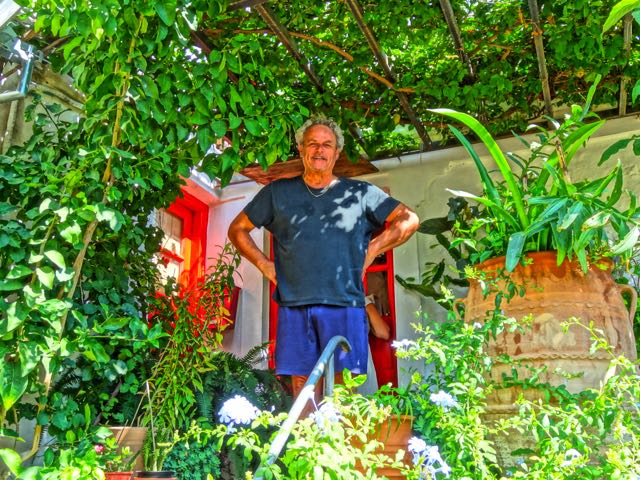 There are only a couple shops for buying crafts and anything resembling tourist paraphenalia so if you are the type of traveler that thinks that shopping is an important part of any holiday then you may be disappointed. However serious art collectors are in luck because Kyparissi is home to the British artist James Foot, one of the finest watercolor painters in Greece and if you ask for him you should be able to buy some original pieces which should gain in value if not bring a little bit of Kyparissi home to decorate your living room. For those who have family members addicted to shopping you can drive to Monemvasia in about two hours and not only will the number of tourist shops be satisfying but it is quite an amazing place to see, a medieval fortified village on a giant rock in the sea. Other possible day trips include the island of Elafonissos, near the city of Neapolis, Githeon which is the port of Sparta, the Diros Caves in the Mani, the Byzantine city of Mystras, any of which should take about two hours. Closer and just as interesting is the town of Geraki which also has a Byzantine city.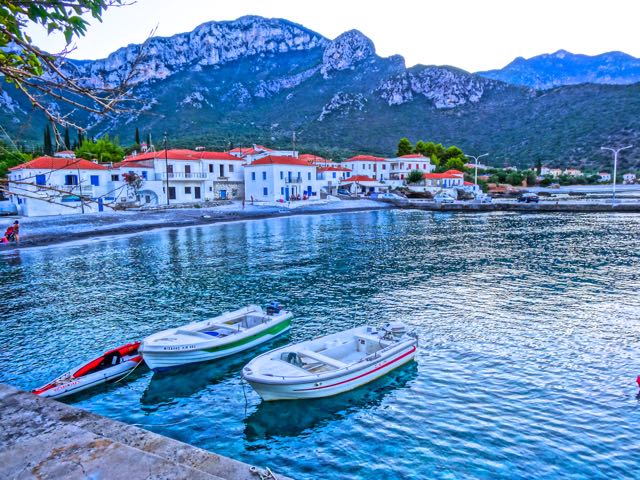 But most people who come to Kyparissi find that using it as a base for daytrips to the rest of the Peloponessos requires a little more driving than they like to do on holiday and instead explore the area on foot, swim, eat long lunches while drinking local wine and then taking a nice siesta in the afternoon. If you are a reader you don't have to worry about running out of material because Yiannis and Esther have collected a pretty impressive English language library of paperbacks. There are numerous trails that lead to small churches, hidden springs, remote beaches, caves, forests and of course the abandoned village of Kapsala, now used by a few of the remaining Mavromichalis clan for summer homes or to be close to their farms and sheep. The best time for me is dinner when you can't help but strike up a conversation with any foreigner who may be sitting nearby in the restaurant, some who come by sailboat, some who like you, came because they read this, and some because they have been coming here for years and have a family house here. (I am one of those people.)
Getting to Kyparissi and Where to Stay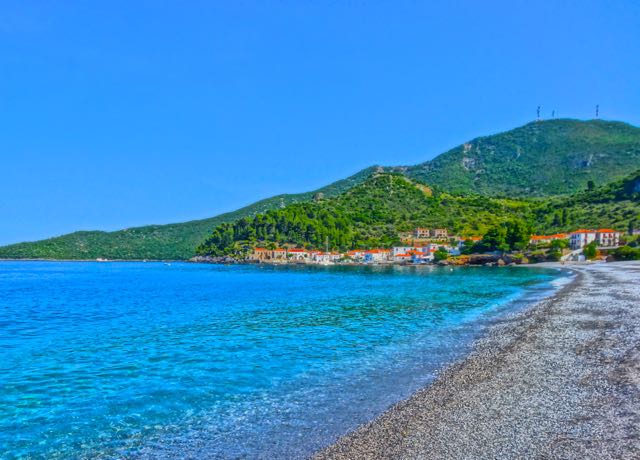 Going to Kyparissi for a holiday you need to plan on staying here at least five days and you will need a rental car and you will need to know how to drive it. Few if any travel agencies book hotels in Kyparissi and most have never even heard of it. If you try to book through a travel agency you may find yourself in the town of Kyparissia on the west coast of Greece which is a whole different thing. Your best bet is to book directly with Yiannis and Esther at Kyfanta Apartments and if they are full they can find you a room elsewhere. You can also find rooms by using Booking.com's Kyparissi Page. For car rentals I suggest Swift Rent-a-Car in Athens and they will drive you out of the city to the National Road and at least you don't have to worry about that part of the journey. The trip down is pretty easy as far as Tripolis where it is a brand new highway which is only crowded on holidays. From Tripolis you get on a smaller road to Sparta and from there you can turn left towards Geraki and follow your map, or go south towards Githion and then follow the signs to Skala and then to Molai and from the main road find the turnoff to the road that goes to Kyparissi. You will need a map, especially from this point on. The roads are good in terms of the pavement. There is little traffic and should take about an hour from Molai until you reach the sea in very dramatic fashion and then take the narrow road along the edge of the mountain. There is a small Byzantine church right at the opening to the sea where you can stop and take a break, gather your courage, say a prayer and then continue for the last harrowing twenty minutes. Once you get to Kyparissi you will see that it was all worth it and really the only scary part was thinking about it. You can also take a taxi which will cost you a couple hundred euros but you get to sit back and enjoy the trip. (See greecetravel.com/taxi) The only other option besides driving is to take a water-taxi from Spetses which will take about an hour and cost in the neighborhood of about 200 euros, which can be split between people since it is per trip and not per passenger.(Call Alex at (30) 6945901110) No matter how you end up getting here, once you are here you will realize this is a special place and want to stay as long as you can, if for no other reason to avoid the long trip back.
In the fall of 2015 they completed the road from Leonideon to Kyparissi. Well they connected it anyway. I don't know how complete it is but it is worth a shot.
Kyfanta Walking Tours: Explore the beautiful wildlife on the paths around Kyparissi, a one-week walking holiday during March, April, May, June, September and October for €600 per person, including transport to Kiparissi, meals and accommodation.
Watercolor Workshop with James Foot in Kyparissi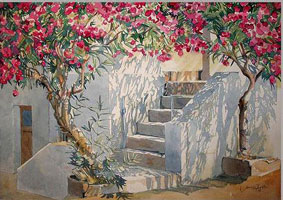 This year the workshop is to be based in Vrissi, the upper village of Kyparissi, and will be in and around James' garden focusing on light and shade, colour and views across the roofs to the panoramic landscape that surrounds the village. Accommodation provided will be in shared houses near to the workshop. It will be conducted in English - though James also speaks some Greek - and each day will begin with a homemade breakfast at his house. The overall fee including transport to/from Athens airport is 700 euros. All materials, paint, brushes, pencils and paper are included in the fee - as is breakfast. We meet at James' house every morning at 10am, eat, and then he leads with an hour-long demonstration before setting people to work individually until 2.30pm. He will circulate offering help and advice throughout. Students are free in the afternoons to continue painting, walk, lunch or swim and then wee re-meet each evening at 7.30pm on James' terrace for a crit/discussion of the achievements of the day over drinks. For transport to the workshop the rendezvous is 5pm at Door A of Athens Airport Arrivals. Transport returns students to the same spot by 12 midday on Sunday. If students would rather organise their own accommodation at rooms or hotels down by the sea contacts and numbers can be provided.