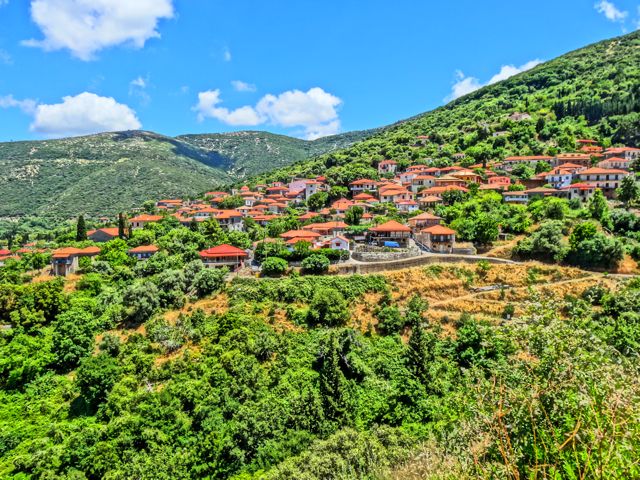 The Peloponessos is full of mountain villages. But most of them don't have hotels and the only foreigners besides Albanians or other laborers are somehow connected to the village through blood or marriage. Visitors to Greece who want that mountain village experience may find themselves feeling lost and isolated in a town with no hotel, no restaurants and no way out until the next bus comes, if there is one. Clearly you can't just pick any village by throwing darts at a map and expect to have a wonderful experience. You want to visit a place that has all the charms of a traditional Greek village but at least some kind of tourist infrastructure, at the very minimum a xenon (community run guest house) and a cafeneon that serves food.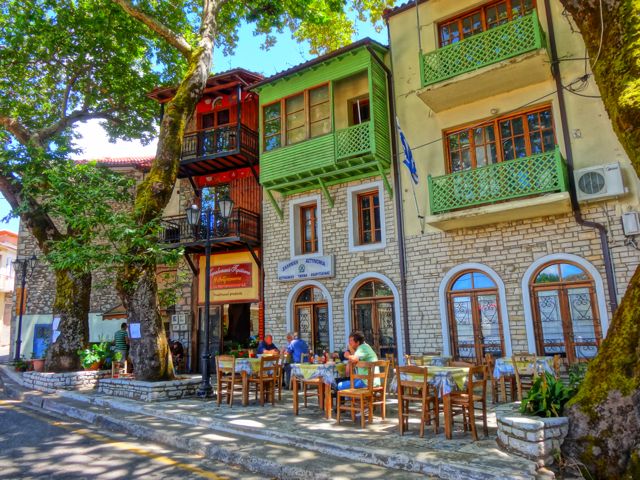 The town of Andritsina sits near the top of a high hill in the Municipality of Andritsaina-Krestena on the western edge of the middle of the Peloponessos, within an hour of Sparta, Olympia, Kalamata, Tripolis and not more than two hours from anywhere else you might want to be. Being a mountain village there is no beach to attract the tourist hordes. It's a place people pass through and stop in the square for a coffee or even lunch, rather than a destination. But it is a lovely village with traditional architecture, a couple small platias, and a pleasant climate several degrees cooler than the seaside and lower altitudes. If you are looking for a place to meet like-minded people who want to be in a traditional Greek village, just for the sake of being in a traditional Greek village, or if you want to go somewhere that you don't have to speak to anyone except the locals, then Andritsaina fits the bill.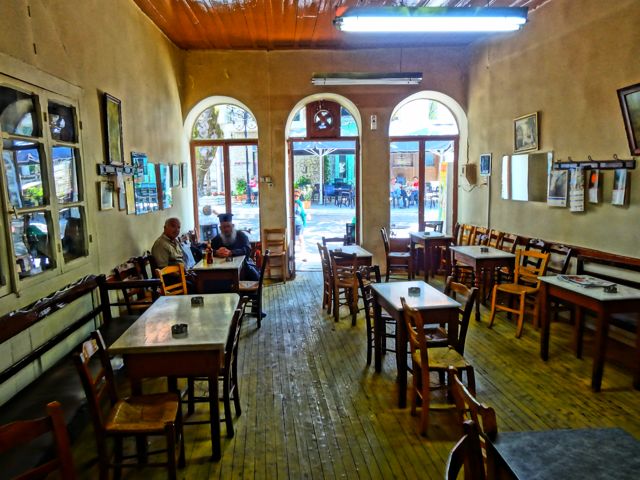 Andritsaina has a number of historic mansions, the first fountain in the Peloponessos, (I Trani Vrysi) built in 1724 in the main square, and the Nikolopouleios Library, founded in 1854, which contains a collection of rare manuscripts from the 16th and 17th centuries as well as other important documents and artifacts relating to the 1821 War of Independence. Of equal importance is one of the best examples of an old village cafeneon with high ceilings and wooden floors and a colorful clientele.
There are a couple other restaurants in town that are a cross between a psistaria (fastfood-grill house) and an estiatorion (traditional family-run restaurant) featuring souvlakia, kalamakia, loukanika, and other fast-foods, as well as paidakia (lambchops), brizoles (pork or beef steaks) and the usual oven dishes, salads and local wine, served in a lovely setting under a large pine tree.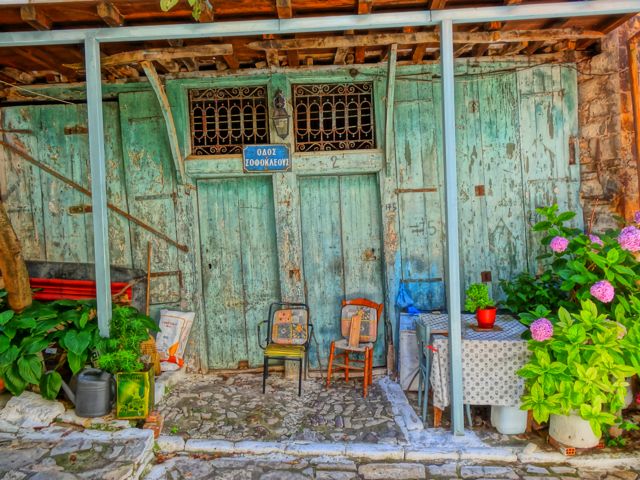 So what does one do in a village such as Andritsaina if he is there for more than the time it takes to get a coffee or have lunch? You can wander around the narrow streets of the town, and say hello to the villagers and perhaps engage them in conversation should they speak English, which in these Peloponesian villages many people do, some better than you can imagine since so many of them have lived in Canada and the USA among other places. You can sit in the platia with a book, or meditate, or watch the cars and people go by or visit the small shop that sells traditional goods or visit the small Folklore Museum. Or you can explore the surrounding hills and trails.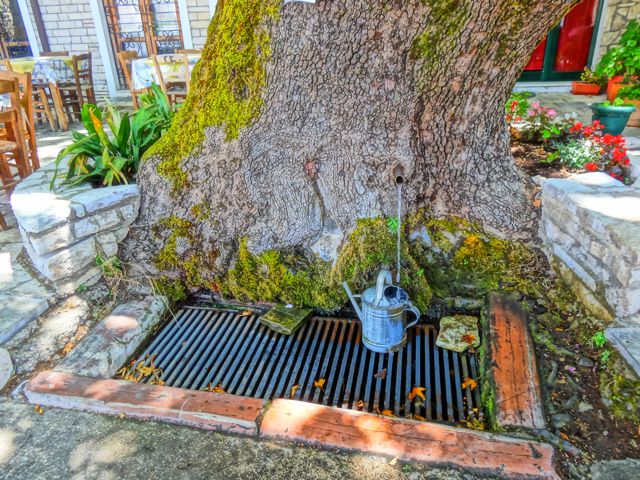 The primary tourist attraction of the area is the Temple of Apollon Epicurius at Bassae, one of the few temples in Greece that is indoors, under an enormous tent. Ironically the other tourist attraction is the outdoors: wildlife and walking trails and the nearby Alfeios River, the longest in the Peloponessos and popular with adventure travelers for white water rafting and rock climbing in the narrow gorge. There is one more tourist attraction that I should mention. Andritsaina has a spring or two that run through the village, feeding the historic fountain and a couple other places. But the one thing that everyone who visits the village remembers is the large platanos tree with the fountain in it. It is the first thing they look for when their journeys bring them back to the village. It will probably be the first thing you look for when you visit for the first time.
Andritsaina being a small town, does not have many hotels. Archontiko is an 1865 stone-built mansion offering traditional rooms with free Wi-Fi. It has a restaurant and a warmly decorated living room with fireplace. It also has Free Wi-fi which can be very important in a small village. On the other hand the town of Dimitsana has a number of hotels which you can find on Booking.com's Dimitsana Page. Have a look at the Archontiko Deligianni, an elegant hotel in the center of Dimitsana in an 18th century complex of buildings that is highly recommended.
Help Support Matt's Greece Guides
Do you enjoy using my site? Have you found it entertaining as well as useful? If so please show your appreciation by booking hotels through the travel agencies and the links found on my Hotels of Greece site. The small commission I make on the bookings enable me to keep working and in most cases you won't find them any cheaper by searching elsewhere. You can find hotels in Greece by location, price, whether or not it has a swimming pool, and see photos and reviews by using this link to booking.com which also contributes to my website when you book. If you are appreciative of all the free information you get on my websites you can also send a donation through Paypal or Venmo
Join Matt Barrett's Greece Travel Guides Group on Facebook for comments, photos and other fun stuff. If you enjoy this website please share it with your friends on Facebook and other social media.