Geraki: The Mysterious Lost Village of my Childhood
One of the unsolved mysteries of my youth was where was the ruined city in the Peloponnesos that we had visited in 1963?
When my family lived in Athens in 1963 we didn't have a car. We didn't have a television or a refrigerator either. Few people did. There was only one TV channel anyway. To keep food we had a wooden icebox. Once a week a man on a cart pulled by a white horse delivered a big block of ice to our 4th floor apartment. The water that came out of the little tap was colder than the coldest water fountain, though I don't know how safe it was to drink. None of us died though. Not from that or the un-pasteurized milk we had to boil before we drank it. It was a magical time when many streets in Athens were unpaved, rivers and streams were uncovered, and shepherds and their dogs herded their flocks into empty lots that within a few years would become apartment buildings.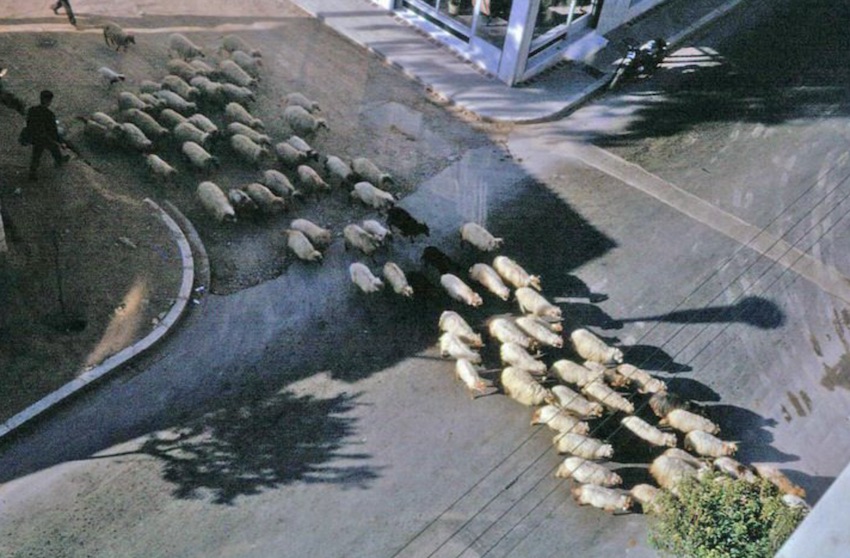 But as Spartan as our life in our Athens apartment was, we were still living in the 20th century. But in Zarafona, the village where my grandfather was born, they did not even have electricity. And two months after our arrival in Athens my father borrowed a big American station wagon from some US Government agency, piled us into it and drove off to the southwest Peloponnesos.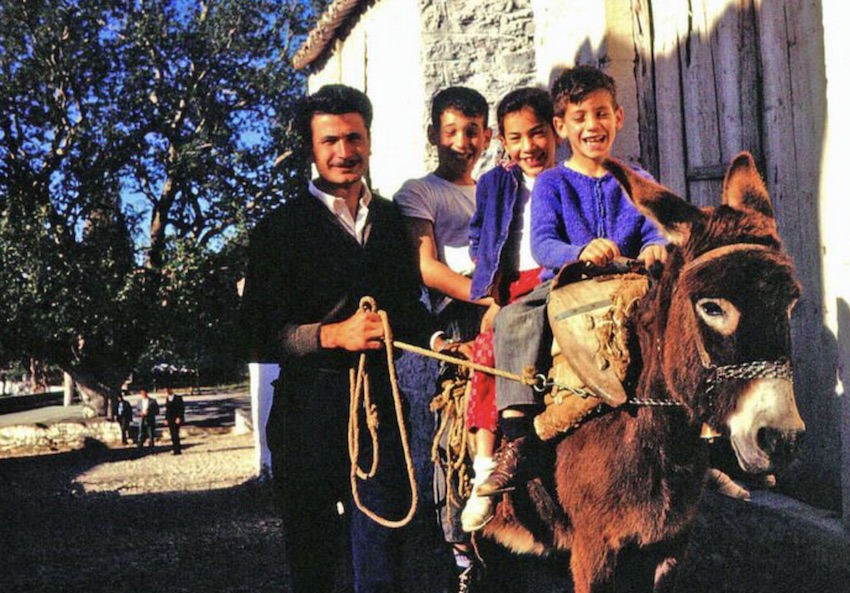 Zarafona 1963
Zarafona, also called Kalithea, is in Lakonia, on the southern side of Mount Parnon, on the edge of Arkadia. As the crow flies it is about 40 kilometers from Sparta to Zarafona. But unfortunately, unlike crows, cars don't fly and in 1963 it was a two hour drive on a winding dirt road that followed an ancient footpath, barely maintained, even washed away in spots, covered in large stones. The local bus that went to Sparta once or twice a week was a Land Rover with giant tires and about 3 feet of clearance. Our car was the opposite, an urban vehicle loaded down with 4 unhappy children, two beleaguered parents, and a load of books my father had collected for the local one room school in the village, with about 6 inches of clearance which was about one inch less than the smallest rock on the road. It was slow and painful but we eventually got there and were treated like returning conquerors. Goats were slaughtered and we feasted daily with relatives we had never met before but knew who we were since they had photos of us proudly displayed on mantelpieces and tables. The family who had gone off to America in 1915 had returned.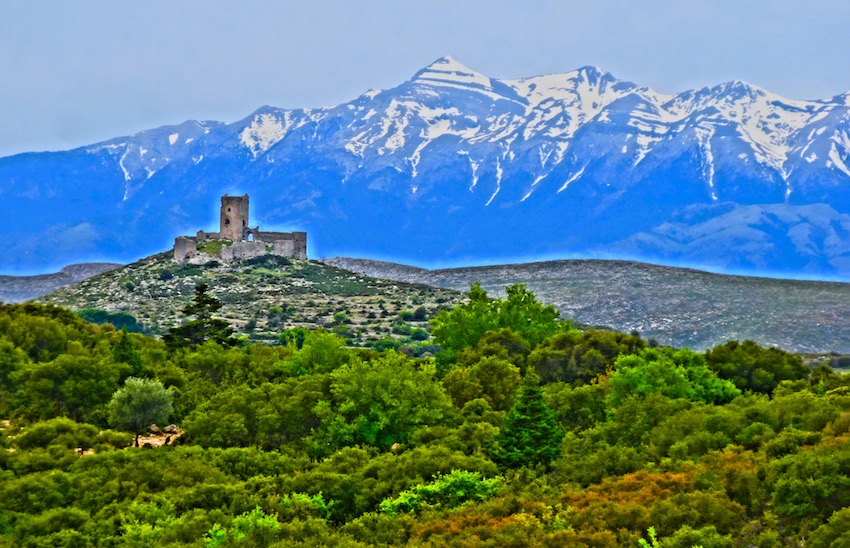 Zarafona Castle
While our parents drank wine and talked with the relatives we kids ran freely around the village, chasing lizards and baby chicks, riding donkeys, mules and horses, and doing all those things Greek American kids do when they visit the ancestral village. There was no running water in the houses but there was a spring that gushed from a fountain next to a very old Byzantine church, Kimisis tis Theotokou, where the women of the village went with their buckets and jugs to bring water for their homes. There is also a castle on a hill a mile or so outside of town which was probably built in the 15th century by the Byzantines, according to Kevin Andrews, though many people will tell you it is a Frankish castle, like so many others in the Peloponnesos.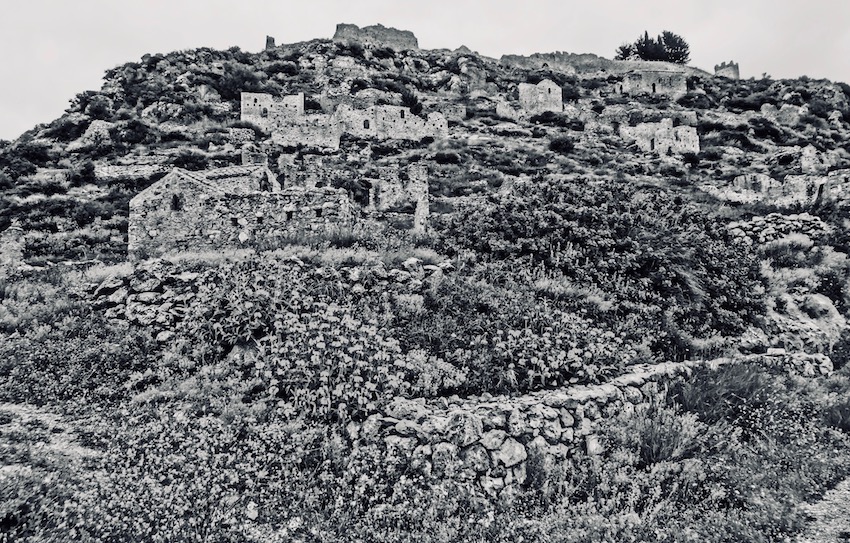 One day we got in the car and drove to the ruins of a city on the side of a mountain. I remember walking to the remains of churches and other buildings with my parents and my father's cousin Niko, the adults talking about history and local lore and me looking for lizards. For years after that I thought we had gone to Mystras, though when I thought about it, the likelihood of getting in the car and driving back the way we came for two hours to spend half an hour wandering around a ruined city was pretty slim. So it was one of the unsolved mysteries of my youth. Where was the ruined city we had visited in 1963?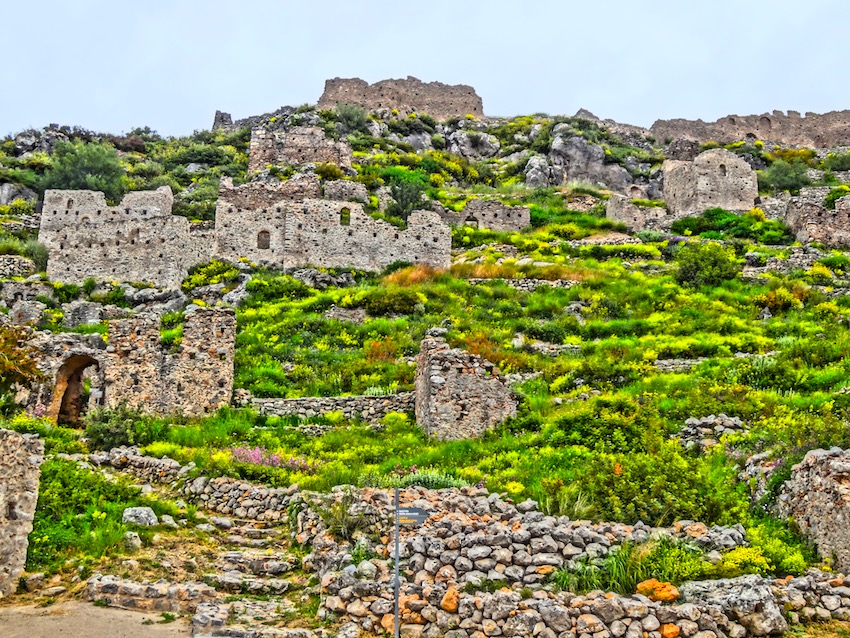 It was not until many years later I found the answer on a trip from Athens to my grandmother's village of Kyparissi, when we drove through the agricultural town of Geraki, a few miles from Zarafona and saw a hand painted sign on the road that said TO THE KASTRO. We turned onto a dirt road that climbed a small mountain and suddenly there it was. The lost city of my childhood. The Castle of Geraki and the Byzantine town below it, which looks like a smaller version of Mystras.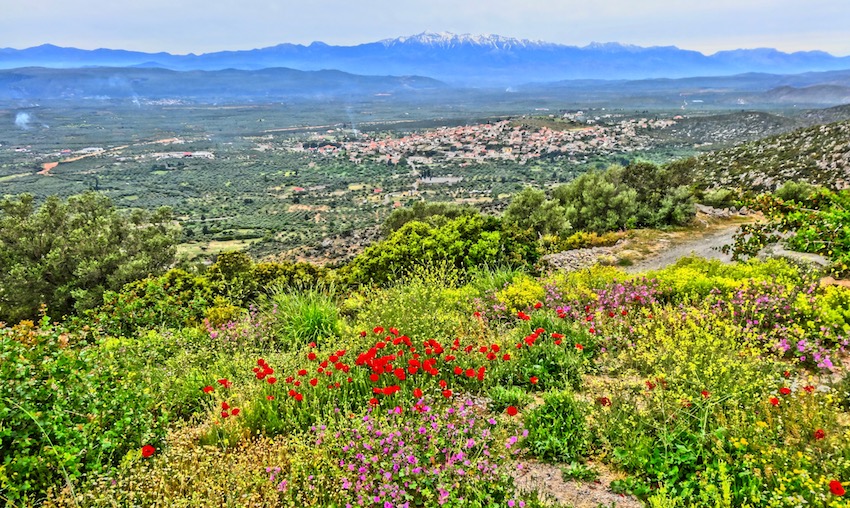 The castle was built by the crusaders in the 13th century, part of the Frankish Barony of Geraki until it fell to the Byzantines later that century. The nearby village of Geraki sits on the ancient town of Geronthrai which the Dutch archaeologists have been excavating for many years. Both the castle and the town overlook miles and miles of olive groves and olives and olive oil are what makes this busy town tick. You can smell it as you drive through or wander around the industrial area below. There is a beautiful platia and several cafeneon and restaurants and if you are brave enough to drive your car into the village there is parking right by the square.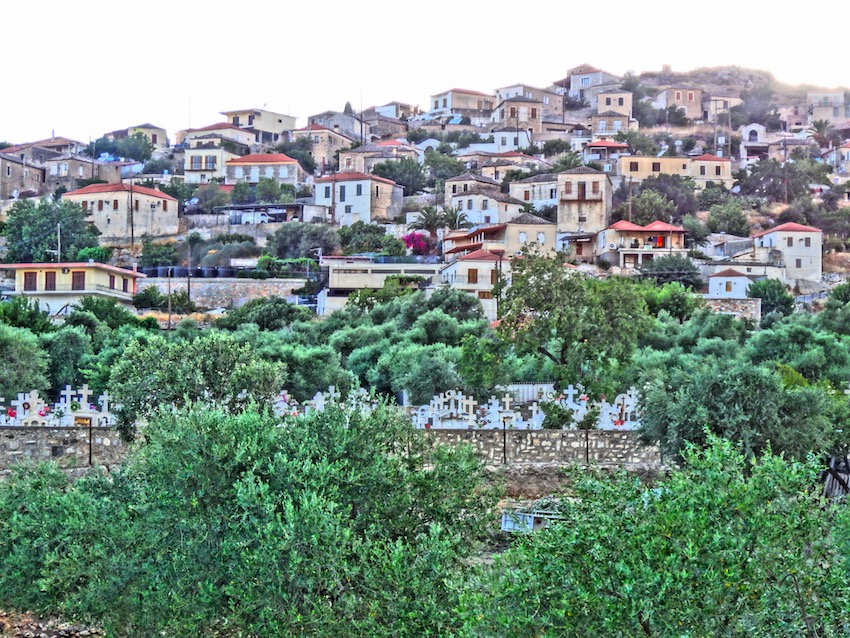 In the years since we rediscovered my mysterious village there has been much money spent on the castle and Byzantine town. Gone is the hand painted sight, replaced by an official sign like you see all over the Peloponnesos that shows you the location of every castle, sanctuary, church or archaeological site no matter how big, small or significant. There are stone paths where there used to be dirt and rocks, and even a small museum and a parking lot.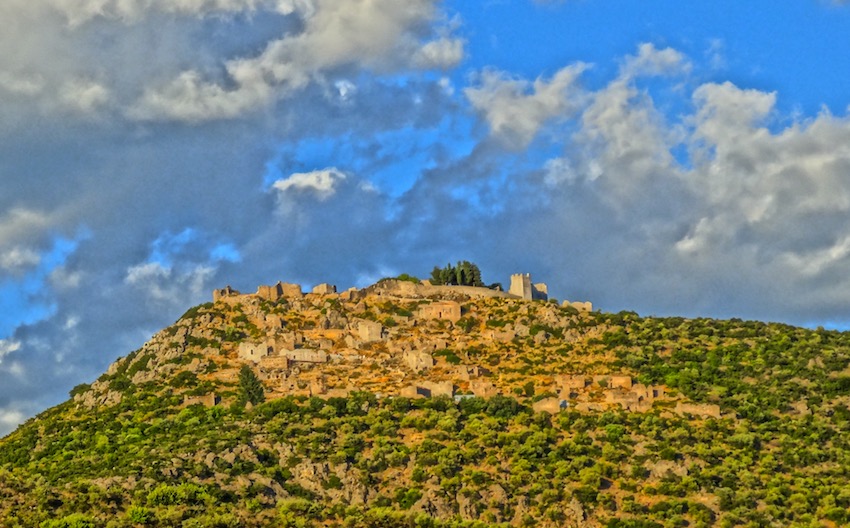 The last time we visited we were torn about whether or not we should stop in Zarafona to see my relatives. It's tricky because my cousins were now old and slept in the afternoons and we always seem to pass through right at the time they are sleeping. But when we told the girl in charge of the site that I was from Zarafona and it turned out she was the next door neighbor of my cousin Niko, we knew we had to go there whether we woke him up or not, because if he heard I was in Geraki and didn't stop in he would be deeply hurt.
So even though we had a long trip to Athens ahead of us we went to Zarafona, and yes we did wake him up. But we spent a couple hours talking happily about family, and he gave me the phone numbers of relatives in Athens, England and Chicago, and we left with a car full of amazing local wine, cheese and olives. And it was a good thing that we visited my cousin Niko because the next time we came he was in the hospital and not long after that he died. But if we hadn't been spotted in the mysterious ruins of Byzantine Geraki we would never have seen cousin Niko again. And if you remember, he is the one who brought me there in the first place. But in Greece these things happen.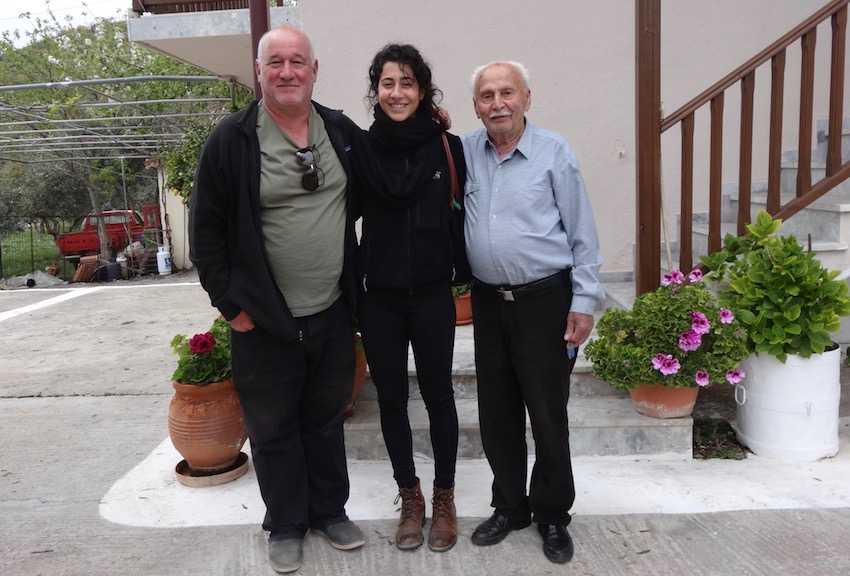 Matt and Amarandi Barrett and my cousin Nikos Oikinomopoulis