In my opinion there are several ways to really see the Peloponessos and experience all this region of Greece has to offer...
You can rent a car, which will give you more flexibility. If you are planning to rent a car and drive from Athens to Peloponessos check out Swift Rent-a-Car. They will pick you up at the airport or your hotel and drive you to the National road and let you by-pass the notorious Athens traffic. Great prices and very nice people. See their website at www.greektravel.com/swift

You can use a driver like George Kokkotos the Famous Taxi Driver who can do one day trips from Athens or overnight journeys. This will give you more of an understanding of the area because he can translate and act as a host/guide. The more people in your party contributing to the fare the more of a bargain he becomes since unlike a tour he charges by the trip and not by the person. See www.greecetravel.com/taxi

You can also use public transport, which in the case of buses and bus stations may get tedious, but in the case of the wonderful little trains would be a joy depending upon how crowded they are when you go and whether or not the Greek train system is still in business.

You can also just pick one perfect place with clean sea, a nice stretch of golden sand, some excellent tavernas and some nightlife and just veg out and do nothing but enjoy. You can find hotels on Booking.com's Peloponessos Page. For my choices of the best hotels, apartments, villas, and holiday homes in the Peloponnesos see my Hotels of Greece Peloponnesos Page

You can do the various excursions offered at www.greecetravel.com/trekking


For Hotels in the Peloponessos see Booking.com's Peloponessos Page which has many hotels with descriptions, rates and lots of photos and you can book right away instead of waiting for a reply from a travel agent or hotel.

For a nice family run hotel in a quiet seaside village that you won't find in any travel guides stay with Yannis and Esther at The Kyfanta. You will need a car.

For tours, hotels and transportation in the Peloponesos contact Kostas and Aliki at Dolphin Hellas Travel in Athens or Athina at Fantasy Travel and have a look at their mainland tours.

The ferry Vicentzos Kornaros" runs from Gythion to Kissamos, Crete every Thursday at 15:00, and from Gythio to Kissamos every Thursday at 8:30am and every Sunday at 17:00 to Monemvasia.
Another excellent way to see the Peloponessos is to start your trip from the Island of Poros. It's close enough to be in Athens in an hour by Hydrafoil and it is only a five minute boat ride to the town of Galati on the Peloponessos.
For more info see Poros: The Athens Alternative

In Conclusion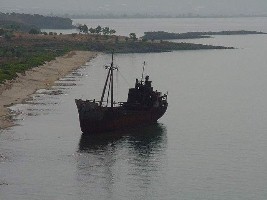 It is really beyond the scope of this web page to be a guide to the Peloponessos. It is merely an introduction to the area based on my experience and I encourage visitors to read up on it even though you could conceivably wing-it armed only with a printed out copy of this and those pages I have provided links to. This is a continuing work in progress and everytime I go to Greece I take a trip to the Peloponessos and add something to this page so keep coming back.
For those who want more information other suggested reading is Patrick Leigh Fermerís Mani and Flight of Ikarus by Kevin Andrews, both informative and very entertaining though they won't be of much help since they were written over sixty years ago.
Any questions or comments? You can e-mail me at greecetravel1@aol.com
Be sure to see my Photos of the Peloponnesos
More Helpful Sites
Swift Car Rentals, George's Taxi Tours, Hotels, Athens Guide, Travel Agents, Mainland Guides
Help Support Matt's Greece Guides
Do you enjoy using my site? Have you found it entertaining as well as useful? If so please show your appreciation by booking hotels through the travel agencies and the links found on my Hotels of Greece site. The small commission I make on the bookings enable me to keep working and in most cases you won't find them any cheaper by searching elsewhere. You can find hotels in Greece by location, price, whether or not it has a swimming pool, and see photos and reviews by using this link to booking.com which also contributes to my website when you book. Join Matt Barrett's Greece Travel Guides Group on Facebook for comments, photos and other fun stuff. If you enjoy this website please share it with your friends on Facebook. If you are appreciative of all the free information you get on my websites you can send a donation through Paypal or Venmo