A Guide to Kardamyli by Dave Rochelle
At first glance Kardamyli is a sleepy fishing village about a one hour pretty, and at times, hair raising drive south of Kalamata. It is the administrative capital of the municipality of Lefktro. Kardamyli has a long and varied history, too much in fact for this article so here is a very brief potted history. There is plenty more online to keep the history buff going.
First mentioned in Homer's epic poem the Iliad, written about 1200bc, it was offered to Achilles by Agamemnon to tempt him back to the siege of Troy. At this time it was the main port of the ancient Greek city-state of Sparta.
Many of the building in Old Kardamyli or "upper village" were built in the Venetian style. You can also see tower houses built by the Niklian clans. At the back of the old town you will find the tombs of the twin gods Castor and Pollux. Pausanias wrote that from the seashore here the Nereids came out to admire the sons of Achilles.
In more modern times it was the jumping off point for the declaration of Greek independence from the Turks, when Kolokotroni and other captains from the Mani marched towards Kalamata on 23rd march 1821. At another time it was known as a base for foreign pirates.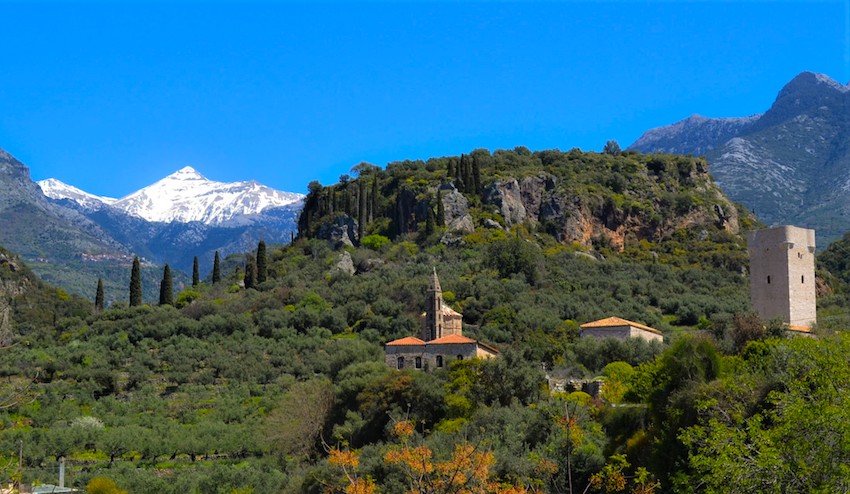 Kardamyli Today
With a population of about 400 this number doubles when the tourists arrive between April and October, and peaks at about 1200 at Easter, the Kardamyli International Jazz Festival, and during August. It sits beside the sea with the Taygetus mountain range reaching to 2400 meters at the very back of the village.
The village centers around the high street where you will find upmarket boutiques, cafes and bars. The older buildings in the main town tend to be around 300 years old and are built from local stone. There are no high rise or large scale tourist developments and the hotels and guest houses blend in with the local architecture, the only 3 story buildings are the Maniot tower houses in the old town.
At one end of the high street there is the port, the other end the main village square with its cafes, shade trees and the main church. If you take the left directly after the church this will take you to the village beach "Ritsa" with its cafes, tavernas and a few sunbeds. Turning right at the platia will take you into the old town with its tower houses and the Byzantine church of St Spiridon and tiny museum.
Take any street off the main street and you will be lead down to the sea where tavernas and bars are waiting for sunset.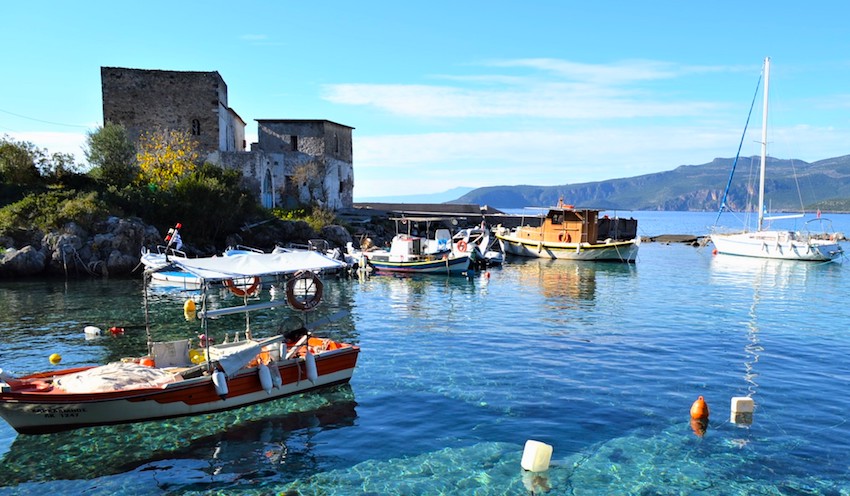 The atmosphere of the village can be a little hard to pin down; if you're in Mikalis' cafe neon you would call it old fashioned, if you are sipping a Freddo espresso at Cafe Andruvista watching the world go by you would call it laid back, if its August at 2 in the morning at Aquarella when the crowd is mostly young and hip it feels decidedly Ibitzaesque.
It also depends on the season. At the start and end of the tourist season we get lots of walkers, especially from the Nordic countries, but in July and August when the well-heeled Athenians come down to mix with the Italians and French who arrive for high summer, it can feel like a mini St Tropez.
Over the last few years Kardamyli has been in the spotlight a little. It was the setting for a Greek TV Drama, then the recent film Before Midnight was set and filmed in and around the village. It has always been cosmopolitan, and some people have complained recently that Kardamyli is going a little upmarket (we now have wine bars), becoming "chic" and they worry that it will lose its charm. But so far, so good, it's been done with style not greed, and the consensus is that Kardamyli is a Greek village first and a tourist destination second.
Aristotle said "Love is when one soul inhabits two bodies " and those lucky enough will know this to be true. Kardamyli I think has a soul, a vibe, and a feel that inhabits the old and the new in perfect unison.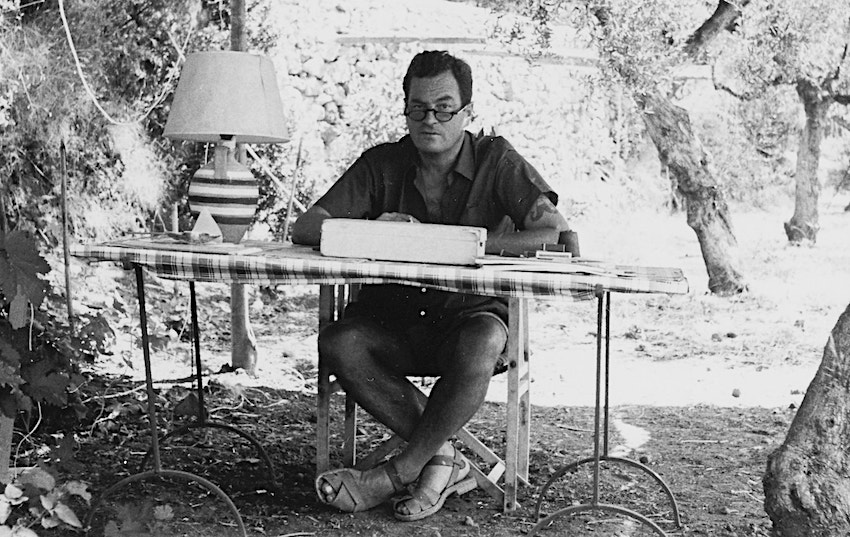 Just outside the village, in the hamlet of Kalamitsi, the house of the writer Sir Patrick Leigh Fermor and his wife Joan can be seen. Built from local stone and in the local style, it was built in 1959 but you would be forgiven for thinking it's much older.
Leigh Fermor was made an honorary citizen of the village for his work with the Greek resistance during WW11, during which time he captured the highest serving German officer in the war. This mission was later, in 1957, made into the film Ill Met by Moonlight and Leigh Fermor was played by Dirk Bogard. His books about his travels in Greece Mani: Travels in the Southern Peloponnese (1958) and Roumeli: Travels in Northern Greece (1966) are considered by many to be the best travel books about Greece. A Time of Gifts – On Foot to Constantinople: From the Hook of Holland to the Middle Danube is about his walk from Holland to Istanbul, Turkey.
I am told that the house that was gifted to the Benaki museum will be for short term rent, and information about visiting the house can be found at the Benaki museum web site.
Throughout history people have written about the beauty of Kardamyli, my personal favorite being Charles Robert Cockerell, the British architect and romantic, who in 1802 whilst on his Grand Tour described Kardamyli as: " Indescribably picturesque", burdened with flowers, lapped by the sea, surrounded by olive groves and clumps of cypress trees, overhung by cliffs and escarpments on which perch tiny domed chapels".

Discovering Kardamyli
We had spent some time away from Greece, had a break if you like. We had been Grecophiles for years even living in Greece in the mid-nineties. But I had become a little disillusioned; I had seen islands I love become commercialized. So we had some years out, and I have to say had a great time in France, Italy and India. But then we had a hankering for Souvlaki, chilled Retsina and the smell of Jasmine, the goddess had read about Kardamyli in a magazine called Food and Travel.
When we arrived I have to say I did not get it, it took a few days to kick in. That was I think due to it not corresponding to normal Greek resort rules.
It had a port but the port had no bars on it, the center seemed to be the high street, away from the sea. The restaurants and bars had no one saying 'yes please', the tavernas, more often than not, had no menu posted outside and some had no menu at all. Most of the shops, tavernas and bars closed for siesta, between around 2 in the afternoon till 6; it was like a ghost town! It seemed as if the Gods had picked up a mountain village and laid it by the sea. I had to buy a paper to check the date.
A few days later I went for an early evening stroll.
I remember it almost like a dream; I am walking down tiny Troupaki Street towards the sea and I can hear the drum of cicadas, the chirps of caged birds hung outside in the shade, my footsteps on the cobbles and, in the distance, goat bells. The late afternoon light begs for a lens, I can smell the sea and wild herbs on the warm breeze. One of the tavernas is cooking lamb; I make a mental note that's what I am eating this evening. I feel my heart cross to the sunny side of the street and suddenly I am back, back in the country that I love, the Greece that I had been missing and pining for.
It has changed a bit since but still has the same feel, well, outside of August…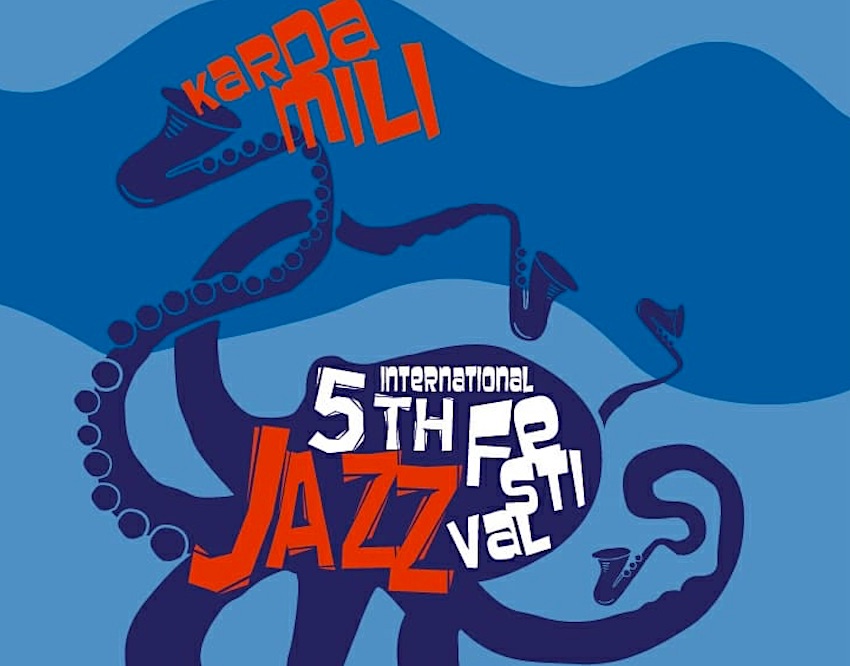 Jazz Week
For the first full week of May every year Jazz comes to town getting the season off to a swing. What started as a few Norwegian Jazz fans getting together with a few locals has now become a phenomenon that has got bigger and bigger as the years pass. Now we have artists from all over the world flying in and its new title is "The Kardamyli International Jazz Festival".
At any time of day during the week there will be a choice of gigs; you may be in one bar listening to guitarist playing Brazilian Bosa Nova then wander around the corner and find a band from New Orleans playing Trad jazz. Even if you're in a bar or shop that does not have a live performance for that week they will have their music tuned to the jazz channel.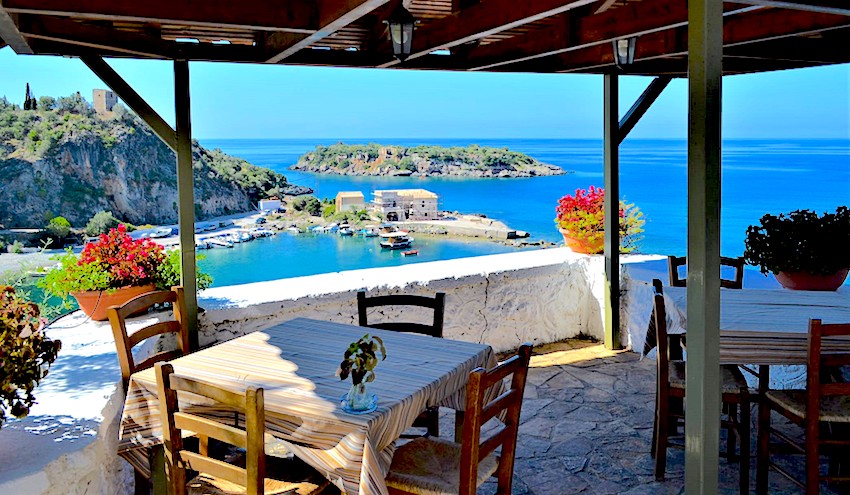 Eating and Drinking in Kardamyli
There is something for every purse in Kardamyli whether you want to eat a simple Gyro Pita costing 2 euro or sample a posh meze while sipping a glass of chilled Moschofilero as the sun sets costing, well, a bit more.
Dioscouri Café
Not really a cafe, more a taverna, it lies about 100 meters south of the village up the hill, overlooking the port and Meropi island. It has undeniably the most picturesque setting in the village. From its terrace you can look down on the aqua waters of the port and try to spot the sea turtle which hangs around the fishing boats. I have begged for years for the recipe of spaghetti with shrimps, but to no avail. I know in spring and autumn it is made with the deep sea, red shrimp, and I can taste ouzo and garlic. Whatever, it's delicious! They also have a good reputation for their grill and fresh fish.
Kritamos
On the main street opposite the town hall is often overlooked for food. This is because at first glance it looks like a cafe and a lot of the locals often use it as such. In fact, I am writing this sat in Kritamos with a Freddo now, but the food is a real find. The menu was designed by an Italian chef, so it is my go-to place for Carbonara cooked in the Italian style. This can be served with a raw egg yolk as an accompaniment if required. The risottos are also a nice change and the homemade burgers have a real following. Live Greek music every Wednesday night and a good but not cheap Greek only wine list. Great service.
Harilous
Boasts a fantastic position and is stylishly decorated, overlooking the dock (where the locals choose to swim from in summer) the island and port. A few daily specials, fresh fish and grill, but it's their steamed mussels served in the French style with white wine and garlic that are a must, on their own or over tagliatelle, a perfect summer lunch.
Tikla Cuzina and Wine Bar
Wine bar/lounge bar with innovative food. Try starters such as the tartar of raw salmon and tuna with avocado and lime, or grilled salmon steak with quinoa. They have a massive Greek and international wine list which is stored in a climate controlled wine cellar. The place to be seen in high summer.
Aquarella Cocktail Bar.
The trendy beating heart of Kardamyli for the hipsters and the in-crowd. Great for cocktails, coffee or meze. Sits above the rocks, perfect for sunset. In summer they dust off a refurbished VW camper van and guest mixologists come down from the likes of Baba au Rum, the Clumsies and 7 Jokers to escape Athens and de-camp to Kardamyli for the summer. Cocktails are served from its hatch. Regular live music in the summer.
Mr. Michalis Kolonaki Café
Shssssssssh "Tell no one" ….
Lola's Frozen Yoghurt
If you have a sweet tooth this is the place for you. Set in a stylish garden in Kardamyli's prettiest square, with a blues and jazz soundtrack. The homemade yoghurt made daily is complimented by a range of daily deserts such as profiteroles, English trifle, bitter chocolate and almond tart to name but a few. You may struggle for a table in the late evening as most people head here for sweet and digestif after their evening meal. Also open for breakfast and tapa style lunch.
Bar 1866
AKA the Beer Bar. Set in a delightful side road leading to the sea. Serving beers from Greece and all over the world with a Jazz soundtrack, very romantic.
Psaltiras. The Kardamyli Wine Bar and Cave.
Nikos has a knowledge that is second to none when it comes to Greek wine. Whether you want to spend a few euros on a glass or a lot more, here you can match it with a plate of Greek cheese or charcuterie. This bar could have been beamed down from a hip Parisian neighborhood. They also sell organic oil and wine to take out.
Androuvista café
Set in the heart of the main street, with hand-painted tables. This is the perfect place to people watch. You will find interesting salads served with good local wine. The expertly cooked Andruvista omelet is a small miracle on a plate and I love the fact that every time I ask what the pie of the day is Anna does not flinch, appears to wrack here brain, and after a minute replies "zucchini I think". It's been zucchini for at least the last 20 years but I still love this small ritual. It's quite delicious too with just a hint of chilli.
O Psaras (the fisherman)
Set above a small key. As the name suggests it's a fish taverna and Vageli will be proud to open the fish fridge's pull- out trays and open the fish's gills so you can peer inside to check for freshness. But it's not only fish that's good here, the lamb chops are the best I have ever tasted and I am somewhat of a paidakia fiend. The art of getting the inside pink but the outer fat bubbled up like crackling is no mean feat. Rabbit with orange is also one of my default option, and don't forget to ask for the deep-fried melanzani as a side. Ask for this topped with shaved garlic. The shaved garlic is not on the menu but ask anyway, and watch when the heads at the other tables turn around as the scent of the garlic on the hot aubergines wafts around as it's brought to your table.
Gialos
Beautiful setting on the shore with free sunbeds for patrons. The famous British chef Rick Stein had a Mousaka making competition with the owners mum here, he lost. Classic Greek dishes are best here. Look for the scooter.
Lela's Taverna
Look in most guides to Kardamyli and Lela's will be the first place recommended to eat. She did have a rare skill in the kitchen, honed when she was the cook for Leigh Fermor and would cater for Europe's glitterati. Sadly she left us a few years ago and although she is not there, the food is still good and the setting magical.
Elies:
Last but not least. It's hard to know where to start with this one, set in an olive grove by the sea. The food is classic Greek during the day when Fanny is cooking and at night the chefs change and it becomes all-round Mediterranean. Some places just get it right, and this is one of those " Cuisine Correct ", as an ancient French lady whispered to me in a very upmarket restaurant in Paris when my steak topped with bone marrow arrived. And it is, exactly that! But not just the food, the setting and the service too. I don't even want to recommend a dish here as they are all that good, just try it. Oh all right the slow-cooked lamb in the oven, no wait, what about the pastitsio, or …..
Best of the Rest:
For traditional dishes Kiki's has a view of the mountain, while Skaramoula is a garden taverna by the main square. For souvlaki you have 2 choices: Kardamyli Souvlaki on the high street and with a garden behind (serves whole roast pig in August), and Tylixto with its view of the old town and mountains behind. For laid back bars try To Aloni, Bonatsa or the Platia cafe. On the beach there are also several snack bars where you can enjoy a sundowner, and a very cute Cantina that does a mean Mojito as the sun sets.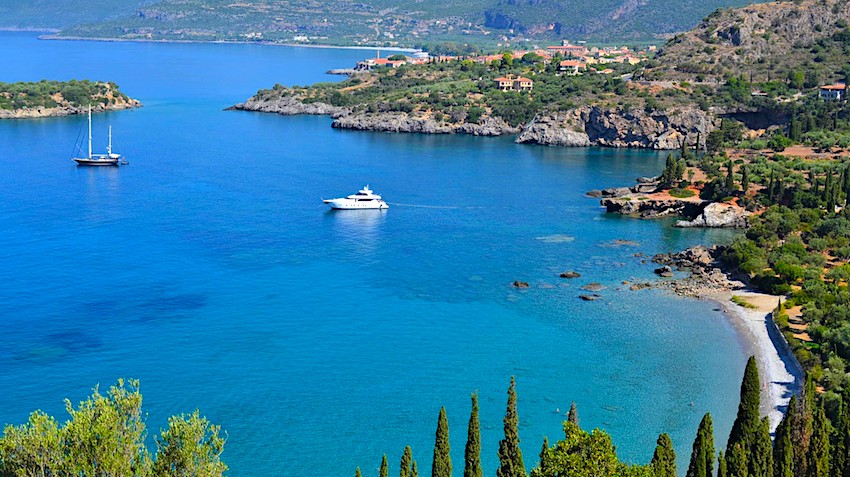 Swimming in and Around Kardamyli
Ritsa is the main town beach. You simply turn left directly after the church and it's about a mile long with a mix of pebble and sand. This changes each year because of winter storms and places that were sand last year may now be pebble and vice versa. It has a selection of tavernas, cafes shacks that offer free sunbeds to customers and there is now disabled access at the far end of the beach near Elies Taverna. The sea is clear turquoise and as you swim you can look back and see the Taygetus mountain range to the rear of the village. This can sometimes keep its cap of snow till late May. It's a strange feeling swimming when its 30 c and looking up at snow-capped mountains.
Kalamitsi is a ten minute walk south of the village and everyone's idea of the perfect Greek beach; a crescent of crystal clear aquamarine water backed by cypress trees and olive covered hills with virtually no development. However there are no facilties here or shade but on the upside you often have this perfect beach to yourself.
The secret beach …. Sorry it's a secret.
Psaras Beach is a tiny one next to the taverna O Psaras, with sunbeds and umbrellas free for patrons. Find the kiosk in the Platia, head to the sea and there it is, good snorkeling.
The jetty in front of Harilaos taverna is where the locals go to swim, it has 2 sets of ladders into the sea. Because of its situation, hemmed in by the port and Meropi island, with tiny Tikla beach next to it, it's like a small lagoon and perfect for snorkeling. In summer it can feel like the Mediterranean 50 years ago.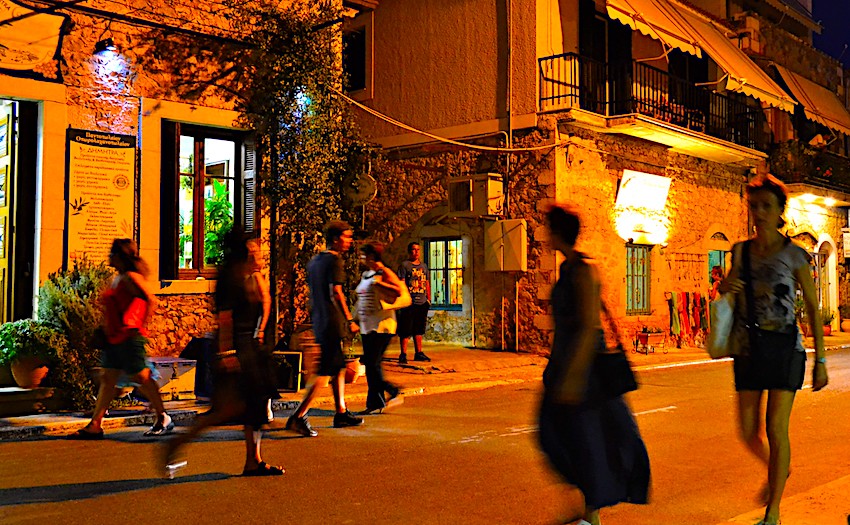 Shopping in Kardamyli
Shopping is varied and imaginative, whether you are looking for boutiques, artisanal products, handmade glass or organic food and wine, so much so that we will give one or two our attention to help give you a feel for the place. The shopping high street blends organically with the beach and leisure areas making it effortless for the holiday-maker to combine the two.
The Bead Shop: A collection of beautiful handmade beads from Greece and around the world. Here you have the option to buy the jewellery made by the talented owner who has an international following, or if you feel inspired you can buy the beads and materials to take away and create your own designs. There is also a collection of beach wear, sarongs, scarves, and incense in keeping with shops' bohemian feel. All products are ethically sourced and recyclable. Due to her popularity the owner only takes commissions for individual pieces outside July and August.
Kardamyli 2407. A gold mine for anyone into sports. It not only sells sportswear, cycling, running and climbing gear, from trainers to ropes, but they also rent bikes and organize a range of activities. Whether you would like to do your first rock climb, go sea kayaking, or a jeep safari to the high Taygetus Mountains, these guys can organize it.
Dimitra Bio Shop run by a husband and wife team. The husband is the local bee keeper and olive farmer while the wife gathers local herbs and produces natural cosmetics from the local flora etc. Everything here is not only organic but sourced from the local area. Sometimes the bee hives will be moved into an orange grove to gather honey with the scent of orange blossom, another time up into the pine forest. Whether you are looking for honey, olive oil, mountain tea, Kalamata olives, or locally gathered Oregano, in this shop provenance is king.
The village has three supermarkets: two on the north edge of the village and one in the center. On the high street there is a butcher whose meat is locally sourced, a few hire car companies (so if you tire of the beach you can explore the mountain villages), a pharmacy, a couple of estate agents, a hair dresser, a travel agent, and a hardware store that is an Aladdin's cave. You will find everything and anything here including the men who hang out when their wives and girlfriends are shopping for beach wear or jewelery! There are a sprinkling of ATM's throughout the village.
And for everything else there is of course the kiosk ( To Periptero ). From cigarettes to drinks and snacks, phone cards, pens, maps, wine, ice. I recently bought a usb to micro usb cable there for 4 euros !! They also does printing, faxing, photo copying, you name it. Open early to very late.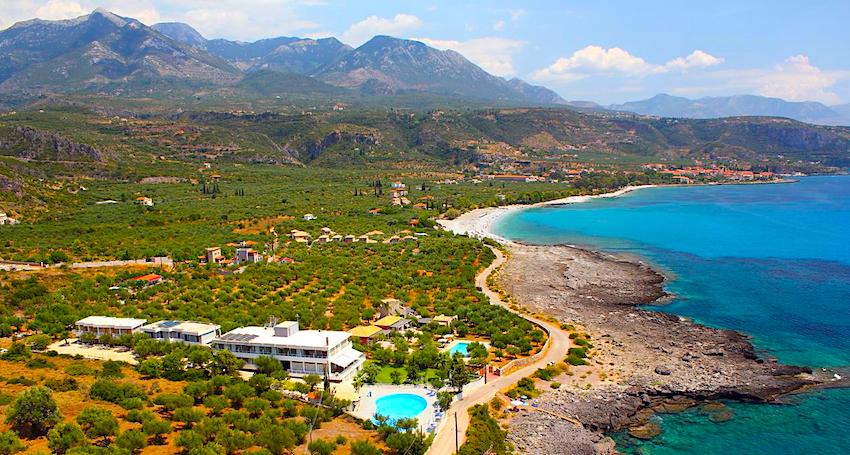 Where to Stay in Kardamyli
As I said there are no large scale developments here. I will list them in terms of HOTELS and ROOMS. Not in any order, neither quality nor price but just how they spring to mind. You will have to go to Matt's booking page and do the digging, all part of the fun.
Hotels
The family-run Kardamili Beach Hotel (above photo) sits on the foothills of Mount Taygetos, 50 m from the sea and 100 m from the pebbled beach Ritsa of Kardamili. It offers a pool with sunbathing terrace, an air-conditioned restaurant and free parking. In town the family run self-catering hotel Anniska has a seafront location and the family-run Hotel Liakoto features a free-form pool with sun loungers and self-catered accommodation with views of the Messinian Gulf. The Diapori Suites Hotel, is a new 4-star hotel and spa above the port. Notos Hotel is slightly outside the village but does offer some of the most stylish rooms in town. The Vardia Hotel sits above the village and has the perfect bird's eye view. Search for more hotels in Kardamyli
Houses, Apartments and Rooms
Amoni Houses set above the port are a good example of perfectly deigned holiday homes run by a wonderful host in a great location. Ifigenia's has good quality rooms at great prices, run by 2 lovely sisters who are also silversmiths. Overlooking the port is Gorgones where all rooms look out to sea and Meropi island. In one of the towns' prettiest streets Troupaki you will find Olympia Zervea Studios and Apartments, offering good quality domatia at great prices. Kripia Holiday Villas are stone houses with a view of both mountains and sea. Palataki offers both studios and villas, some with private pool. The Olive Grove Boutique Villas, though not actually in Kardamyli but a few minutes' drive to Petrovouni, offers good quality accommodation in the olive groves, fantastic vistas and pool. Katikies Manis has good quality suites with sea view. Search for more houses, self-catering apartments and rooms in Kardamyli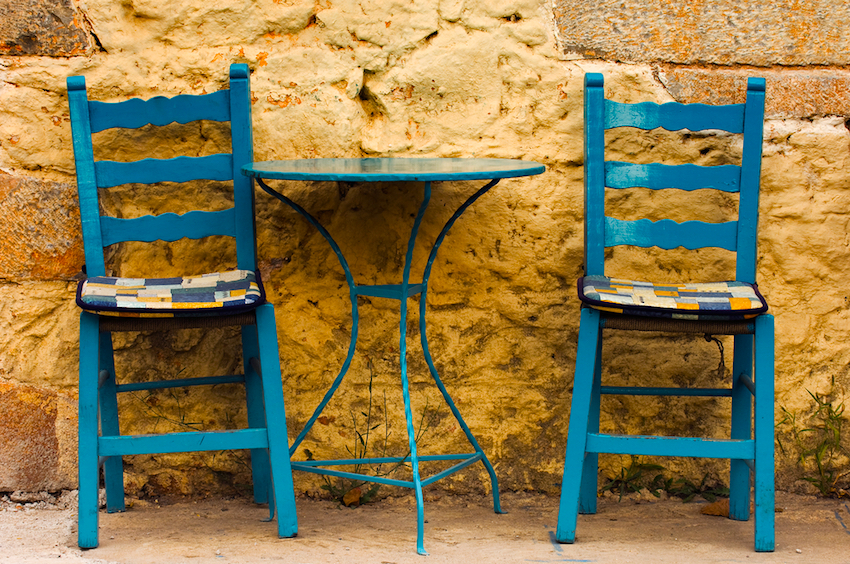 Epilogue
It's a typical Saturday morning, here outside the cafe nothing much is happening so we have no need to talk, peace, and I am not reading The Colossus of Maroussi again. However soon a George turns up with big handfuls of freshly picked wild garlic and proceeds to hand it out. Then a van arrives selling 20 artichokes for 5 euros. We have a discussion about what we could cook with wild garlic and artichoke. Inside I hear Kyria Eleni ordering a coffee "I'm just a girl standing in front of a boy asking for a frappe" (she's a big fan of romantic comedy). All is peaceful again until a priest stops in a pickup, in the back there is a baby goat. As we admire the goat the priest asks us, in turn, if we want to buy it, to which we all decline. I notice that I was the only one that he told "If you don't buy it I will have to kill it", and as he says this he runs a finger across his throat. I check myself to see if I have a sign saying stupid English person hung around my neck, but there is none. We then have a ten minute argument about which is the tastiest bit of the goat which George wins simply because he is the loudest and we have to agree in order to get some peace.
After all this excitement, what with the wild garlic, the cheap artichokes and the goat priest, it all settles down to just the click of backgammon from a table inside, the knock of Georges kombloi, and me turning a page every 10 minutes. That's the thing with a good cafe, you just sort of zone out, a bit like meditation.
The art of people watching is the perfect pass time here, sitting in the shade, coffee or glass of wine to hand, just being, the ubiquitous glass of water sweating nearby. If you need to study something I recommend the menu or a book. Listen to the song of the cicada, the knock of komboloi, the tinkle of rebetika music from a nearby window. Can you smell that ? There are scents of Jasmine and freshly ground coffee. The book is not to read of course, that would transport you elsewhere, the book is merely cover, just make sure it's not upside down.
Enjoy.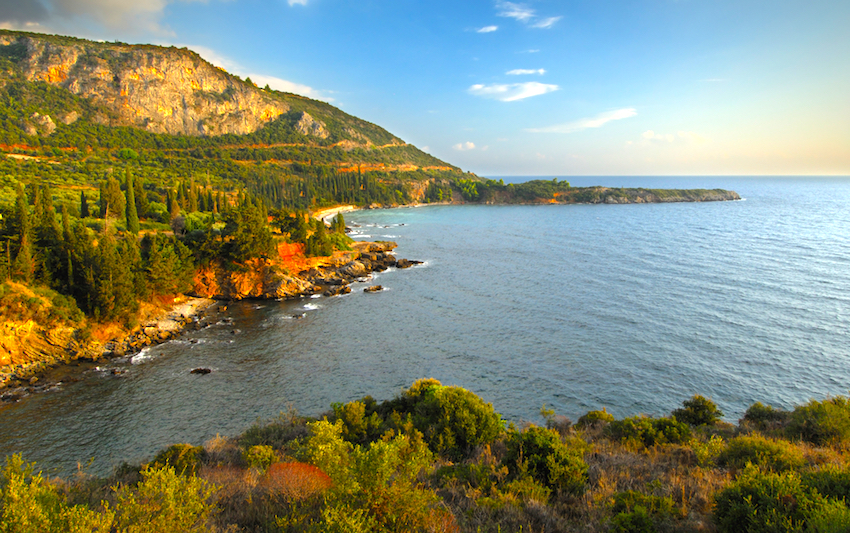 Getting to Kardamyli
There are several ways to get to Kardamyli from Athens. If you are flying from another country into Athens from there take the X93 to the the bus Terminal A at Kiffissou street and take the bus to Kalamata. From Kalamata take the bus to Italo which stops in Stoupa and Kardamyli. You can find the bus schedules from Athens to Kalamata at www.athensguide.com/practicalinfo and the Kalamata-Kardamyli bus leaves at 7am, 13:15 and 18:15.
There are literally dozens of international flights into Kalamata in the summer months - from Austria, Germany, France, Brussels, Italy, the UK, Norway and Israel, to mention just a few. Internal flights to Thessaloniki run all year round, two or three flights a week depending on the season.
It will be a lot easier to take a taxi from the airport all the way to Kardamyli (or the bus station) and if you are three or more sharing the cost it won't be that expensive. Contact George the Famous Taxi Driver for rates.
It seems silly to go to Kardamyli and not explore the rest of the Peloponessos. You can rent a car from Swift Rent-a-Car and they will deliver the car to you at the airport and you can just get on the National Road and be there in three or four hours. Or if you are in Athens your first night they will pick you up at your hotel and drive you to the National Road.
If you are combining your trip to the Peloponessos with the islands or other places in the mainland you may want to employ the services of a good Greek travel agency who can coordinate hotels and ferries and in many cases find special rates for you. To create an itinerary that includes Stoupa see Matt's Create-an-itinerary form and you can get a price from Fantasy Travel, one of the best travel agencies in Greece.

You can find hotels in Kardamyli by location, price, whether or not it has a swimming pool, and see photos and reviews by using this link to Booking.com. Excellent prices and many hotels you can book and then cancel with no cancellation fee. For those who want to book without using a travel agency this is the best way to do it.