About Leonidio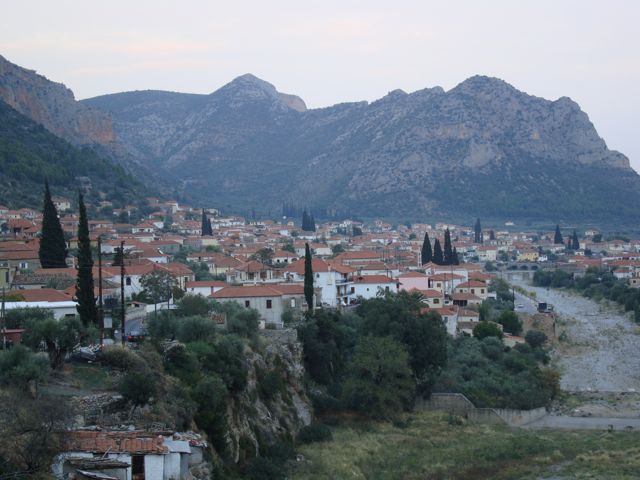 Leonidio was a magical place for me when I was a kid. I don't know whether it was because I associated it with Leonidas and his 300 Spartans at Thermopylae or because my father had a cousin Leonidas who showed us around Lakonia in 1963. Actually he had two cousins named Leonidas and even though Leonidio is not in Lakonia, but in Arkadia, I still made the association. I also remember being in my Grandmother's village of Kyparissi on the coast of Lakonia in the southeast Peloponesos and my father's cousin Panayotis pointing out the new road they were building to Leonidio which was going to connect Kyparissi to the rest of the world. Back then the only way to get to Kyparissi was by the ferry boat that came once a week. The new road would bring prosperity, tourism and even electricity to the village. The Lakonia side has been done since the sixties, unpaved until recently and now pretty much state of the art as far as roads go. But it stops right at the border of Arkadia, on the side of a mountain overlooking the Myrtoo Sea and the beach of Fokianos and to continue on to Leonideion you have to take small roads up into the mountain villages and then down again to the sea. For that reason today Kyparissi is totally unspoiled and Leonidio is, well, pretty much unspoiled too.
Getting to Leonidio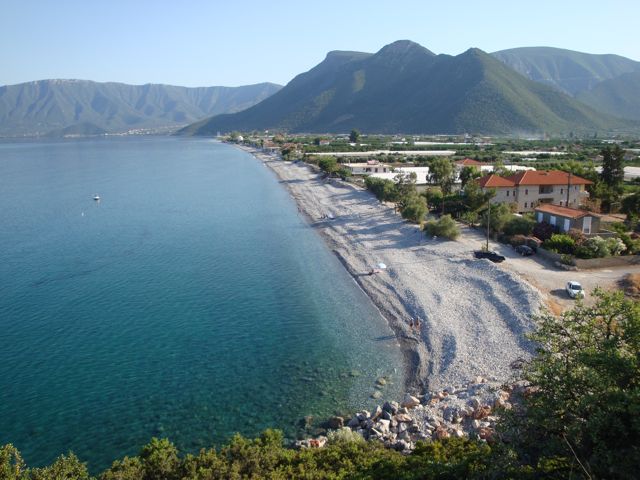 There are two ways to get to Leonidio. The easiest is to come down the coast from the Argolis. When we come or return this way we use it as an excuse to spend a night in Nafplion which despite being the most touristy city in the Peloponessos is also one of the most beautiful. After a week or two in the southeast Peloponessos, going to Nafplion for a night or two is like going from Folegandros to Mykonos. As you drive south from Argos along the coast you pass several coastal towns with summer homes, apartments and hotels, which are mostly popular with Greeks and pretty much unknown to the tourists who believe the best beaches in Greece are all in Mykonos and Santorini. It was not that long ago the daily summer flying Dolphin from Pireaus after leaving Hydra and Spetses continued on to Paralio Astros, Paralia Tirou, Plaka, (the port of Leonidio) Kyparissi, Gerakas and all the way to Monemvasia and if I recall correctly sometimes to Neapolis and the island of Kithira. The flying dolphin to the Peloponessos was discontinued as more and more people bought cars and the roads were improved. You can see the impact on the coastal towns but the further you drive the less development there is. By the time you get to Leonidio you find yourself in an area that is more agricultural than touristic and the better for it. If you speak Greek but have a problem understanding what is being said to you there is a good reason. They speak a dialect called Tsakonika.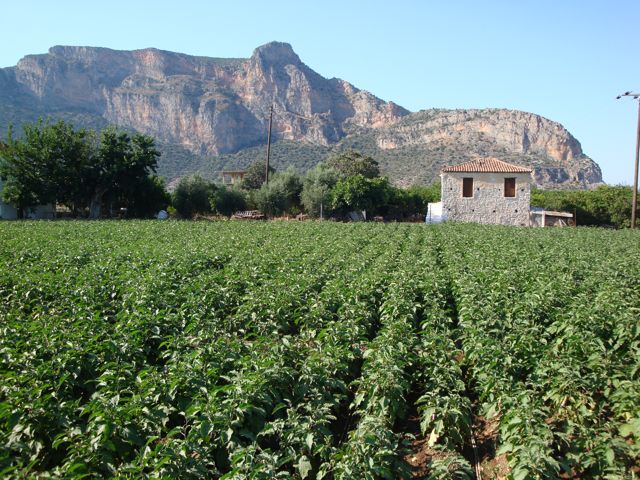 Leonidio is known for its unique eggplants which are grown in farms on the plain between the town and the sea. They are the light purple ones with white stripes that they call tsakones and every year in August, after the 15th they have their eggplant festival which attracts people from all over Greece and from other countries as well. Part of the festival is a competition among chefs for the best eggplant dish. The EU has even designated Leonidio as the Tsakonika Eggplant Capital of Europe for having the best tasting and sweetest eggplants.
But a town can't survive on eggplants alone and Leonidio, being a short distance from the citrus orchards of the Argolis, also grows an early tangerine called satsouma as well as clementines and navel oranges. The town is also known for its tomatoes, considered to be among the best in Greece and of course olives like just about everywhere else in the Peloponessos.
The area is well known to Greek and international rock climbers and hikers who come mostly between September and May though you will also find climbers there in the summer.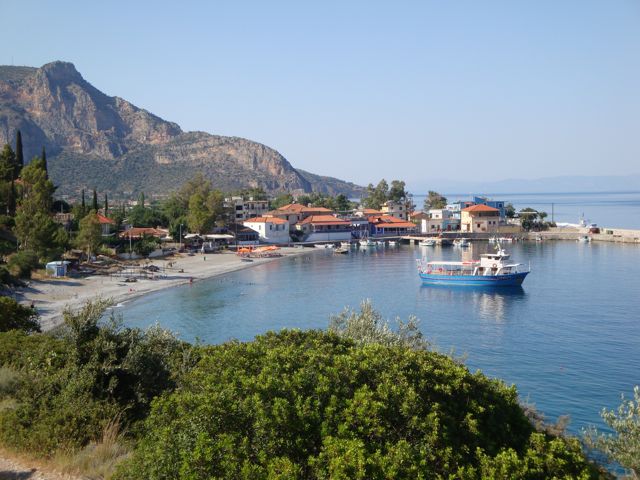 The location of Leonidio is as impressive as any town in Greece. It sits at the end of the Dafnon Gorge, a long narrow crevice that follows the Dafnon River through the mountains and comes out at the coastal plain and the sea. Leonidio spreads out along the wide riverbed, a labyrinth of narrow streets and houses mixed with large squares and wide avenues. The town is the economic center for this part of Arkadia, with banks, shops, restaurants and several small hotels in historic houses.
Plaka is the small port of Leonidio, with fishing boats, a few yachts and sailboats that pass through for the night on their way north or south, and several fish tavernas and cafes. The beach that is known as Plaka begins at the port and is crescent shaped and relatively protected. North of the port is Lako Beach which faces the island of Spetses and the open sea and can get some waves like many of the beaches on this coast. Both beaches have cafes and snack bars and have been awarded blue flags for being among the cleanest beaches in Greece.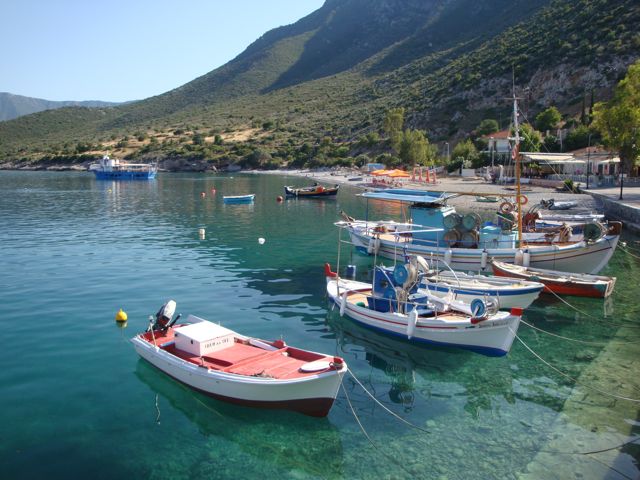 Leonidio is the setting for the film Arkadia Lost, starring Nick Nolte and produced by Phedon Papamichael who also did Sideways, one of my favorite movies. Its about two American teens whose parents die during a holiday in Greece and they wander around the countryside where they run into Nick Nolte who plays this grizzled veteran backpacker, someone like Lonely Planet's Paul Hellander if you left him in the wilderness for twenty years. The movie also features Renos Haralambides, my favorite Greek actor-director. When they filmed the movie the crew took over the town and there were dozens of eighteen-wheelers with tons of equipment parked in the riverbed. It mist have been quite I time to be there with Nole, Renos and the others carousing in the tavernas til late at night. Speaking of restaurants and tavernas, there are many, and being an area that is not totally devoted to tourism your chances of finding a nice one without my advice are good. The Dolphin is a popular seafood taverna in the port.Myrtoon is a seafood restaurant on the beach road closer to Poulithra. Both get great reviews in Tripadvisor though I have not tried either. Try Oneiro in Leonidio town, an antique filled restaurant that specializes in, you guessed it, eggplant dishes. But that is only a small part of what they do so even if you don't love eggplant you will find something you like.
Around Leonidio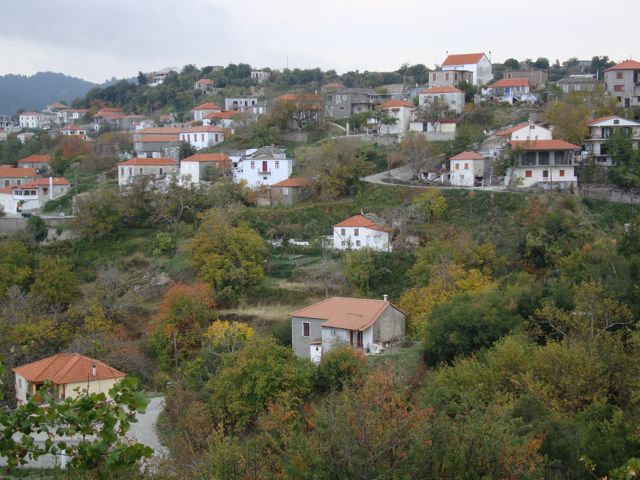 Perhaps a better way to approach Leonidio is coming from the southwest of the Peloponessos and stopping in Kosmas. Its a gorgeous mountain village with cafeneons in a large tree shaded platia next to the large church of Ag Anargiron with a fountain of lion heads spitting water. There are chestnut trees everywhere, and in the early fall their leaves change bright yellow and in the square and in the small traditional shops there are big baskets of chestnuts for sale. Stop at the small traditional restaurant called O Elatos where two women and their husbands crank out dishes of grilled paidakia(lambchops), hirino brizoles(pork chops), mouschari(steak), sikotaria (liver) and other meat dishes. But the specialties of the village are yida, a goat soup that is eaten in the winter, gkougkes, which is a local thick pasta with cheese, and pitaroudia, the local horta or spinach pie which is fried, grilled or sauteed instead of baked. They have an excellent local rose, more tan than pink and almost like sherry. No matter how hot it may be in the summer, you can go to Kosmas and be cool. If you come here in the spring or fall bring a sweater and if you come in the winter maybe snowshoes.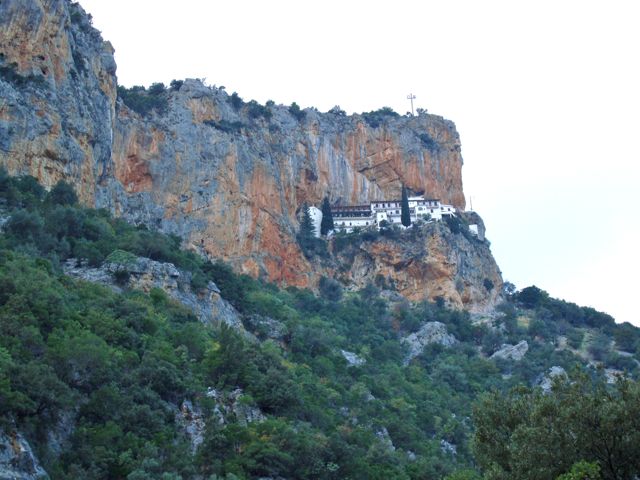 The road from Kosmas to Leonidio is one of the most spectacular in Greece. You start in the mountains and then go down through the Dafnon Gorge and river, which in the summer is a dry riverbed of white stones but in the winter and spring must be fairly full of water if not a raging river of rapids. Along the way is the Monastery of the Panagia Elona built into the side of a rock cliff. There are hiking trails in the gorge and a path to the monastery though if you are like me you will probably want to drive to it, which is possible and acceptable. The monastery is still in use. There are several women selling local products in the parking lot and shopping with them is another good reason to stop here. Get a couple jars of their honey and you won't be disappointed. You will probably wish you had bought more when it finally runs out. Also as long as you are in the area and love monasteries in dramatic locations you should visit the Monastery of Agios Nikolaos Sintzas, located six kilometres southwest of Leonidio. The road begins in Leonideion on the southern side of the riverbed as far west as you can go and the monastery is built in a cave on the rock face of a mountain. Legend has it that Ino of Thebes, raised her nephew Dionysos and for this reason the area is known as The Garden of Dionysios, the God of Wine.
There are a couple turnoffs to remote villages like Paleohora, Platanaki, Ag Vasilios, Gagani, Socha and Vaskina, places that see few if any tourists where you can usually find a decent place to eat in the main square. If you continue through the gorge it gets wider and wider and eventually you end up on a big fertile plain where the town of Leonidio sits against the side of Mount Karkovouni at the entrance to the gorge.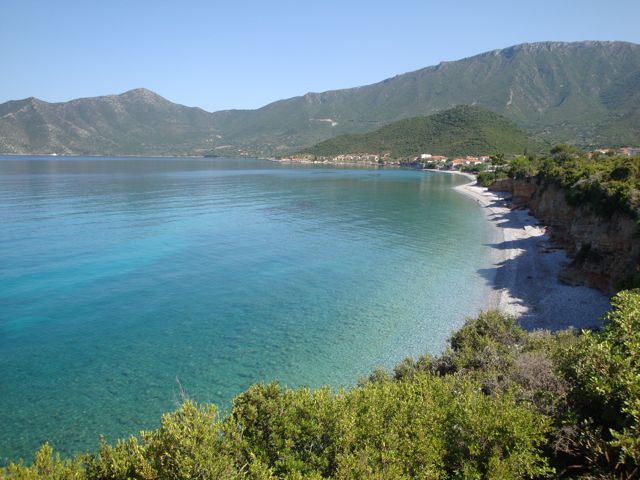 If you continue south from Leonidio a few miles along the coast to Poulithra, the ancient city of Polichne as mentioned by the historian Pausanias, you will find a long pebble beach and beautiful sea, several fish tavernas and a handful of hotels and rooms to rent within easy walk to the sea. Probably in July and August it will be tough to find accommodation without booking in advance but weekdays in June, or September you should not have a problem if you just show up. The whole coast from here to Leonidio is spectacular with Parnon mountains that come down to the sea, smooth stone beaches, and the most beautiful color blue and the cleanest water I have seen in Greece, excellent for snorkeling or just bobbing around admiring the spectacular scenary. If you look up at the mountains you can see a few small villages and also where the road to Kyparissi abruptly comes to stop, ending that village's dreams of becoming a tourist Mecca and making Poulithra the last stop on the coastal road.
If you are in the area on your way somewhere or staying in Poulithra make sure to visit one of the best traditional restaurants, right on the sea so you can go for a swim and then have lunch or dinner.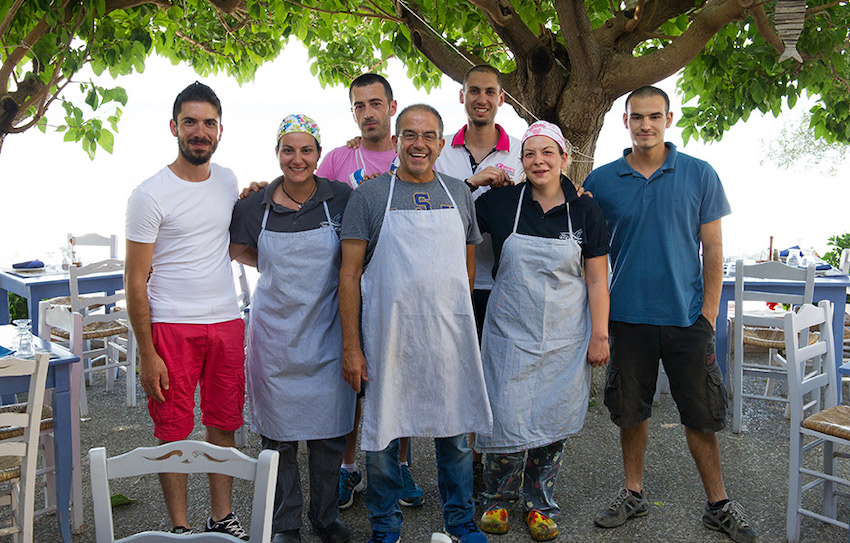 Myrtoon Restaurant
Our restaurant is for people who really care about their food. There are two secrets in our kitchen: simplicity and quality in our recipes and pure materials, local fish and fresh vegetables from the area's gardens. Our goal is to highlight local products and seafood through traditional recipes.
We come to contact with nature – and the sea – every day and we are familiar with the production from its early beginning and the fish as soon as they leave the sea. Thus, Myrtoon's philosophy of flavors is about:
Pure and fresh raw materials from local producers.
Traditional recipes from Tsakonia and allover Greece.
Hand-made products with respect to raw materials.
Traditional slow cooking in Dutch ovens.
Selections of fresh seasonal fish and vegetables.
Leonidio Hotels and Other Information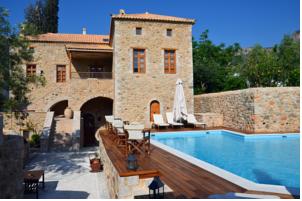 Leonidio has several very highly rated hotels, some of them in beautiful historical mansions that have been completely renovated and have all the most modern facilities and appliances. Housed in a 19th-century mansion in Leonidio village, Archontiko Chioti (photo)features an outdoor pool with decked terrace, indoor hot tub and hammam. It consists of individually decorated rooms with free Wi-Fi. Also located in Leonidio village, the stone-built Archontiko Hatzipanayioti is housed in a traditional manor house and serves a homemade breakfast with organic products. It offers individually decorated rooms with free internet and views towards the garden or the mountain.
Agroktima's 2-story apartments feature hand-carved furniture, embroidered curtains and traditional rugs. Each air-conditioned unit includes a fully equipped kitchen with oak cabinets, and a living area with a plasma TV. They all open out to balconies or verandas overlooking the well-kept gardens. The beach is a kilometer away. To be closer to the sea stay in Poulithra at the Traditional Hotel Byzantium, one of the best and most higly rated hotels in the Peloponnesos, or the self-catering units of the Hotel Pateli with free Wi-Fi and a balcony overlooking the Myrtoan Sea or Mount Parnon. If you are budget conscious Stathopoulos Self-Catering Apartments is on the nearby bay of Sampatikis, north of Leonidio, with taverns and a pebbly beach 50 metres away.
You can find more hotels on Matt's Best Hotels in the Peloponnesos
On your way to or from Leonidio on the coastal road be sure to stop in the town of Xiropigado at a cafe-bar called Chill-Out. The owner, Sotiris, a guy with long hair in a ponytail, the kind of guy who probably had a professional job in Athens and one day said to hell with this and moved back to his village. The cafe is wonderful, part candy store, part internet cafe, part coffee-shop, part old-man cafeneon and part cava (wine store) with lots of historical photos of the village and beach of Xiropigado, which means 'dry well'. Sotiris is a really friendly guy, the kind you seem to only meet when you get out of Athens.