Stoupa
by Theresa Stoker
The first time I came to Stoupa I made the journey from Kalamata in a coach at night during a thunderstorm. Flashes of lightning briefly illuminated ruined towers on craggy ridges, pine clad gullies and austere mountains. It felt more like Transylvania than Greece. Welcome to the Mani. Unless you have a helicopter or a boat booked, this mountainous road will be your route from Kalamata to Stoupa. Even on a sunny day, the ride is spectacular.
Stoupa itself has grown up with tourism. Old photos show three or four stone built houses along the curved beach. You can still see those old houses (Patriko cafť bar, Five Brothers taverna, Mesogeio gift shop), the gaps between and around them filled with newer buildings. Donít get me wrong, Stoupa is not a Ďpurpose-builtí resort. It has evolved slowly and there are no high-rise buildings or large developments. The Stoupa Restaurant is typical: what was a fishermenís coffee shop forty years ago has morphed into a fine-dining restaurant without changing hands along the way. The original owner, Kyrios Panayiotis, stills wear a fishermanís cap. Most evenings he sits near the door with his iPad, while his daughter Dimitra runs the restaurant. Stoupaís charm lies not in narrow alleys and quaint traditions, but in its laid back feel, beautiful beaches and warm welcome.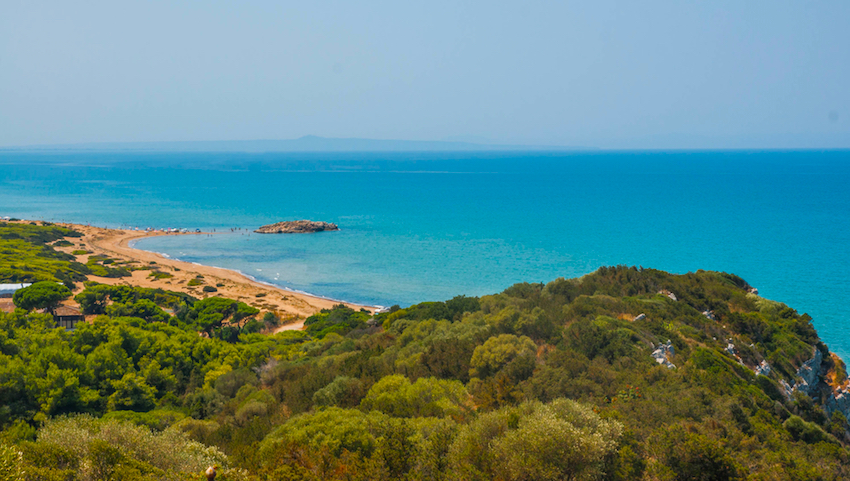 Beaches
With two large sandy beaches and a dramatic backdrop of the TaÔgetos mountains, and only an hour from Kalamata airport, itís no wonder holidaymakers are drawn to this place.
Kalogria beach is a stunning location, its powdery sand sloping almost imperceptibly into a shallow turquoise sea, its landward side dotted with shady tamarisk trees. Occasionally it serves as a location for national Beach Volleyball events, and has featured in photo shoots for Playboy magazine and pop videos. With three excellent tavernas and a couple of laid back bars, this can be the perfect location to while away a Sunday afternoon early or late in the season. Depending on your tastes, it can be too Ďlivelyí in the months of July and August, when it is literally paved with overpriced sunbeds and one of the bars sometimes plays loud rock music. At this time of year, many people prefer to leave it to the young and beautiful, choosing the main Stoupa beach a ten-minute walk away.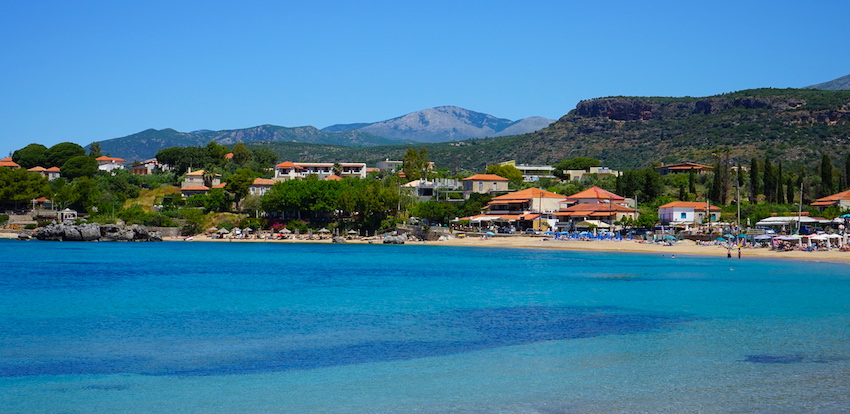 Stoupa proper has a lower-key vibe, attracting families with young children in the high season and generally older couples in early and late season. There are sunbeds to rent, but there is a large swathe of the central beach that is currently left open. Even in the middle of August, you will always find somewhere to spread your towel. At time of writing two bars, Patriko and Elaia, do not charge their customers for sunbeds. The beach is wide and mostly sandy, and for those who like to swim, the water gets deeper more quickly than at Kalogria. Cafťs, bars, tavernas and shops line the road opposite the beach. The road is closed to traffic in the evenings during the summer, making it a family-friendly environment. Parents can enjoy a glass of wine or a beer while children run back and forth from the beach to the bars. Nothing is more delightful to me than spending an evening sipping a cocktail, watching kids on the beach build enormous dens from sunbeds against the backdrop of a jaw-dropping sunset.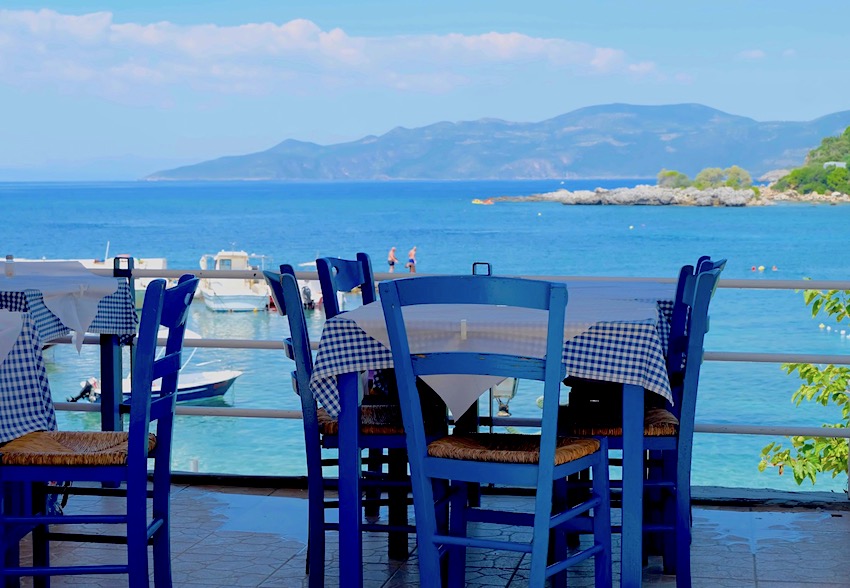 Food and Drink
You will often hear people say itís practically impossible to get a bad meal in Stoupa. All the tavernas and restaurants are family run, and the emphasis is on top quality, locally grown ingredients. The owners of the restaurants are also the olive farmers who produce a world class product that they are rightly proud of. In many cases they grow their own vegetables too and if the owner of the taverna is not a fisherman, then his cousin surely is. Even in a fast food place such as Ammos, the potatoes are grown by Spiroís mum (best chips EVER), and in Dionysos taverna you can guarantee that when wild boar is on the menu the owner Stavros has been hunting.
There are upwards of twenty food outlets in Stoupa in the summer, and all have their fans. I canít mention them all, so apologies to those I donít name-check. For a traditional taverna experience, 5 Brothers on the seafront canít be bettered. I struggle to get my husband to go anywhere else. They offer great value for money too, as do Dionysos behind them (open all year round) and their neighbour, the bistro-style Elaia, which has a more contemporary menu including American-style hamburgers and my own favourite, seafood salad. Pritzipas on Kalogria Beach has a lovely old-fashioned feeling, whilst Almyriki next door, presided over by one-time TV football pundit Panos, is another favourite. For simple but great pitas, souvlakis and salads, Ammos is the first choice. For a traditional grill with a wider choice of menu, we love To Perasma, on the brow of the hill between Stoupa and Kalogria. For light meals and snacks with a bit more imagination, try To Steki, Elaia or Patriko. As well as being a popular meeting place for writers, artists and local charities, Patriko now have an in-house patisserie/bakery. Their cakes and pies are divine, and they include vegan options. If youíve had enough of moussaka and souvlaki, try Liastres or the Stoupa restaurant, both at the north end of Stoupa beach, for more imaginative, upmarket dining. Mailinda at Melissa, just off the central beach road, has added some Asian specials to the traditional Greek menu. My favourites are the sweet and sour pork and the Indonesian plate. For a romantic location, try Panorama, overlooking Kalogria beach, or Halikoura, hidden around the corner at the south end of Stoupa, where the waves lap below you as you dine on the harbour side.
I love the occasional cocktail and Enigma bar, with its stunning location overlooking Stoupa beach is the perfect place to enjoy one, especially during their happy hour which starts at 7 pm each evening. Paralos bar to the far left on Kalogria beach has a sophisticated vibe, and Bar 360 overlooking Stoupa harbour has the kind of stunning views youíd expect from its name. Elaia specialises in ridiculously cheap Prosecco-based cocktails, and To Steki and Patriko have extensive cocktail menus.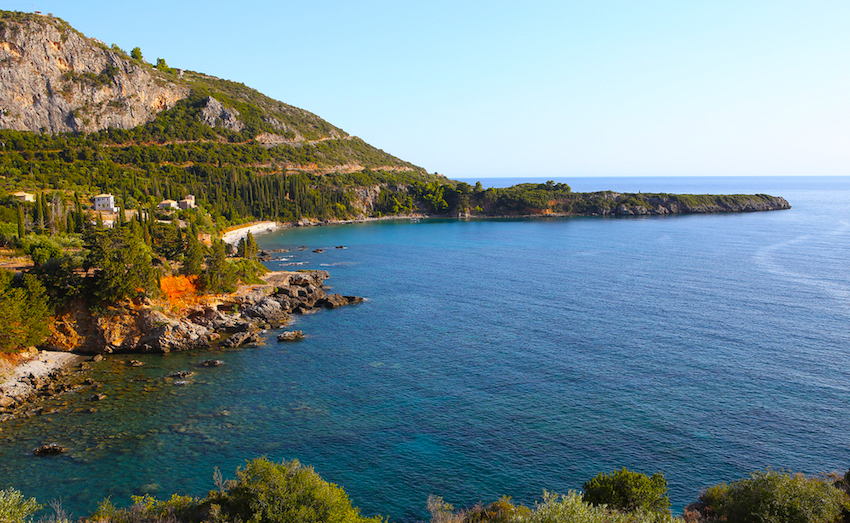 Culture, Sport and Activities
Stoupa and the surrounding area has always attracted artists and writers. In the past five or so years, this has blossomed into a thriving cultural scene. The Nartura group organises festival throughout the year, including one in September that celebrates the famous friendship between Kazantzakis and Zorba, and another in June that takes place on Lefktron hill (the former Crusader stronghold of Beaufort Castle) overlooking Stoupa. Smaller events including bar theatre and Celtic music nights are dotted throughout the year. Local artists created the Mani Pulse festival in September, with the focus on the visual arts and music. Some local British writers (modesty forbids, etc.) have started a literary festival in October, which includes free creative writing workshops, book launches, talks, performances and Ďmeet the authorí events. From the foothills of the Himalayas to Colditz, whenever the number of Brits in a place reaches a critical mass, the inevitable happens: we do am dram. The Neon Players perform once or twice a year, usually British comedy, usually in the winter.
There is a vibrant local music scene too. If youíre visiting Stoupa, look out for posters and blackboards advertising live music at tavernas and bars. The Parea Sti Mani website and Stoupa Life Facebook group can be useful sources of information, but many events are still advertised by poster and word-of-mouth only. In the summer especially, you may see panegyris advertised. If youíve never experienced one of these traditional Greek village celebrations, they are not to be missed. One of the biggest takes place in Neoxori, a couple of kilometres from Stoupa, on the last Friday of July. Another popular event is the Chestnut Festival held around the third Saturday in October in the mountain village of Kastania. With free roasted chestnuts and chestnut soup; souvlakis, wine and beer for sale; live music from midday to the early hours, this is a well-organised party not to be missed if youíre here in the autumn.
Another recent addition to the Stoupa calendar is the Maniacs 10k Run, which takes place on the first Saturday in July. There is also a 1k route for parents and toddlers and a 5k option. The evening run is now preceded by a swimming event. Local hero Nikodimos usually wins the menís 10k, but itís a fun event for runners of all abilities.
Dive Code is a PADI approved diving centre based on Kalogria beach. They can organise one-off dives or you can follow a certificated course.
If you fancy doing something a little different on holiday, The Olive Grove creative holidays run weekly mosaicking courses at Patriko bar. Patriko is also the summer meeting place of the local StitchíníBitch group. You are very welcome to join them any Thursday morning from 11, even if you havenít brought your needlecrafts on holiday with you. Theyíre a friendly lot, though Iíve always found it a bit light on the bitching.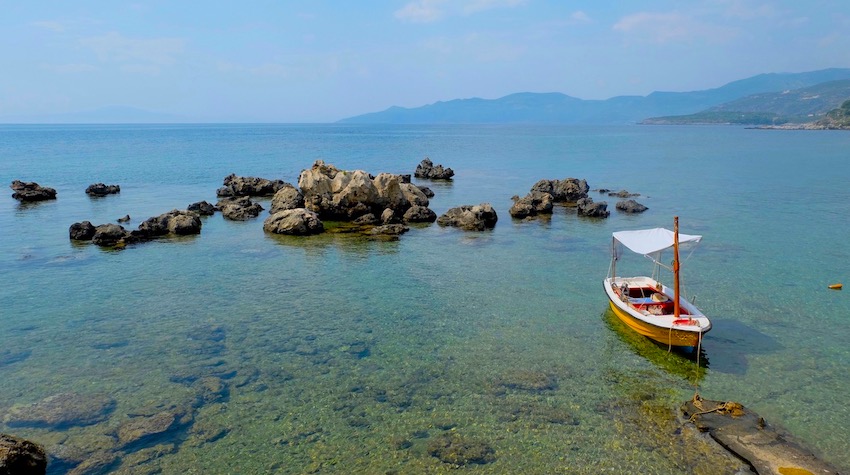 Getting Around
Bicycles can be hired locally from Mani Cars (they do cars too!), and there are guided cycle rides and walking tours available. If you prefer to go it alone, there are downloadable walking guides available from Inside The Mani, who also produce an excellent magazine that can be picked up for free from local bars and travel agents. Other options for car hire include Napoleon, who also rents motorcycles, as do Moto Steki on the main road. Local travel agents Doufexis and Greek Options Stoupa/Thomeas Travel also offer car hire, and can book you onto coach and boat trips as well as offering the usual range of services. For money transfer, photocopying, passport photos and other office services, Mani Money is a fantastically helpful local business.
Our lovely local taxi driver Voula (27210 77477) will run you to Agios Nikolaos or Neoxori for a few euros. You will need to book early if you want her for an airport transfer, as she provides a very popular service.
About Teresa Stoker
I divide my time between Lancashire and the Peloponnese, where I enjoy walking in the Taygetos mountains. Iíve written several stage comedies and short stories, and am working on a novel set in Greece. I have won prizes for a play, a short story and Iíve twice won the Daily Telegraph Just Back travel writing competition. I recently organised a Literary Festival in Greece and was long-listed for the Writers & Artists Childrenís Fiction Competition. Iíve written guest blogs on subjects as varied as vampires and snorkelling over the sunken city of Pavlopetri. Iím an enthusiastic participant in Write Club The Podcast, the podcast for readers and writers everywhere.
Visit me at https://www.facebook.com/Theresa-Stoker-222595801612565/
Accommodation in Stoupa
Stoupa has a wealth of accommodation, from the spacious summer-only campsite close to Kalogria, to some luxurious high-end villa rentals. Of the 8 or 9 small hotels in Stoupa, many are block-booked in the season by package tour operators. The Maistreli, between the school and the harbour, is an exception in that they only take private customers. The Stoupa Hotel stays open all year round. There are plenty of studios and apartments to let, most of which you can find on Matt's Stoupa Hotel Search.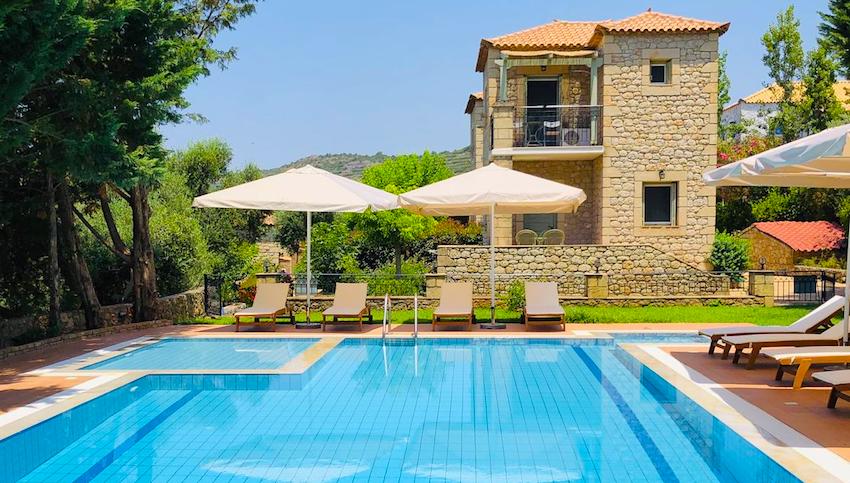 Villas Lithos
Villas Lithos provides accommodations with free WiFi, air conditioning and access to a garden with an outdoor swimming pool. Each unit has a patio, a fully equipped kitchen with a fridge, a seating area with a sofa, a flat-screen TV and a private bathroom with shower and a hair dryer. Some units include a balcony and/or a terrace with pool or garden views. The condo hotel offers a hot tub. Click for More Info, Photos, Guest Reviews and Booking Information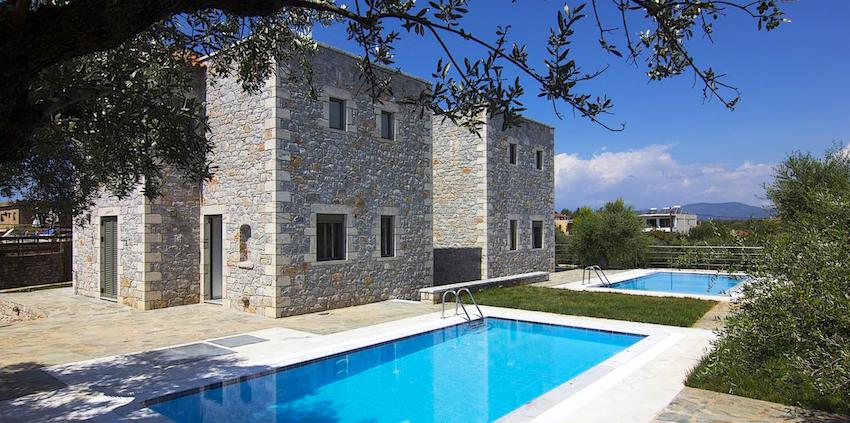 Torri di Pietra
Featuring a swimming pool, a garden and a terrace and views of the pool, Torri di pietra is located in Stoupa and has accommodations with free WiFi. Each unit features a balcony, a fully equipped kitchen with a fridge, a fireplace, a seating area with a sofa, a flat-screen TV and a private bathroom with hot tub. Click for More Info, Photos, Guest Reviews and Booking Information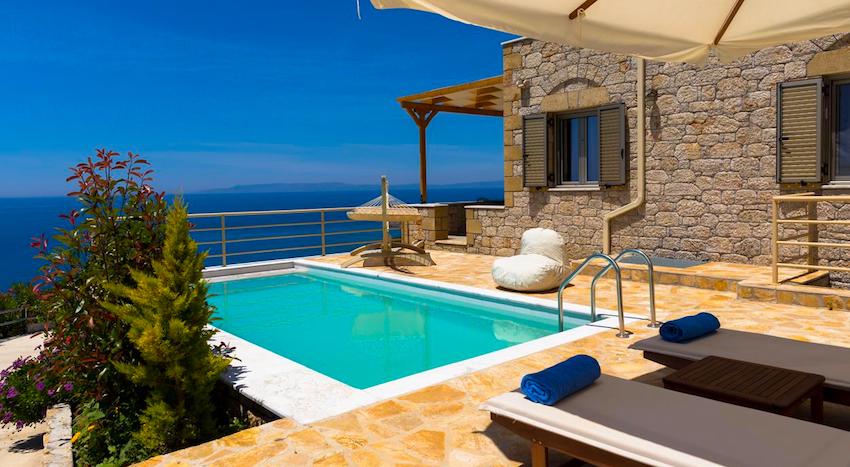 Tseralia Houses
Located between the beaches of Kalogria and Delfinia, the stone-built Tseralia Houses are set amid a large estate with beautiful gardens. Each villa has its own sea-water pool and offers unlimited views of the Messinian Gulf. Tseralia villas come with a fully equipped kitchen, air conditioning and a 32Ē plasma TV. Towels and linens are offered free of charge. Click for More Info, Photos, Guest Reviews and Booking Information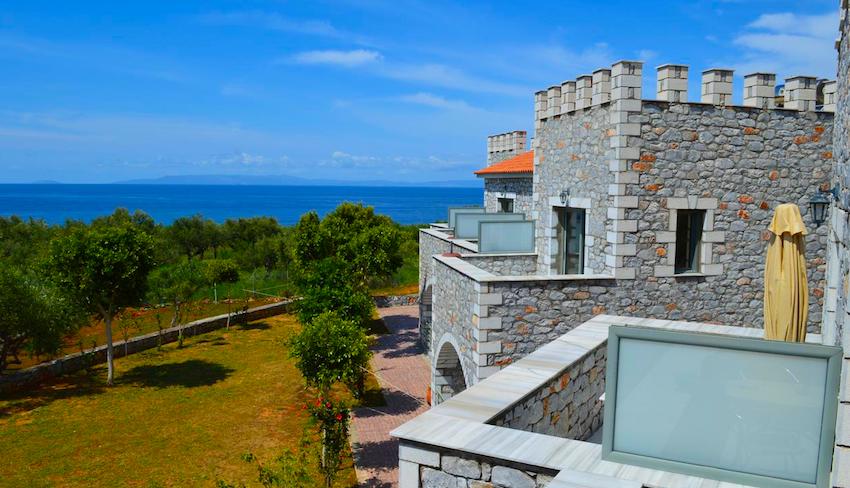 Nefeli Apartments
Located 400 m from the beach of Stoupa, the stone-built Nefeli Apartments offers self-catering accommodations with free WiFi and furnished balcony. Restaurants and bars are within a 5-minute walk. Apartments at Nefeli Apartments feature a TV, air conditioning and a balcony.There is a full a kitchenette with an oven and a refrigerator. The private bathroom also comes with a shower. Some units offer sea views. Click for More Info, Photos, Guest Reviews and Booking Information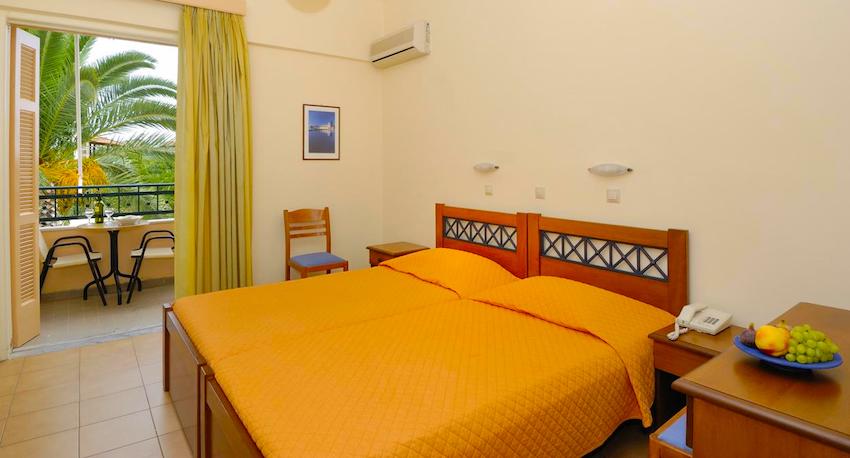 Lefktron Hotel
Steps away from the sandy beach in Stoupa, Lefktron Hotelís relaxed and friendly atmosphere, along with its outdoor pool and free wireless internet access make it a great base. Lefkron Hotel offers clean and comfortable rooms, with balconies overlooking the pool or the sea. Start each day with breakfast in the picturesque surroundings of Lefktron Hotelís garden. Benefit from free wireless internet throughout the hotel. Relax at the lounge bar and enjoy a coffee or a light snack. Stoupaís beautiful beaches are within a short walking distance to Lefktron Hotel and there are plenty of restaurants close by. In the evenings, join your friends and listen to music at Lefktronís bar.
Click for More Info, Photos, Guest Reviews and Booking Information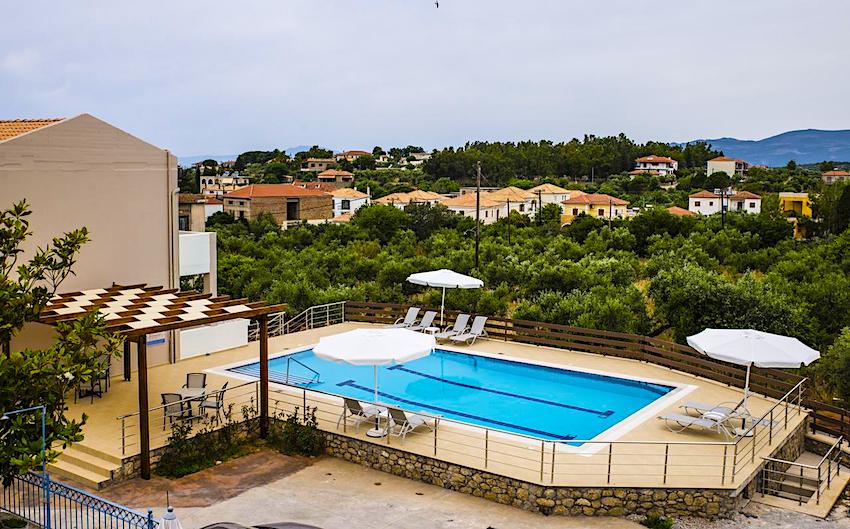 Maniís Rose
Located in the small coastal village of Stoupa, Maniís Rose is 200 m away from the beach. It has a bar and offers self-catering accommodations with sea or garden views. Apartments at Maniís Rose hotel are air conditioned and have a balcony. They include a well-equipped kitchenette with oven and a living area with satellite TV. All units also feature a private bathroom with shower and a hairdryer. Guests can enjoy a drink or coffee at the hotelís lounge area featuring a satellite TV. Free Wi-Fi is also available in the common areas. Click for More Info, Photos, Guest Reviews and Booking Information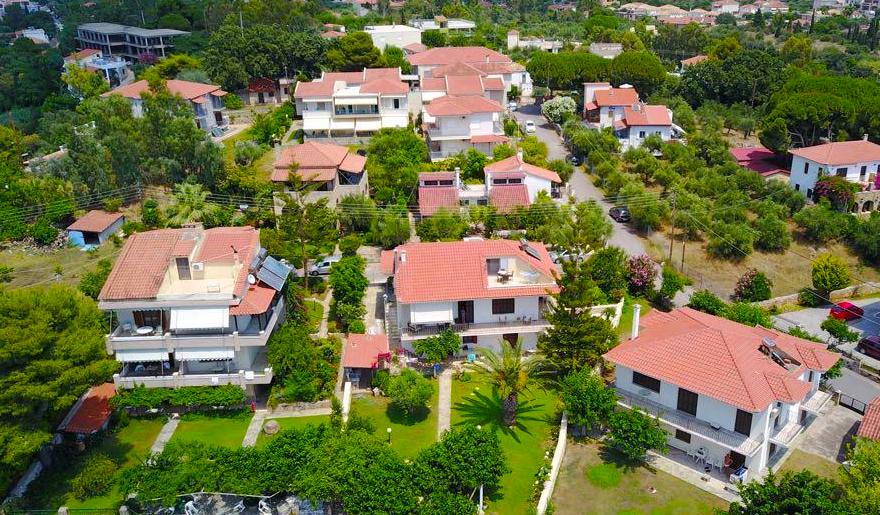 Blue Lagoon Apartments
Offering a sun terrace and surrounded by trees and grass, Blue Lagoon is set on a hill in Stoķpa, just a 5-minute walk off Stoupa Beach.Overlooking the Messinian Bay, it offers free WiFi. Kalogria Beach can be reached within a short drive. All units are air conditioned and have a seating area. All units feature a spacious terrace or balcony with sea and garden views. There is also a kitchenette, equipped with a toaster, fridge and stovetop. Every unit has a private bathroom with a bath or shower. Click for More Info, Photos, Guest Reviews and Booking Information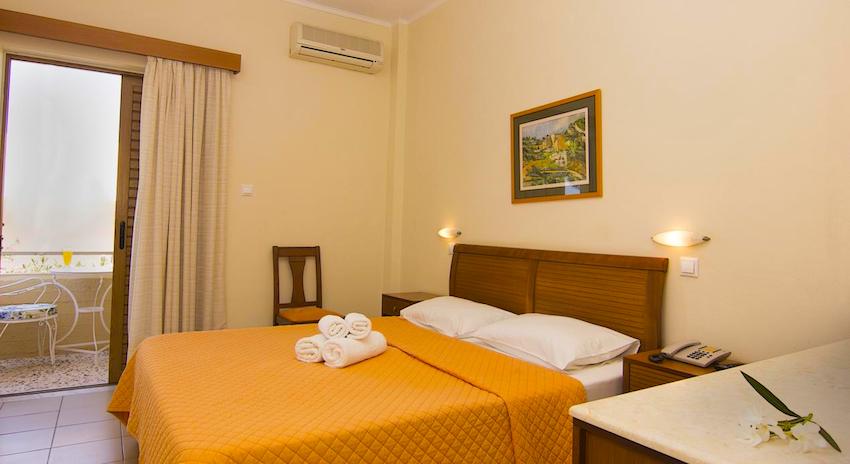 Hotel Stoupa
Located in Stoupa, Hotel Stoupa has a garden, bar, shared lounge, and free WiFi. The property has room service, and luggage storage for guests. At the guesthouse, rooms have a closet. Complete with a private bathroom equipped with a shower and a hair dryer, the rooms at Hotel Stoupa have a flat-screen TV and air conditioning, and certain rooms are contain a balcony. Guest rooms will provide guests with a fridge. Click for More Info, Photos, Guest Reviews and Booking Information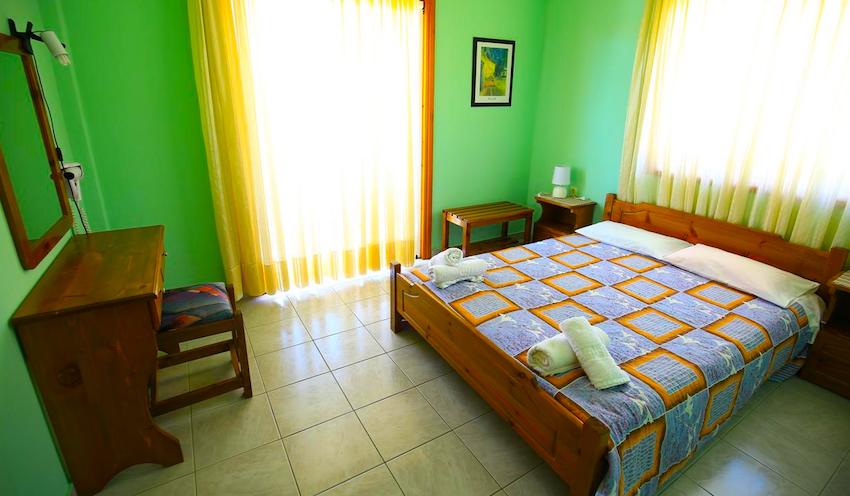 Maistreli Hotel Apartments
Just 80 m from the sandy Stoupa Beach, the family-run Maistreli Hotel Apartments features a bar and a blossomed garden. It offers self-catering accommodations with free Wi-Fi and a balcony overlooking the Messinian Gulf, Mount Taygetus or the garden. The simply decorated apartments of Maistreli have a seating area and a kitchenette with dining area. Each air-conditioned unit is equipped with a fridge, cooking hobs, a toaster and a TV. The private bathroom comes with a shower and a hairdryer. Guests can daily prepare their own breakfast. Coffees, drinks and light snacks can also be enjoyed at the on-site bar throughout the day. Click for More Info, Photos, Guest Reviews and Booking Information
Irida Holiday Apartments
Irida Holiday Apartments provides accommodations with free WiFi, air conditioning and access to a garden with a grill. Some of the units feature satellite flat-screen TV, a fully equipped kitchen with a fridge, and a private bathroom with a shower and hair dryer. The condo hotel has a sun terrace. Both a bicycle rental service and a car rental service are available at Irida Holiday Apartments, while cycling can be enjoyed nearby. Click for More Info, Photos, Guest Reviews and Booking Information
For more hotels, self-catering apartments, holiday homes, and villas use Matt's Stoupa Hotel Search and also Matt's Hotels of Greece Peloponnesos Page.
More Travel Information
There are several ways to get to Stoupa. If you are flying from another country you would fly into Athens and from there take the X93 to the the bus Terminal A at Kiffissou street and take the bus to Kalamata. From Kalamata take the bus to Italo which stops in Stoupa. You can find the bus schedules from Athens to Kalamata at www.athensguide.com/practicalinfo and the Kalamata-Stoupa bus leaves at 7am, 13:15 and 18:15.
It will be a lot easier to take a taxi from the airport and if you are three or more sharing the cost it won't be that expensive. Contact George the Famous Taxi Driver for rates.
It seems silly to go to Stoupa and not explore the rest of the Peloponessos. You can rent a car from Swift Rent-a-Car and they will deliver the car to you at the airport and you can just get on the National Road and be there in three or four hours. Or if you are in Athens your first night they will pick you up at your hotel and drive you to the National Road.
If you are combining your trip to the Peloponessos with the islands or other places in the mainland you may want to employ the services of a good Greek travel agency who can coordinate hotels and ferries and in many cases find special rates for you. To create an itinerary that includes Stoupa see Matt's Create-an-itinerary form and you can get a price from Fantasy Travel, one of the best travel agencies in Greece.

You can find hotels in Stoupa by location, price, whether or not it has a swimming pool, and see photos and reviews by using this link to Booking.com. Excellent prices and many hotels you can book and then cancel with no cancellation fee. For those who want to book without using a travel agency this is the best way to do it.