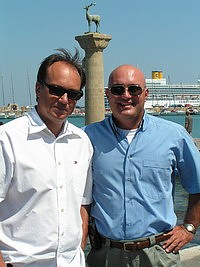 We arrived in Rhodes after a very long ferry ride on the weekly boat that begins in Thessaloniki and stops in Limnos, Lesvos (where we picked it up), Chios, Samos, Kalymnos, Kos and ends up in Rhodes before continuing on to Kassos, Karpathos, Crete, Milos, and eventually Pireaus. It was a 17 hour trip and we got on the boat right after the dining room closed and it never opened for breakfast. We had a nice cabin and it was great stopping at all those islands on the way but by the time we arrived in Rhodes we did not feel like we had gotten off a cruise, well rested and eager to go. We felt like we had just gotten off a 17 hour ferry trip, living off tiropitas, potato chips and coffee. But as we left the boat, standing there with a sign that said simply "MATT" was Michalis Axarlis who drove us to our hotel, and then became our host and companion with his brother Nick for the rest of our stay. Michalis and Nick are Greeks from Alexandria, Egypt and the story of how they came to Rhodes twenty years ago is both fascinating and heartbreakingly sad. (One day either myself or one of the brothers will tell it on this website.) But for the time being I have to say that I owe the brothers a debt of gratitude and I only hope that if they ever come to visit me in America that I can be as good a host to them as they were to me. Without them I would not have seen half the sites, had half as much fun or eaten half the good food and wine that we did.
For people coming to Rhodes for a short time and want to see more of the island (and maximize their time) I highly recommend the Axarlis Brothers. Like many of the Alexandrian Greeks they are cultured, knowlegable, entertaining, reliable and speak a variety of languages, six fluently: English, Greek, Arabic, French, Italian, Spanish and German. They do tours of the city and around the island and also transfers to and from the port and the airport to hotels. Dinners or lunches at out of the way tavernas and swims at secluded beaches are just many of the ways to make use of their services. You can contact them through this form or visit their Private Tours website
Car Rental Agencies on Rhodes
Rentalcars.com is a website that works with several car rental agencies on the island and uses their search engine to find you the best deal on car rentals. Similar to what Booking.com does with hotels you put in your dates and location and they show you what is available through the car rental agencies they represent. Try it here
You can also contact Elias at Swift Rent a Car in Athens for one of his Rhodes affiliates . Rhodes is a big island with a lot to see and a car is recommended though certainly not essential. You can also rent a car through Fantasy Travel. Rhodes has a decent public bus sytsem and there are excursion boats that go from Mandraki to Faliraki and Lindos every day.