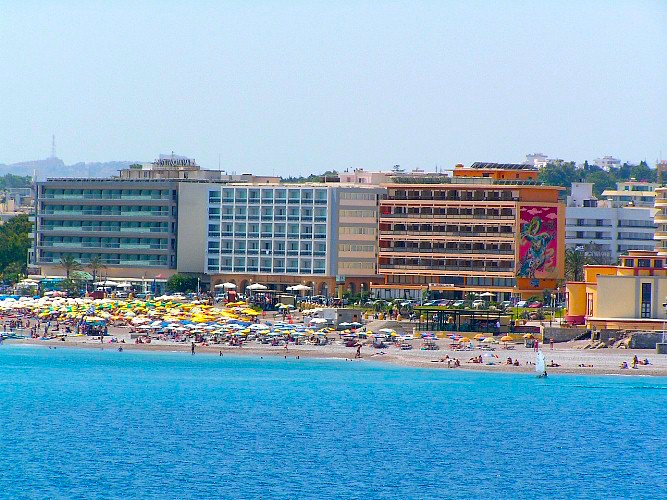 Rhodes has a large number of hotels of every category from family run 2 Star hotels to Luxury resorts. Once you have decided where you want to stay, in the Old Town, the New Town or in one of the other towns on the island, it is just a matter of finding the hotel that is right for you and your budget. A travel agency can be very helpful because they know the pros and cons of each hotel and in many cases will have discounted rates to the particular hotels that they prefer. Also for those using on-line booking sites, you may find a particular hotel is listed as being full when actually the site has just booked its allotment of rooms. The hotel is not full. The booking site has just used up the three or four rooms that they had reserved. A travel agency can call the hotel and ask if they have rooms and book it for you. If you are planning to go to Rhodes and combine it with other islands the help of a Greek travel agency coordinating hotels and ferries can be essential. I encourage you to either contact Fantasy Travel or use my create-an-itinerary form which will enable you to choose your islands, hotels by category, tours and other things and get a price within 24 hours with no obligation to purchase.
For the highest rated hotels on Rhodes see Matt's Best Hotels in Rhodes page.
Homes, Villas and Apartments
The trend these days in Greece is to rent a house, especially for families with children because having two or three rooms in a hotel can be inconvenient. Though living in a villa or apartment can feel isolating at times, especially for children (who, lets face it, have a lot more fun when they are staying somewhere there are lots of other kids around, like a big hotel on the beach with a swimming pool), sometimes it makes more economic sense to rent a house. Matt's Rhodes Villas Page has a number of properties all over the island ranging from luxury villas with swimming pools to simple homes and apartments. With maps, lots of photos of the properties and a number of options for searching, you can find pretty much exactly what you are looking for. Keep in mind though, that unlike hotels which have dozens of rooms, a house generally sleeps from 4 to a dozen people, and they go very quickly. So if you find the perfect place, book it.
Hotels in Rhodes New Town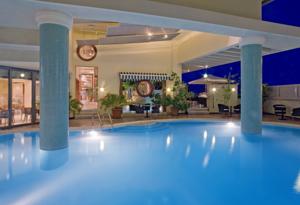 We stayed at the excellent Hotel Mediterranean which is right on the beach in the new town. Our room was large and comfortable and had a terrific view of the beaches overlooking the point where the Aegean and Mediterranean Seas meet. The Aegean side is usually windy so if you like waves you can swim there. The Med side is calm and a little warmer. There is a passageway right to the beach from the hotel with showers so you don't have to bring sand into your room like I did before I found it. I recommend getting a room with sea view so you can watch the large cruise ships come into the harbor in the morning and leave at night. The bar is a great place to begin your evenings and the service is friendly and efficient. There is a small pool, unnecessary with the sea so close unless you have a child like ours who loves pools. The breakfast buffet is abundant. Watching the parade of interesting guests who take part in it and their various approaches to food was my morning entertainment. There is a foreign press shop a couple doors down so if you like your morning paper with your meal you will be happy as long as you don't mind that it was yesterdays paper (unless you eat very late). You can easily walk anywhere in town including the Old City and if you run out of things to do at night it is right next to the Casino. See Hotel Mediterranean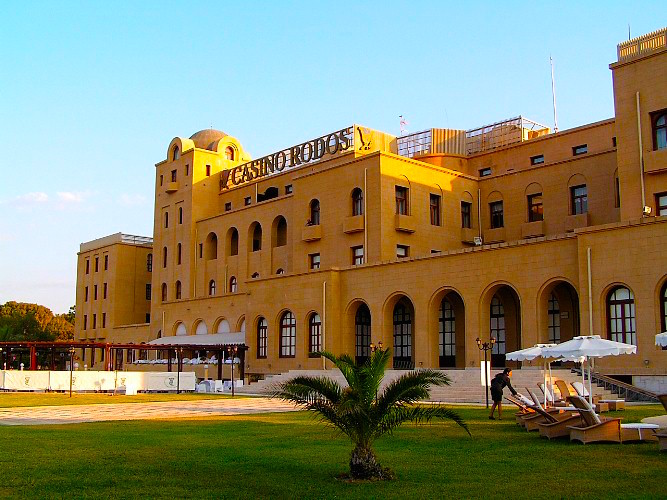 Other recommended hotels on the beach in the new town include the Casino Rodos Grande Albergo Delle Rose, a historic hotel on the northern tip of Rhodes Town. It offers a widevariety of dining options and includes elegant accommodations with spa bathtub. It is right on the sea and it is a real casino just like in James Bond movies. The five-star Amathus Beach Hotel Rhodes is the perfect place to enjoy an island escape. With forest to one side and the sparkling Aegean Sea and mountainous coastline to the other, accommodation is comfortable and spacious. The hotel has a swimming pool, spa facilities, a gym, bar and restaurant.
If you are looking for something less expensive the Belvedere Beach Hotel has a tennis court, and a large swimming pool overlooking the Aegean Sea. It offers air conditioned rooms with balcony. Just over a quarter mile from the center of Rhodes Town and 55 yards from Psaropoula Beach, Europa Hotel offers a pool with a poolside snack bar, a game room and a mini market. It offers units with free Wi-Fi and a private balcony overlooking the pool or the Aegean Sea.
Though not on the beach the 2-star Florida Hotel gets great reviews and is a few minutes walk from the old city and the beach. They have free wi-fi but air-conditioning is extra. The Casa Antika Hotel offers thematically decorated rooms each reminiscent of a famous painter, such as Van Gogh, Monet, Matisse and Picasso. The 4-star Best Western Plaza Hotel has a pool with terrace and a sauna. Its rooms offer views of the sea or the Medieval Town. Niohori Rodos Elite Suites is in a traditional house, a 5-minute walk from the Rhodes Casino. It offers luxurious suites with 2 satellite LCD TVs, and a mosaic-tiled breakfast courtyard. Each Niohori two-story suite is equipped with Italian furnishings and Guy Laroche beddings.
Hotels in Rhodes Old Town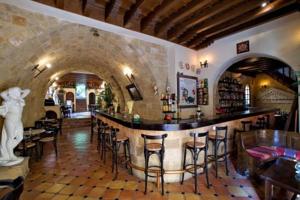 If you want to stay in the Old City one recommended hotel is the Hotel S Nikolis Boutique Hotel which is very popular with B&B lovers, has a great location and is one of the most interesting hotels on the island. They have rooms, apartments and Honeymoon suites and a terrific location. The most highly rated hotel in the old city is the Spirit of the Knights Boutique Hotel which is a restored medieval building run by a British couple and features a jaccuzzi, uniquely designed and luxurious accommodations with free Wi-Fi. Saint Michel Hotel is in a 700-year-old building in the Old Town of Rhodes. The charming hotel offers accommodations with breakfast in stone-built rooms with modern shower cabin.The stylish rooms combine modern comforts, such as slippers, air conditioning and a flat-panel TV, with romantic iron beds and handcrafted details. Wi-Fi access is free.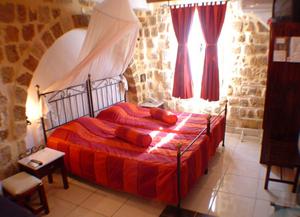 The well known family-run Hotel Cavo D'Oro is where Michael Pallin stayed during his Pole To Pole documentary and is recommended as the only hotel in the Old City that is accessable by Taxi. This hotel will also appeal to those looking for B&B style accommodations. The Hotel Attiki enjoys a prime location in the heart of Rhodes historic quarter, less than 33 yards from Knights Street, and retains the old world charm of the medieval city. For those on a budget there are several pensions in the old city. The pensions in Rhodes used to be like dorms with many beds in a room, and you paid by the bed. Now they are just cheap hotels with rooms as low as 30 euros. The Olymbos Pension offers free wi-fi in public areas. Located on the highest point of Rhodes Old Town, Minos Pension has a rooftop snack bar with views of the Old Town and the Aegean Sea, air-conditioned rooms and studios with free Wi-Fi and an LCD satellite TV. Some units also include a kitchenette with cooking rings. The Domus Hotel offered the lowest rates of any of these and still had free w-fi and a business center with a computer you can use.
See More Hotels in Rhodes Town
For the highest rated hotels on Rhodes see Matt's Best Hotels in Rhodes page.
Hotels Around the Island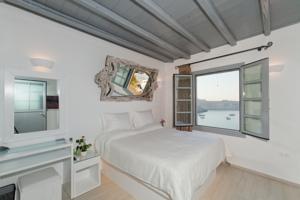 In Lindos the 5-star Melenos Lindos Exclusive Suites enjoy a prime location on the north side of the ancient Acropolis, below the Temple of Athena, with spectacular sea views. Located right above Lindos Beach, the whitewashed Lindos Shore Boutique Villa enjoys stunning views of the Aegean Sea. It offers luxurious accommodation with a fully equipped kitchen and free Wi-Fi throughout. Filoxenia enjoys a quiet location in Lindos, close to the main road and just a 5-minute walk to the beautiful beach. The owners of Filoxenia have preserved its unique features, including the mosaic floors and picturesque courtyard. Located in the heart of Lindos, the Villa Lindos is a 1920 traditional Lindian house with spacious air-conditioned accommodation with a fully fitted kitchen. It includes an internal courtyard and a rooftop terrace boasting panoramic views over Lindos. See More Hotels in Lindos
In the tourist town of Faliraki you can find great deals on all categories of hotels on the beach and in town, with pools and without. See Hotels in Faliraki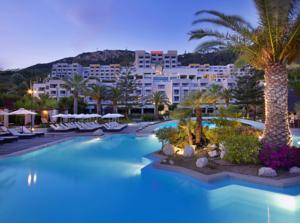 The towns of Ialysos/Ixia have some of the largest and most luxurious resort hotels on the island, many right on the beach. The 5 star Amathus Elite Suites is an autonomous boutique hotel that exemplifies romantic beachfront living. Built in 2010 these seductive suites overlooking Ixia Bay, redefine the concept of private luxury and romance. The luxurious Rodos Palace offers exceptionally stylish accommodations, and boasts 3 outdoor pools, and no less than 5 restaurants, bar and lounges. 5-star Atrium Platinum Resort and Spa sits just feet from the sea. Its rooms offer stunning sunset views, while all public hotel areas and rooms have unobstructed sea views. The Aphrodite & Hermes Spa Center features body and face treatment rooms and a heated indoor pool. The 5-star Villa Di Mare is a 5-minute walk from Ixia Beach, just one mile from the Old Town of Rhodes. It features a large swimming pool and has a gourmet restaurant with views of the Aegean Sea. Di Mare's modern rooms feature free Wi-Fi and self-catering facilities. Bathrooms include a spa bathtub. Rooms have porches or balconies with views of the sea or the mountains. Some units have private swimming pools. The Sun Beach Resort Complex features excellent leisure and entertainment facilities for children and adults. Sun Beach Resort consists of 2 renovated buildings, one on the beachfront and the other one just 100 ft away, surrounded by 8.5 acres of gardens stretching all the way down to the sea as well as two fresh water swimming pools. Overlooking the Blue-Flag private Ixia Beach, 5-star Sheraton Rhodes features 4 swimming pools, a fitness center and 3 gourmet restaurants. All air-conditioned rooms at Resort Sheraton Rhodes offer a furnished balcony with views of the Aegean Sea or to the mountains and gardens. Each unit comes with a satellite LCD TV and a fridge. Marble bathrooms are stocked with bathrobes and luxury amenities.
But just to let you know that you don't have to stay in a luxurious 5-star hotel if you don't want to there are options for the more economically minded traveler. The 3-star Hotel Romantza Mare is located in Kalithea, just a 2 minutes walk from the beach. Offering an outdoor pool and a sun terrace, tt features a garden and games room, while WiFi access is available throughout. It also is very economical and has great 10 euro buffet dinners which include wine and beer. The 3-star Caravel Hotel Apartments has 29 comfortable apartments and studios, accommodating 2 to 4 people. The apartments consist of one main bedroom, and an open space/living room with 2 sofa beds suitable to accommodate 2 more people. All units have a kitchenette with fridge. Just 0.3 miles from Ialyssos Beach, the 3-star Hotel Nathalie offers a pool, 2 bars and a restaurant. Free Wi-Fi is available in the property's public areas. See More Hotels in Ixia
For the highest rated hotels on Rhodes see Matt's Best Hotels in Rhodes page.
Also see Matt's Book Hotels Directly with Owners for more hotels in Rhodes.
You can find hotels in all categories and prices by location and attributes and see if they have availability on the dates you need and in many cases book and cancel with no cancellation fee at Matt's Booking.com Hotel Search Page
For those combining Rhodes with other islands or Athens I recommend working with a reliable Greek travel agency like Dolphin Hellas, Fantasy Travel or Aegean Thesaurus Travel, who can book hotels, coordinate ferries and are available to assist you if you have any problems. Remember that if you can't find availability at a particular hotel through Booking.com or any automated hotel booking site you can probably find a room through one of the travel agencies.