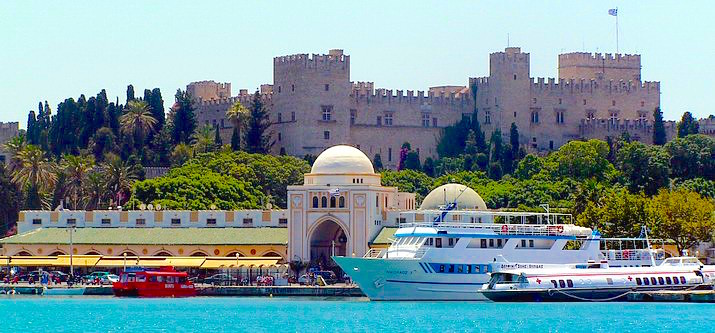 My relationship with the Greek island of Rhodes goes back many years. When I was a wild high school student in the American Community schools of Athens Greece, the annual trip to Rhodes at Easter was what Spring break at Daytona is to college kids in America only a lot wilder since we were the children of diplomats, career soldiers, spies, wealthy businessmen, writers and historians and teachers, living under a Greek military dictatorship.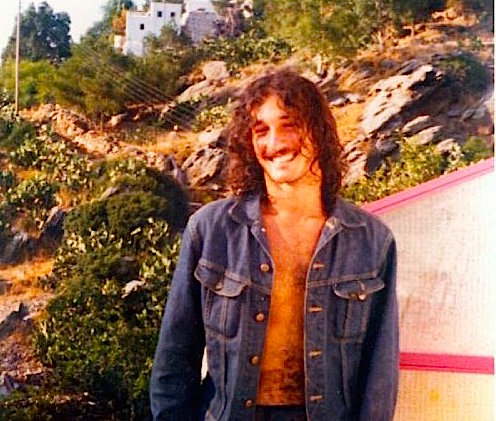 When spring came and Easter break was in sight that was all anyone talked about. "Where are you staying?", "What ferry are you taking?", "Are you leaving school early on Friday or taking the Saturday boat?". The holiday began on that ferry trip when we looked around and saw not only our closest friends but what seemed like half the kids in our school. Some of the kids who I had never said two words to became my friends on these trips to Rhodes. Our adventures filled entire filing cabinets at the US Embassy in Athens. My first year going to Rhodes I felt like an outsider since the previous year I had been forced to take a 'family trip' instead of going with the gang to Rhodes. I remember having to listen to all the tales of the trip I had missed, and while adolescent legends were being created I was forced to climb the hills of Mistras or languish in the quiet beauty of Githion in the southern Peloponessos. While my friends and girlfriends were learning about mixing alcohol, drugs and sex, I was brooding in the back of the family VW Van, going from one small boring village to the next. (The kind of stuff I like to do now and my daughter hates). However the previous year my father had taken us to Rhodes for Christmas and the mild climate and romantic old town had made it one of the more enjoyable family trips, despite being with my parents.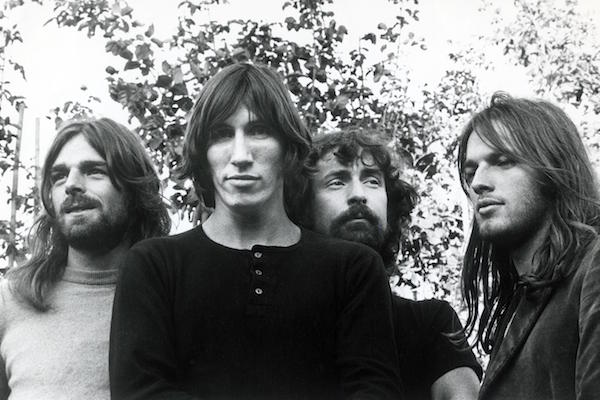 There is nothing like a 17 hour overnight ferry trip when you are 16 years old. Sleeping on the deck in your sleeping bag with your pals and girlfriends all around is like going camping only more fun because you are in the process of going somewhere exciting. Hangovers were something older people got and the fresh air dissipated any ill effects of the endless bottles of retsina being passed from person to person. Arriving in Rhodes was a chaotic experience as we wandered around figuring out where we would stay by asking the older kids who had been there the previous Easter. Nikos Pension in the Old Town was considered prime real-estate: a cheap room in the center of the action, though the action seemed to always be in the rooms. We stayed in another pension a block away where the young owner entertained us by entering our room at night having filled his mouth with kerosene, flicking his lighter and spewing a sheet of flame across the room, perhaps knowing that the reason many of the kids were there was to get high. In truth many nights were spent sharing stories and drugs with high school kids from Ankara, Ismir, Beirut and Thessaloniki, listening to Pink Floyd's 'Meddle', not realizing they were on the island as well cruising around in their van with their instruments and tape recorders. (Listen to Breathe from Dark Side of the Moon and you can hear the PA announcement for flights to Rhodes, Corfu and Chios). Rhodes was a fantasy land where dreams came true. I slept with my favorite cheerleader and though we spent the week as happy lovers until the moment we left the island, we didn't say two words to each other when we saw one another in school. I guess Rhodes was like Las Vegas. What is said and what happens in Rhodes stays in Rhodes.
Thirty years and another 17 hour ferry trip later I returned to the island of Rhodes this time with my wife and daughter. This time there will be no romance (we have been together for 10 years) and no drugs (I have a 12 year old daughter and I have to act responsibly) and all my 16 year old friends are pushing 50, in debt, and the only drugs they take now are for anxiety and high cholesterol. But with the help of two taxi-driving Greek-Egyptian brothers named Nick and Michael Axarlis of Private Tours who showed me aspects of the City I had never seen, (not to mention some great restaurants) and George Gerassimides of Fantasy Travel who once again put me in a hotel that he know I would have to be clinically depressed to not enjoy, I had a terrific drug free time in one of the most wonderful islands in Greece and what has to be one of the most interesting cities in Europe.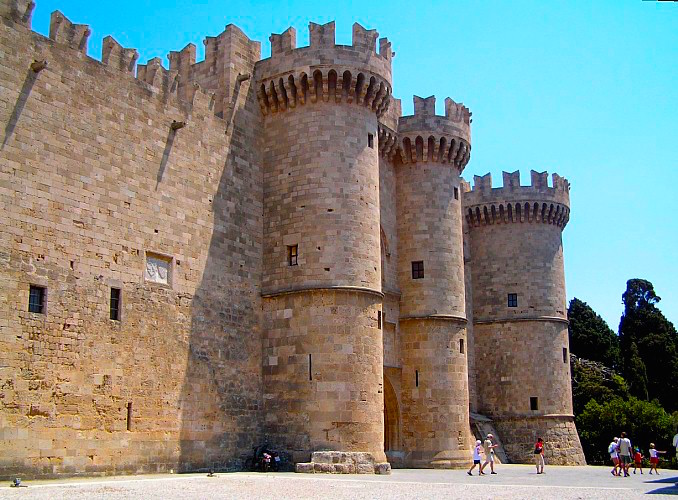 Arriving in Rhodes is special, whether you are sixteen or fifty. In 1972 we had hoped to see the Colossus straddling the harbor and we imagined looking up as we passed beneath it, but were disappointed to discover that the statue was gone, if it had ever been there. But the Castle of the Grand Master and the walls of the medieval city more than make up for it. The city is divided in two. The new town with its modern buildings and shopping areas and hotel-lined beach and the old town which is a medieval walled city complete with moat and castle. The Knights of Saint John came to Rhodes in 1306 when they were kicked out of the Holy Land after the fall of Jerusalem and until it was conquered by Suleyman the Magnificent the island was a fortress that protected the Christian west from the infidels, that withstood wave after wave of attacks. During this period the Knights used their base in Rhodes to harass the Muslims, raiding coastal cities and capturing ships becoming the proverbial thorn in the side of the Turks to the point of obsession.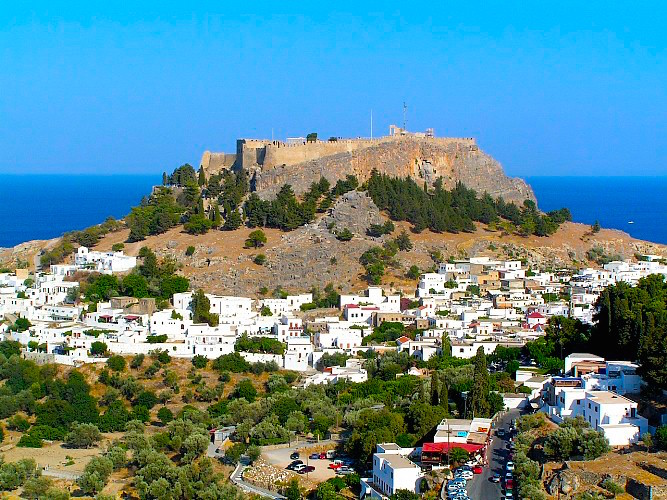 Paul Thereoux did not think much of Rhodes' Disneyland atmosphere and probably if you are the kind of person who hitchhikes through Sudan and kayaks through the Polynesian islands you may find Rhodes a little 'spoiled'. But if you like to mix beaches, medieval history, art and architecture, shopping, eating, drinking and exploring the natural beauty of Greece, then Rhodes is the perfect place. And with the best climate in Greece that means nine months of swimming and three months of maybe not swimming but plenty to explore. This website is a combination of these two trips, decades apart, though of course it will mostly be from the recent trip since in the early seventies I took no notes, did not have a camera, and most of the stuff that went on has no place on a 'family website'. Perhaps the Faliraki phenomenon of decadent youths passing out drunk in the street while their girlfriends engage in public sexual acts was a result of our behavior. I suppose it is possible though probably egotistical to think it is. But they say that modern Greek tourism all was a result of Henry Miller's short visit here when he and Laurence Durrell, George Seferis and Katsimbalis did a little island-hopping trip, followed by the romantic artists and poets and eventually the package tour groups. If thinkers as lofty as those four could unleash the sun-worshipping hordes then I suppose it is possible that Faliraki has us to blame. If so I apologize for all my friends.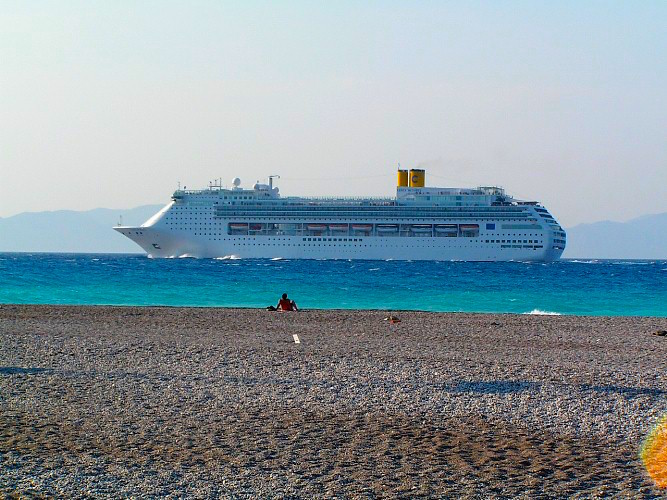 In the meantime the sins of Faliraki are fading into the past and the days of millions of Scandinavian women arriving in droves to find, if not 'true love' at least 'good sex' are also gone. But what they have left behind is the infrastructure for Rhodes to have the kind of tourism it deserves, people who think, appreciate beauty in art and not just the human form, and don't mind a little history and culture to go with their beaches, sun and wine and food. In fact if they don't mind a lot of history and culture and seek it, they have come to the right island. If you are still looking for 'true love' and good sex, well that is here too. There is no reason why any part of your body, mind or spirit should atrophy during a visit to Rhodes. It is a big island and a big town and there is something for everyone.
For those who want to know what went on here during those wild Easters in the early seventies all I can say is that if it were up to me I would put it on the website and tell the world. But I have friends who are in their fifties who are still afraid of their parents finding out. Probably by now they are worried about their kids finding out too. Or their grandchildren. Well I guess you will just have to use your imagination. But if you come to Rhodes you may not even happen. And your adventure in Rhodes starts here