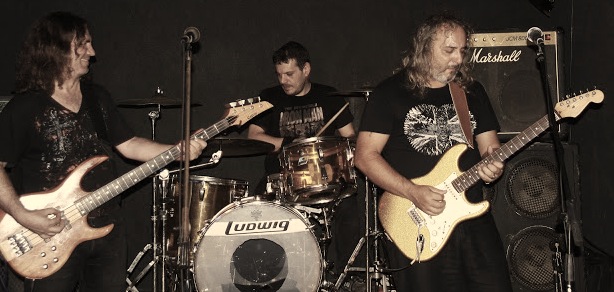 Rhodes is famous for its nightlife. More than famous. It was notorious. Places like Faliraki were featured on international television for the behavior of the young people there. Now there is good news and bad news. Rhodes is not what it used to be. The good news is that it is probably better than anywhere you have been lately. The bars and clubs are not jammed with people except during high-season. That means you can walk down the street and find a place that plays the kind of music you like and probably be able to have a drink and a conversation and maybe even dance if you are so inspired. There are still a ton of bars in Rhodes and in Faliraki and though I assume some won't survive the loss of the package tourists, hopefully the good ones will hang on til they are discovered again by the next wave of what one hopes will be a more sensible style of tourism.
Try Sticky Fingers at 6 Zervou for live Rock and Roll. The club is owned by Kostas and Manolis Iraklidis who went to my high school in Athens and were so enamoured with Rhodes that they moved here and opened their club which has been going strong for over twenty-five years. (Say hi for me.) They also promote concerts around the city. Kostas is a solid bass-player and singer and his guitarist, Takis Playloud is one of the best in Greece. If you like well-played covers by a tight three-piece band and are sick of going to clubs that only play recorded music by DJ's you should come here and make it your nightly hangout.
Rhodes is a hip city and there is an ever changing list of popular clubs, concerts and a whole street full of cool bars called Orfanidi Street also known as Bar Street which starts at Psarapoula Square on the west coast at the beginning of 28th of October street, and ends on Nikiforos Mandalara street. The Colorado Entertainment Center features three clubs on three floors. The cultural non-profit company P4P or Progress For People puts on concerts and festivals for example Manchester's Puressence this summer. You can get information on their shows and programs by e-mailing info@progress4people.org
A spectacular place that we happened upon was the Blue Lagoon bar which features a pirate ship in a swimming pool. We did not stay but my daughter bugged us to go back there every night and I feel guilty now that we didn't. For those who want a movie there is the Multi-Cinema Metropol and the 5 Cinema Pallas which show first run movies. You can get movie schedules and club and concert listings at the Manuel Music Center at 25 of March Street #11.
The Sound and Light Show is performed beneath the walls in the garden of the Palace of the Knights and tells the story of the fall of Rhodes in Greek, English, German, Swedish and French. For those who crave a lttle more action the Casino Rodos, which incidentally was Rhodes first hotel Della Rose, offers a James Bond-like atmosphere and the opportunity to win (or lose) a lot of money at roulette, blackjack and the slot machines as long as you are 21 and can prove it. The Casino is still a hotel, has a pool, beautiful gardens and concerts in the summer. The Art Gallery Rodon on the corner of Lambrakis and Amerikis streets displays the works of well known as well as lesser known artists. There are numerous dance, theater and musical performances in the ancient stadium, and the outdoor theater in the old town.
Young people staying in Rhodes town still go to Faliraki for nightlife too and you can arrange a taxi to take you there and bring you back for a few Euro. Going by rental car or motorbike is not recommended if you plan on drinking (why else would you go there).
Of course if you are like me the best nightlife is to make a good meal longer into the late hours through good company and interesting conversation so see restaurants