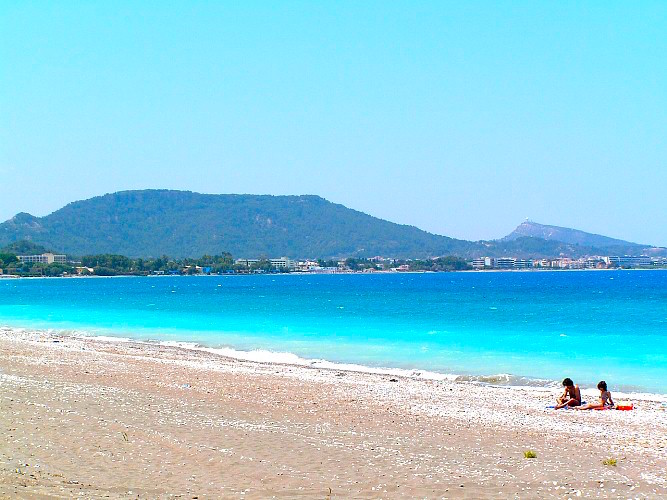 Once you run out of interesting sights to see, which usually takes longer than the time most travelers have to spend on the island, there are a variety of activities on Rhodes, some organized and some you can do on your own. You can swim in the beautiful calm seas of the east coast and body surf when the wind is blowing on the beaches in the west, or lay on the beach or by the pool. You can go snorkeling on your own or go scuba diving with one of the excursion boats that are in Mandraki harbor. You can take day trips on the excursion boats that leave from Mandraki to Halki, Symi, Kos, or Kalymnos. There are also sailboats to charter for day trips and cruises around the island. Many hotels have tennis courts and there is a tennis club outside the Naval Society near Mandraki. There is even a golf course in the village of Efantou. You can drive into the mountains and visit traditional villages and drink souma or wine.
If you like to shop then you have come to the right place. I can't imagine any island with a larger selection of stores, some local, some internationally known. The old city has your usual tourist shops but also has a large number of eclectic gifts shops, boutiques, carpets and odditties mixed in. The new city has a northern European feel to it rather than a Greek one and is comparable to shopping on Ermou Street in Athens in terms of variety.
Rhodes has a Virgin Record store which is impressive in itself but even more impressive is Manuel Music Center at 25 of March Street #11. This is not only one of the best CD shops I have found in all of Greece but I was able to find recordings here that I was unable to find in the USA. More amazing I found CDs that I could not find doing internet searches.