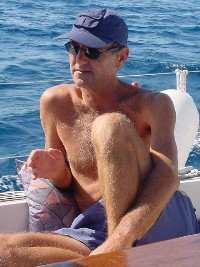 BJ is one of the most well known skippers in the Mediterranean. After graduating from Kingsland Public School (England), he went on to the Plymouth College of Art and Design. Dealing with a lot of sailors and yachts, he developed a tremendous urge to learn more about sailing and navigation, completed a 3 year course and received the Yacht Master diploma in Southampton. BJ moved to Greece 20 years ago where he took a job as an Interior Designer for private sailing yachts. Having 5 years experience in the branch, he then decided to move on to what really interested him. He took off for a couple of years, delivering yachts from one continent to the other and working on many different private world renown sailing yachts such as S/Y Zolana owned by the famous S. Niarchos of Greece, S/Y Yanbu owned by Emir Fahdi of Oman and many more. In 1998 he began working as a professional skipper and has over a hundred thousand miles experience, fifty thousand miles of which he sailed in Greek waters.


Sailing with BJ can be an entertaining experience. Besides being a terrific story-teller he can make music anywhere, anytime with anything. Case in point: One night in a small tavern with my friend Dorian, an accomplished musician in Athens someone took an old guitar off the wall and handed it to him. Dorian played a few chords, the guitar was missing 3 strings and those remaining were rusted and about an inch off the neck. Dorian gave up and put the guitar down. BJ picked it up and began playing a jazz blues tune, singing in a skat-style and making up the lyrics as he went along that soon had the tables around us listening and smiling. I can think of no better person to share a meal and some wine with than Billy Joe Leck. The last time I saw him he was leading a flotilla of 13 sailboats into the harbor of Vourkari in Kea. Apparently the people on the other boats had a little less experience than they had told the charter company. In fact they did not know how to dock. We watched BJ from Thalia's Cafe as he docked his boat and then he took the zodiac and one by one he skippered and docked each of the other boats. After an hour he had completed the job and joined us at our table. "I really need a beer" he said and everyone in the place offered him one.

As a skipper who has worked with many of the sailboat charter companies in Greece, BJ has access to boats of all different sizes and styles so when you book a trip with him he can find the most suitable boat and say to the company "I have the clients. How much can you give me the boat for?" and bargain from a position of power which means a better boat for a cheaper rate.