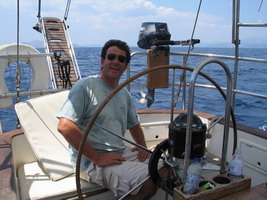 Hello. I am Stefan Ritscher and I am a skipper in Greece. I would like to tell you a little bit about myself....

For 10 years I have lived in Greece, constantly being busy with many of Charter-companies all over the Greek seas, skippering yachts, delivering them from one port to the other, and managing yacht bases in Mykonos, Lavrion and Kalamata. I was born in Hamburg/Germany in 1965, where I was taught sailing by my father from earliest childhood on, on the mighty river 'Elbe' and the Northsea. After educating as a mechanical engineer I set out to the world repairing systems on cargo ships. Finally I opened my own Yacht-hydraulic company in Germany with which I ventured out to Greece in 1994, since this is the area you want to be when you are involved in sailing!
All this time sailing remained my prime leisure activity, and any spare minute was spent into it.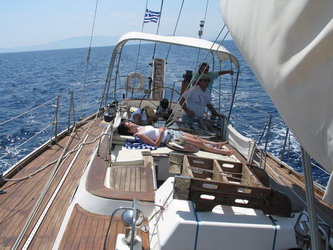 When I arrived in Greece plans changed, and my hobby became business. I collected all experiences, spent winters bringing yachts several times over the Atlantic Ocean to charter in the Caribbean and Cape Verde islands, from Cyprus to Italy and Spain, but finally got settled in Lavrion/Attica.

In 1994 I met my lovely Greek wife Fotini, whom I married in 2002, and we just had a little boy in the summer 2003! She is Archaeologist, with an overwhelming spirit. Since my desire was to offer individual cruises on our yacht, with this exclusive touch in it to create memorable holidays and excursions, we work perfectly together to create absolutely unique voyages.

During all this years I learned what most charterers desire, and no company offers. We are committed to making our guests feel welcome and warm, -even on our winter cruises!

We will show you the Greek islands and most magnificent spots on the mainland from a very different viewpoint, and we are always keen on showing you around the beautiful coves and beaches that are off the beaten track.
Like many skippers in Greece I had my own boat, the well known Caraya 2, and together we had more than our share of charters in the Greek islands. But as time went by I realized that owning a boat was less of an asset than it used to be. The reason, besides the obvious ones like docking and storage and maintenance had to do with the customers. A boat that is perfect for one customer may not be for another. I discovered that what makes more sense is to find the boat that fits the client rather than assume one-size-fits-all. So when you contact me and tell me how many will be sailing, whether you are couples, or families or monks on a summer outing, not only can I find the best and most suitable boat, but I can negotiate the price with the owners and get a better deal for my clients.

Whenever I am not sailing or am busy improving our programs, I try to be a good father and husband, and enjoy living in Greece.
I hope you will consider sailing with us on your next trip to Greece.