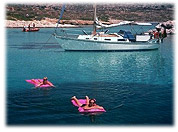 Singles Our prices are based on a shared double cabin, and this is what the majority of our clients opt for. However, for those who would prefer their own cabin, it is sometimes possible to book a double cabin for one person; cost is 1.5 times regular price. This option is not available on all trips, so please check with us.
Our "Mostly Singles" sailing groups Prefer to know you're not going to be a third wheel?? Check out our "mostly singles" groups, we have one each month from April - Oct !
On-shore costs to budget for: Very few! The boat is your floating home, transport and entertainment all rolled into one! We do eat dinners in local tavernas generally - costs averages around $15 USD pp for a feast of starters and mains, drinks too (less for the smaller appetite and/or non-drinkers!). There are a couple of islands where it's fun to rent a scooter/jeep and explore (scooters are around $10-15 /day, jeeps work out similar per person if shared). In Turkey, a fully guided historic tour for the day is around $30. Of course, there are the terribly-tempting Turkish bazaars, and the sky is the limit on one's budget there!!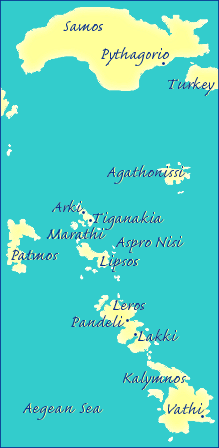 Greece is SeaScape's original "home", where we started our shareboat concept back in '91. Despite the fun we've had expanding to other exotic destinations, we're still in love with our home islands, and our wonderful local friends who make all the difference to our clients by their spontaneous, outgoing hospitality.Why the Dodecanese islands? Firstly, because they are well off the usual "package tour" routes, and so retain many of the Greek traditions which are sadly now lost to the more well-known "touristy" islands. If you'd prefer to stay within sailing distance of McDonalds - choose an Athens charter base, or visit the islands every has heard of (Mykonos, Santorini, etc). But for those of us who would rather experience a little of the "real" local culture, one has to make a little more effort these days. We think it's worth it.
Secondly, we chose these islands for their prevailing wind conditions. On average, 20-25 knots in midsummer; not too strong, as it can be in the Cyclades (getting stuck in port is no fun!); but plenty strong for some exciting sailing—unlike eg, the Ionian; very beautiful, but very little wind!
And lastly, but certainly not least - we chose this family of islands for their ambience and community feeling - the wonderful welcome which our local friends and "adopted families" give to our SeaScape Sailors. One of our guests some years ago gave us all one of the best compliments, when he wrote in our Ship's Log:
"When you sail with SeaScape, you never feel like just another tourist".
Our SeaScape Sailors around the World!
We're very proud of the fact that we have the Best Sales Force in the World out there - our former clients! Many of them have volunteered to act as references for folks who'd like to chat to our SeaScape alumni about their trips, to get an independent viewpoint. Contact us if you'd like to talk with any of them.