Hyphenology
Educational Programs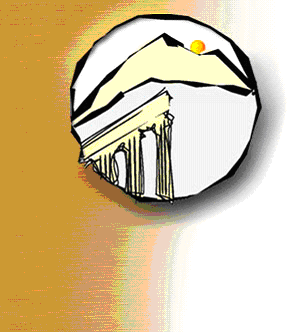 Hyphenology is an academic and travel summer program designed for high school students between the ages of 14-18. It combines academic excellence with cultural enrichment, an exclusive teaching faculty and a diverse student body, to provide participants with a unique and unforgettable summer experience.

For two weeks in July, students are welcomed to the island of Lesvos, Greece, a center of learning since ancient times and a bridge between Europe and Asia. Here, they attend courses on subjects of their choice. They will also travel extensively throughout the island on daily excursions to the ancient sites, museums, and monasteries, and the day trip across the Aegean to Pergammon and Ayvalik, Turkey.

Our aim is to enhance students' critical thinking skills by introducing them to subjects outside the traditional high school curriculum. We hope to broaden their understanding of the different cultures of the world by immersing them in one of these. The program teaches students valuable skills that will help them make the transition from "spoon-fed" high school learning to independent, research-based university learning.
About Lesvos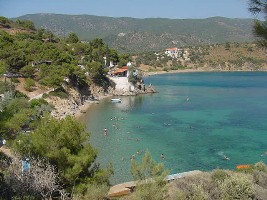 The island of Lesvos, or Mytilene, is located in the Northeast Aegean Sea, and is the third largest Greek island. Lesvos, through the years, has upheld its reputation for being an island that offers the traveler cultural enrichment as well as the stereotypical Greek island beauty, with splendid beaches and olive groves. It continues to be a safe place for visitors, as it is off the party route, and the majority of the population speaks English. Since ancient times, Lesvos boasts a rich cultural heritage. The poet Arion, whose work influenced tragedians of the 5th century BC such as Euripides and Sophocles, was born on Lesvos in the 7th century BC. Aristotle and Epicurus taught at a philosophical school on Lesvos. The poetess Sappho, one of the greatest poets of antiquity, was born on Lesvos.

Today, the University of the Aegean, located in Mytilene, has given the city a youthful boost. Cafes are full of students at all hours of the day, and the nightlife has blossomed. International bird-watchers flock to Lesvos to see the over 279 species of birds that have been recorded here. The petrified forest on the island is one of the few in the world, with remnants at least 500,000 years old. Fossils of elephants, prehistoric horses, and mastodons, dated from 5.5 million years ago have excavated in the Vatera area. With invasions and occupations from the ancient Romans, Byzantines, Venetians, Genoese, and Turks, the island provides the student of archeology, history, religion, and paleontology, with ample primary source material.


Planned Excursions
The program organizes daily excursions within the city of Mytilene, which will serve as part of the Greek cultural seminar that all students are required to take. These excursions include trips to the theatre* (subject to availability), museums (old and new archeological, Theophilos/Teriade modern art museum), archeological sites (ancient theater, Roman acqueduct, and the Byzantine castle), monasteries and local churches (Agios Therapontas, Agios Rafael, Moni Leimonos), and to several 19th century mansions.

In addition to these, all-day group excursions will take students to different areas of the island.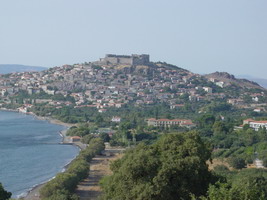 The first excursion will be a trip to Mithimna, or Molyvos (photo), located 62 kilometers from the capital city. It is a picturesque hanging village, with stone houses leading up the village's castle.

The second excursion will be a trip to Ayvalik, Turkey, by ferry boat. Buses will take students to the ancient site of Pergammon. This will be followed by a traditional Turkish feast.

The third excursion will take students to the northwest area of the island to Sigri and Eressos, where students will visit the Petrified Forest and Museum, and the birthplace of Sappho in Eressos.

Students will not only enhance their academic and cultural awareness. Hyphenology also stresses the importance of community awareness, something that crosses all cultural and national boundaries. On several afternoons, students will be asked to take part in community service, choosing either to volunteer some time with the local environmental group, Ydatinos, or the Kypseli Center for Disabled Children.

The program, together with the wardens, also organizes daily entertainment, including beach-volleyball, mini-soccer and basketball tournaments, snorkeling, organized hikes, shopping trips in the traditional bazaar, dance parties, and theatre and cinema trips.
Accommodation
Students will be housed in university student accommodation in Mytilene. Each sea-side unit will accommodate two or three students, and each apartment will have its own common area and bathroom. All units are air-conditioned.
Students will be housed in the same housing blocks, with one warden in charge of every 3 units.
Transportation will be provided to and from the lecture theatres and the student accommodation complex.

Courses & Academic Schedule
The cultural enrichment offered to students on the program is combined with a rigorous academic curriculum of the highest caliber.
Instructors will be brought from British and US universities to teach the classes.
Each student will take two courses of their choice, one in the morning and one in the afternoon (see course listings below). In addition to this, students will attend the Greek Culture Seminar just before lunch each day. Researchers from a variety of fields will lead these seminars, and daily excursions will supplement them.
Each course will be taught in English and will consist of ten lectures, of 1 ½ hour duration each. The small class sizes will allow close interaction between students and instructors. Attendance is mandatory at all classes, and individual course marks will be determined by the instructors.
At the end of the two weeks, students will receive an official transcript with comments from their instructors, a syllabus of each course, and a certificate of attendance to the program. Many students include this information in their university applications as supplementary material, and a number of high schools give credit to students on the basis of these reports.
Subjects that will be offered* include:
Ancient and Modern Cosmological Models
Analysing the Fairy Tale (modern critical views)
Athletics in Ancient Greece
Contemporary Economics
Creative writing
Great Greek Mathematicians
Homer in Hollywood: Modern adaptations of the classics
Horror and Gothic Literature: Mary Shelley's Frankenstein
Introduction to Astronomy
Introduction to Gravity
Journalism
Law in the Ancient Greek World
Mathematical Puzzles
Modern Greek language: beginners, intermediate, and advanced
Modern Greek literature: A Survey
Nonsense Literature: Lewis Carroll and Edward Lear
The American Short Story
20th Century European History: From Fascism to Union (1914-2000)
Women in Film
*the program reserves the right to alter the course offerings according to student demand

Instructors
The instructors for each course are experts in their respective fields, who have completed, or are near completing, a higher-level degree (M.D., PhD, or M.A.).
Hyphenology recruits the instructors from the top universities in the UK and US All instructors have an affiliation (attended or instructed) with one of the following institutions: University of Cambridge (UK), University of Oxford (UK), and the University of Durham (UK).

Daily Schedule *
7:30-9:00 - Breakfast, served at accommodation cafeteria.
9:30-11:00- Morning class.
11:30-12:30 - Greek Culture seminar (may be replaced, on certain days, with excursions into the city center and various museums; on days when students are taken into town, the seminar times will be extended until 14:00).
14:00-17:00 - Lunch break, siesta. Students will be free during this time to explore different areas of the city, to swim at the beach (at their own risk), work on their course assignments, or rest. It is strongly advised that students travel in groups.
17:30-19:00 - Afternoon class.
20:30 - Dinner, served at accommodation cafeteria.
21:30-23:00 - In-camp entertainment.
23:00 - Lights out, room roll-call.

*This schedule is subject to change.

Tuition Costs
The total cost of tuition for the program is 1800 Euros (or dollar equivalent at the time of payment). This includes tuition, accommodation, breakfast and dinner, all excursions on Lesvos and Turkey, museum and site entrance fees, supervision, and transportation costs to and from the Mytilene airport and within Mytilene.
It does not include transportation costs to Lesvos and daily lunch costs. Students will be given a list of snack bars in the city and near the accommodation complex that will give them special rates for lunch. The cost of lunch will range between 3 and 7 Euros (5-10 euro) per day.
Entrance fees to activities (open-air cinema, theatre, Greek tavernas, dances) planned by individual wardens for their groups (8-10 students) are also not included.
Parents should estimate that students will need about 250-300 euro spending money (for lunches, phone calls home, etc).

Rules and Regulations
Students attending the program will be strictly supervised and, for their own safety and well-being, are expected to abide by the rules outlined in this section.

1) Alcohol/Drug Policy
The program has a zero tolerance policy on drugs and alcohol: no drinking, no drugs. Any student caught in possession of or consuming alcohol or drugs will be sent home on the first available flight, at their own expense. Guardians will be notified immediately.

2) Curfew
Unless on planned excursions, students are not allowed outside the accommodation complex without a warden after 8 pm, and all students must return to their rooms by 11 pm. Wardens will make rounds at this time to ensure that this curfew is met.
Anyone caught in breach of curfew will be placed on probation in the first instance and sent home in the second instance, at their own expense.

3) Medical
Hyphenology hires its own private, English-speaking doctor during the duration of the program.
Students are required to have travel insurance from their respective countries that covers medical costs and injuries and is suitable for travel in the Mediterranean region (more specifically, Greece and Turkey). Hyphenology can recommend insurance agencies specializing in student travel abroad, but the final decision about the insurance provider and specific policies, is left to each parent/guardian.

4) Class Attendance
It is mandatory that students attend all their classes, except in exceptional circumstances and with the director's permission. Final evaluations will take the attendance record into account.
Unless they speak with and get written permission from the director, students are not allowed to attend classes other than those they have been assigned.
Course grades and evaluations will be determined by the individual tutors.

5) Planned Excursions
On days when students will be taken as a group to various locations on the island, they will be expected to follow the same rules that apply when they are at the camp.
Students will be given free time during the day to explore areas they find of interest. It is strongly recommended that they travel in pairs or larger groups. Meeting times and points will be assigned during the day, and students will be expected to arrive and report to these on time.
All students will be given pre-paid phone cards at the beginning of the program, for use in emergency situations. Emergency contact numbers will be provided.

6) Codes of Conduct when visiting religious or ancient sites
A number of the places to which the students will be taken are centers of worship or sacred ancient sites. The monasteries, for example, have a dress code. Looting or vandalizing of the petrified stones in the Sigri Petrified Forest, a federal crime.
Students will be informed of the proper codes of conduct for each of these sites and are expected to follow them during the duration of their visits.

7) Car / Motorbike Rental
Students will not be allowed to rent cars or motorbikes during the duration of the program. All rental agencies in Mytilene will be informed of this rule, and any student attempting to break it will be sent home on the first available flight, at their own expense.

8) Swimming
The beaches on Lesvos are well known for their beauty and are widely regarded as safe for recreation. Clearly, with a camp of this size, it is impractical to provide supervision at all of the beaches at all times. Thus students swimming will be doing so at their own risk and should only do so if they are competent swimmers. It is strongly recommended that students should visit the beaches in groups and observe normal safety precautions.

9) Overall Conduct
Students will be expected to treat their instructors, peers, and locals with respect. The program's discipline committee will deal with any incidents of harassment, bullying, or misconduct in a strict manner.

Travel Information
Getting to Lesvos
Hyphenology works with a US travel agent, who will, if possible, arrange students to fly from the US to Greece on a chaperoned flight. More information about this will be sent to parents / students upon acceptance.
The most common way to reach Mytilene from all international destinations is to fly to Eleftherios Venizelos International Airport in Athens, Greece, and from there, take a domestic flight with Aegean Airlines or Olympic Airways, direct to Mytilene (Odysseus Elytis Airport). The majority of airport and airline employees are fluent in English.
There are a number of European companies that fly directly to Mytilene during the summer months. For students flying from a European country, please consult your local travel agents for direct flights.
When travel plans have been finalized, students will be asked for their scheduled arrival times in Mytilene, and transportation will be arranged to carry them from the airport to their accommodation.
We recommend you book your flights as early as possible to avoid unnecessary hassle and disappointment. For travel info see www.lesvos.com


What to Pack
Please bring one 3-subject notebook for lecture notes, and writing utensils of your choice (pens and/or pencils).
During the month of July, temperatures in Mytilene range between 30-40 C (86-104 degrees F). Pack light, breathable clothing and open, comfortable shoes. For visits to the monasteries, young women should wear long skirts or wraps over their shorts. Young men should wear long shorts or pants.
In the evenings, a light jacket may be necessary.
Don't forget a pair of hiking shoes, and if you intend to swim, pack a swimsuit, beach towel, hat, and lots of sunscreen!
Bath towels and sheets will be provided by the program.
Please feel free to contact us with any specific questions you may have regarding items to bring!

Student Information
Yes, you're coming to a Greek island this summer! You've completed your application, you've chosen your classes, and, now, you're counting down the days until your flight. Here are some common questions and answers that students have asked in the past:

What will our rooms be like; will we have our own bathroom?
Each unit consists of one bedroom with two single beds, one sitting room, and one bathroom. You will share your bathroom with your roommate. The rooms are comfortable, and furnishings include beds, nightstands, a sofa and coffee table. There will not be much time for spending in your rooms, except to sleep at night and in the afternoon. There is also a common area for all the units at the front of the accommodation unit, where everyone can gather during free time.

Should we bring electronic equipment?
We suggest that you do not bring electronic equipment, especially if you're coming from the US. Greece has 240 V electricity (as opposed to the US 120V) and you will need to bring a converter as well as a plug adaptor. The program will have hair dryers for everyone to share.
Please email us with specific questions about any electronic equipment that you would like to bring and we will do our best to accommodate you with converters, etc.

Will we be allowed to change rooms if we do not get along with our roommate(s)?
You will be allowed to change room assignments only in exceptional circumstances. You will be asked to submit a written request, stating the reason that you desire to change rooms, and, if your request is approved by the program administrators, you will be assigned a new room.

What is Greek food like? Are there alternatives and food that I'm more used to?
Greek food is very typical of a Mediterranean cuisine: lots of fruits, vegetables, olive oil, and seafood. We will plan a menu that includes many traditional Greek dishes. There are also a number of fast-food restaurants and gyro stands, which many students find more to their liking.

How much free time will we have?
The program structure provides enough free time for you to explore different areas of the city, get to know others on the program, and complete class assignments Your days will be quite packed, though, between classes, seminars, excursions and evening activities!

What is there to do in Mytilene during the times when we are not in class?
Mytilene is a town booming with activity. It is located on the coast and in the summer, the beaches in and around the city are full of people. Some even provide water sports (water skiing, canoeing, kayaking). Sitting for a coffee (or frappe) in the afternoons or early evenings is a favorite pastime, and the town is full of trendy cafes for young people. In the evenings, open-air clubs are popular.


Will we be able to communicate with the locals if we do not know Greek?
Yes. Most locals are fluent in English.

Contact Us


---