The Pillion Centaur Centre, offers living-in-community guest weeks and workshop holidays in tranquil healing surroundings, near beautiful crystal clear beaches in the area where, according to legend, Cheiron Centaur, the wise teacher of gods and men, founded one of the earliest known healing schools - Home of the Healing Arts - on Mt. Pilion.

Located close to the Aegean sea in mainland Greece and less than 45 miles from the touristic island of Skiathos, the Centre follows that ancient tradition with a summer programme of holistic workshops, retreats and alternative holidays with a difference — they are all set in the context of community.

The Centre derives its inspiration from three well known international spiritual communities and mystery schools, all dedicated to personal and spiritual transformation.
Findhorn in northern Scotland which pioneered the concept of working with spirit via attunement, focalisation, making everyday work love, and through honouring the great rhythms of nature.

The ZEGG Community in Germany and Tamera in Portugal, best known for their seminal research into the nature of love and intimate relationship, and their view that there can be no peace on earth until there is peace between men and women.

Auroville in South India, founded by Sri Aurobindo and the Mother as an international centre for integral yoga dedicated to fostering peace and understanding amongst all peoples, well known for its work with alternative technology, permaculture and deep ecology.
---



Located close to the Aegean sea in mainland Greece, the Pilion Centaur Centre offers a summer programme of living-in-community guest weeks, holistic workshops, retreats and alternative holidays.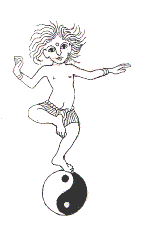 Drawing on concepts pioneered by several international spiritual communities, the programme is unique in that it provides a holistic community experience in the form of workshops and retreats combined with a beach holiday. Set on three acres on the fringe of the village of Anilio in the lush Pilion Forest an hour and a half from Volos, Greece, the Centre is 2 1/2 miles from the sea.
In keeping with the community nature of the summer programmes participants share in maintaining the centre—in particular, cooking, cleaning, and washing up. Participants help with the cooking and preparing of the main (usually evening) meal which is focalised by one member of staff. In practice, this typically amounts to one 2 1/2 hour cooking shift (6pm - 8:30pm) per week per person. Taking responsibility as a group for our meals and cleanup makes the Centre's programmes much more affordable as well as providing daily work experience. We are committed to demonstrating the principle made famous by the Findhorn Community that Work is Love in Action.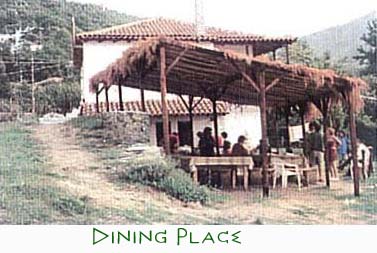 The picture to the right shows the outdoor dining area at the Centre. The four member staff in the summer of 2003 will be coordinated by Jock Millenson, former Findhorn community herbalist and naturopath with long term interests in community building and nonviolent communication. Jock will be working with several present and former Findhorn colleagues. There are frequently one or two work exchange students who support our staff and are generally engaged in the ongoing building projects.

---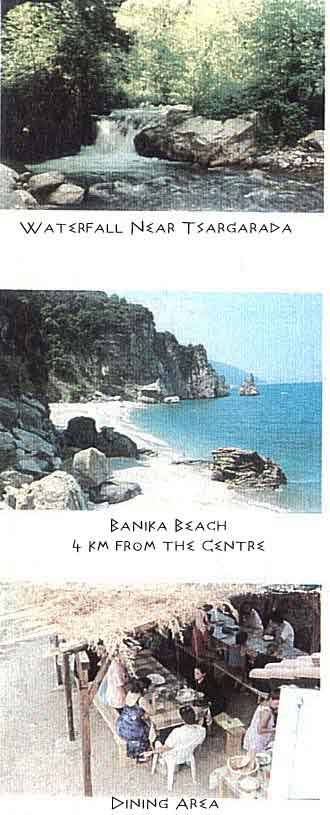 *Anilio is a village of fruit trees, flowers and greenery, lying along the hillside and extending into the forest above St Yiannis, about 30 minutes from the county seat of Zagora. Set in a charming position in a lovely hillside area at a height of 1000 feet overlooking the sea, Anilio is 30 miles—an hour and a half by local bus or Taxi— from Volos, the fifth largest city in Greece.
The Centre's holistic holidays aim to integrate mind, body and spirit by bringing together the principle elements of what connects people with each other. So, we work and play together, we learn together and we give space for that silent communion with ourselves and nature that takes us beyond words. The workshops foster personal growth, openness and self discovery. Living in community gives us the opportunity to share and to live what we learn in workshops. All these ingredients are brought together in the uniquely Greek healing tranquility and vibrancy of the mountains, the azure sky, the lush woodlands and the intense blue of the Agean sea. The schedule of every workshop, retreat or seminar includes daily beach time!
---
Facilities:
19 beds in seven bedrooms, all with shared toilets and showers
Shaded space for tents with shower and toilet block
Shaded, open-air water-resistant space for seminars
Open air terrace for yoga, Qi Qong, and Tai Chi
Large roofed patio/studio suitable for arts and crafts workshops, such as painting, pottery, weaving, stain glass etc.
Seven meter diameter waterproof reciprocal frame roundhouse, suitable for intimate workshops and for small dance workshops.
Restaurant grade kitchen and open air dining area which also functions as a meeting place
At the back of the house there is an open air fireplace and bar.
Non-denominational sanctuary open at all times for quiet contemplation and communion. We often have Taize singing here on Sunday mornings.
---
Meals:
As the cooking is generally done by the community—staff, participants, and guests—we usually stick to basic tasty, vegetarian meals using mainly local produce. We provide a buffet breakfast and a main meal (usually dinner). Lunch is a healthy light meal, generally a beach picnic box consisting of bread, butter/marge, olives, cheese, tomatoes, cucumbers and fruit. Once a week the staff have a day off from focalising a main meal, so most everyone eats out that evening at one of the local tavernas, where a basic meal with a glass of wine runs about £5.50 (€8.00). The taverna meal is not included in the basic price of the workshop.