The Best Taxi Driver in Greece
I have a brand new Mercedes Taxi. Fully air-conditioned and very comfortable with leather interior. I drive very carefully and I do not smoke. In my car I carry the latest guidebooks and brochures for all the sites we visit so that if you get tired of looking at the beautiful countryside you can read about where we are going and ask me questions about what we will see. I can promise you that if you take a journey with me, whether it is a half day trip in Athens or a week long excursion around the country you will come back with an understanding of Greece that you will treasure and you will have perhaps the best vacation of your life. You will eat the best food and be treated like a guest of my country and when we say goodbye at the airport you will be saying goodbye to a friend you will always remember and hope to see again. That is why I say I am The Best Taxi Driver in Greece.
---
Contact Information for George's Taxi
George's Taxi company can accommodate private groups from 1 to 18 people in Mercedes sedan, Van and mini-bus vehicles . Please e-mail georgetaxitours@yahoo.com for availability and pricing.
If you require limo service in luxury cars please contact Dennis at limotours@yahoo.com
E-mail is so unreliable these days that if you have an alternate e-mail address that George can cc his reply this is helpful.
CONTACT NUMBERS :
TAXI RESERVATIONS (UP TO 4 PEOPLE) : 693-2205887 (cell phone) .* Please check operation hours
VAN/MINI-BUS RESERVATIONS : 693-2205887(cell phone) . *Please check operation hours
OPERATION HOURS : Please mind the time difference between your city and Athens. You may send an e-mail anytime however please only call between 8am till 10pm (Greece time) so we can get some sleep. In case you already have a reservation and need to reach us urgently,please use the numbers that have been given to you on your confirmation letter.
Calling Greece
From the USA: dial first 01130 followed by the 10 digit number.
From Europe: 0030 followed by the 10 digit number
Within Greece dial the number as show in the Contact Numbers
You can also read the Reviews from my customers
For those with infants I do have a have a car seat for the purpose of transporting your child in safety.
For groups too large for a taxi we now have a limo and bus available too.
Keep in mind also that we are not licensed tour guides, nor is any private taxi. That means by law we can not take you into the sites and give you a guided tour. We can tell you everything we know about the sites up until you enter the site but Greek archaeological sites and museums are very strict about using only licensed guides within the sites themselves. We can arrange for you to have a guide if you think it is necessary for you to have a full understanding of what you are seeing and there are guides available at most of the sites that you can hire.
Be sure to visit George's New Website which lists all his tours and services at GeorgesTaxi.com
Sons of Greek Taxi: The Next Generation
Dennis Kokkotos Limo Tours and Transfers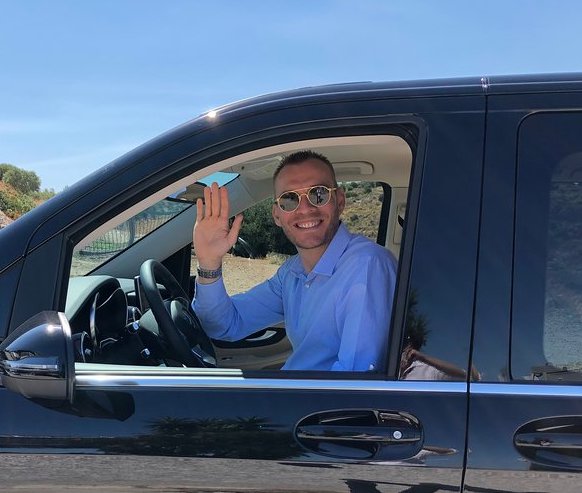 Hello. I am George's son Dennis. After fulfilling my military obligation and finishing my studies as a physical-therapist I have decided to join my father in the family business assisting travelers to get from the airport to the city and elsewhere and also show them my adopted country. (I was born in the states but have lived in Greece most of my life ) I have a beautiful new Mercedes Limo. Fully air-conditioned and very comfortable. Yes it is a real limousine that can seat 7 comfortably (plus me). So if you are a larger group or you just want to arrive or see Athens in style, or if you are the type who always uses limousines you can e-mail me for prices or see our new website.
More than 7 people? No problem. Ask my brother Billy about our new bus.....
Billy's Bus Tours
Hello. I am Billy Kokkotos and I have lived in Athens, a wonderful city of history, art and culture since I was 8 years old, when our family left the USA. After I graduated high school I went to Italy and UK to finish my studies in Economics. But when I returned to Greece I wanted to work with my father. This upset him in a way because I think he wanted me to become an Economist or something more, after spending so much time and money on my education. But for me personally, I prefer to interact with people and show them my country, rather than sit in front of a computer working with numbers and talking to people about money all the time. I explained to my father that my love of history and Greek culture, my ability to speak English and Italian fluently and the fact that I like being a host and showing people my city and my country, made me better suited to a career in tourism instead of Economics. Finally he relented and took me into the business and I joined him and my brother Dennis (who is a trained physical therapist who prefers to drive a limousine) and began by doing transfers from the airport and ports and eventually to doing tours on my own.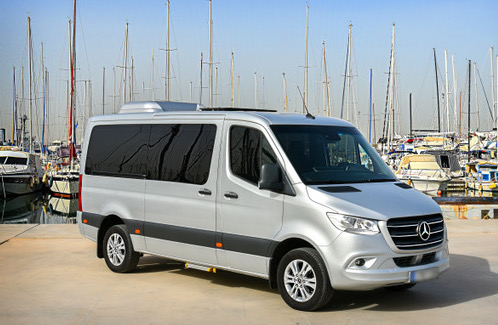 When my father realized that because the taxi only held four customers and the limo seven, the next step was to buy a small bus that we can use for larger groups. Believe it or not we bought the bus and spent almost a year getting it ready and finally we began to use it for the tours and transfers. I think you will agree that buses do not get much more comfortable than my Air-conditioned Mercedes Luxury which seats 12 people plus me. I can meet you and your group at the airport, your hotel or the ports of Pireaus, Rafina, or Lavrion. My goals are simple. I want to be as well-known and respected as a mini-bus driver as my father is with his taxi. Maybe I would have been a successful economist, who knows? All I know is that this is what I want to do with my life. This is what I was born to do. It is in my genes, I believe. Whether you need transfers from the airport to your hotel, or to the port of Pireaus or want to see the Acropolis, Temple of Sounion, or the many places to visit in and around Athens, day or night, I am at your service. See our new website for booking information and some photos.
Be sure to visit George's New Website which lists all his tours and services at GeorgesTaxi.com