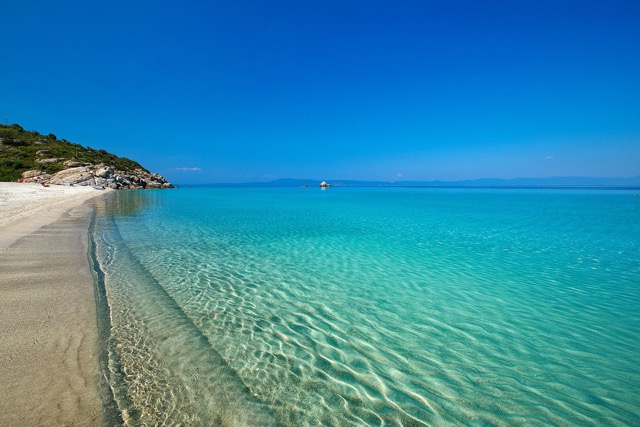 Southeast of Thessaloniki is the peninsula of Halkidiki which boasts some of the finest beaches in all of Greece. At one time the prime destination for Germans and other Europeans, the area's popularity has receded only slightly because of the difficulties in driving through what was once Yugoslavia. People still come here in droves and unless you book in advance you may not find a place, especially in August. On the other hand the campsites seem to always have room and are well organized. Yes, there are still plenty of tourists there, especially in July and August when most of Thessaloniki comes here, but the beaches can be long, the hotels large and beautiful and there is enough authentic Greek life in the more remote inland villages to make a traveler here not feel like he is missing something somewhere else. The area is not only known for its amazing beaches but also for the mountains, valleys and the splended selection of wildflowers in the spring, which may be the best time to be here to beat the crowds.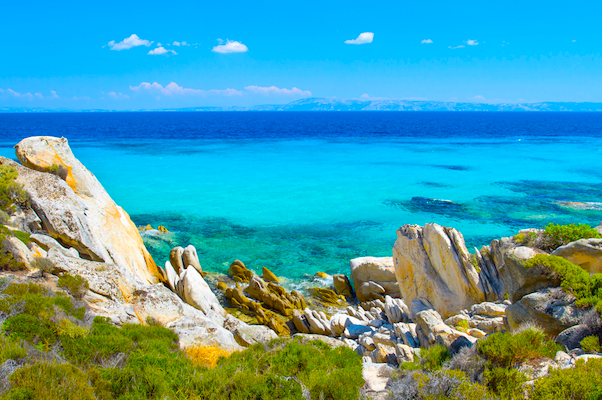 KASSANDRA is the most westerly of the three prongs of Halkidiki. It is remarkable for its extensive beaches, pine forests and small villages as well as for the impact tourism has had upon it. It is difficult to get away from it all but if you like discos, fast food, motorbikes you may be quite happy here, provided you can find a place to stay. The entire Kassandra peninsula has several major hotels and organized camping grounds, many surrounded by woods and close to the beaches.There are also many smaller hotels and rooms available though difficult to find without booking in advance.
POLIGIROS This is the capital of Halkidiki (69 km from Thessaloniki) built amphitheatrically at the foot of Mt. Holomon. There is an archaeological museum containing notable finds from excavations in the surrounding area. Visitors can also see sections of the old quarter of the town.
By the village of Petralona the famous cave is worth visiting. It is located along the west foothills of Mt Katsika at an altitude of 250 m. It is one of the most important caves with paleontological interest. The total length of the corridors comes to 1,900 m. and it is adorned with wonderful stalactites and stalagmites of all kinds. It was first explored in 1959 by Mr J. Petrocheilos, then president of the Greek Speleological Society who named it "Kokines Petres" (Red Rocks). In 1960 a 700,000 year old human skull was found here.The cave is open from 9 to 5 daily.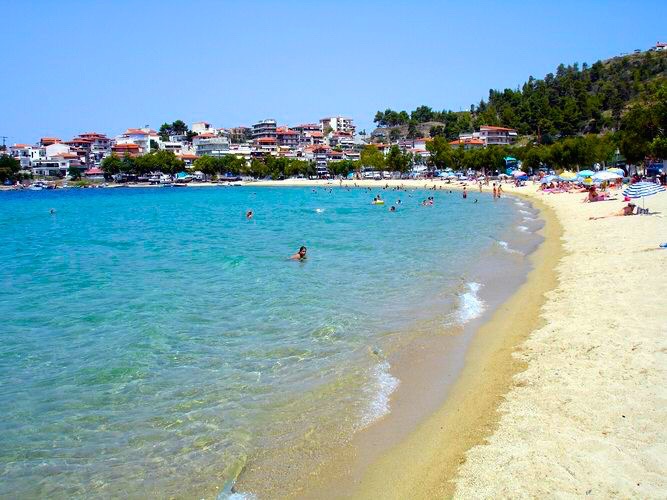 SITHONIA is less tourist-infested than Cassandra though it still boasts some of the areas most popular and attractive resorts including the Porto Carras Grand Resort and Golf Course, one of the largest and best in Greece. There are still small hidden sandy beaches particularly on the east coast where you can get away, at least for awhile until another person seeking solitude arrives. The ruins of ancient Olinthos, built by Athenian colonists is near the village of the same name. The southern most tip of the Sithonion is your best bet for dramatic scenery. The village of Kalamitsi is probably the least commercial resort in the area, an excellent beach, some nice fish tavernas and rooms to rent. The village of Sarti has yet to take the plunge into obscene commercialism though it is popular with Germans and Austrians and visitors from Eastern Europe. I wanted to stay here because of its long sandy beach, and smaller beaches hidden among rocky out-croppings and mostly because there were lots of beautiful women in bikinis but my wife insisted on staying at Vourvourou which was a wooded area sheltered by some small islands with beautiful sea, but inhabited mainly by university professors and professionals from Thessaloniki. It had a terrific seafood taverna , the oddly named Gorgona e Poulman, and some nice inexpensive (and expensive) hotels, but while Sarti had a pleasant sea breeze, Vourvourou was on the hot and humid side when we were there. In fairness we were there doing a summer heat wave. If you came here during normal weather it might be one of those places you went back to every year. Further down the coast we would drive down any posted or unposted roads that looked like they led to the sea and found some nice beaches, some secluded and others taken over by campsites. If you are traveling with a recreational vehicle or with a tent, Sithonia is a good place to go to meet like-minded travelers. Click here for more on Sithonia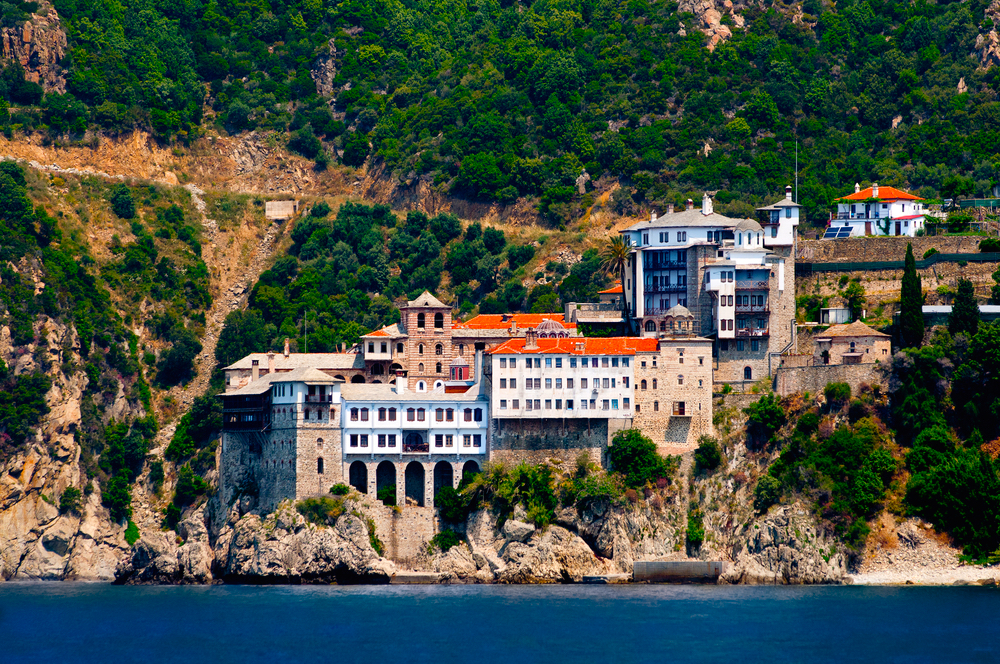 MOUNT ATHOS or in Greek Agio Oros is to Greece as the Vatican is to Rome, a religious state within a state. To get a clear idea just imagine the Byzantine empire getting smaller and smaller until it only covered the easternmost peninsula of Halkidiki, a wooded, mountainous, and rugged land with few roads, a few dozen monasteries and smaller spiritual settlements. Its a beautiful place, maybe the most magical place in Greece. The catch is you can't go there if you are a woman and you can only go for 4 days if you are a man and you need special permission to stay there. But you can get as far as Ouranopoulos which has beaches, hotels, seafood tavernas and is the last town before the no-mans-land between the Holy mountain and the un-holy rest of the world. For those who do have permission there is a daily boat from here to the port of Daphne, the entry point for pilgrims and monks. For women, or men who are satisfied seeing the monasteries from a distance there are excursion boats that sail around Mount Athos. More on Mount Athos....
Hotels in Halkidiki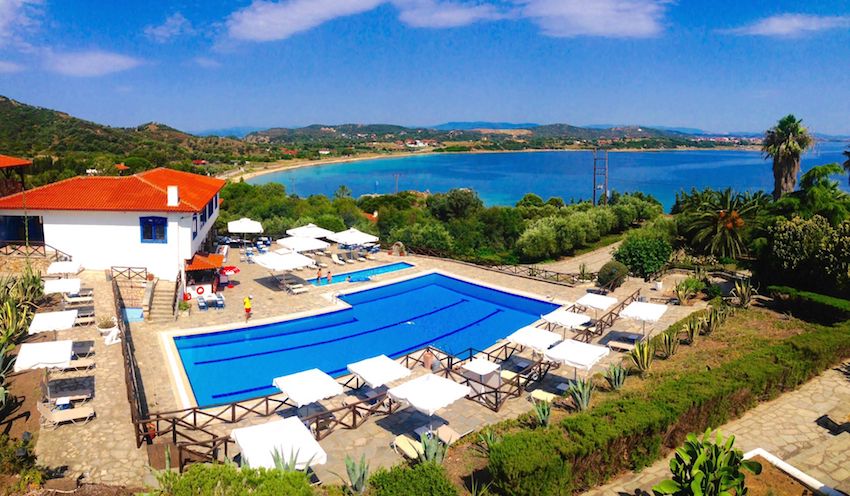 The environmentally friendly Agionissi Resort is a beachfront hotel located in the island of Amouliani. It offers sunny air-conditioned rooms, a 5x5 football field, a tennis court and a spa. Rooms at Agionissi are traditionally decorated and have a balcony. They feature a satellite TV, a mini-bar and in-room safe. Some rooms also include a kitchenette. Guests can pamper themselves at the on-site Beauty Haven spa center featuring a hammam, an indoor pool and a hot tub. The sandy and pebbled beach can be easily accessed within a few feet of the hotel. Also available is a swimming pool with separate section for the children. The restaurant serves homemade delicacies and fresh fish prepared with local ingredients. A 5-course menu dinner selection is available. Refreshing drinks are served daily at the pool bar, while a Greek Breakfast can also be enjoyed daily. Book Directly with the Hotel or with Booking.com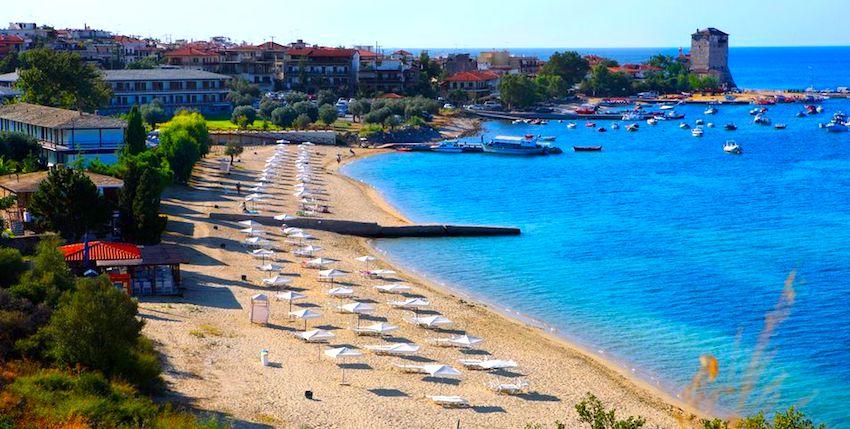 Boasting a seafront location on the sandy Ouranoupolis beach, in Chalkidiki, Xenia is surrounded by lush greenery and offers magnificent sea views. It has a spa center and a large pool. Tastefully decorated, all Xenia Ouranoupolis rooms have a sea-view balcony or terrace. They are equipped with air conditioning, a satellite TV and hairdryer. The hotelís spa center includes an indoor pool, a hot tub and a hammam. Massage sessions can also be arranged. A Greek breakfast can be enjoyed daily, while the restaurant also serves traditional Greek cuisine made with fresh local products. There is also a beach bar and a pool bar offering a romantic setting for evening cocktails. Within walking distance, guests can visit the town of Ouranoupolis featuring many bars and traditional taverns. Free on-site parking is possible. Book Directly with the Hotel or with Booking.com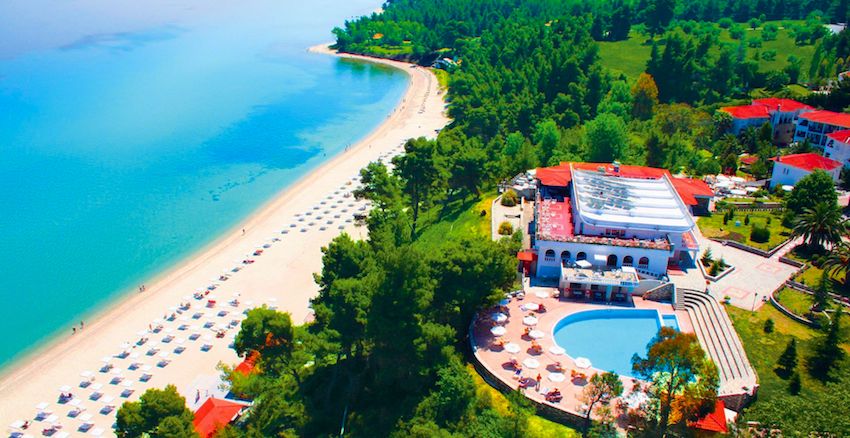 Alexander the Great Beach Hotel
Overlooking the stunning Kriopigi sandy beach, Alexander the Great Beach Hotel offers a large swimming pool and a flood-lit tennis court. A elevator is provided for safe access to beach. Accommodations at Alexander the Great consists of air-conditioned rooms with satellite TV and mini-bar. Each of the guest rooms comes with furnished balcony with views over the sea or the lush surroundings. Greek and international dishes are served at Antonis Taverna and Roxani Restaurant, while Greek Breakfast is also served daily. Exotic drinks and iced-cold coffee are served at the pool bar, while snacks are available at the beach bar. Grek cuisine is served in the beach Restaurant Agora. Pool and beach parties, Greek nights and BBQ nights are hosted at the Alexander. There are also sports facilities including beach volleyball, table tennis and billiards. Alexander the Great Beach Hotel is only 0.9 mi from the traditional village of Kryopigi. Kalithea, famous for its lively nightlife is just 1.6 mi away. Driving distance from Thessaloniki International Airport is 90 minutes. Book Directly with the Hotel or with Booking.com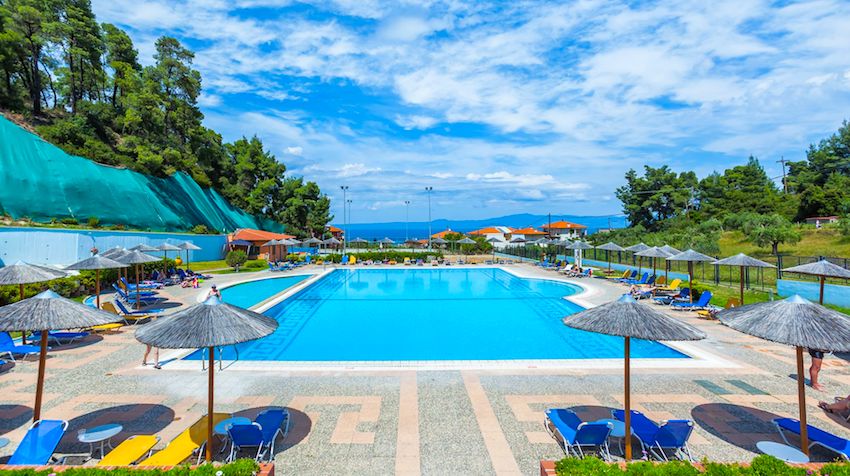 Among olive and pine trees, over the emerald waters of the Kassandra gulf, in Halkidiki, lies Atrium Hotel. It offers free shuttle service to the village and the beach, and has a pool with pool bar, free deck chairs and sun umbrellas. The comfortably furnished rooms feature satellite TV, private bathrooms with shower and hair dryer, as well as a fridge and air conditioning. All rooms have private balconies. The wide array of sports activities at Atrium Hotel includes a tennis court, pool, aerobics, beach volleyball, and pool table. Upon request guests can take diving lessons. Younger guests can play safely at the playground and the mini club.
Enjoy the big veranda round our two freshwater pools, one for adults and one for children, with free deck-chairs and parasols. You can relax under their shade and take a dip in the poolsí crystal clear waters at his halkidiki hotel. The restaurant ďATHOSĒ serves American buffet breakfast.
As for dinner you can choose, among the rich and various buffets, the dishes of your preference of the Greek and International cuisine. You can also enjoy the thematic nights that are organized every week (Italian night, fish night, ancient flavours). The bar ďAvraĒ is situated next to the pool, it is open from the morning until late at night and serves drinks, refreshing cocktails, fresh juice and snacks. You can end your night by taking part in the activities organized by the hotelís animation group or by just enjoying your drink by the lightened pool, under the stars. Book Directly with the Hotel or with Booking.com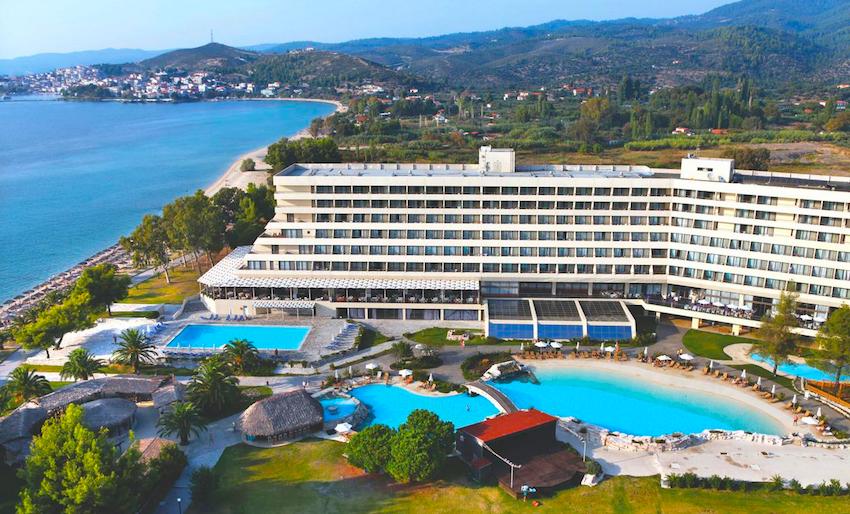 Located on the sandy beach of Chalkidiki, the multi-awarded Porto Carras Sithonia offers 5-star accommodations surrounded by landscaped gardens. It features a private marina, a casino and a spa center. Porto Carras Sithonia rooms are luxuriously decorated with elegant furnishings and marbled bathrooms. Their balconies boast views of Toroneos Bay or the complexís golf course. They are all equipped with satellite TV, air conditioning and hairdryer. The hotelís state-of-the-art spa offers exclusive thalassotherapy treatments and includes a hamam, sauna, indoor pool, hair salon and fitness room. Other leisure facilities include a football field and basketball court, as well as an 18-hole golf course. Porto Carras Sithonia features 4 restaurants serving Mediterranean and ethnic cuisine. 5 bars, at the pool, the beach, the lagoons and the casino of Sithonia, serve refreshing cocktails and wine from the hotelís own vineyards. Special childrenís activities are organized by an animation team, while there is also an on-site riding school offering horse riding lessons and 2 playgrounds. A bowling center is also available on site. Click here for Photos, Reviews and Booking Information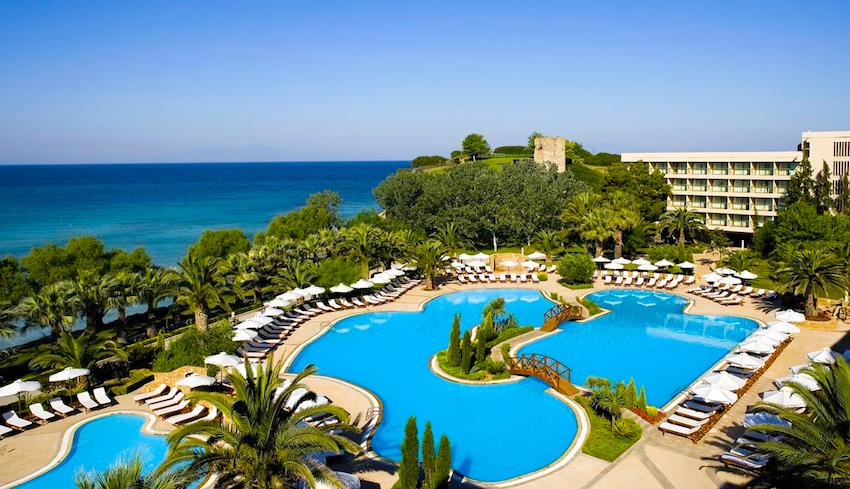 Overlooking the azure waters of Cape Sani, the Sani Beach offers a lagoon-style swimming pool, a spa center and restaurants with international flavors and Greek cuisine. Each of the light and airy rooms offers views across the Aegean or the beautifully landscaped gardens. They all come with a private terrace or balcony and bathroom with rain shower. In-room amenities include a flat-screen TV, mini-bar and air conditioning. Poseidon Restaurant proposes a culinary experience for all the family with themed buffets each evening. The Veranda Restaurant offers an open-kitchen experience which serves a selection of Greek and Mediterranean dishes with views over the Aegean Sea. Guests have easy access to Bousoulas beach with its 4.3 miles of pine-fringed sands with clear water, ideal for snorkeling. The beach has been awarded an EU Blue Flag and the shallow water is ideal for children. Several fun activities for younger guests are also organized, along with dancing, football and sailing lessons. The Sani Beach occupies a prime position on the Cape. Guests can seize the opportunity to enjoy water sports, play tennis or take off into the Mediterranean scenery on a mountain bike. Click here for Photos, Reviews and Booking Information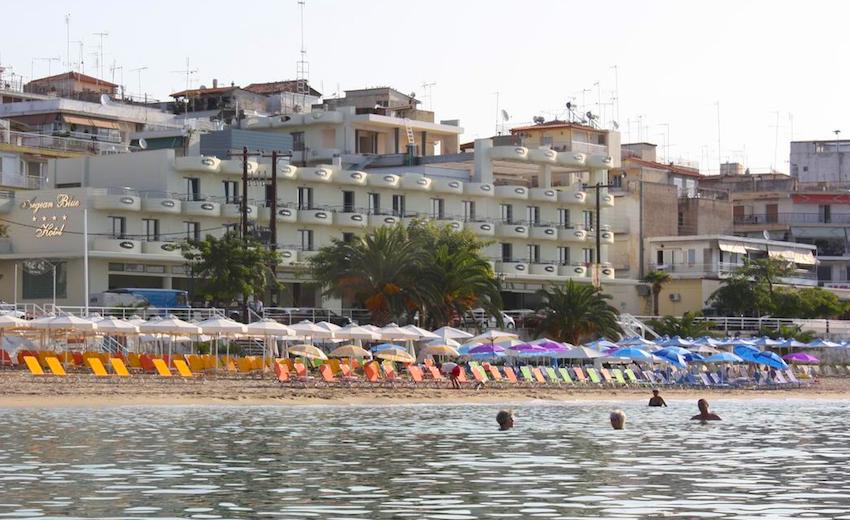 Set ideally on the beachfront, this 4-star hotel offers ergonomically designed rooms with free WiFi and private parking. Aegean Blue soundproof rooms are fitted with a satellite TV. Each has a furnished balcony. The modern bathrooms include a hairdryer and bathroom amenities. The sandy beach in front of the hotel offers sun beds and umbrellas, while the on-site lifeguard ensures carefree holidays. The Aegean Blue attentive staff are on hand 24/7 and offer room service. This property also has one of the top-rated locations in Nea Kallikrateia! Guests are happier about it compared to other properties in the area. Click here for Photos, Reviews and Booking Information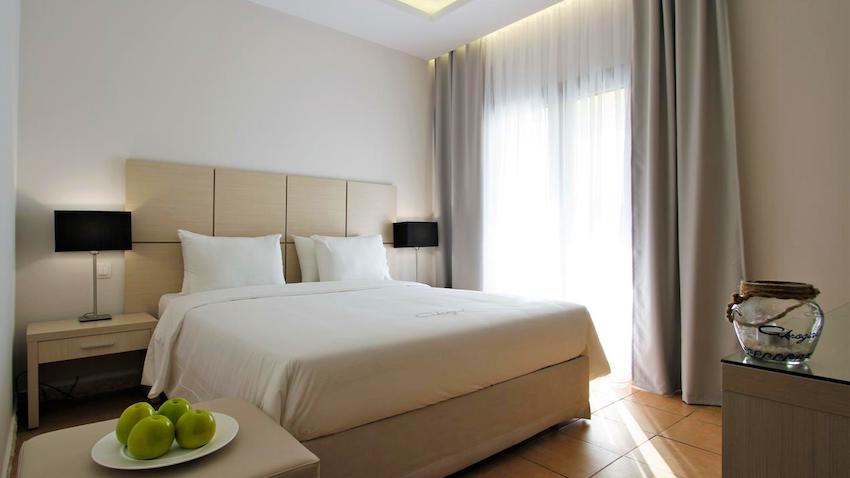 Akrogiali Boutique Hotel (Adults Only)
Located just 200 feet from a long sandy beach in Polichrono, Akrogiali Boutique Hotel offers stylish accommodations and relaxing ambiance in the bar-restaurant. Free Wi-Fi is available throughout. Modernly decorated with LED lighting, the rooms of Akrogiali Boutique are air conditioned and include a bathroom with shower and fine porcelain.They are equipped with double-glazed windows, pocket spring mattresses, flat- screen satellite TV, mini fridge, personal safe, hairdryer, tea making facilities and electronic door lock. All rooms have a balcony with views over the garden or the inner courtyard. A Greek buffet breakfast including local products, Greek yogurt, spinach or cheese pie, local honey and homemade omelet, is daily available. The hotelís restaurant serves Greek and Mediterranean cuisine using the finest local products. Guests can enjoy fresh fish and traditional dishes at the elegant dining room or at the lovely terrace by the garden. Various shops lie within proximity. The traditional Kriopigi and Hanioti villages are within 2.5 mi from Akrogiali.The hotel offers services for organized cruises and excursions. The crystal clear waters are ideal for snorkeling and the beautiful forest for walking. Transfer from the airport of Thessaloniki is provided on special request. Click here for Photos, Reviews and Booking Information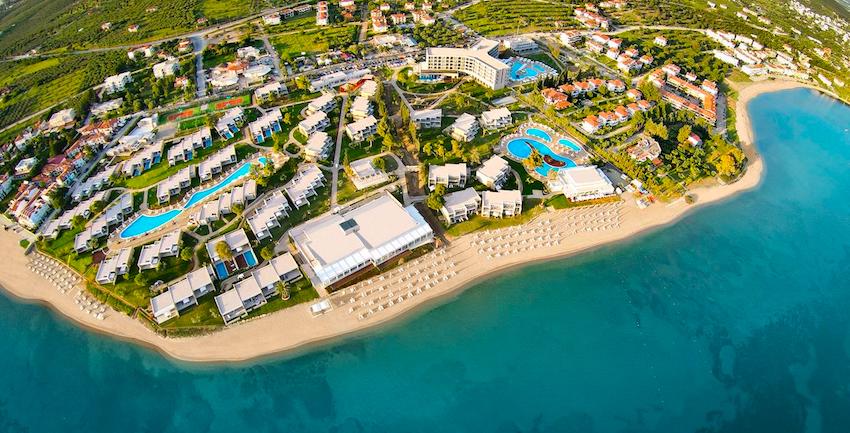 Right on its private beach area in Gerakini, Ikos Olivia features 3 outdoor pools, 1 indoor pool and spa facilities. Set in extensive grounds with a tennis court, shops and 5 restaurants, it offers elegant accommodations with free WiFi. Decorated in light tones, all units at Ikos Olivia offer views of the pool, garden or Toroneos Gulf. Each has a flat-screen, satellite TV and DVD player. A coffee machine and mini-bar are also included. The modern bathroom comes with a shower or/and bathtub. Some accommodations types have a private garden with sun loungers. Dining options include a buffet restaurant with Mediterranean dishes, as well as 4 a la carte restaurants serving Asian, Italian, Greek and French cuisine. Breakfast in the room and special diet menus can be served on request. Guests can also choose to have a drink from 5 indoor and outdoor bars. The wellness center comes with an indoor pool, steam bath, sauna and massage room. Other facilities include a gym, table tennis and watersport facilities. Special children entertainment and a playground are provided for the younger visitors. A mini market, jewelry and clothes shops can be found on site. Thessaloniki International Airport can be reached within a 35-minute drive. Free parking is possible within the premises. Click here for Photos, Reviews and Booking Information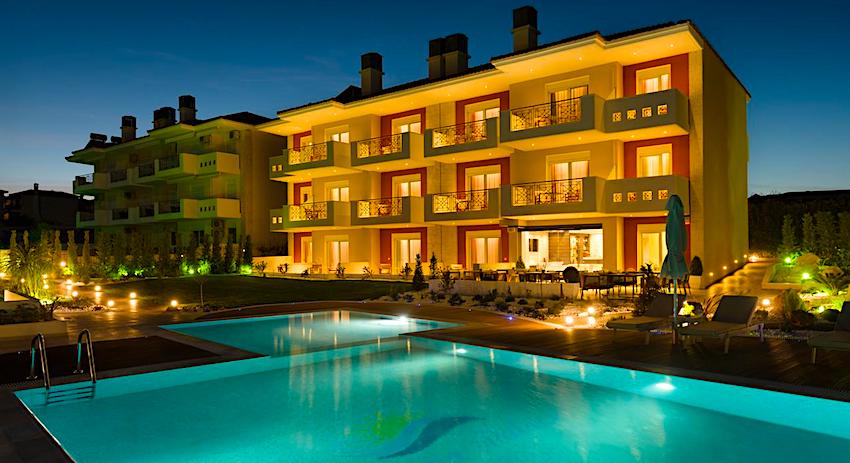 Offering free WiFi and a shared outdoor pool, Lagaria Palace is located in Ńfitos. This property features a bar, a garden, and air-conditioned accommodations with a furnished balcony. Overlooking the garden, the modern rooms at Lagaria Palace come with satellite flat-screen TV and a private bathroom. Free WiFi is provided throughout. At Lagaria Palace you will find a 24-hour front desk, a children's playground and a sun terrace. The property offers free parking. Thessaloniki Airport is a 50-minute drive away. Click here for Photos, Reviews and Booking Information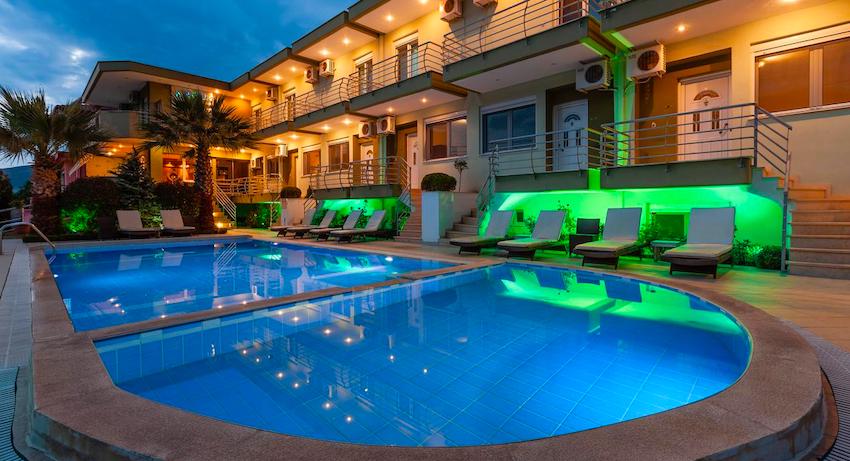 Offering pool views, Anthodi Hotel in Stavros has accommodations, a seasonal outdoor swimming pool, a fitness center, a garden and a bar. Complimentary WiFi is provided. The accommodations come with a fully equipped kitchenette with a fridge, a flat-screen TV and a private bathroom with a shower. Some units include a terrace and/or balcony. A continental breakfast is served each morning at the property. A bicycle rental service is available at the condo hotel. Click here for Photos, Reviews and Booking Information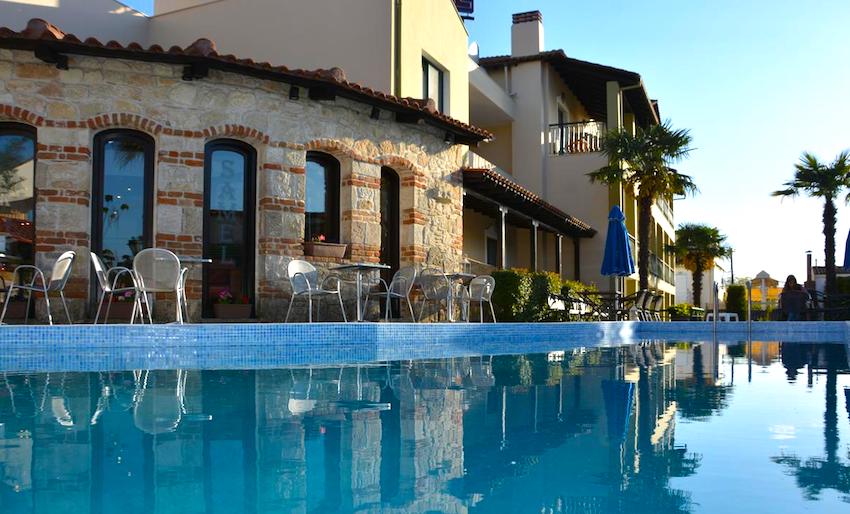 Set just 350 feet from the sea in Siviri, 4.3 mi from Sani Beach, Samel Hotel features an outdoor pool and views of the sea. Guests can enjoy the on-site bar. Every room at this hotel is air conditioned and has a TV. A terrace or balcony are featured in certain rooms. Every room is fitted with a private bathroom. There is a shared lounge at the property. The hotel also offers car hire. The lively Kallithea, boasting an array of nightclubs and bars, is 6.2 mi away. Click here for Photos, Reviews and Booking Information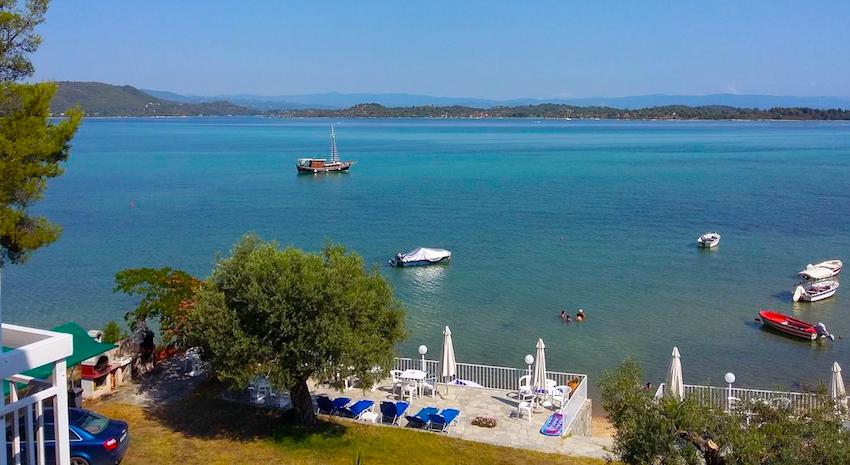 Right on the beach of Vourvourou and featuring a seafront deck, this family-run hotel is surrounded by a garden. It offers air-conditioned rooms with free Wi-Fi. Free sun loungers and umbrellas are available on the terrace facing the seafront. Featuring a lot of natural light, all rooms at the Vourvourou Hotel have a terrace overlooking the Gulf of Vourvourou, the mountains of Sithonia or the forest. Each comes with a flat-screen TV, a safe, a fridge and private bathroom with shower. Refreshments, coffee and sandwiches are served at the bar where there is also a satellite TV. BBQ facilities with a seating area are provided in the garden of the Hotel Vourvourou. A Greek restaurant, a fast food restaurant, a coffee-food bar and a supermarket for everyday essentials are next to the hotel. More restaurants, coffee bars and pizzerias are whithin 1,650 feet. Boats to visit secluded beaches such as the tropical Galazia Nera, are rented at a distance of 350 feet. Kayak rental can be found right across the hotel. Free, private parking is provided on site. Click here for Photos, Reviews and Booking Information
For House and Villa Rentals in Halkidiki See www.greecetravel.com/villas and Matt's Hotels of Greece Halkidiki Page
There are lots more Halkidiki Hotels that you can book directly at www.booking.com
Thank you to Fantasy Travel, the best travel agency in Greece, for their photos.