Travel agents in Athens have said that the hotels in Thessaloniki are of a higher quality than those of Athens because of the city's status as the economic center of the Balkans. These are a few of the available hotels. You can find others at Hotels of Greece.com and on my Thessaloniki Hotel Search Page. If you are looking for Air BnB style apartments, houses and villas in and around Thessaloniki see Matt's Thessaloniki Villas Page.
I have listed these hotels by location, assuming that you will want to be within walking distance of Ladadika, Aristoteles Square and the port where most of the action is.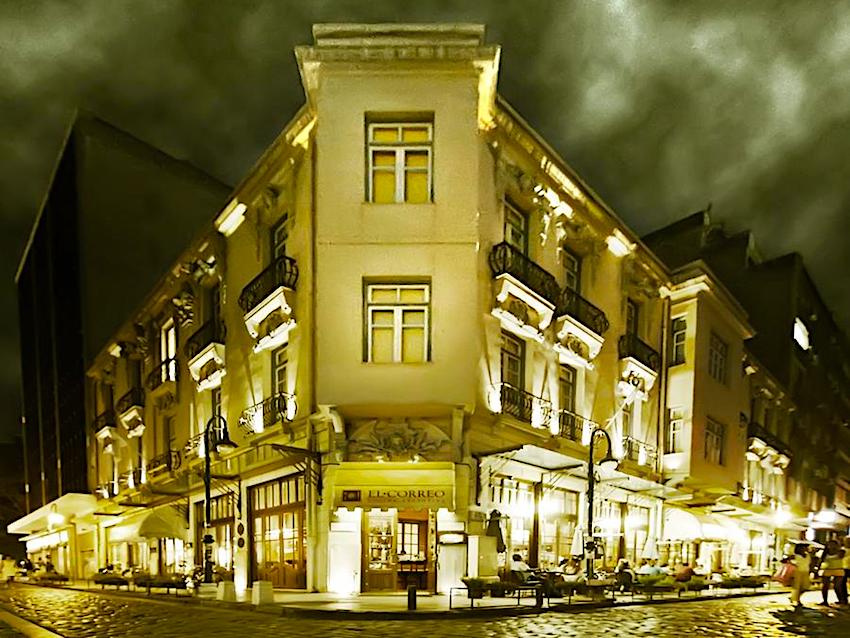 Matt's Pick: Bristol Capsis Hotel
This beautiful 5-star hotel in a restored old building was at one time the post office for Thessaloniki. Miraculously it survived the great fire of 1917 and is one of the most beautiful old hotels in the city if not in Greece. There are 16 rooms, all large with views of the Ladadika neighborhood, the best area of the cuty full of cafes, bars, restaurants and ouzeries. All the rooms of air-conditioning, satellite television, mini-bar and wireless internet. There is also a free computer in the atrium which you can get internet on as well. The rooms have the elegance of the Grande Bretagne in Athens and in some ways may be superior to them. The cafe which shares the ground floor with the lobby serves as the breakfast room and provides a filling breakfast and excellent coffee, espresso and capuccino. Summer is considered low season so the rates are much cheaper than they are in say September when the city is full from the various festivals and fairs. Not to be confused with the modern Hotel Capsis below. Click here for Photos, Reviews and Booking Information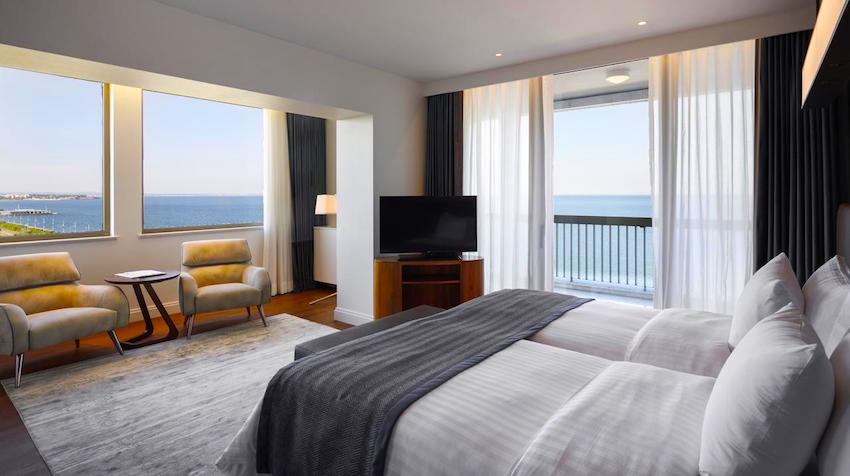 Makedonia Palace is located right on the seafront and next to Thessaloniki City Center and features two restaurants of high taste. All suites and rooms are lavishly decorated, including a satellite TV and free WiFi. The classically decorated units open to balconies with views of the city or the sea. Each features a well-stocked, bathroom with lavish amenities, bathrobe and slippers. Suites are individually designed. Interconnecting rooms are also available. The Main Restaurant is set right by the sea offering views of Thermaikos' sunset. There is also the seafront Navona, the Italian restaurant serving coffee, snacks and Italian dishes. In the heart of the historic Makedonia Palace, Hammam Baths welcomes guests to the marvels of "les bains". Massage treatments can be also provided. The hotel also provides conference and meeting facilities, a gift and jewelry shop and a fitness center. Guests can choose between the free, open-air parking space or the guarded, indoor at an extra charge. Makedonia Palace is located on Thermaikos Gulf, while the White Tower is approximately 2,950 feet away. Many of the city's attractions, including the Archaeological Museum of Thessaloniki and the Macedonian Museum of Contemporary Art, are in close distance. Click here for Photos, Reviews and Booking Information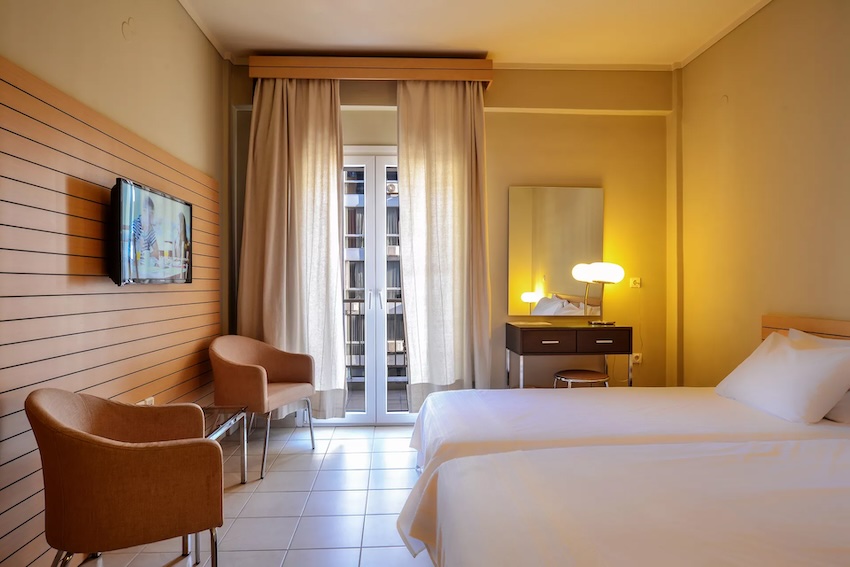 In the heart of Thessaloniki, the Astoria features modern accommodations and business facilities. Its restaurant serves Mediterranean dishes made with organic products from the hotel's own gardens in Chalkidiki. Astoria hotel includes spacious, modern rooms decorated in natural colors. They all provide a TV with satellite channels, a minibar and a safe. Some rooms feature parquet floors. Their balconies offer beautiful views of the city. Hotel Astoria provides facilities for conferences and business events with state-of-the-art equipment. Free Wi-Fi is also available throughout the hotel. Guests can choose between different types of breakfast, such as American, continental, Grab & Go and traditional Greek breakfast, and enjoy it at the hotel's elegant dining area. Astoria is ideally located only a short walk from Thessaloniki's seafront promenade. Shopping, historic sites and the traditional Ladadika entertainment district are all nearby. Book Directly with the Hotel or with Booking.com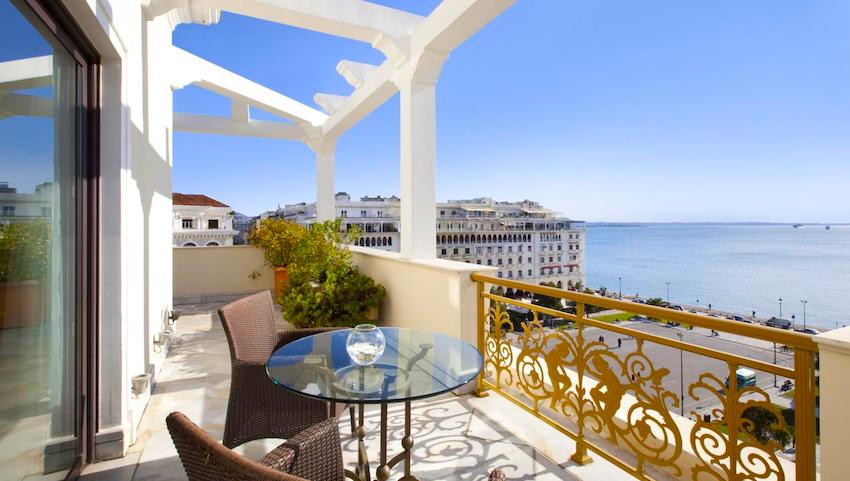 The architectural style of this 5-star hotel dominates Aristotelous Square. It is ideally located within the cultural and shopping heart of the city, while attractions such as White Tower, Archaeological and Byzantine History Museum are only a few minutes walk. All rooms and suites are tastefully decorated in a neoclassical style and are equipped with all modern comforts. The relaxing environment of the heated swimming pool, the magnificent mosaics around the jacuzzi, the ancient bath style marble steam bath and the sauna, will give your body the invigoration that it requires. A wide range of services includes massage, reflexology, manicure, pedicure and facial care. Click here for Photos, Reviews and Booking Information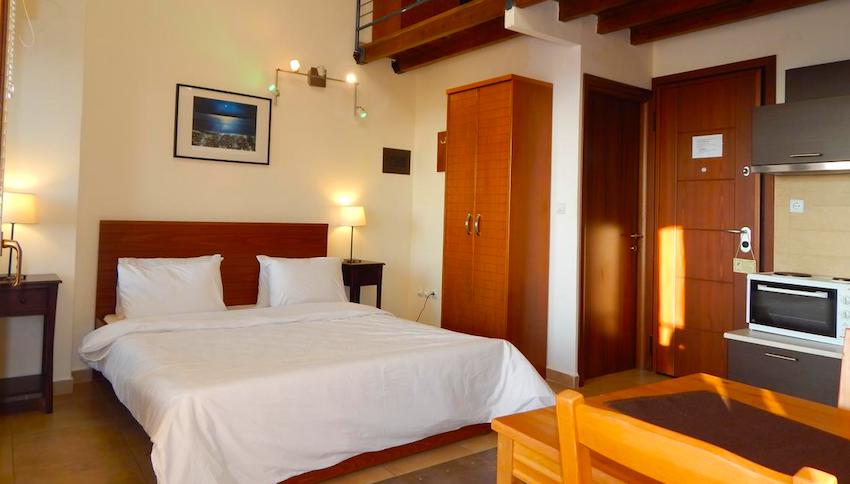 Located in the traditional part of Thessaloniki City, Kripis Studio offers self-catering accommodations studios, each with a balcony. Free WiFi is available in all areas. Byzantine churches and museums are a 5-minute walk away. Opening to a balcony, all studios and apartments will provide you with a flat-screen TV and air conditioning. Guests can prepare their meals in the privacy of their own accommodations, using their fully equipped kitchen. Featuring a bath or shower, private bathroom comes with a hairdryer, slippers and free toiletries. An iron and iron board are available upon request. Breakfast buffet is served daily. Coffee facilities are available in every room. The nearest bus stop is at a distance of a few yards, while an array of tavernas and cafes, as well as a mini market are within walking distance. Agios Dimitrios Church is a 10-minute walk away and Aristotelous Square is 1.1 mi away. Makedonia International Airport is a 20-minute drive away. Book Directly with the Hotel or with Booking.com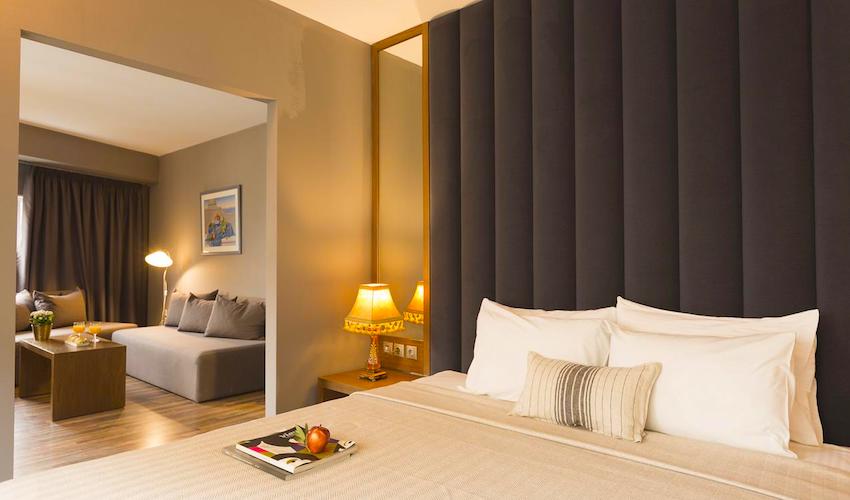 This 3-star hotel is peacefully situated in the traditional area called Ladadika, only 100 metres from the harbour and near to the heart of the city's trade centre. The hotel staff are waiting to offer their guests the famous Greek hospitality, a friendly and helpful service and to cover the needs of the most discerning traveller. Housing warmly decorated, comfortable and contemporary accommodation, the hotel also offers a stylish bar, free wireless internet access throughout the building and modern meeting amenities. Such a convenient location allows easy transfers and connections to all of the parts of Thessaloniki, with immediate access to the shopping centres, nightlife spots and the famous Greek tavernas. Click here for Photos, Reviews and Booking Information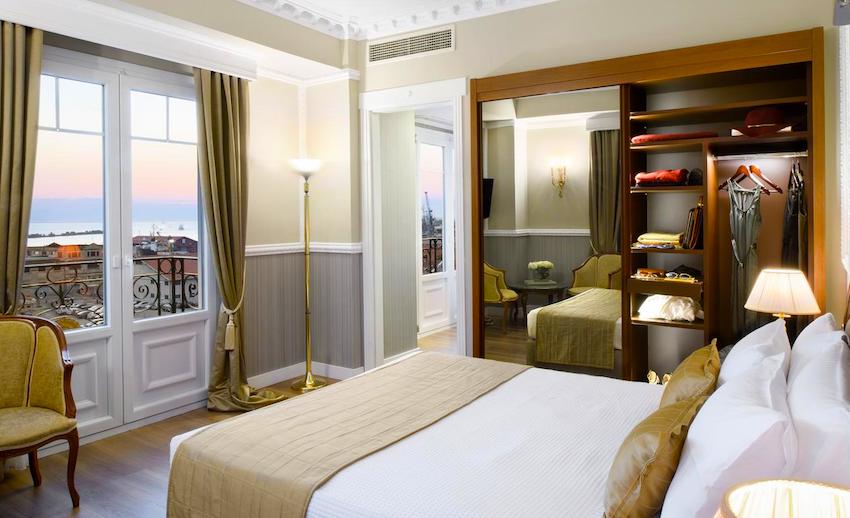 With magnificent views of Thermaikos Bay, this 5-star hotel is close to Ladadika, one of the most picturesque areas of the city. The hotel highlights the most beautiful characteristics of Thessaloniki: the live cosmopolitan atmosphere, the refined sense of peacefulness and the traditional warm hospitality. Framed by low hills, Thessaloniki faces the Thermaikos Gulf. Residents and visitors alike can enjoy the seaside situation of Thessaloniki, with views aplenty. The style, luxury and strategic position make it an ideal destination. The rooms have been designed for the highest standards of comfort. The decoration is defined by its elegance and excellent taste, and the finely-equipped room covers your needs. Impeccable service and an intimate atmosphere allows you to enjoy the fascinating colours of Thermaikos Bay. Click here for Photos, Reviews and Booking Information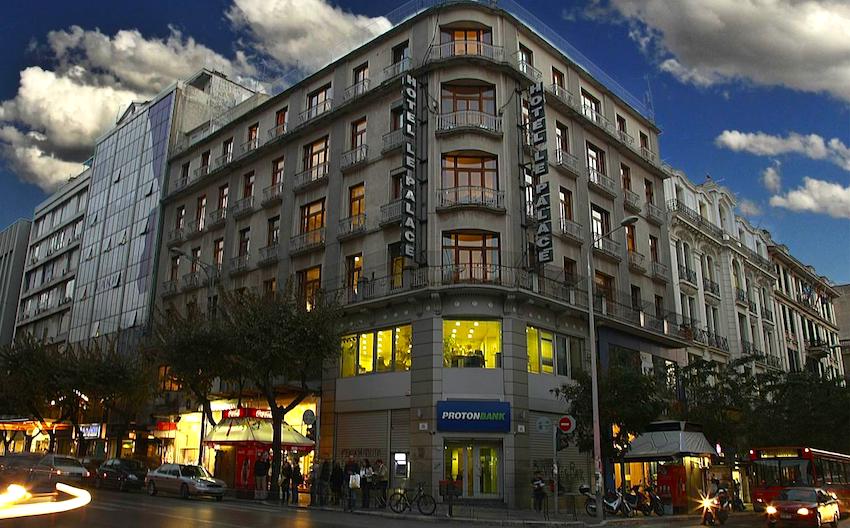 Le Palace Hotel is a 3-star hotel situated in the heart of Thessaloniki with spacious rooms recently fully renovated, featuring the best beds in the World. Strategically located on the prestigious Tsimiski Street, within 100 m from Aristotelous square, the Palace Hotel's construction dates from 1929 but has been recently renovated and fitted with comprehensive modern amenities while maintaining a fine example of the very popular Neoclassical Architectural Style (20s and 30s). Thessaloniki's well known historical center is strategically located only 100 meters away, thus allowing easy access to the best stores, cafes, restaurants, bars, etc. The Hotel is also surrounded by various means of transportation. Click here for Photos, Reviews and Booking Information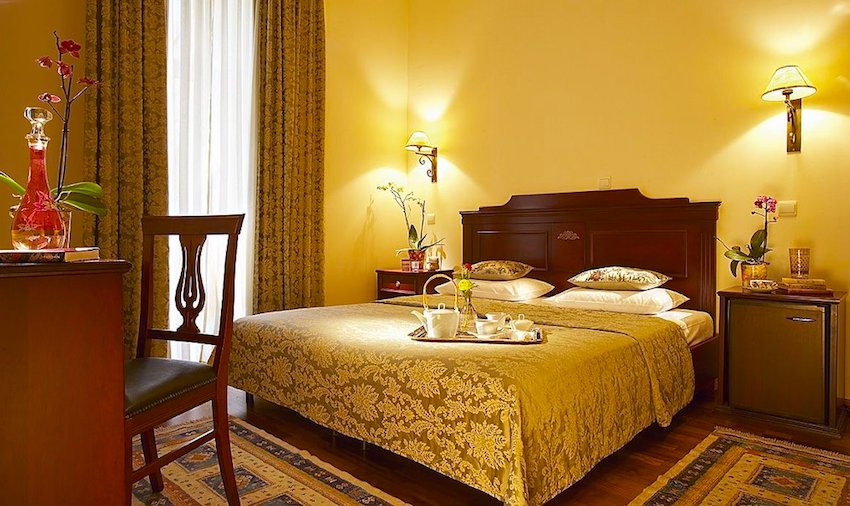 Hotel Luxembourg is a 3-star hotel recognised by its premier location in the heart of Thessaloniki, by Aristotelous Square, where Komninon and Kalapothaki streets meet. It is situated by Tsimiski Street's famous market and very close to Ladadika, the centre of Thessaloniki's night life. It is located just 100 metres from the sea shore, near the port and central bus station. Hotel Luxembourg provides free Wi-Fi internet access. Hotel Facilities include: Bar – 24-Hour Front Desk – Elevator – Safety Deposit Box – Heating – Luggage Storage – Airconditioning Room Service – Dry Cleaning – Barber/Beauty Shop – Currency Exchange – Car Rental – Tour Desk – Fax/Photocopying. Click here for Photos, Reviews and Booking Information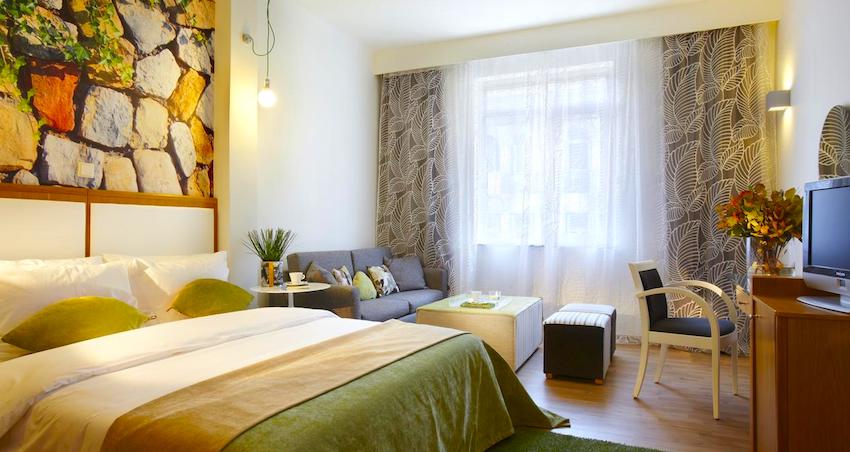 The 4-star City Hotel is a contemporary property of modern design, conveniently located 90 metres from Aristotelous Square, on one of Thessaloniki's most fashionable shopping street. The City Hotel offers comfortable and cosy accommodation that will satisfy even the most demanding guests. On a daily basis, the chef and his team prepare meals for lunch breaks and business lunches, with the finest ingredients. At the exceptionally elegant bar one can enjoy a fragrant Viennese chocolate, an aperitif or an authentic Porto. Guests can escape from the city buzz and enjoy relaxing and refreshing moments in the sanctuary of the Spa. The White Tower, Helexpo Convention Centre and the Promenade are within walking distance from The City. Conveniently located in the centre of Thessaloniki's business and commercial district, you can also enjoy the city's nightlife in the evening. Click here for Photos, Reviews and Booking Information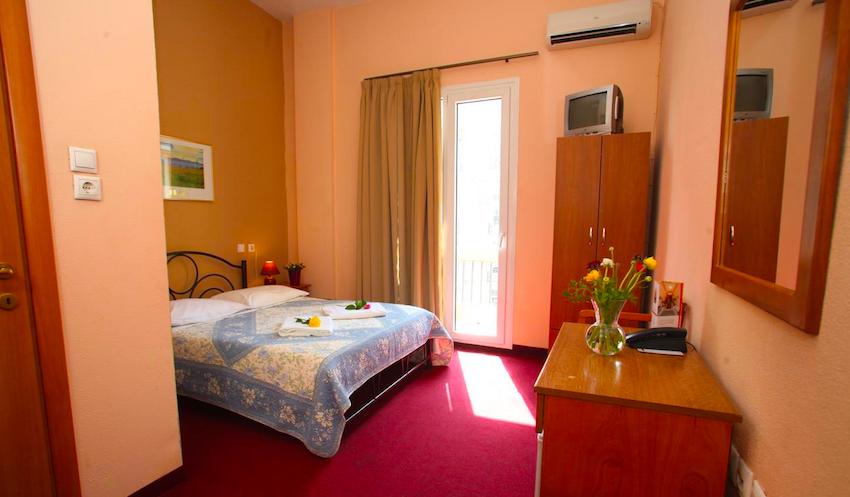 Situated in the centre of Thessaloniki, close to the shops and the White Tower, the 2-star Emporikon Hotel offers great value accommodation, with free wireless internet and buffet breakfast. Emporikon Hotel is a cosy guest house with a variety of rooms to accommodate solo travellers, couples and families. Each of the spacious rooms offers modern amenities including air conditioning and free wireless internet access. Enjoy a free buffet breakfast in Emporikon's cute breakfast room before exploring Thessaloniki. Emperikon's central location means that you are just a short walk from the shops, Saint Dimitrios Church and the sea front. Should you wish to travel further, you can also rent a car from Emporkion and the staff team is only too happy to help you with any information you may need. Click here for Photos, Reviews and Booking Information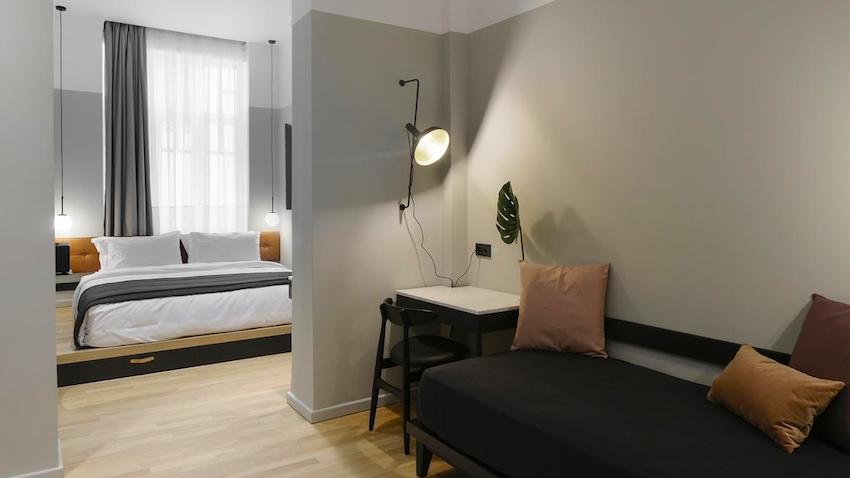 In the heart of Thessaloniki, The Modernist combines old-world grace with casual luxury, set in a striking 1920's heritage building. Restored in a minimalist, yet sensual style, this hotel is just a short stroll from everything Thessaloniki has to offer. Free WiFi is provided throughout. All units at The Modernist are fitted with parquet floor and a flat-screen, satellite TV. Elegant in style, all rooms are complete with a private bathroom, while certain rooms here will provide you with a balcony. Air conditioning comes standard. Breakfast is served daily from 7:30 – 10:30 on the rooftop terrace. All ingredients are carefully selected and prepared in the open plan kitchen. Massage appointments can be arranged upon request. Guests of The Modernist enjoy discounted rates at a nearby fitness center. With staff speaking German, Greek, English and French, information is available at the 24/7reception. Several boutique shops, fancy restaurants and bars can be found in the surrounding area. The Modernist is just a short stroll from the seafront promenade. Click here for Photos, Reviews and Booking Information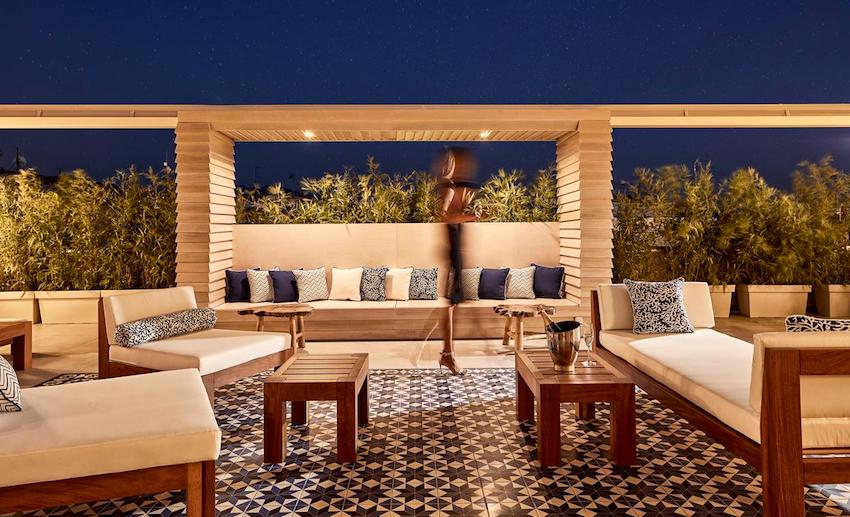 Leading Hotels of the World's Antigon Urban Chic Hotel has rooms with free WiFi access. The property is 2,300 feet from the city heart. At the hotel, all rooms are equipped with a desk. The rooms have a private bathroom with a shower, while some rooms have city views. All units in Antigon Urban Chic Hotel are fitted with a flat-screen TV and free toiletries. A buffet breakfast is served daily at the property. Guests at the 5-star property can enjoy garden views in the rooms and access to a hot tub. Staff at the accommodations are always available to provide guidance at the reception. Aristotelous Square is a 10-minute walk from Antigon Urban Chic Hotel, while Museum of the Macedonian Struggle is 0.6 mi away. Click here for Photos, Reviews and Booking Information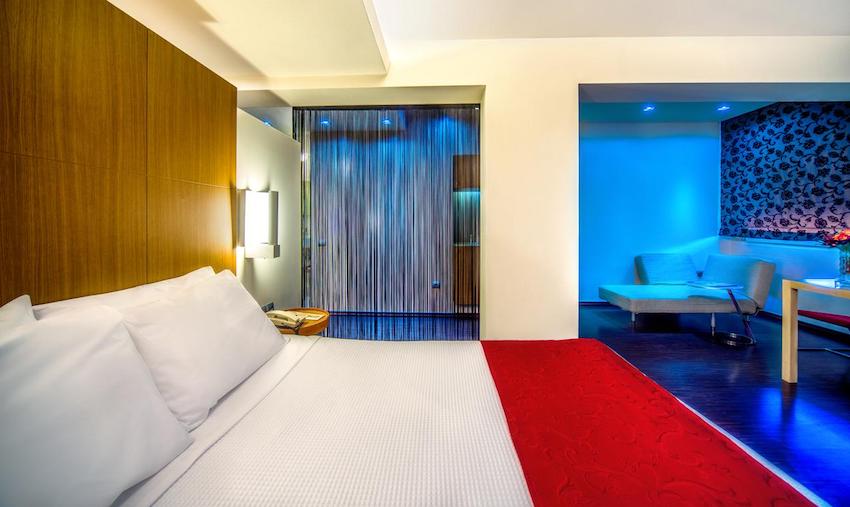 The 4-star Hotel Capsis is in a central location of Thessaloniki, offering a large spacious setting with modern comforts to ensure that you have an ideal city holiday. Capsis Hotel is situated near the coast and its central location makes it easily accessible by a number of transportation options. Burn off energy in the fitness room. Relax with a massage or spend time in the sauna. Take a refreshing afternoon swim in the rooftop pool. You can also enjoy dinner of have a drink at the hotel. Experience the view of the city by drinking an exotic cocktail by the pool (during summer months only). The hotel bar is a popular spot for nightlife. Private parking is provided underground with the benefit of security surveillance. You can also benefit from free internet access. Click here for Photos, Reviews and Booking Information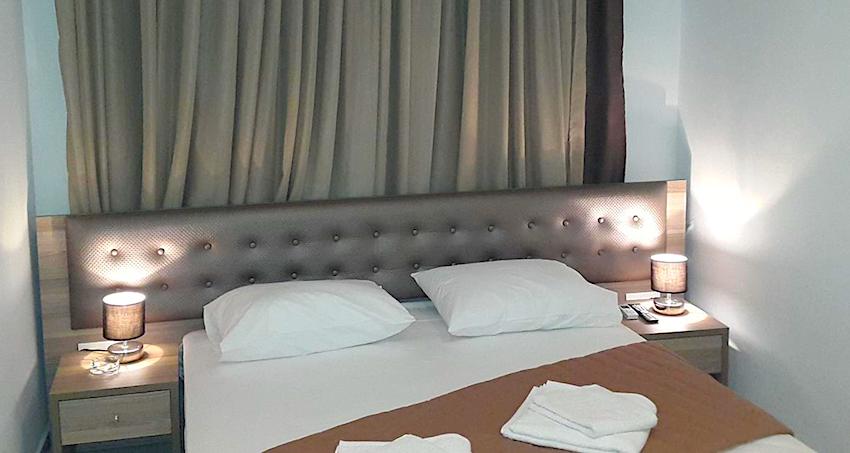 Hotel Rex is a family-run 2-star hotel for budget-minded travelers, located directly opposite the main railway station, near the harbour and the long distance bus station in the commercial city centre.
Rooms at the Rex are clean, comfortable, well-kept. Wireless internet is free of charge in the entire hotel. The delicious free breakfast is served from 07:00 until 11:00 in the breakfast room. You can also enjoy your breakfast in your own room. The restaurants and nightlife of Ladadika are a short distance away as is the port. Click here for Photos, Reviews and Booking Information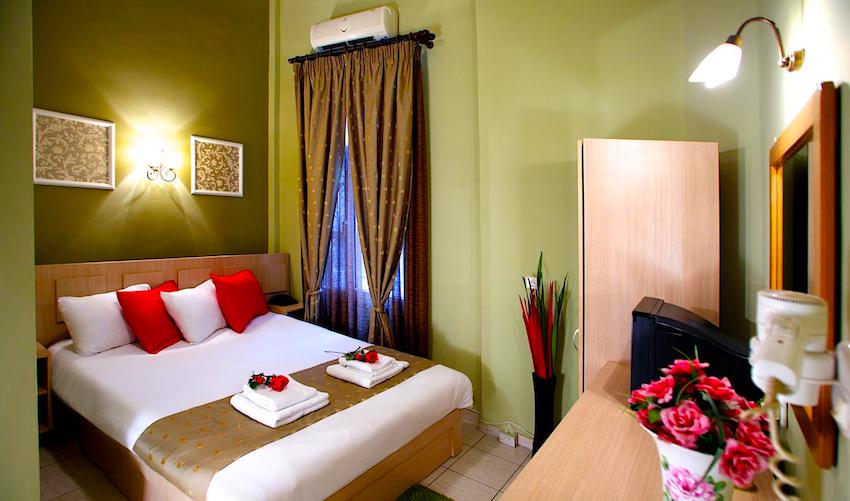 Just minutes away from Ladadika and the White Tower, the 1-star Atlantis Hotel has a central location which allows you to explore Thessaloniki on foot, while enjoying a friendly and relaxed base with free wireless internet access. Each of the rooms at Atlantis are warmly decorated and appointed with modern amenities, including en suite bathroom and a refrigerator for chilling drinks. Atlantis reception is open 24 hours and the friendly personnel are available to arrange wake-up calls and taxi reservations. The central location of Atlantis allows you to easily access all parts of Thessaloniki, on foot or via the nearby public transport links. If you wish to travel outside of Thessaloniki, Atlantis will happily arrange for you to rent a car. Click here for Photos, Reviews and Booking Information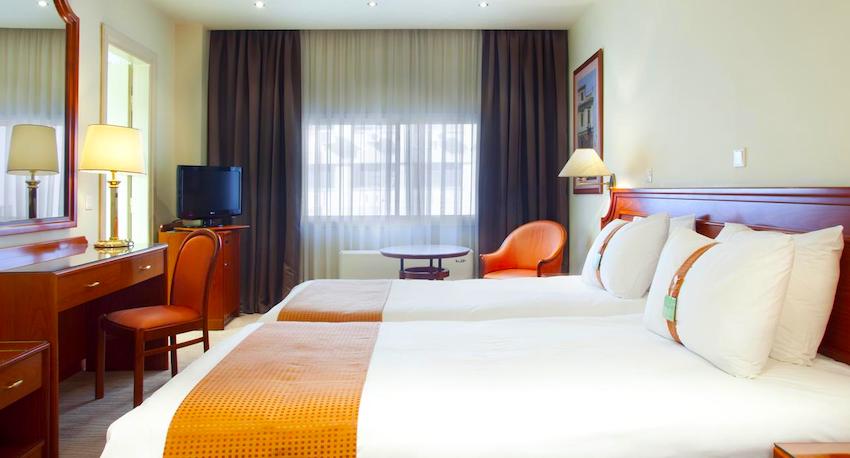 The Holiday Inn Thessaloniki is situated in the heart of Thessaloniki and offers superb service, excellent facilities and easy access to the commercial and cultural centre of the city. Holiday Inn enjoys a convenient location, with the railway station just a short walk away. Within a short drive is the pier, where ferries can be boarded to travel to other Greek islands. Combining warm hospitality with good service and comfort, Holiday Inn Thessaloniki is the ideal place to rest and relax after a day of work or fun. Each guestroom enjoys a modern style and is furnished with warm, earthy colours. Click here for Photos, Reviews and Booking Information
You can find apartments, villas, holiday homes and self-catering accommodations on Matt's Thessaloniki Villas Page and also on Matt's Hotels of Greece Thessaloniki Page
Travel Agents for Thessaloniki
There are many more hotels in Thessaloniki and throughout Macedonia. Hundreds, maybe thousands. You can contact Dolphin Hellas or Fantasy Travel and ask them what other hotels they offer.

See also Matt Barrett's Booking.com Thessaloniki Page where you can search for hotel by location, catagory, price and see photos, reviews and maps for each hotel. I recommend this site if you want to book hotels and don't need a travel agent.