We provide the best service
For people who visit Thessaloniki Greece and help them discover it's history, culture, archaelogical sites, museums, restaurants, beaches and shopping areas. For business customers and travellers we offer taxi transfers from the airport to their hotels without any loss of time. We are at your disposal until you finish your business and drop you off wherever you need to go. We also do private tours.
Our service is unique in Thessaloniki Greece.
Our cars are airconditioned and our customers can enjoy the trip reading international magazines, newspapers and brochures which are available in our cars. We cooperate with the most popular travel agencies, conference organizers, tour operators worlwide. Our drivers speak English and many other languages.
For tour operators and travel agencies
Taxi in Greece provides an ideal cooperation. Our driver will meet your clients at the airport holding a sign with their names and your company logo. He will drive safely to the hotel or any other destination and will not leave until your clients' check in. We can also arrange a licenced tour guide for a more detailed conducted tour anywhere in Greece.
International transfers
We provide our services for transfers and private tours anywhere in the Balkan countries. Our drivers have experience in such transfers and tours to Former Yugoslav Republic of Macedonia, Bulgaria, Albania, Serbia, Montenegro, Turkey etc.
Hi Matt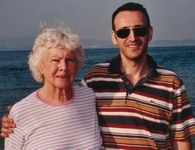 Just to let you know that the service provided by Grigoris was absolutely excellent. He was courteous, professional and good company for the 3 hour drive to Keramoti. He also drove safely - obviously he didn't attend the same driving school as most Greek taxi drivers!

We were very impresssed, as were our friends for whom we'd booked Grigoris for their arrival 3 days after us (and one of whom is a serving police officer, so keen on good driving!)

All the arrangements worked splendidly and we are happy to recommend
Grigoris to others.

Many thanks
Cathy