You won't find Alexandroupoli on the itinerary of many western tourists traveling to Greece, but travelers from the Balkans and Turkey know it well and the beautiful beaches, great restaurants and abundant wildlife may surprise you and make you wonder why nobody told you about this place before.
Alexandroupolis is the capital of the Evros region of Thrace which is an area that along with Constantinople (Istanbul) was exempt during the Greek-Turkish exchange of populations signed in 1923 in Lausanne, Switzerland. While the Greeks in Constantinople were finally hounded out of the city in the 1950s, the Muslims of Evros mostly stayed and were joined by Greek refugees from Asia Minor. So the area is a mix of Christians and Muslims. It is as close to Turkey as you can get in Greece with the Evros River separating the two countries.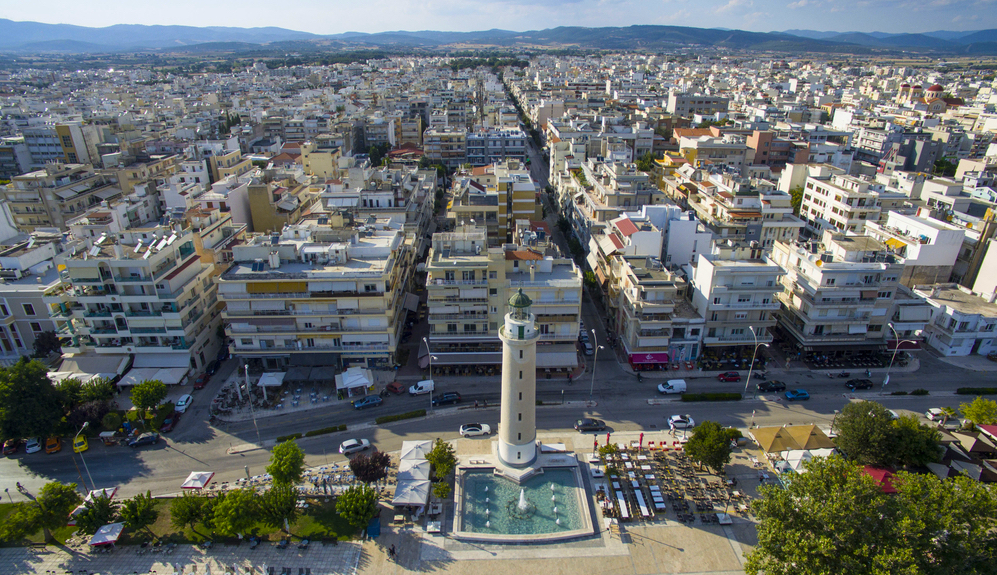 Until the late 19th century Alexandroupolis was a small fishing village though in the Byzantine period it was an important military city. After the fall of Constantinople in 1453 it pretty much disappeared. It was rebuilt by the Ottomans in the 19th century and given the name Dedeagaç and later during the Russo-Turkish War (1877–1878) it was occupied by the Russians. They rebuilt the town, which had grown organically with narrow winding streets and dead ends like most villages of the period, to a grid pattern with large avenues. During the Balkan wars it was captured by the Bulgarians and then by the Greeks. It was returned to Bulgaria until World War One when Thrace was given to Greece, though Bulgaria was allowed to use it as a port, it being much more convenient to the Mediterranean than their ports in the Black Sea. Though you have probably assumed the town was named for Alexander the Great it was actually named for King Alexander of Greece who visited in 1920. The town was officially made Greek by the Treaty of Lausanne in 1923 but when the Nazis occupied Greece in World War Two it was given back to Bulgaria until the defeat of the Axis powers. It has been Greek ever since. Alexandroupolis is a modern city of apartment buildings 2 to 4 stories tall and a scattering of single family houses and it is flat, easy for riding bikes and walking.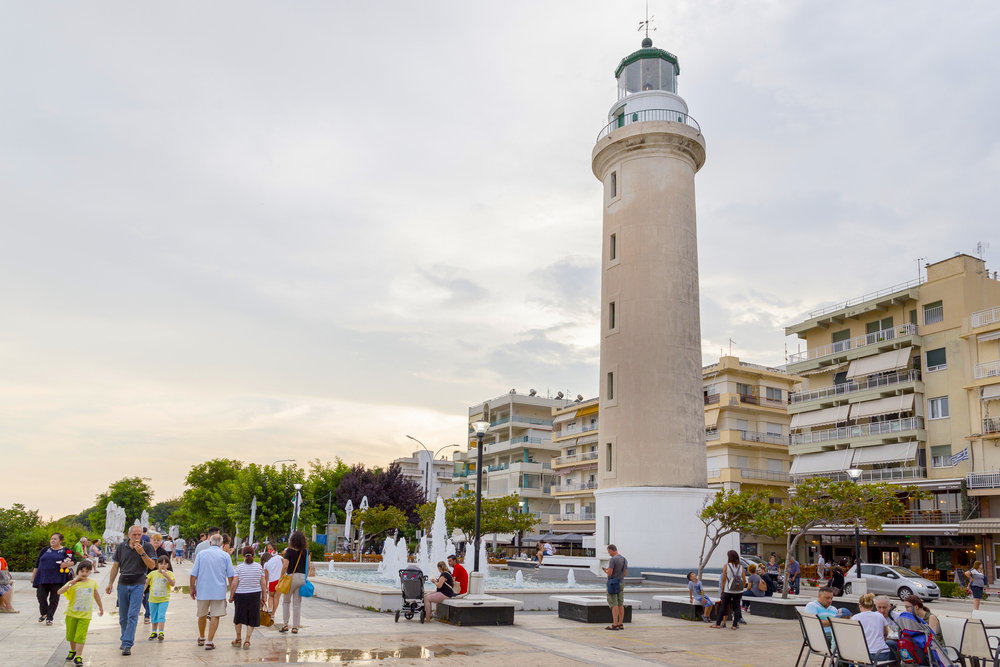 The most important landmark of the city is its lighthouse, built in 1850, one of the tallest in Greece and one of the few right in the center of a town. Not to be confused with the Lighthouse of Alexandria, one of the Seven Wonders of the Ancient World, it's light can be seen for 24 miles, far enough to be visible to sailors coming in and out of the Dardanelles. If you are a lighthouse fanatic who travels around the world visiting them you probably won't be too impressed but it is the main attraction of the town. Young people hang out by a fountain, and there are cafeterias, tavernas and shops and lots of families, couples and teens strolling around. It sits right in the harbor on Megali Alexandrou which is the main road that borders the city, and the sea where you can find tables and chairs in a pedestrian park that follows the coast west of the lighthouse.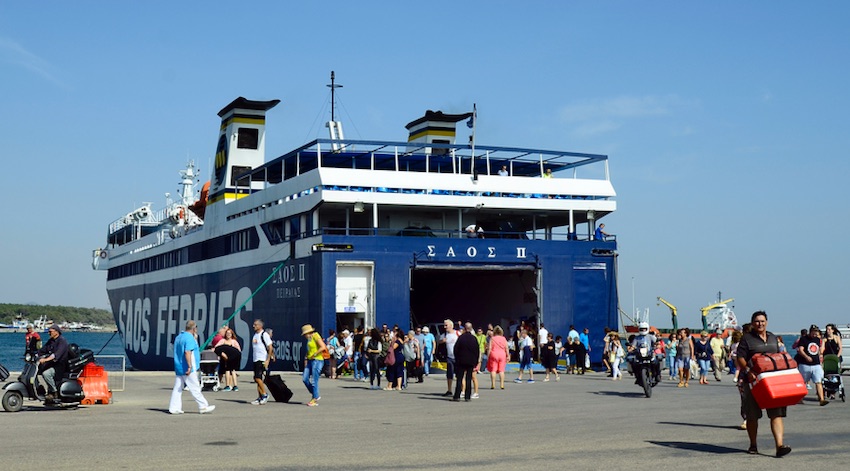 Transportation
Just east of the lighthouse is where you catch the ferry to Samothraki. Right across the street is the small railway station which opened in 1874 and connected Alexandroupolis to Thessaloniki and Istanbul. Unfortunately the train to Istanbul was discontinued in 2011 so you have to go there by bus. The bus station is a couple blocks up at 33 E Venizelos and from there you can get to Turkey, Bulgaria or anywhere in Greece, though figuring out connections is not as easy as it should be. The bus station is pretty bottom of the barrel but the buses, which are privately owned, are generally modern and in a lot better shape than the bus station, or the railway station for that matter. There is an airport east of the city: Alexandroupolis Dimokritos International Airport or AXD, with flights mostly to and from Athens, though it is officially an international airport. There is also a flight to Sitia, Crete. Most likely though, if you are visiting Alexandroupolis it is probably because you are exploring northern Greece by car which is good because you will probably want to have one here.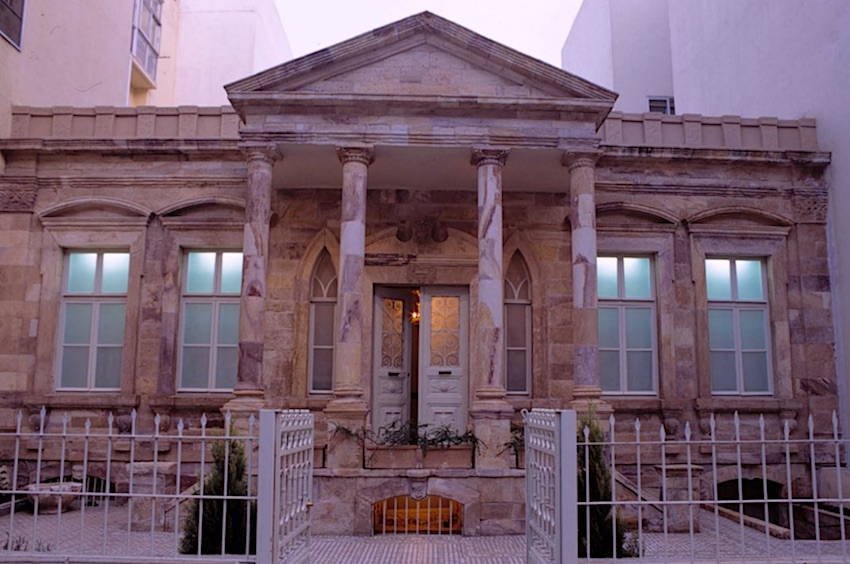 Museums
The Ethnological Museum of Thrace at 14th of May street #63 around 4 blocks up from the waterfront, occupies one of the few historic buildings left in Alexandroupoli, squeezed between two apartment buildings, so it is hard to miss. The museum is small, but well organised and has exhibits on Thracian culture of everyday life and has a friendly and helpful staff. Very enjoyable for children too. Other museums include The Historical Museum of Alexandroupolis at 335 Leoforos Demokratias a block up from the lighthouse, is an exceptional folklore museum worth at least one visit. Their website and exhibits are currently only in Greek but visitors are given a handout in English that explains what everything is and an English speaking guide may be available. The Archaeological Museum of Alexandroupolis is brand new and focuses on ancient history. It is west of the center at 44 Makris street close to the EOT beach. The Folklore Museum of Cappadocian Association of Alexandroupolis is a small private museum dedicated to the lives of the Greeks from Cappadostria which they left behind when they came to Greece after the exchange in populations. It is at 1 Mitropoulou Street in the basement of the cultural center of The Cappadocian Association of Evros. It is a long walk and you may want to call (+30 2551020270) and make sure they are open before you undertake it. Their website was not working when I wrote this and as far as I could tell it is only open on Sundays. The Museum of Folklore and Natural History is located outside of the city in a beautiful forested area where they have activities for children and adults which focus on the diverse geology and nature of the Evros region. It is located east of town in the Platanotopos Maistros Recreation Area. Take Leoforos Dimokratias going east and turn left after the river and you should find it. Or call them for directions. (+30 2551080204)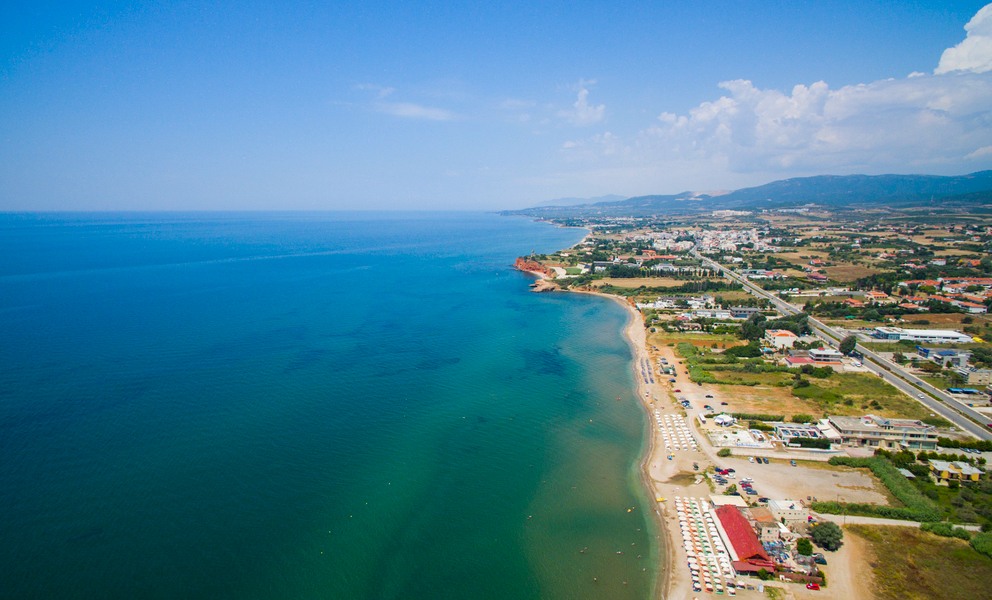 Beaches
The easiest beach to go to is right in town across from the lighthouse. Very convenient to restaurants, hotels and the ferry and there are a couple places to rent beach beds and umbrellas and a cafe for drinks and snacks. It is right in town though so you know how that can be. Most people may want to go to less popular beaches and with a car you can do that. But if you don't, well for being a town beach it could be a lot worse.
The EOT (Greek National Tourism Organization) Beach just west of the town is an easy walk and is clean well kept considering it is pretty close to being in the center of a city. There is a charge to get in of less than 2 euros and there are sunbeds and umbrellas, a cafe/restaurant that is pretty good, changing rooms and the usual amenities you will find at a public beach. The sunbeds and umbrellas are free and it is a nice beach for families since the sea is shallow for a good while. It is well cared for as it should be, being next to two 5-star luxury hotels, the Grecotel Astir Egnatia and the Astir Alexandroupolis. There is a nice little park, the Dimotiko Assos, or Parko Proskopon, a small forest really with paths and a nice very large cafe that is open day and night with a pool and fountain. Not a swimming pool, a looking at pool, but the sea is a few steps away just in front of the hotels and this beach is free.
The whole coast going west is really one continuous beach occasionally broken up by rocks or man made structures like a harbor but if you follow the coast and look for signs to Paralia Agiou Markou, Agia Paraskevis, Mesimbrias, Dikela (nudist beach), Skorpia and Petropon you should find something you like. There are tavernas and cafes at many of them though for some you will need to provide your own sun-beds and umbrellas and bringing a bottle of water may not be a bad idea. There is an archeological site at Skorpia, the Ancient City of Mesimvria-Zoni, a colony of Samothraki that reached its peak around the 5th century bc. The beach at Makris has a harbor with a restaurant and the highly regarded Aya Yourgi Taverna which has sunbeds.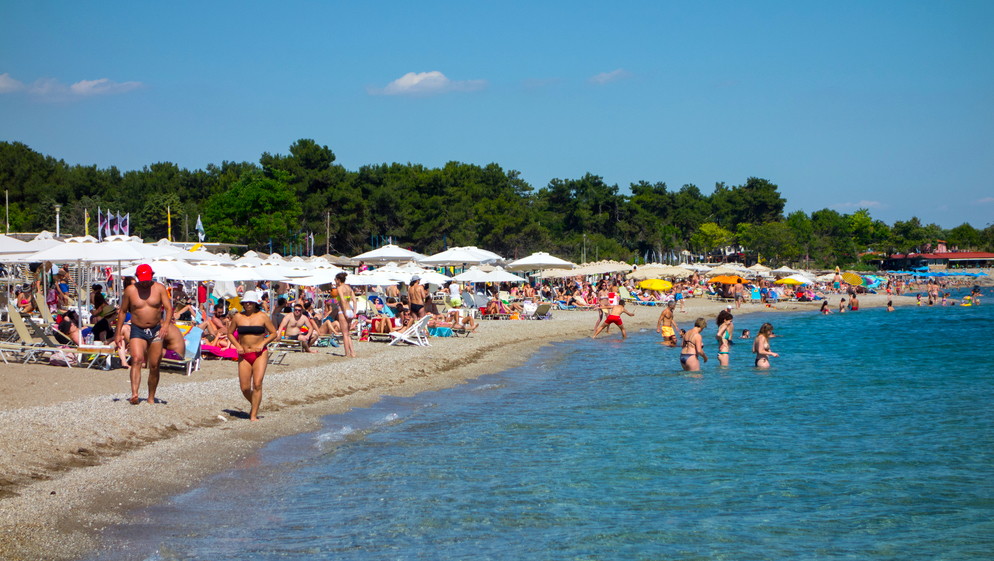 Agia Paraskevi Beach, 14 km west of Alexandroupolis after Makri village, is named for the small church there. It's an organized beach, with cafes, restaurants, taverns and beach bars; it can get quite crowded during the weekends, since there's a hotel (Klio hotel, Agia Paraskevi) next to the beach.
Right next to and immediately after Agia Paraskevi, is Kyani Akti (Blue Coast) beach, equally organized. If you're driving, Kyani Akti is 1.3 km from Agia Paraskevi. But you can walk from Agia Paraskevi to Kyani Akti (less than 1 km). Best to visit both beaches during weekdays if you don't love crowds. One more reason to visit this beach is that you can go by city bus (www.astikoktel.gr), and they go hourly during the summer.
At Dikella village and beaches, and the Archaeological Site of Mesimvria-Zoni and Mesimvria Beach, you can find restaurants and beach bars too but the bus schedule is very infrequent so you really need a car to go there.
Traveling east along the coast from Alexandroupolis is an area of light industry, agriculture and sea with beaches, though not all are particularly inviting. This is the beginning of the Evros River Delta one of the most important wildlife areas in Greece and the border of Greece and Turkey as well. If you look for signs to Ag. Giorgos Church there is a long beach at the end of 14th of May Street in the area east town which is a mix of modern suburbs (Greek style), farms and grasslands. Known as Paralia Alexandroupolis there is not much more than a couple dumpsters and a port-a-potty, and at Paralia Maistrou a small harbor and boat yard at the mouth of one of the Evros tributaries and an oil refinary, usually not what you are looking for when you want to swim. My advice is to stick to beaches west of town.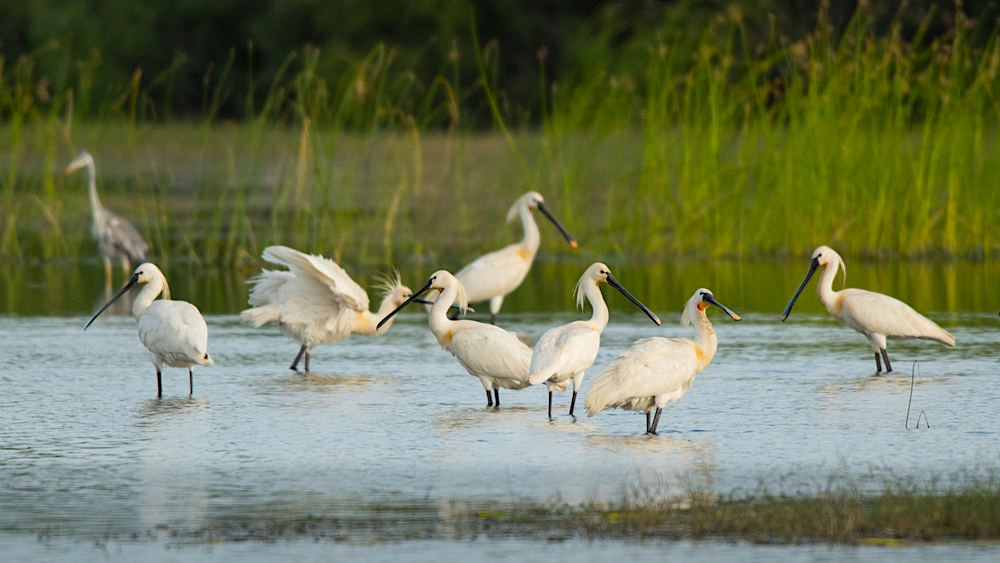 Evros River Delta
The Maritsa River is the longest river in the Balkans. It begins in central Bulgaria and flows southeast until it reached Turkey where it becomes the Meric River near Eiderne. But from the Greek point of view it is the Evros and it forms much of the border between Greece and Turkey until it reaches the Aegean Sea. The Delta is a large delta, 150 square kilometers, shared by Greece and Turkey. It contains a rich assortment of wildlife including migratory birds like Pelicans, Flamingos, Wild Geese, more varities of fish than just about any river in the world including 100 pound catfish to name a few and wild boar, cats and other mammals and reptiles. Unfortunately the river provides drainage for industrial and agricultural waste and the area suffers from it. The construction of at least 25 dams upstream also means that 80% of the water has been diverted and much of the delta has been converted into agricultural land so it is an area in need of attention.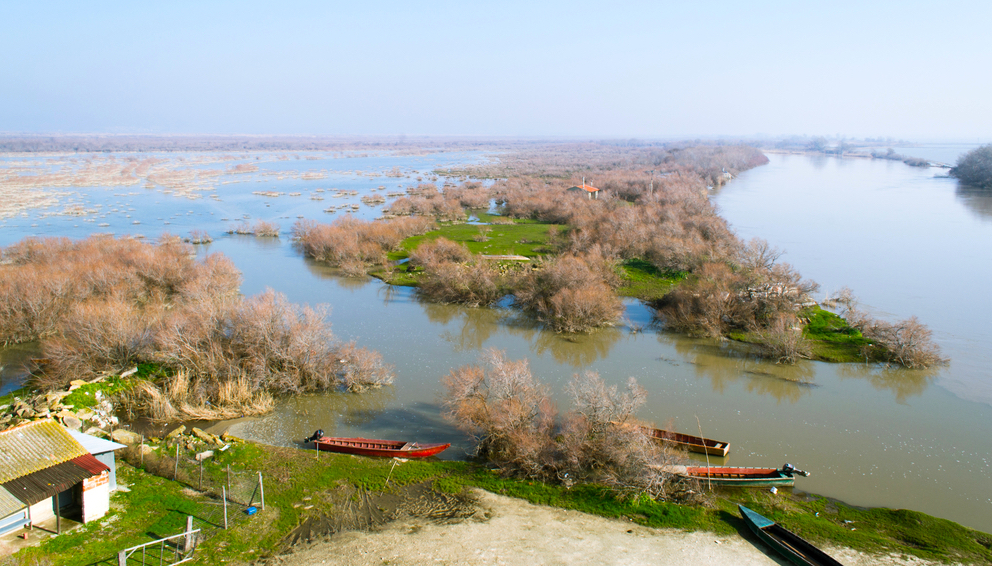 It can be quite hot in the summer but the best time to visit is in September and October if you want to see flamingos and other migrating birds. There are guided tours available by jeep, boat or on foot which you can find out about at the Information Center of the Evros Delta, located in the town of Loutra Traianoupoli, located about 15 miles from Alexandroupolis. To find the Delta Information Center and Traianoupoli just travel east past the airport and look for the signs. Because the area is the border between Greece and Turkey which is not always a friendly place it is not wise to go off exploring on your own without at least talking to someone knowledgable about the area, if not traveling with you. See the Evros Delta website
Traianoupoli was founded by the Roman emperor Trajan in the Roman period, and was famous for its baths. There are several hotels in the area. The baths themselves are worth a visit but don't expect high quality full service spa facilities in the "modern" bath house like you would find in a luxury hotel in Athens or Edipsos. Still it is definitely worth a visit whether you do the baths or not and if you have some aches and pains then why not do a bath? The spa has 26 individual baths, and 8 special baths for hydro-massage and operates a hotel. The Woman's Cooperative "Hana" operates a restaurant in the area. On the same grounds is the Hani of the Evrenos Bey, a 14th Century hostel, as well as the Roman bath houses and the Turkish hammam.
The Archaeological site of Doriskos is on a hill at the edge of the delta. Founded by the earliest Thracians in the 6th century bc, the hill was where acccoring to Herodotus, Xerxes was able to review his Persian troops when they invaded Greece in 480 bc from the castle that his father Darius had built during his campaign against the Scythians.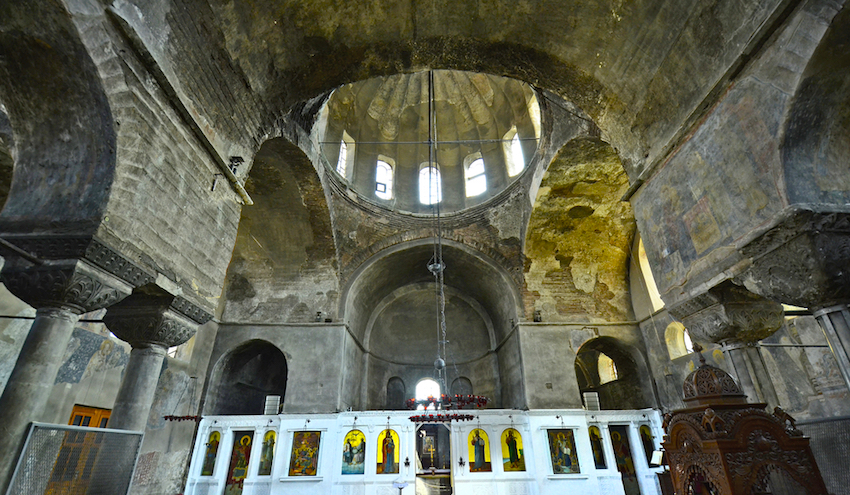 The Monastery of Panagia Kosmosoteira is an 11th century Byzantine church founded in 1152 by Isaac Komnenos, the third son of Alexios III. It is one of the most important Byzantine churches in Greece and is probably the oldest in northern Greece. It is a small version of Agia Sophia and contains wall frescos from the 12th Century School of Constantinople. In 1357 it became a mosque but with the liberation of the region in 1920 it went back to being a Christian Church. There are still remains of some of the monastery walls, and the water tower which supplied the monastery is still in good shape. It is located in the historical town of Feres which grew outside the walls of the monastery 28 kilometers west of Alexandroupolis and 19k from the border crossing.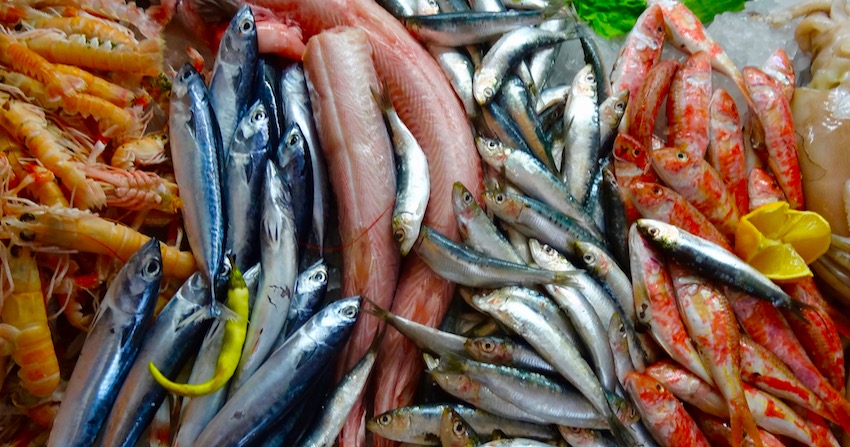 Restaurants
Alexandroupolis has a mix of traditional Greek seafood and meat restaurants, modern neo-Hellenic, Italian, Armenian and of course the usual souvlakia, burgers, pitas and other fast foods. But being a city, and probably more cosmopolitan than you expected being so far off the normal tourist trail, finding somewhere good to eat is surprisingly easy. Well, maybe not so surprising. For most people reading this Alexandroupolis is the last stop before crossing into Turkey and may seem like the edge of the world. But for tourists coming from Turkey and Bulgaria this is the first stop so in a way it has to be good because their food is saying WELCOME TO GREECE!
Anyway if you try one or two of these restaurants I don't think you will be disappointed.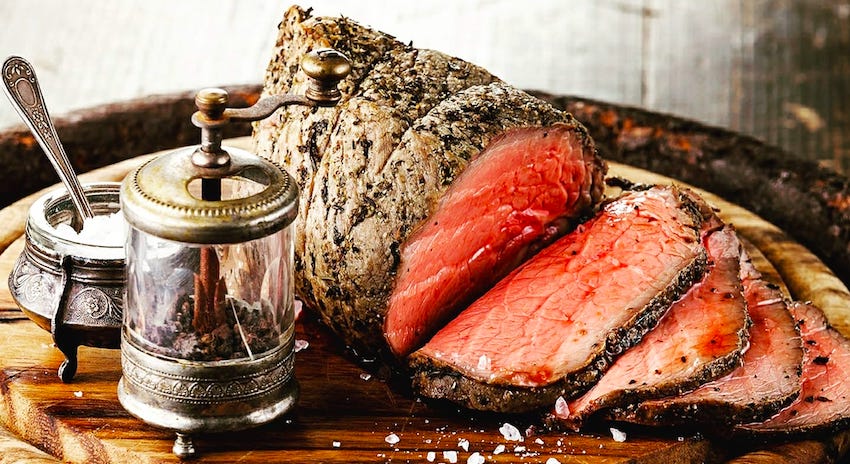 Porto Elia Restaurant
Porto Elia at Apolloniados 2 serves cuisine from the island of Samothraki and is right on the sea on the coastal road that goes west from the lighthouse. Fresh fish, grilled meats, pastas, mussels and other dishes are presented very nicely in a traditional yet modern way. Go for an ouzo and meze and if you like it stay for dinner. Very good grilled fish and seafood risotto, and popular with Turkish guests. Fresh ingredients and good service and the owner Andonis make this one of the best restaurants in Alexandroupolis.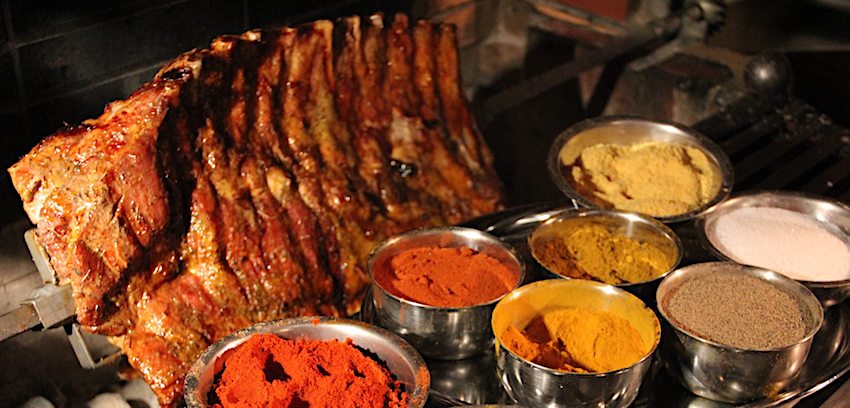 Hovoli Armenian Family Restaurant
Located on the seafront promenade of Alexandroupolis is Hovoli, is a traditional Armenian restaurant in a pleasant setting overlooking the sea. Famous for serving meats the Armenian way: skewered and grilled over an open fire. Top lamb kebab (with large chunks of lamb, not minced meat), beef liver, pork chops and old-fashioned hospitality by the owner and host Karen Melixetian who speaks perfect English. If you have been traveling for awhile and are tired of the same Greek dishes then come here. Or even if you are not tired of the same Greek dishes come here since they have many of your favorite Greek dishes too.

Taverna Loukoulos
Taverna Loukoulos is also right on the sea at Apolloniados 12 and serves seafood, steaks and the usual salads and mezedes with a large and varied menu and live Greek music some nights. This is considered a classical taverna (along with Lefkes) and it's been around since 1999. It started as a grilled meat place (psistaria). But since it had a view of sea they later added seafood. Big portions for a fair price, you get free water and desert, fantastic sea view and professional service but it can be hard to find a table due to many tourists - especially Turkish. They love it. Who wouldn't? Paidaikia, kokoretsi, grilled thrapsala, fried kalamari, grilled sardines, sausages, grilled octopus, huge pork steaks, seafood pastas, bakaliaro me skordalia, ouzo and pastes mezedes, and ice-cream. There is something for everyone.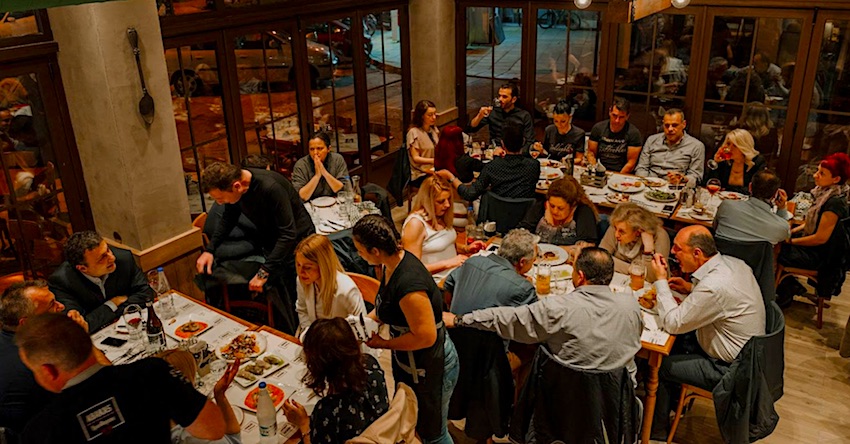 Abakas Mezedopouleion
Abakas Mezedopoulion is the closest restaurant to the lighthouse and as good a place to start your Alexandroupolian eating adventure as any. With a friendly staff, nice salads and good grilled meats and fresh fish, they have a number of different mezedes and their main course portions are filling and there are many. One of the most popular restaurants in town, there is a great view from upstairs. They are known for their steaks so go with that and have them cook them exactly the way you like them. They also have aged steaks so be sure to ask about that. Great prices, excellent food; I loved the Shrimp Spaghetti and their Abakas salad. It is called a mezedopouleion but it is much more than that with mezedes being only a small part of what they have to offer. It is located at Kanari 2 within sight of the lighthouse. (Tel 30 2551 302321)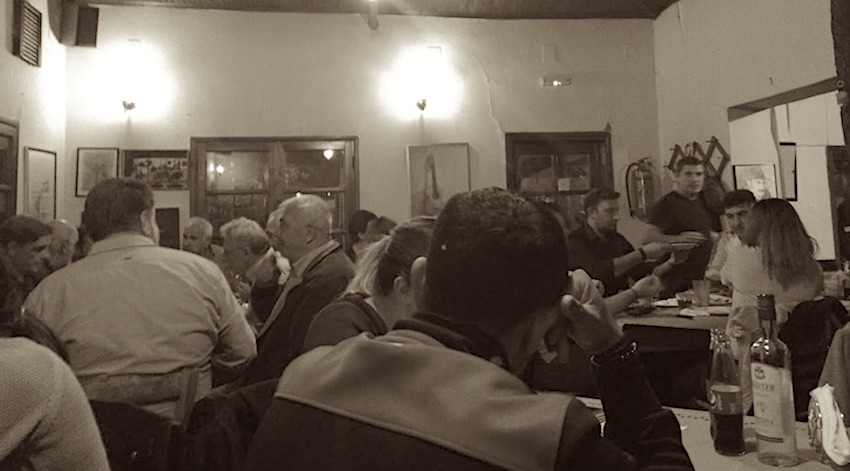 Lefkes Taverna
Lefkes Taverna is an old, historical tavern that doesn't work like most taverns; it's closed at in the afternoon and weekends, it's open Monday - Friday 7:30–11:30pm. You can't make a reservation, you just have to be there by 8:00pm or chances are that you won't find a table unless you're extremely lucky. Unusual hours for a Greek tavern but it's always full! It is at Andronikou 29, nowhere near the waterfront. Far from it. If you don't have a car take a taxi. It is a real old style neighborhood taverna and worth the trip. Ask him to wait while you go in and make sure there is room for you.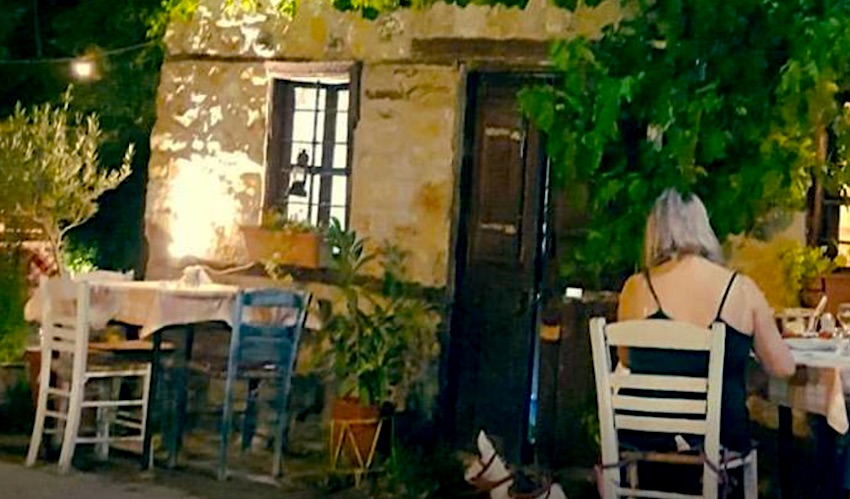 Stou Ntani h Taverna
Stou Ntani h Taverna is in Avas village, 10 km north of Alexandroupolis, a favorite of many locals, owned and run by a family making the best meat and home-cooked vegetable dishes and salads at good prices, in a lovely old restored village house. Try the stuffed pork shank or any of the grilled meat dishes. This is one of those perfect little village tavernas, the kind that people from Thessaloniki and even Athens will drive hundreds of miles to find. (Tel 30 697 470 7741)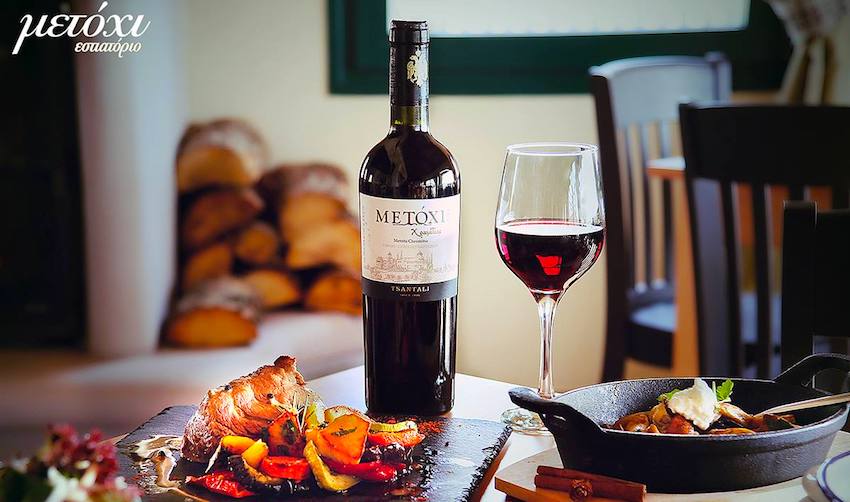 Metoxi Restaurant
Metoxi Restaurant near the village of Aetochori, 13km northeast of Alexandroupolis. Cosmopolitan-Mediterranean cuisine with very beautiful and creative dishes by executive chef George Chrisanidis the kind of chef who doesn't stop surprising you with innovative and amazing food. It is the type of restaurant you would find on the roof of some of the most expensive hotels in Athens or in New York (Molyvos or Pylos) except it is in a small village, the servings are bigger, the price is much cheaper and the food is better. If this was in Athens or Thessaloniki all the famous chefs would eat here on their day off. Instead they have to drive to Aetochori. It's open from October to May (Yes you read that right) and only on Friday-Saturday-Sunday so you must book a reservation. (30 697 487 5460) By the way it is not exactly in the village and it is a dirt road part of the way but you should not let that stop you.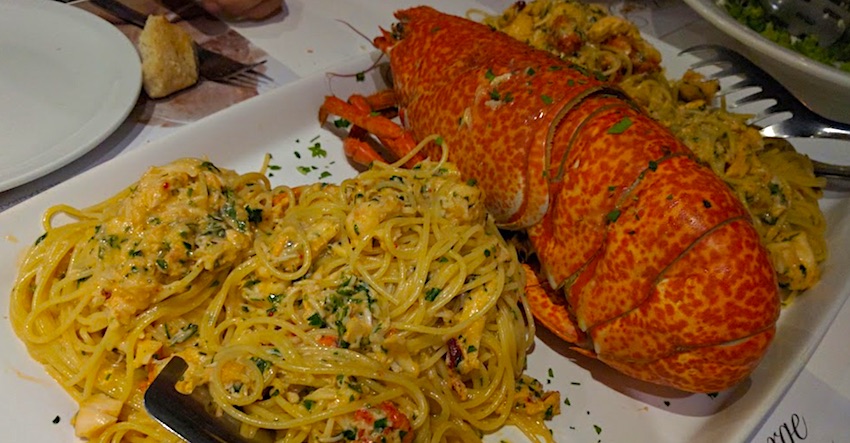 Aya Yourgi Taverna
Aya Yourgi Taverna (Saint George) is more upscale than you would expect being on Makri Beach several miles out of town. With high quality fish and right on the sea. it is not really a taverna, or what I think of as a taverna, more of a restaurant and cafeteria with some dishes you would find in a taverna and others you would find in a very nice cosmopolitan restaurant in a Greek city or popular island. Lobster, karavides (giant crayfish), clams, mussels, all types of fresh fish, grilled octopus, kalamari, and every type of grilled meat that you would find in a psistaria. All your favorite Greek dishes and then some, all beautifully presented. Some say it is the best taverna in Alexandroupolis. They also have beach chairs and sun-beds, fancy ones, and an extensive wine list and cocktails.(3025510-71777)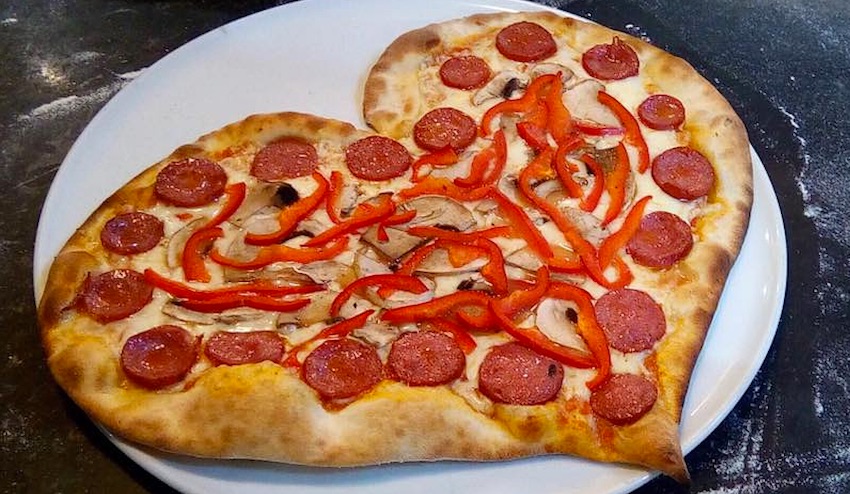 Wood-oven Pizza
For true pizza lovers there is Furnato Pizza and Pastaria in a restored old house at Kaviri 18 a few blocks up from the port. They have wood oven pizzas, various pastas, salads and deserts. Casa di Pizza at Dimokratias 365 is owned by Marinos, a Greek-Cuban and uses olive wood in his oven. Pizzaria da Bruno at Apolloniados 48 on the sea also makes wood oven authentic Neopolitan pizza, great atmosphere and great Italian music owned by an authentic Italian. There are several other pizza joints in town that you will probably stumble upon in your wandering.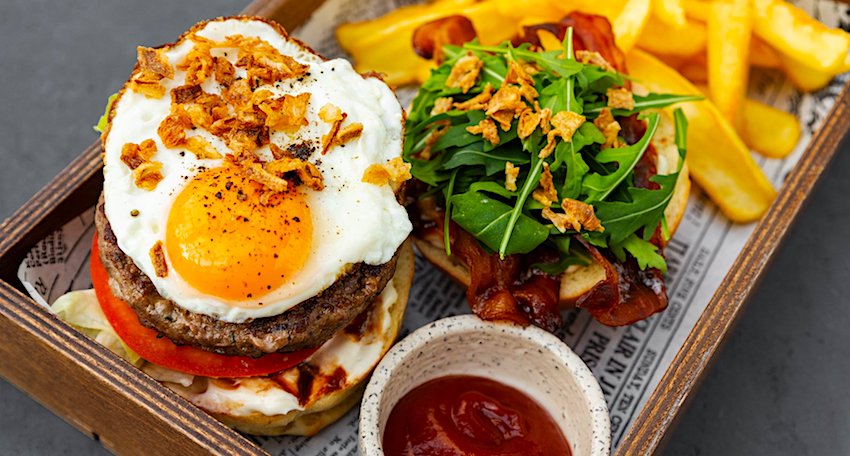 Kerouac Urban Garden & Lounge Bar
Kerouac Urban Garden & Lounge Bar opened about a month before the quarantine in an old neoclassical house. The owner brought a designer from Athens to design it. There is a nice garden in the back and besides beer, wine and many beautiful and imaginative cocktails they have brunch and lunch too. (Pancakes!) They also have special events at night. It is at Kaviri Joachim 13 maybe 4 blocks up from the harbor. You have to go here just to see the place and if you do you will probably want to stay for at least a drink or two. Innovative menu that makes the most out of pasta, pizzas, burgers and a great wine list and even imported beers and Greek microbrews.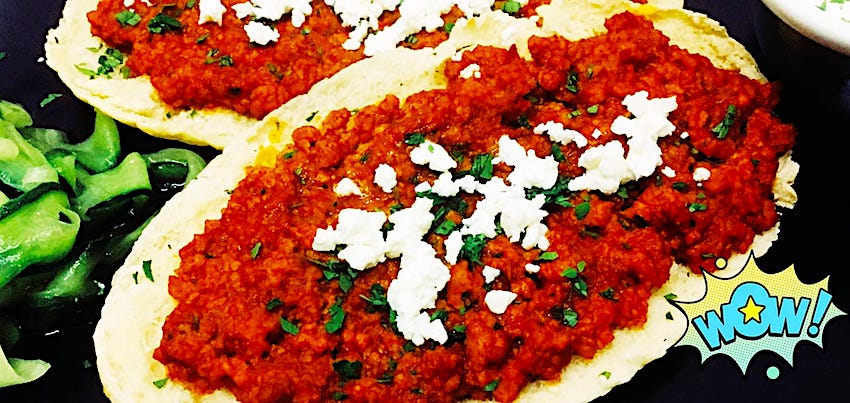 AlterEgo LeCafe Atomique
AlterEgo LeCafe Atomique is a cafe-bistrot serving lunch, dinner, cocktails, and beers, notably Greek craft beers. There are actually two Alterego's, right next to each other owned by the same people. The first is more like a typical bar. Try their weekly tasting adventure, a week dedicated to complimenting a special Greek micro-brew or imported beer. It's not on the menu, just ask what's this week's tasting adventure. The often organize live music and other events, like Saint Patrick's Day, Apokreas costume parties, jazz nights, rock and folk and so on. If you are a fan of Greek micro-brews this is an essential place for you to begin and end your evenings. They are at Souliou 3 half a block from the harbor.
Coffee and Deserts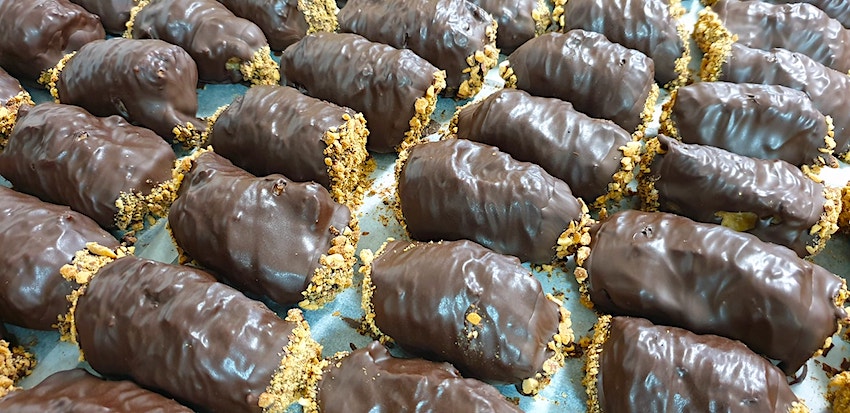 DORÉ Patisserie (zacharoplasteio) is famous for it's farouk pastry; the owner created this pastry almost four decades ago and it's a must - try! Although you can find it in other local patisseries, this is the original. It's like a croissant with syrup, chocolate filling and chocolate glaze. Anyway if you know what a zacharoplasteion is this is a good one and they have all your favorite cakes and pastries. They are located at Leoforos Dimokratias 391 close to the lighthouse.
For ice-cream try Gelataria Italos Alexandroupolis at Dikastirion 36 just up from the lighthouse about half a block. They have the best home-made ice-cream in the city. Real gelato, not ice-cream that is sort of like gelato. People come here from all over the city and it is often busy, but worth the wait.
Taratsa Book'n'Coffee is located in the basement of the building that houses the Municipal Library, a building that's also known as Kapnomágazo (meaning tobacco warehouse). It was originally build by the Catholic community during the last decade of the 19th century, to serve as a school; during it's long history it was also used as a tobacco warehouse. In the mornings, you can go at the library, borrow a book and sit at the cafe and read. It organizes various events and concerts throughout the year; there's a sax solo project every Wednesday. It is at Ainou 46 about 4 blocks up from the lighthouse.
Hotels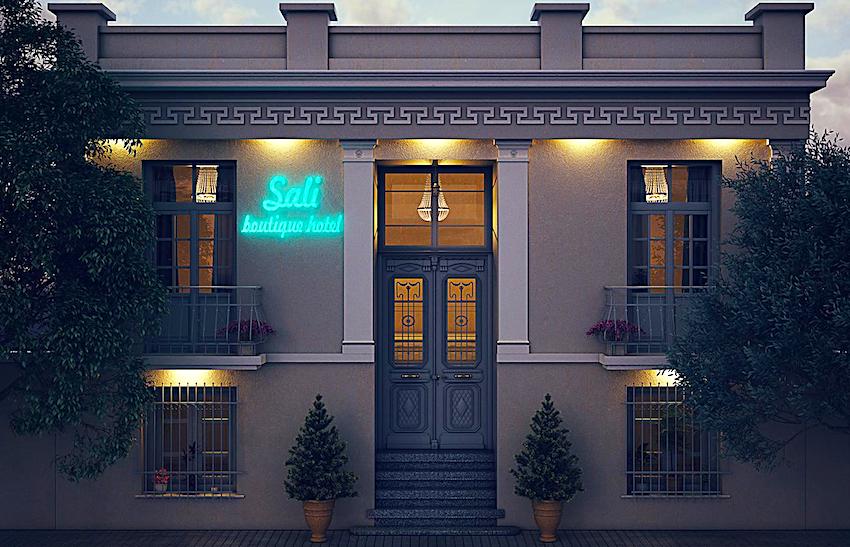 Sali Boutique Hotel
Located in a neo-classic mansion in central Alexandroupoli 5 minutes from the Lighthouse, Sali provides express check-in and check-out, non-smoking rooms, a garden, free WiFi and a bar. Featuring room service, this property also welcomes guests with a restaurant and a terrace. Rooms come with a balcony. At the hotel, every room includes a patio with a garden view. Complete with a private bathroom equipped with a shower and a hairdryer, all guest rooms at Sali have a flat-screen TV and air conditioning, and certain rooms will provide you with a seating area. The rooms feature a closet. The accommodation offers a continental or à la carte breakfast.
See More Photos, Guest Reviews and Booking Information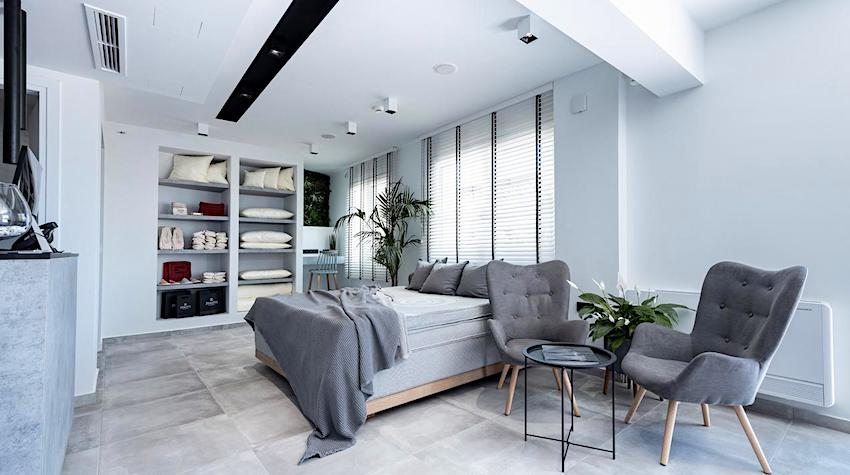 31 Doors Hotel
Featuring a bar, terrace and views of city, 31 Doors Hotel is located close to the sea, restaurants and nightlife in Alexandroupoli, an 8-minute walk from the EOT Beach. This 3-star hotel offers a concierge service and luggage storage space. The property has a 24-hour front desk, airport transportation, room service and free WiFi throughout the property. All rooms features air conditioning, a flat-screen TV with satellite channels, a fridge, a coffee machine, a bidet, a hairdryer and a desk. With a private bathroom equipped with a shower and free toiletries, some rooms at the hotel also feature a sea view.
See More Photos, Guest Reviews and Booking Information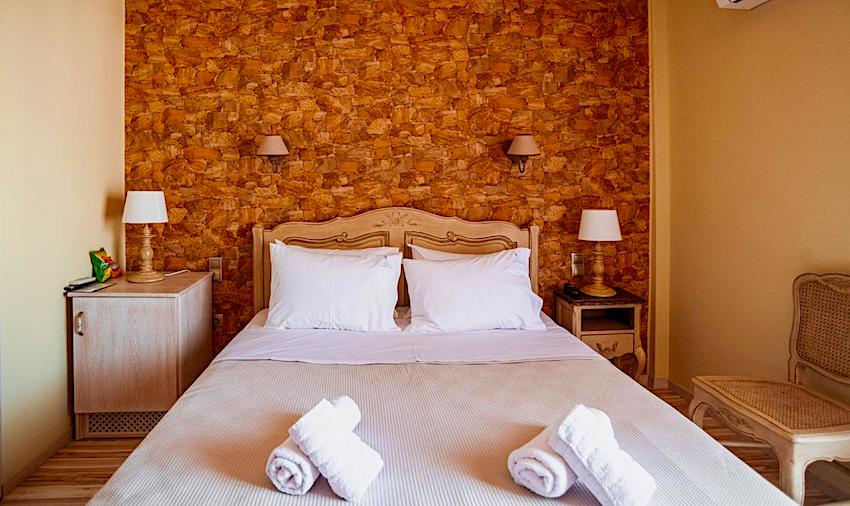 Lighthouse Hotel
Lighthouse Hotel provides non-smoking rooms, a bar, free WiFi throughout the property and a shared lounge. The property is close to several well-known attractions, a 7-minute walk from Mitropolis Square, 2,100 feet from Flora and Fauna Museum and an 8-minute walk from Church of Agios Nikolaos. The property has a 24-hour front desk, room service and ticket service for guests. At the hotel, all rooms are equipped with a closet. Complete with a private bathroom equipped with a shower and a hairdryer, all guest rooms at Lighthouse Hotel have a flat-screen TV and air conditioning, and certain rooms will provide you with a seating area. Guest rooms will provide guests with a desk and an electric tea pot.
See More Photos, Guest Reviews and Booking Information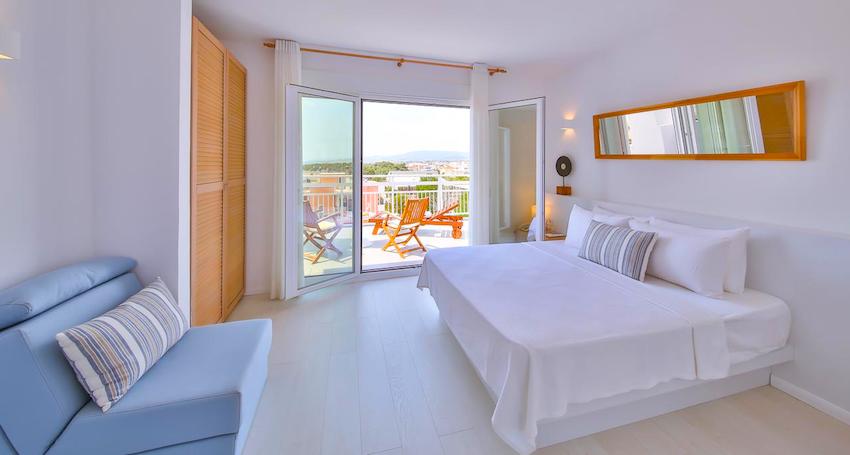 Dias Hotel
Located in Alexandroupoli and with Light House and restaurants reachable within a 10-minute walk, Dias Hotel has express check-in and check-out, allergy-free rooms, free bikes, free WiFi and a garden. With a bar, the property also has a shared lounge. The property provides a 24-hour front desk, room service and currency exchange for guests. At the hotel, all rooms include a closet. Complete with a private bathroom equipped with a shower and a hairdryer, all rooms at Dias Hotel have a flat-screen TV and air conditioning, and selected rooms also offer a patio. Guest rooms will provide guests with a fridge.
See More Photos, Guest Reviews and Booking Information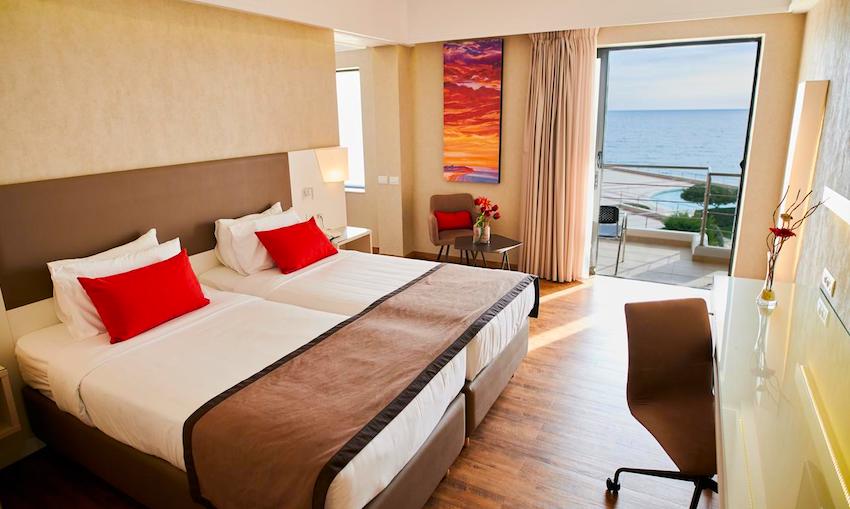 Ramada Plaza Thraki
Ramada Plaza Thraki is set on a private beach at the west end of Alexandroupolis. Known for its top-rated conference facilities, the 5-star hotel also offers 2 outdoor pools, while a luxurious spa is accessible to guests over 16. Each of the tastefully decorated rooms features a spacious balcony with view of the swimming pools and the Aegean Sea. In-room amenities include air-conditioning, 32 " LED TV with video-on-demand and free internet access. Upon arrival, 2 bottles of water and fruits are offered. Featuring 4 hydrotherapy pools, the hotel's Thalasso & Wellness Spa includes 14 treatment rooms and a relaxation area with health bar, available to guests over 16 years old. Guests enjoy free access to the fully equipped fitness center, while a range of outdoor sports activities may be enjoyed.
See More Photos, Guest Reviews and Booking Information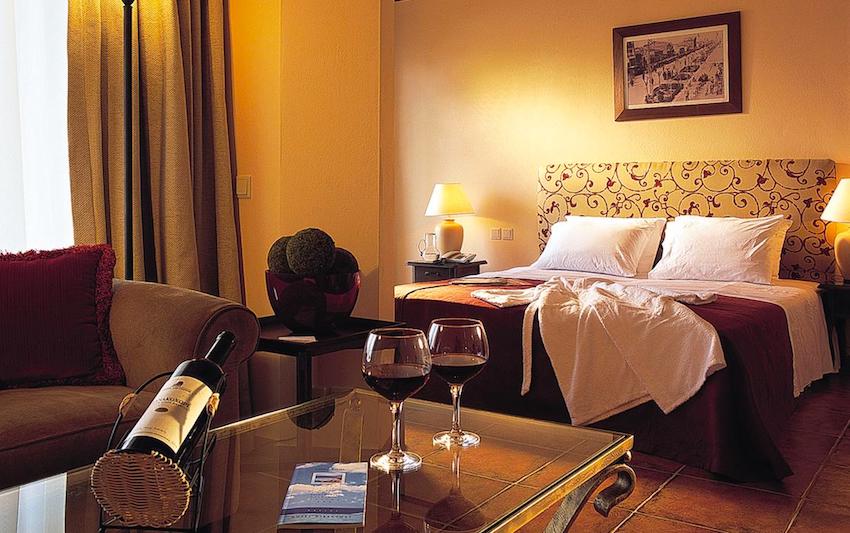 Grand Hotel Egnatia
Nestled amid a verdant pine forest, beachfront Grand Hotel Egnatia is yet within walking distance of the city center. There are plenty of facilities, including a fitness room, stunning outdoor swimming pool and a refined restaurant. The elegant rooms and suites are tastefully decorated, featuring exquisite designer fabrics. Each with a breathtaking view over the Thracian Sea, the air-conditioned rooms come with free Wi-Fi, a satellite TV, DVD player and mini-bar. Note that this hotel is on the same property as the Hotel Astir listed below so there may be some confusion as to which is which.
See More Photos, Guest Reviews and Booking Information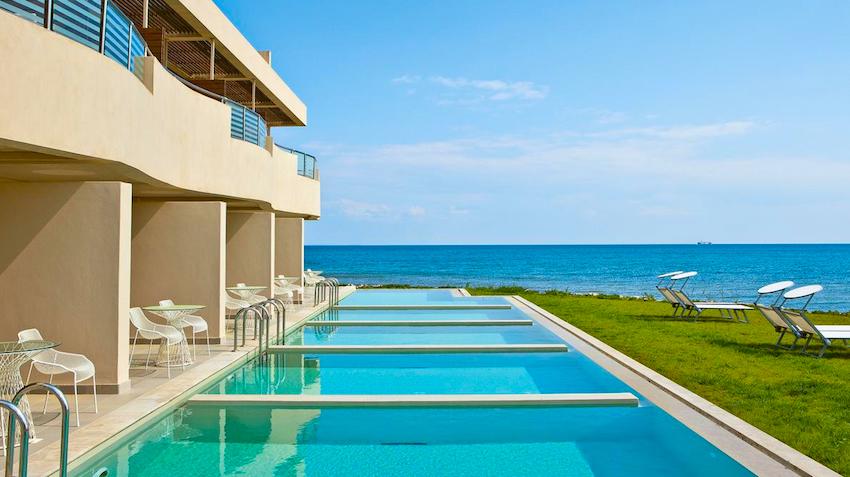 Astir Alexandroupolis
Boasting an indoor pool, an outdoor pool and magnificent sea views, Astir Alexandroupolis is located right on the seafront of the scenic Alexandroupoli. Guests of this state-of-the-art hotel enjoy free access to its fitness center, sauna and hammam. Blending comfort with refined luxury, the well-appointed rooms at Astir Alexandroupolis are decorated in warm earthy tones. Some rooms feature their own private pool. Each offers a spa bathroom with chromatotherapy, along with free toiletries and hairdryer. A satellite TV is available in every room. Each opens to a balcony with views of the azure waters. Air conditioning comes standard. Note that this hotel is on the same property as the Grand Hotel Egnatia listed above so there may be some confusion as to which is which.
See More Photos, Guest Reviews and Booking Information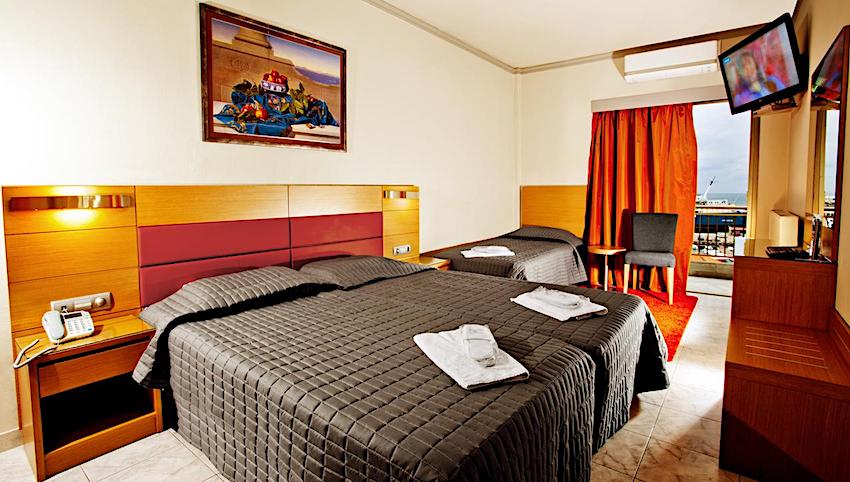 Hotel Erika
The centrally located Hotel Erika in Alexandroupolis offers rooms with sea view. It is just 350 feet from the lighthouse and the port. The local market, bus and train station are nearby. Rooms are decorated in a modern style and have electronic locks, 24-hour hot water, self-controlled air conditioning, a large balcony and a 42'' LCD TV. Guests can start their day with a delicious Greek buffet breakfast. For the whole day, coffee and drinks are served at the Erika Cafe-Bar. Free WiFi access is available in all areas.
See More Photos, Guest Reviews and Booking Information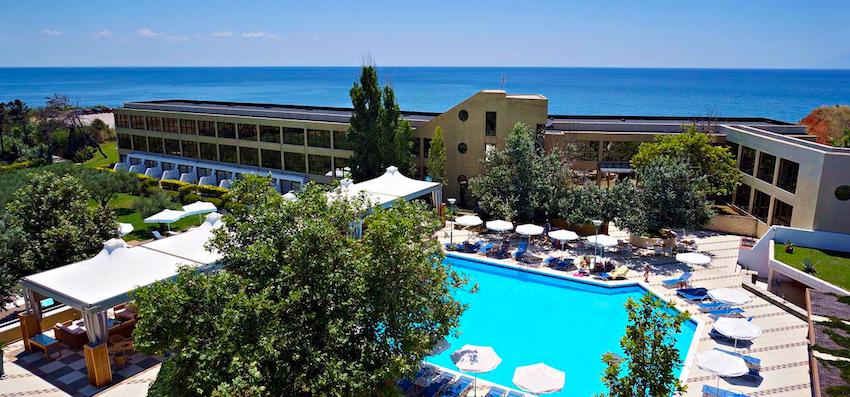 Alexander Beach
Overlooking the azure waters of the Aegean Sea, Alexander Beach is just 1.2 mi away from the city center of Alexandroupolis. It offers spa facilities, 2 swimming pools and elegant accommodations. Guests at Alexander Beach Hotel & Spa are welcomed with a bottle of wine and a basket of fruits. Rooms and suites are equipped with a satellite LCD TV, mini bar and bathrobes. Some rooms also enjoy unobstructed sea views. The Symposio Restaurant is the ideal choice for unique dining experiences, providing a wide wine selection. Guests can also enjoy a drink or cocktail from the bar at the hotel's stylish lounge area. The Casino Thraki operates within the hotel's premises and guests are granted free entrance.
See More Photos, Guest Reviews and Booking Information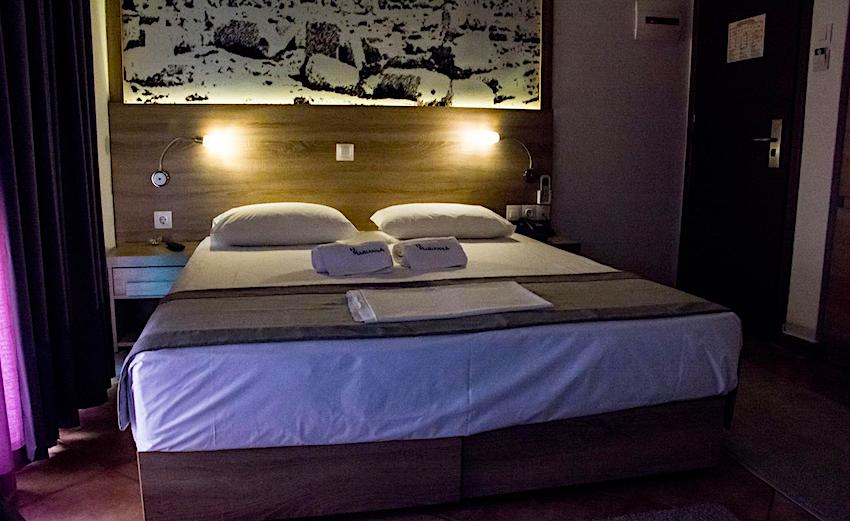 Hotel Marianna
Hotel Marianna offers soundproof rooms 650 feet from downtown Alexandroupoli. Guests benefit from free WiFi throughout. Alexandroupoli airport and port are only 1.9 mi and 0.6 mi away respectively. Rooms at the Hotel Marianna are simple and functional. Each is air conditioned and heated, and has a private bathroom with toiletries and hairdryer. A mini-bar and LCD TV are standard.
See More Photos, Guest Reviews and Booking Information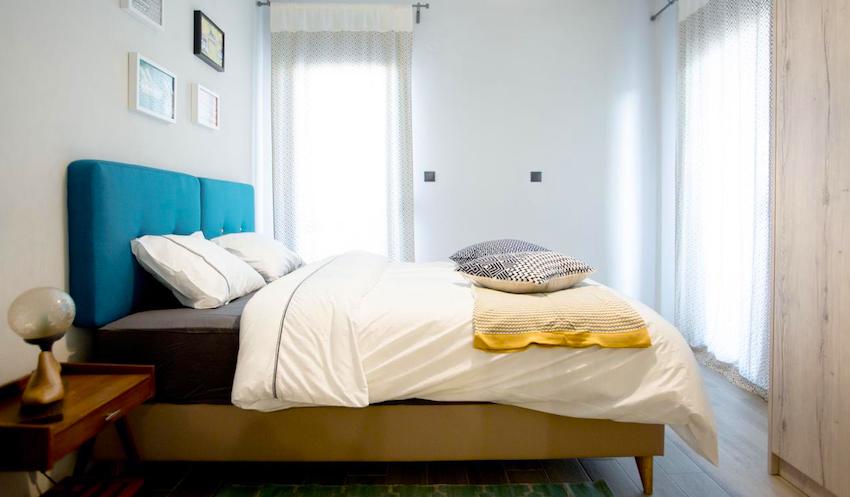 Traveller's Apartments
Located in Alexandroupoli with EOT Beach and Light House of Alexandroupoli nearby, Traveller's Apartments provides accommodations with free WiFi and free private parking. The units come with tiled floors and feature a fully equipped kitchen with a fridge, a dining area, a flat-screen TV with cable channels, and a private bathroom with shower and a hairdryer. Some units are air-conditioned and include a balcony and/or a terrace, as well as a seating area.
See More Photos, Guest Reviews and Booking Information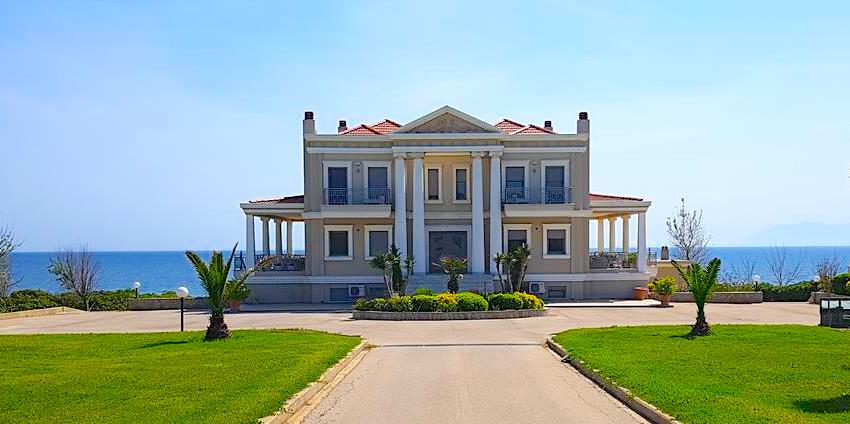 Villa Alexandro's
Located close to Alexandroupoli on the beach with New Chile Beach reachable within a 14-minute walk, Villa Alexandro's has accommodations with free WiFi, BBQ facilities, a garden and free private parking. Each unit comes with a patio, a fully equipped kitchen with a fridge, a seating area with a sofa, a flat-screen TV, a washing machine, and a private bathroom with shower and a hairdryer. Some units have a dining area and/or a balcony. The villa has a sun terrace.
See More Photos, Guest Reviews and Booking Information
You can find more hotels by using Matt's Alexandroupolis Hotel Search or find villas, apartments and holiday homes with Matt's Alexandroupolis Villa Search