Why Greek Travel Agents don't book just tickets
Travelers to Greece who have spent time in the internet researching their trips often come up against a brick wall when it comes to finding ferry schedules and buying tickets for the boats to get to the islands which they have booked hotels on. This is because the cost for a travel agent to book a ticket is more than the profit he makes on the ticket. For that reason travel agents on the internet will provide ferry tickets for clients who book hotels and tours but will generally ignore requests for ferry schedules and tickets. It is not that they are unkind or uncaring. It is just that if they responded to every request for tickets or information they would have time for little else.
So here is the deal with ferry tickets and flights. If you want to make sure that you will be able to get to the islands you want to then I strongly suggest using a travel agency in Athens to book your hotels and let them figure out the ferry schedules and book the tickets. They will have direct access to the ferry companies while you will only have access to a schedule that someone has posted on the internet that is in all probability flawed since the ferry companies themselves barely know when their own boats are going. Some people have this sort of pride about never using travel agents and others believe they add their commissions to the cost of everything. They don't. They get discounted rates from the hotels. Try my Create and Itinerary Form and Fantasy Travel can put together an island itinerary based on availability of ferries and give you a price. You are not obliged to book. Also visit Fantasy Travel's Greek Island-Hopping Programs because you may find the island combination you want to do at a price you did not think possible.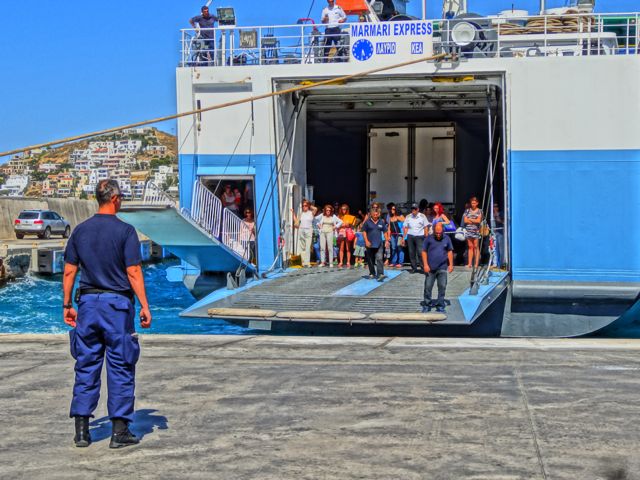 If you don't want to work with a travel agency or you have already booked your hotels on an automated site and if you are for example going to one of the Cyclades Islands chances are that you can just go to the port and buy your tickets.
Unless of course....
...it is the end of July
...or the month of August
...a holiday weekend like Agios Pnevmatos
...it is Orthodox Easter
...you are taking a high-speed
...you want a cabin
...you have a car
...you are going to Mykonos or Santorini in the summer...
... in which case you have a number of options...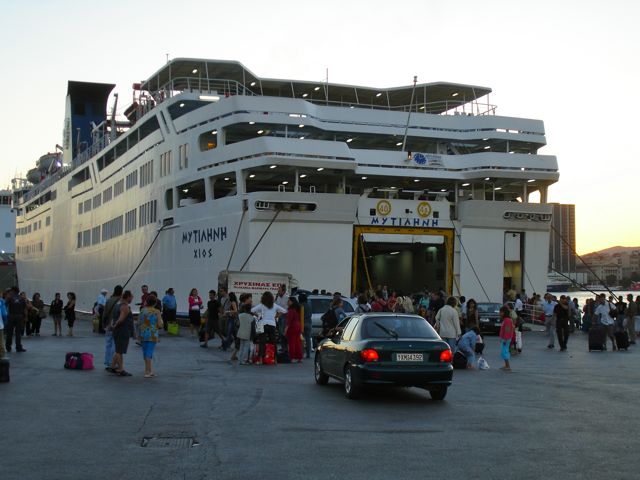 You can check my pages for ads to booking companies that advertise that they book Greek ferry tickets, usually at the top or the bottom of any of the ferry boat pages, including this one. Oh wait... sorry. I removed all those ads. These were paid ads that I had no control over so rather than field complaints from people who thought they had booked a ferry ticket on my website I got rid of the ads. Most of the ads fed into the same system and you can find them on various websites. Dolphin Hellas uses the system and since they are a reputable agency I am happy to recommend you go to their ticket booking page. If you want to try your luck elsewhere here are a few things to remember. First you should make sure there is not a tremendous sir-charge. Second you should check and see what the procedure is for getting the tickets. You want a ticket that you can pick up at the port the ferry is leaving from. There is usually an agency within 100 yards of your departing ferry. That is where you want your ticket to be to avoid problems. Third you should check and see if it is a website for a particular ferry company. For example you may find a website that sells Blue Star tickets but the island you want to visit has 3 Blue Star ferries a week but has a daily ferry from Hellenic Ferries. Not all ferries are represented on all the ferry sites, even those that claim to have all the ferries. If this is all too confusing and you actually want me to check the ferry schedules and tell you when a boat is going and whether you need to book in advance, you can e-mail me. But don't ask me to send you the ferry schedules and make sure you tell me the date you need to take the ferry. I also recommend Ferryhopper.com which is probably the best ferry booking site out there.
Buying Ferry Tickets in Greece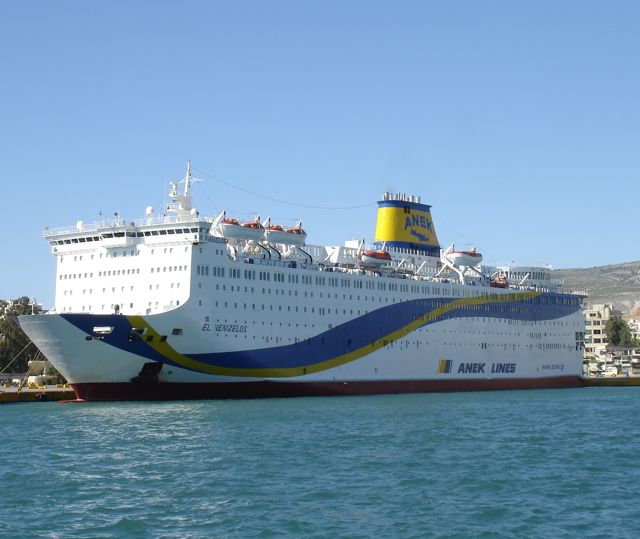 When you get to Athens you can get the daily schedule from Kathimerini which comes out every day with the International Herald Tribune. Is it 100% accurate? No. None are. But it is good enough. The only problem is that by the time it comes out most of the ferries have already left. You can buy tickets on Nikis street though you have to be careful because most agencies in the area of Syntagma are happy to sell you ferry tickets or airline tickets. But they will be even happier to sell you a 5-star hotel and a cruise and they are good at selling. The ferry ticket offices in Pireaus are there to sell ferry-tickets and there are a number of them by the bus terminal which is across the street from the metro to your left. There is also an agency that sells ferry tickets at the airport. But again, the real money is in cruises and hotels so don't be surprised if they try to sell you those too.
Dolphin Hellas Travel has a ticketing office downstairs from their main offices on Syngrou Avenue. If you walk down Syngrou from the Temple of Olympian Zeus it is a couple blocks down on the right. For information on booking tickets with them on-line see Dolphin-Ferry-Tickets which you can do as you get closer to the date of the departure, not a year in advance. I also recommend Ferryhopper.com
For those who want to avoid frustration and have an idea of what islands they want to visit but don't want to buy a package or go on a tour try my Create-an-itinerary form and have all your hotels and ferries booked before you arrive. You will get to the airport or your Athens hotel and receive an envelope with all your ferry tickets and hotel vouchers.
Flights to the Greek Islands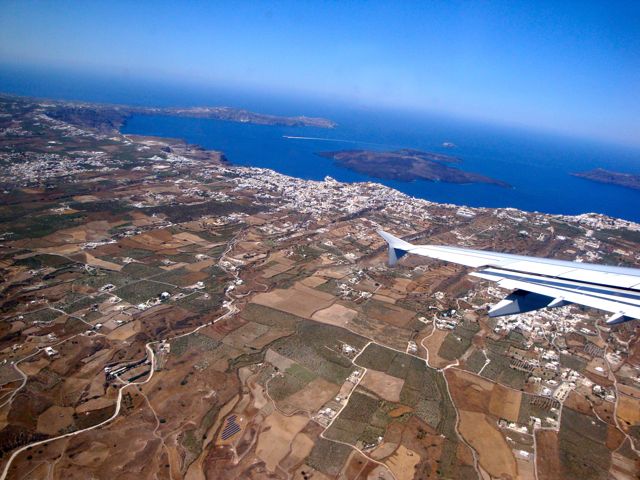 There are two airlines and counting (though I don't know in which direction) which go to the Greek islands from Eleftherios Venizelos Airport in Athens. Most islands have from one to ten flights a day on aircraft of a variety of sizes. This means that some islands at certain times of the year (particularly summer) will be difficult to get seats for unless you do it in advance. The two airlines are Aegean and Olympic, though now they are one airline. If you have booked your hotels already and know you don't want to take a ferry boat then you should book your flight asap. But once again we have a situation where travel agents don't want to book just flights. Not to give them anymore advertising than they need, but sites like Travelocity and a number of automated-booking websites do allow you to book domestic flights within Greece. This may be the easiest way but as an example I found r/t Athens to Mykonos for between $203 and $235 on Travelocity while a Greek travel agency gave me a price of 145 euros. This may have just been for this particular flight though it is not out of the question that the Greek travel agencies would get better rates from their own airlines. But it does not hurt to shop around if all you have to do is click.
These Greece websites will also be helpful:
Greek Island Guide, Travel Agents in Greece, Greek Ferry Boats, How to Go to a Greek Island, Flights to Greece, Itinerary Suggestions, Sailing in Greece, Athens Survival Guide, Hotels of Greece, Cruises